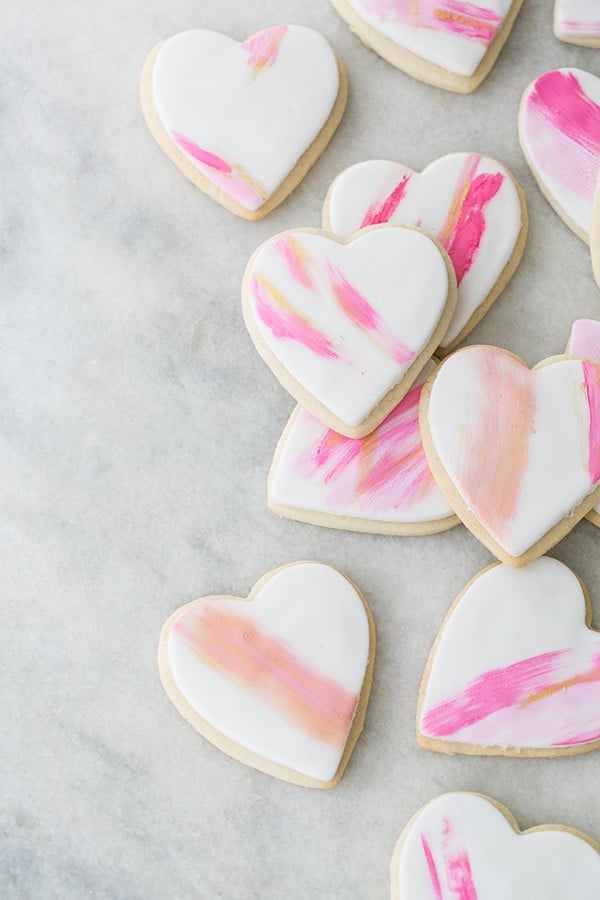 How charming are these easy brushstroke sugar cookies for Valentine's Day?! They use the classic sugar cookie recipe with a fondant topping and then they're brushed lightly with a gel paste! Incredibly simple to make and even more fun to decorate… we broke out some brushes and felt very artistic creating brush strokes with food coloring! If you're not a fan of fondant, you can do a royal icing that hardens too.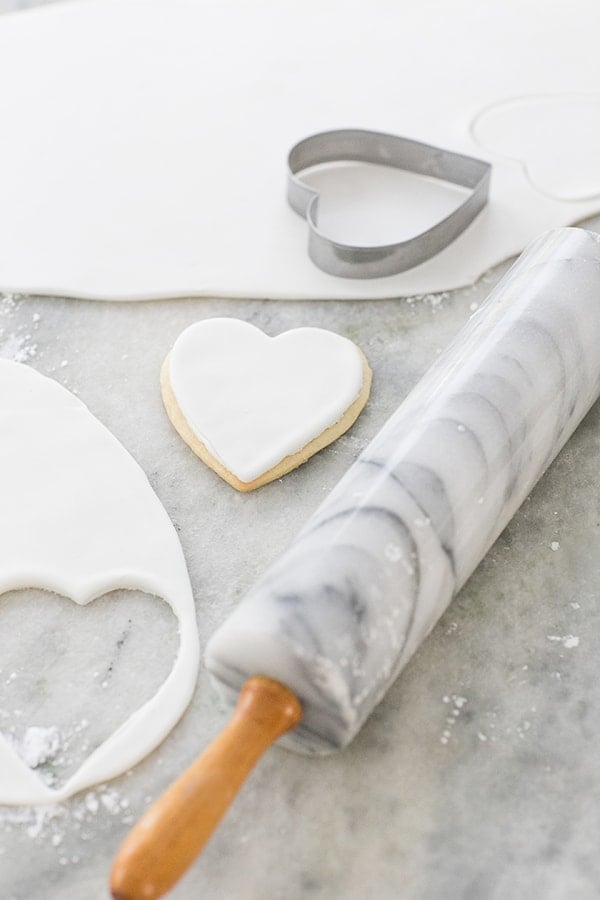 We used the same heart-shaped cookie cutter to make the hearts and to cut out the fondant. Try to roll out the fondant to be a very thin layer.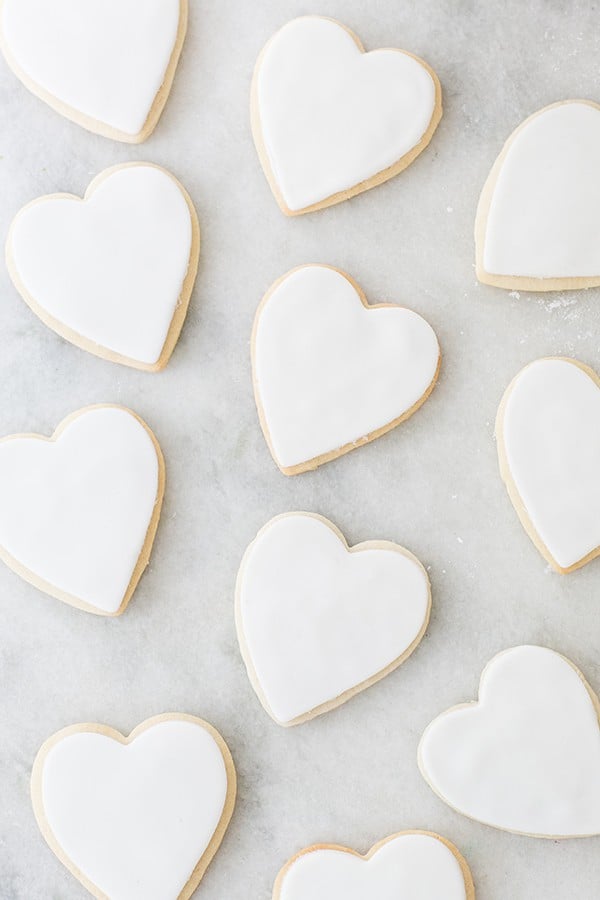 Add a little bit of butter cream frosting on the cookie before you lay the fondant over it. This will allow the fondant to stick to the cookie.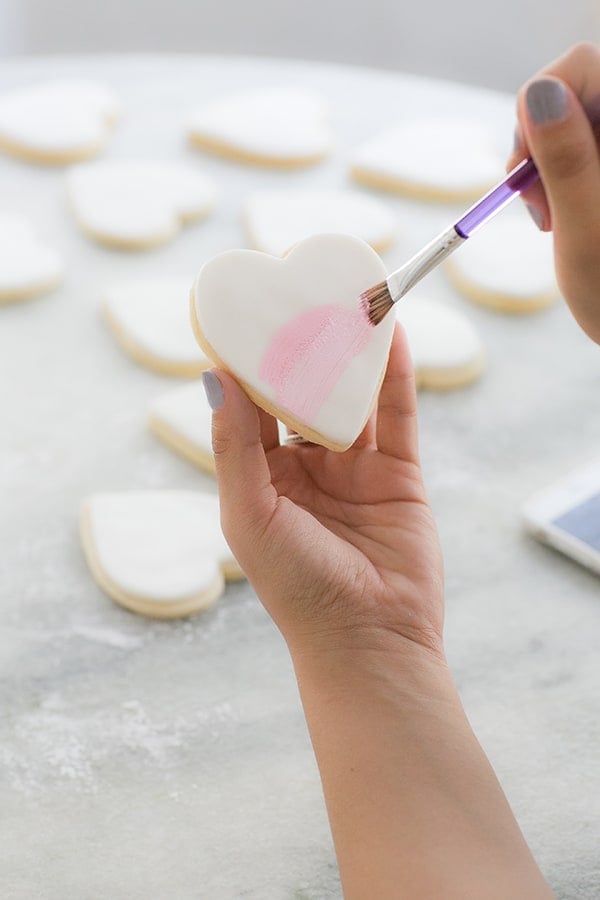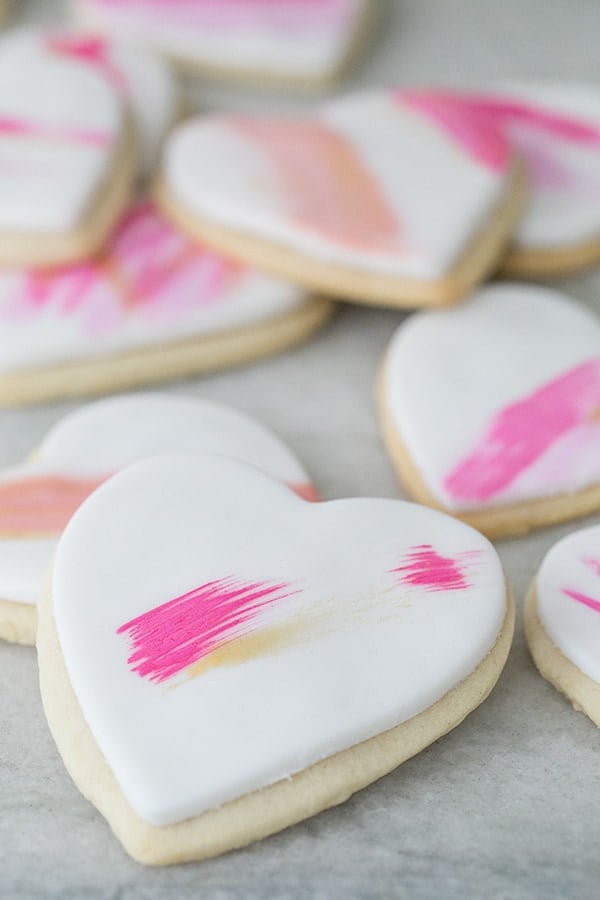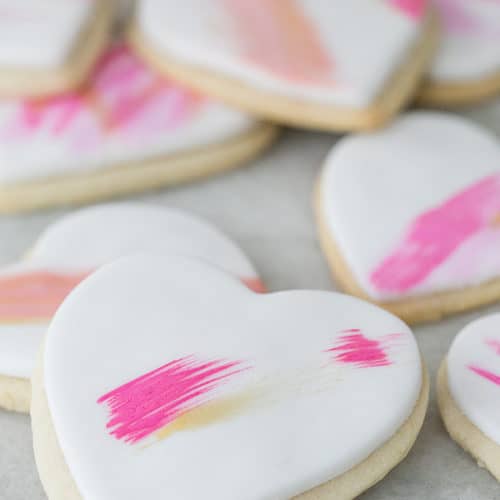 Ingredients
1

cup

cold unsalted butter

,

cubed

1

cup

granulated sugar

2

Large

eggs

4

cups

all-purpose flour

3/4

cup

cornstarch

3/4

teaspoon

kosher salt

1

teaspoon

vanilla extract
Instructions
Preheat the oven to 375 degrees, and line baking sheets with parchment.

Cream the butter and sugar, just until smooth and combined.

Mix in the eggs until incorporated one at a time.

Add the flour, cornstarch, and salt, and mix on medium-low speed, until the dough gathers itself into a ball and pulls away cleanly from the sides of the bowl.

Stir in the vanilla.

Divide dough into three parts.

Roll each section of the dough ¼ inch thick between two sheets of parchment paper.

Refrigerate while you do the next section of dough.

When all three parts are finished, take one part of the dough out of the fridge, remove top sheet of parchment and cut out shapes.

Roll the second section, cut out and combine remaining dough from the first section, roll back out between parchment, refrigerate and continue on with 3rd section.

Bake for 9 to 12 minutes.

Cool completely, then roll and cut out fondant hearts.

Spread a small layer of buttercream frosting on each cookie and place the fondant on top.

For the Brushstroke

Mix pink and white gel paste together to form the desired color you like

Use cake decorating brushes to make brush strokes onto the white fondant.

Mix and match colors and use gold dust for another charming touch!