If you're looking to put something special together for Valentine's Day that doesn't require cooking, our Valentine's Day Charcuterie and Dessert Platter is the PERFECT meal!
Serve these Valentine's Day appetizers with one of our pink cocktails or Valentine's Day cocktail recipes!
As you know, we are huge fans of charcuterie and cheese platters. They're simple to put together and filled with protein, delicious cheese, berries, olives, nuts and more. They can be completely customized to what you love.
We've added some fun Valentine's details to our boards, including the most delicious dessert board! Everything is from Williams Sonoma, they have the best Valentine's Day candies and desserts!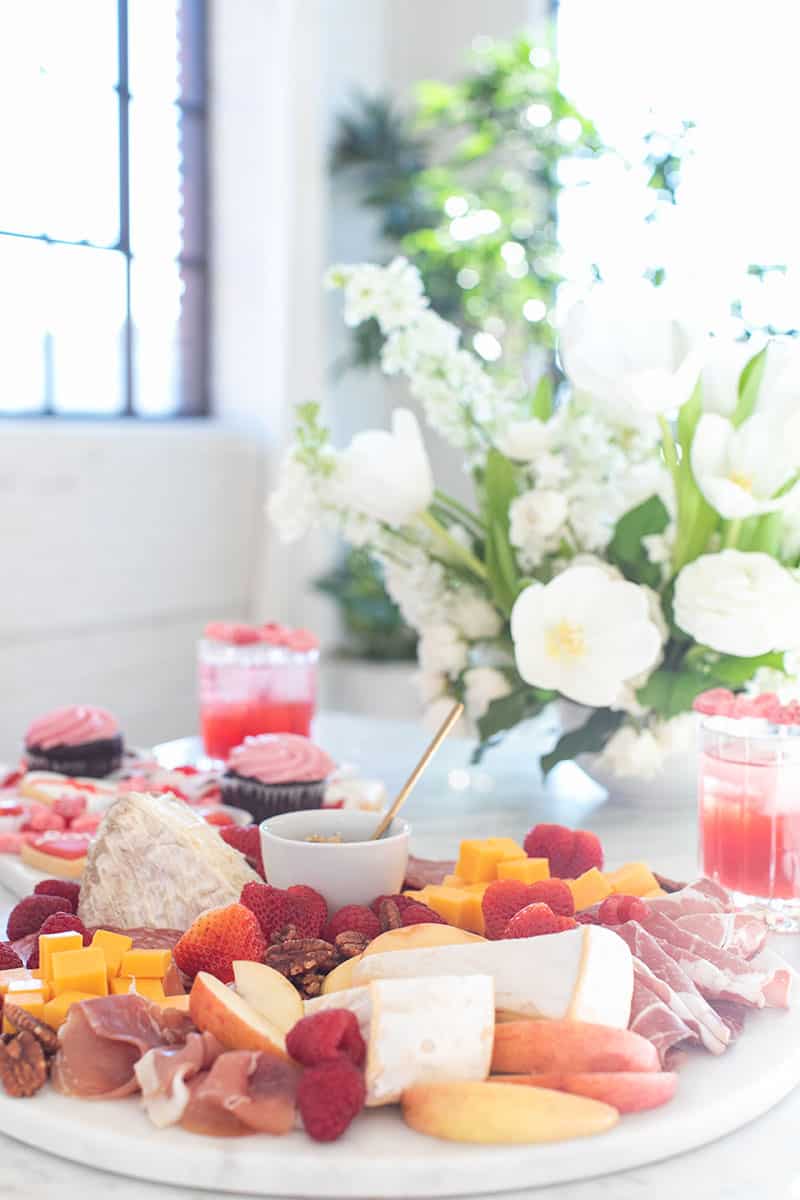 Valentine's Day Dessert Platter
This is a dessert platter much fun to assemble! We used this very charming marble heart platter which was the perfect size. Next, we filled it with pink, red and white treats for guests to enjoy!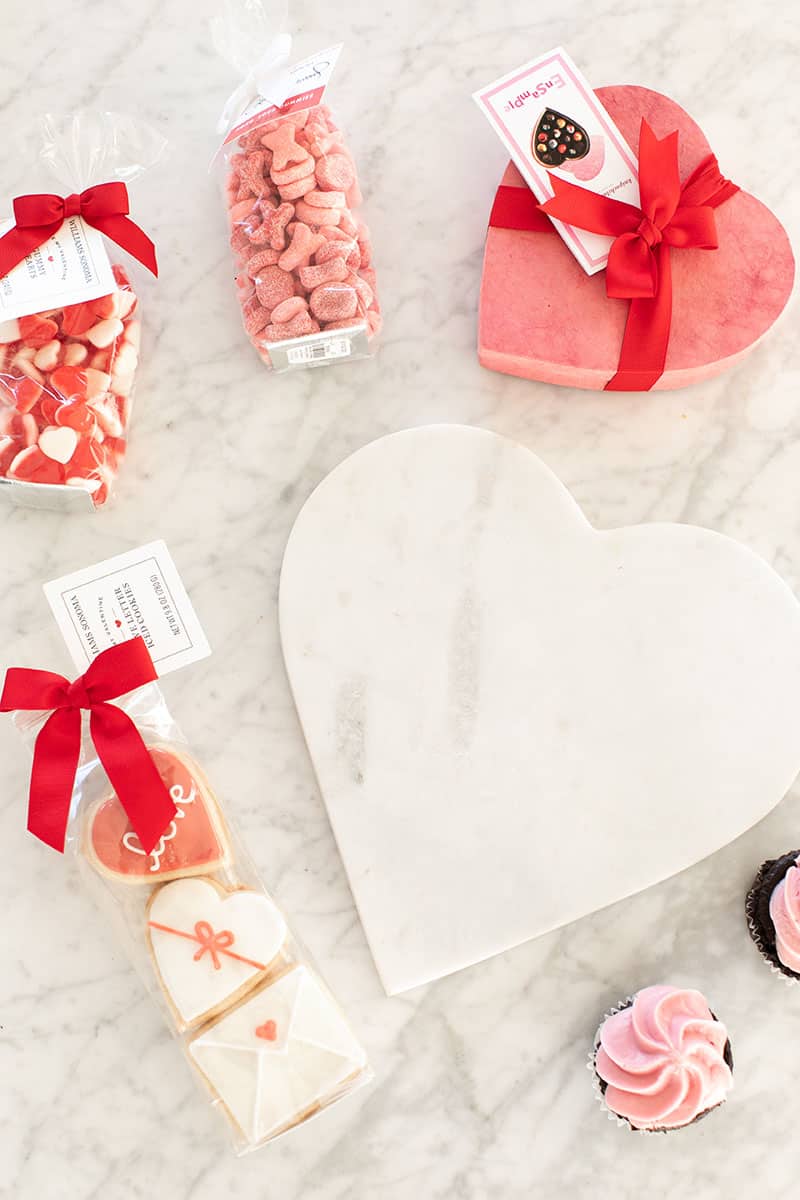 This platter is great for 1-6 people! You can add a few more cupcakes if you have more guests, but there are enough sweets on this board to make everyone happy.
Desserts
Chocolate Cupcakes with Strawberry Frosting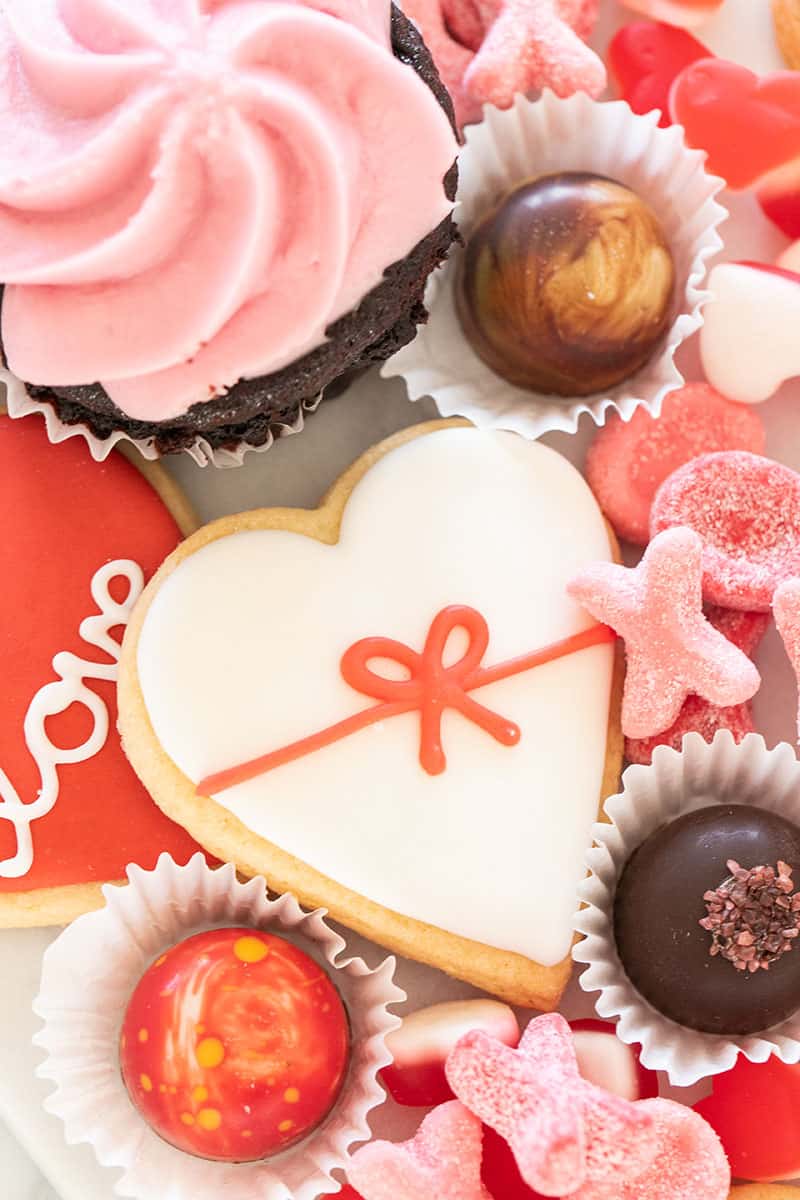 Directions
Start by adding the larger items on the board first, in this case, the cupcakes are the largest.
Next, place the cookies around the board.
Then, place the truffles around the heart platter.
Lastly, fill in the empty spots with gummies!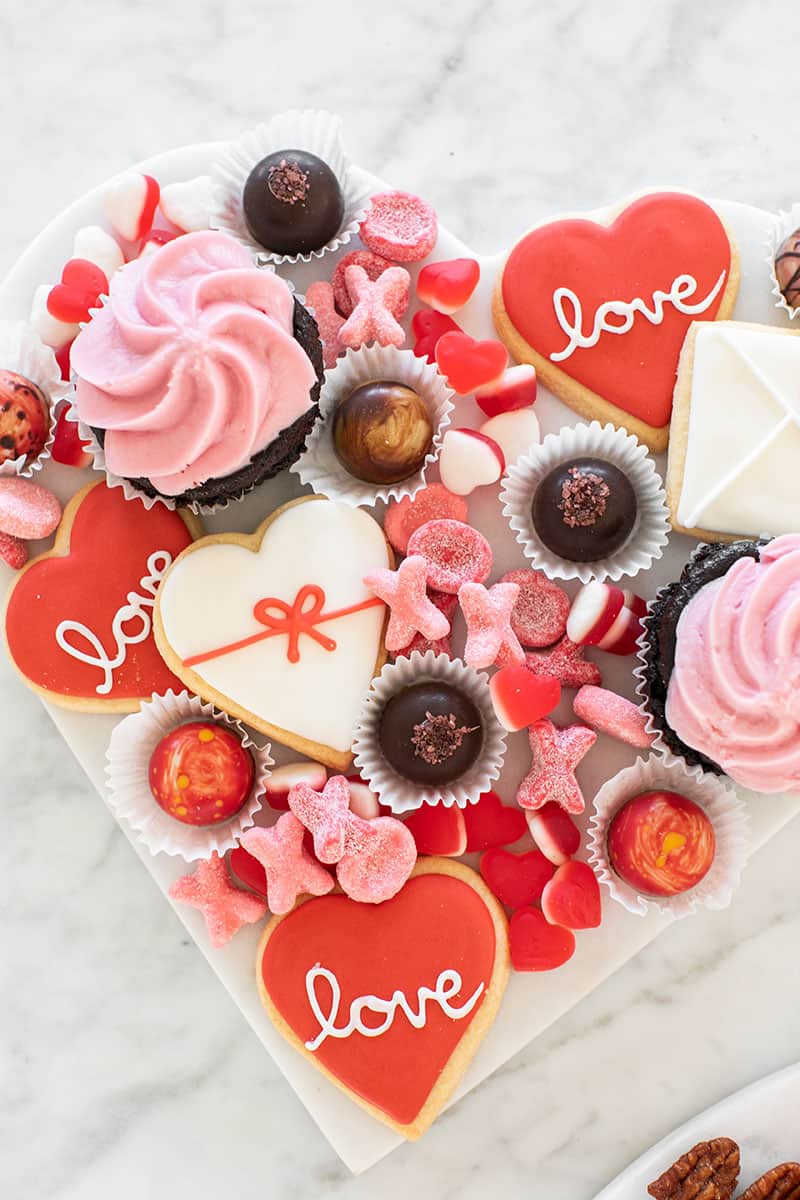 Valentine's Day Charcuterie Platter
The main course will be the charcuterie platter. Filled with meats, cheese, berries, and nuts. Serve with crackers on the side, olives and more! Here's how you make an easy and festive charcuterie platter: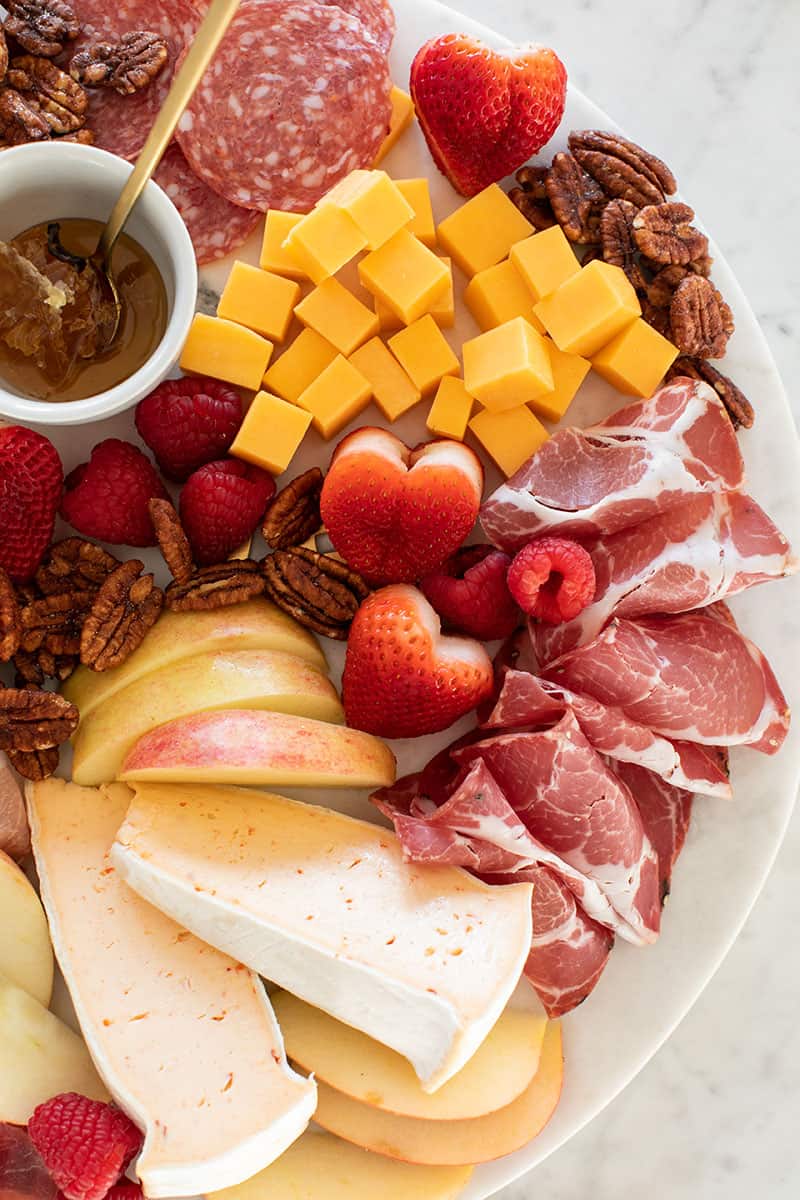 Supplies
This marble love platter from Williams Sonoma was perfect! It's big enough to fit 3-4 varieties of cheese, meat and more. When this board is filled it will feed up to 6 people which is great!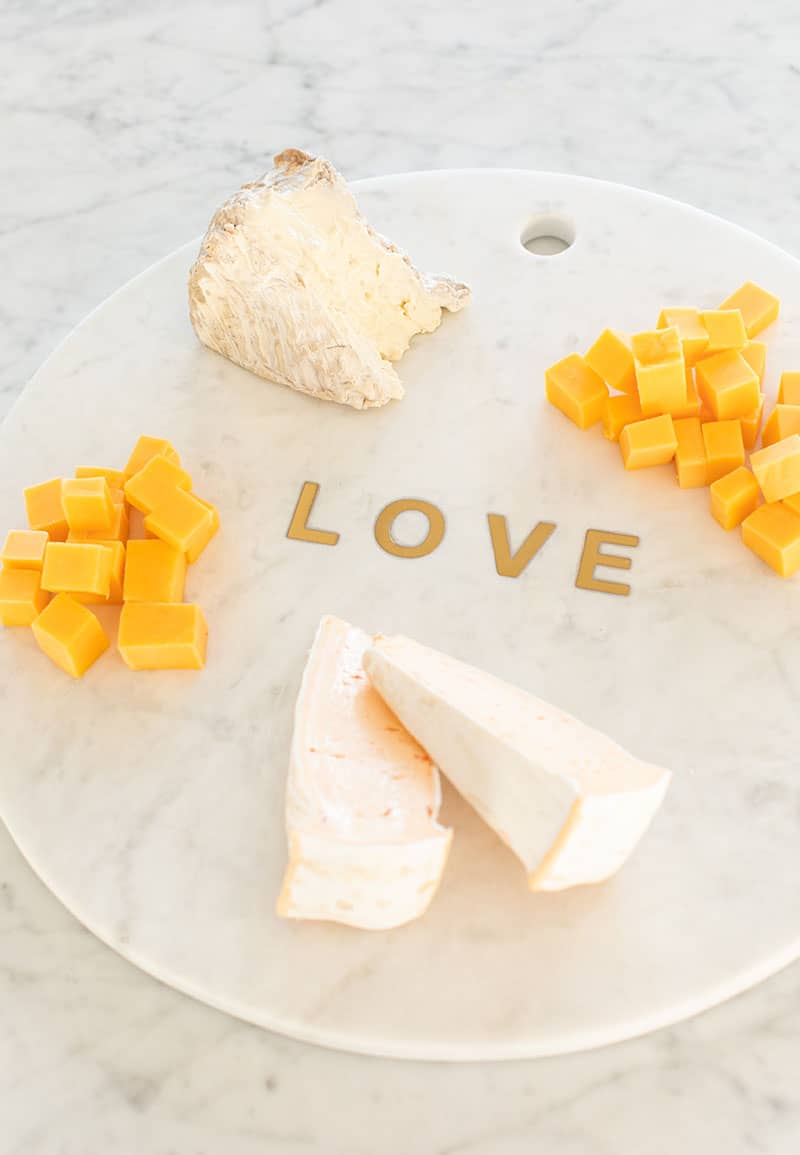 You can also order a quality, premade meat and cheese board from Williams Sonoma.
Cheese Knives
Ingredients
Cheese – Choose at least 3 varieties of cheese that are a different texture. A hard cheese, soft cheese, goat, aged cheese, goat cheese. These are all options you can use.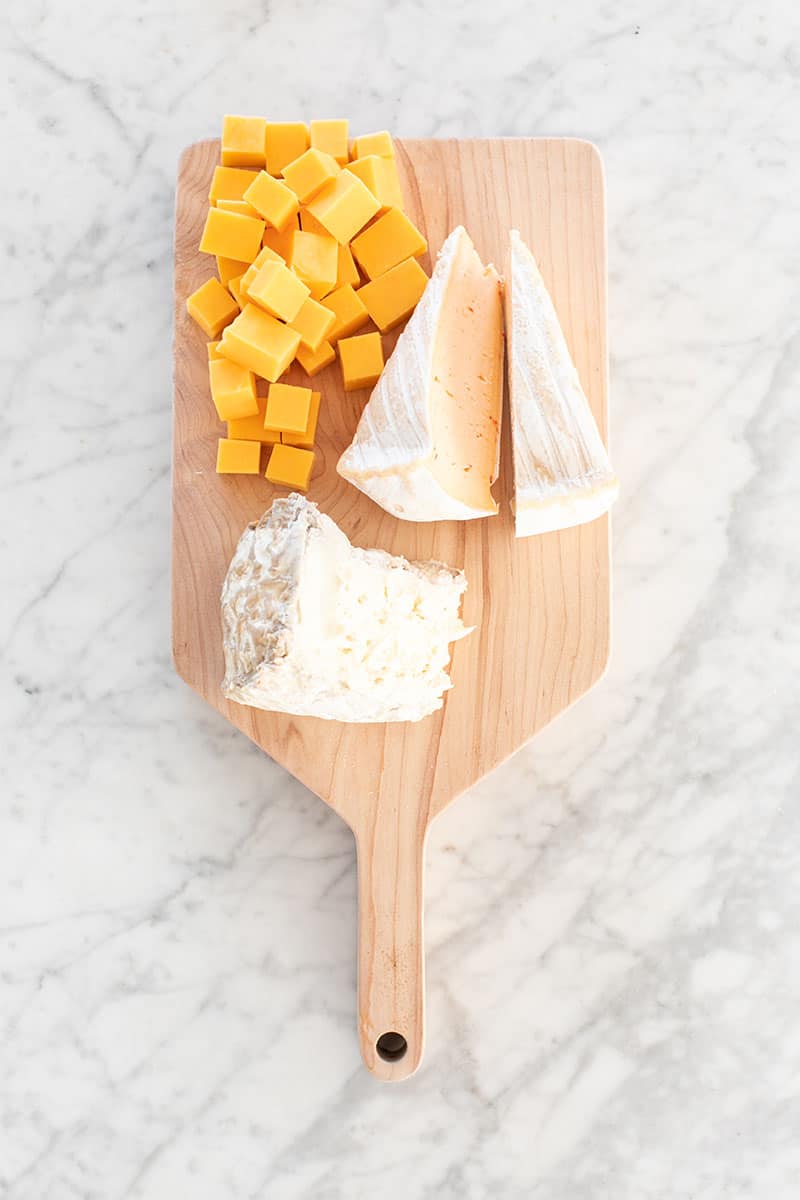 We used a red pepper brie to give it a little spice and specs of red! Small details like that make the board unique and charming.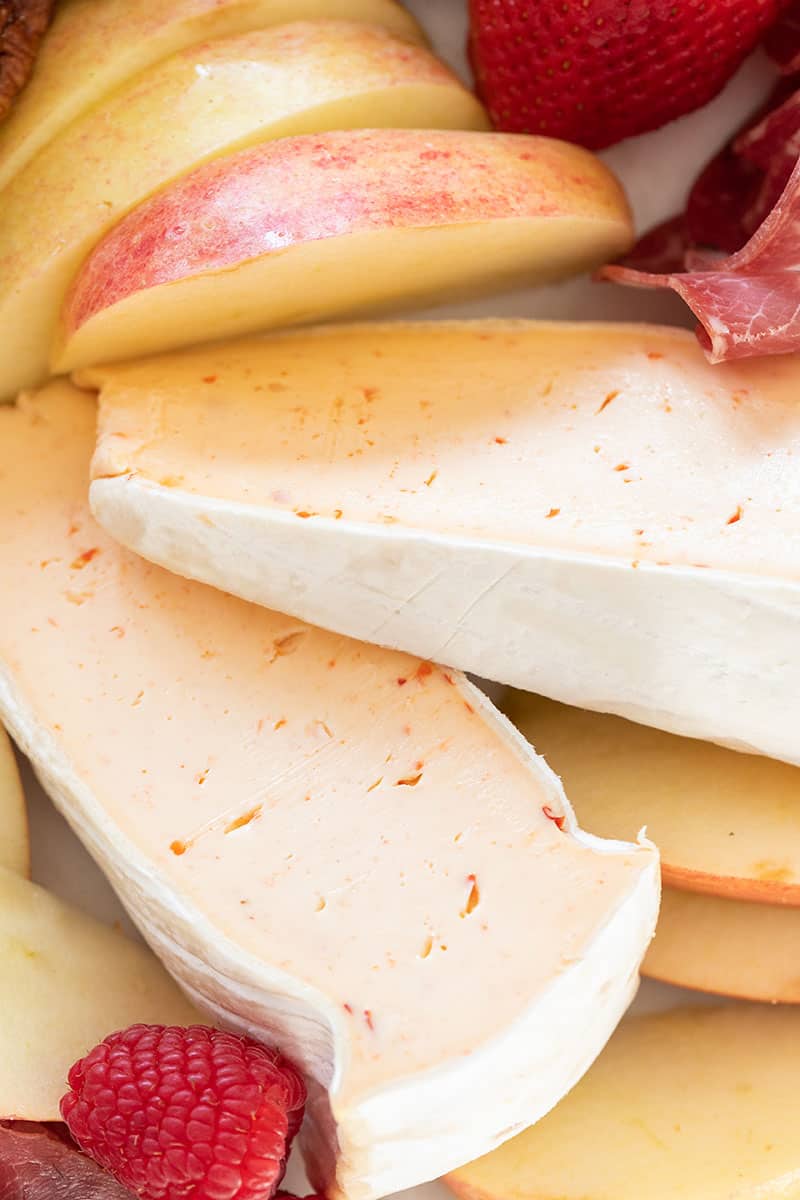 Meat – At least 2-3 varieties of meat is perfect for a platter. We used salami and prosciutto and capocollo.
Honey – We're all about truffle and this honey not only has honeycomb, but also black truffle!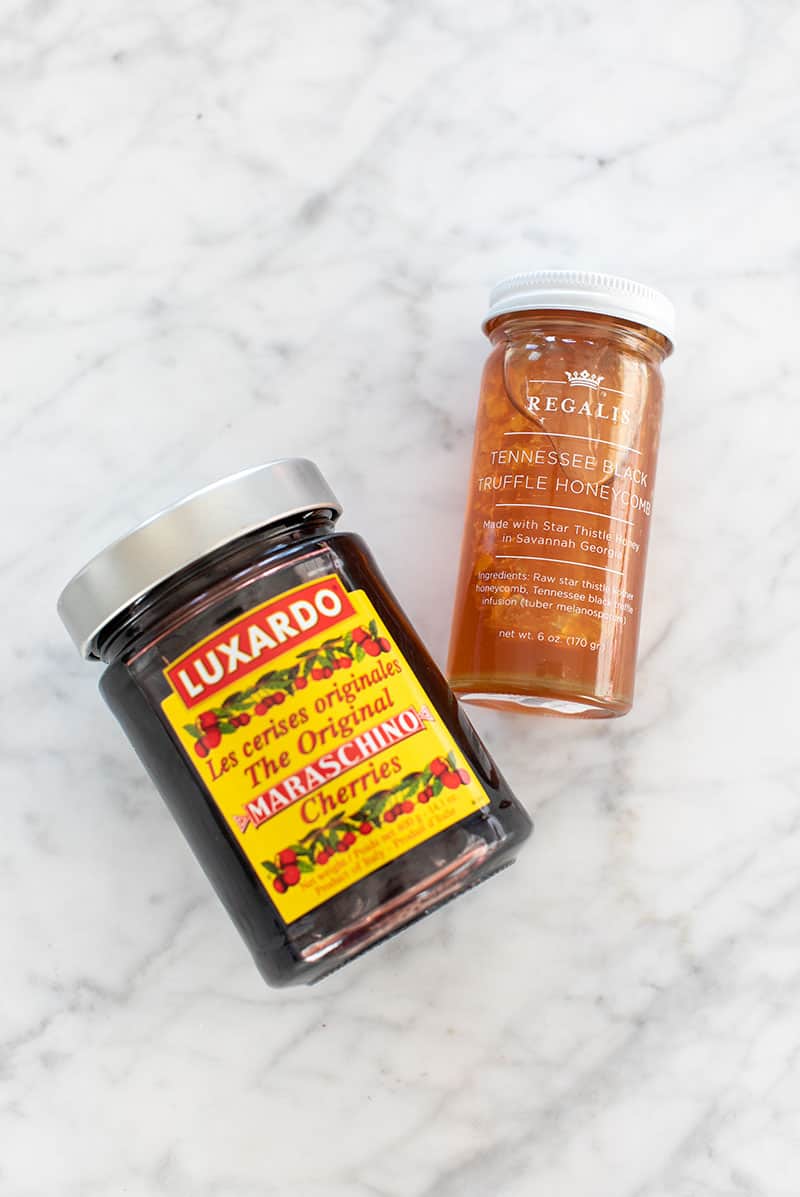 Candied Walnuts – I usually never make a cheese platter without these. The sweet and salty combo is just perfection.
Juicy Cherries – They're not only good in cocktails, but on a cheese platter too!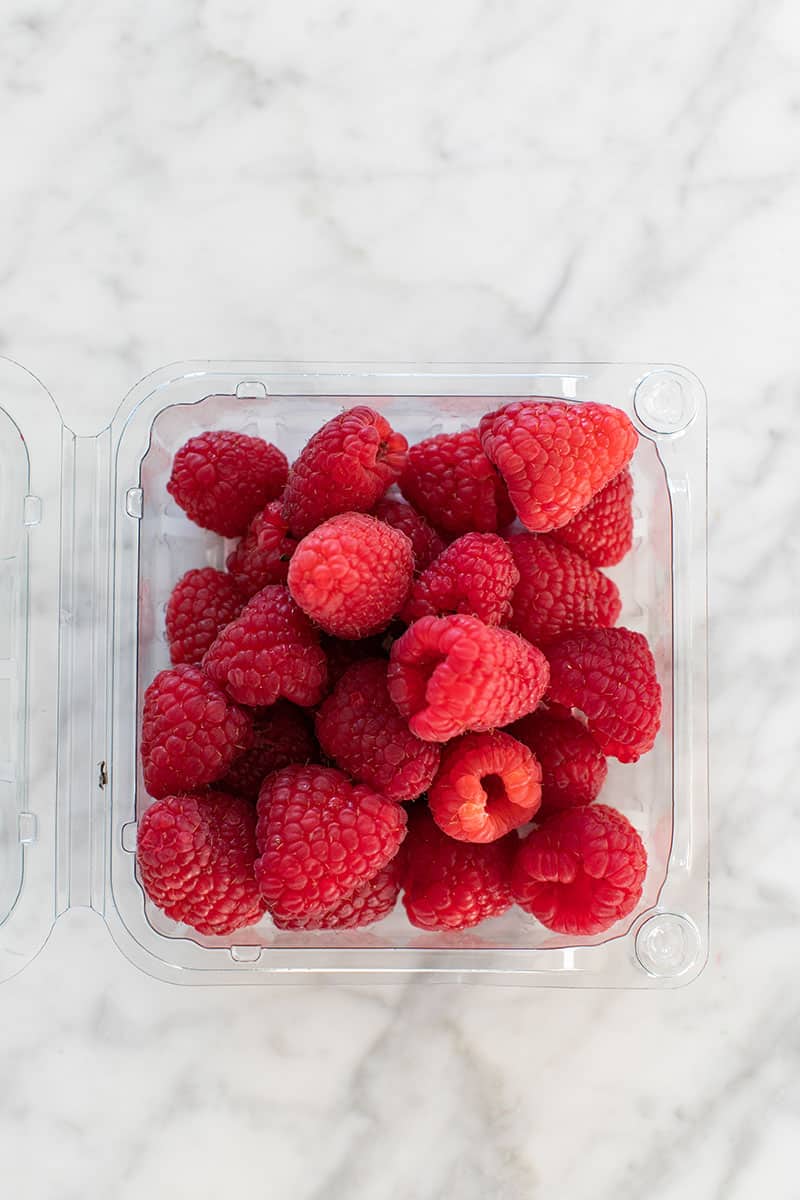 Fruit and Berries – Sliced apples, pears, and other seasonal fruits are perfect for a platter. Berries are great too! Use red berries for this Valentine's Day-themed platter.
Quick tip – Squeeze a little lemon juice over the apples before putting them on the board. This will help them not turn brown.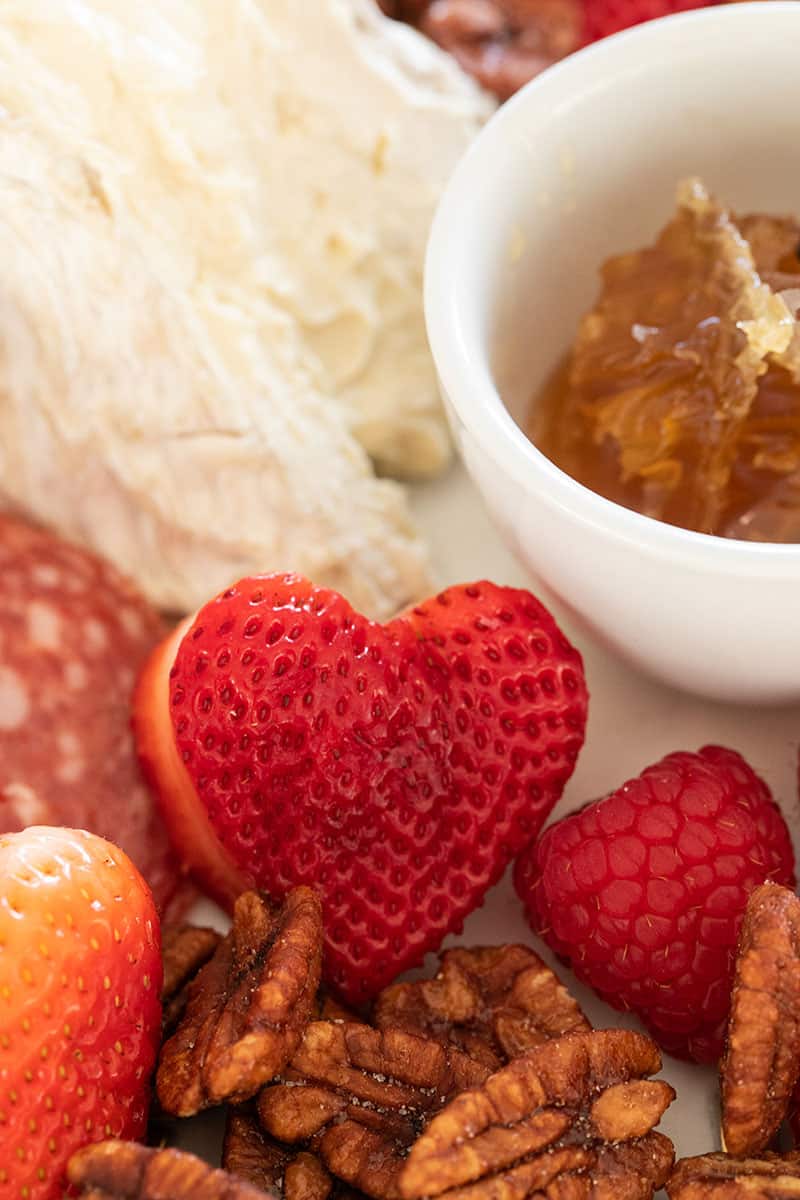 Heart-Shaped Strawberries
It's all in the small details when entertaining for a holiday! These are so easy to make and take just a few extra minutes.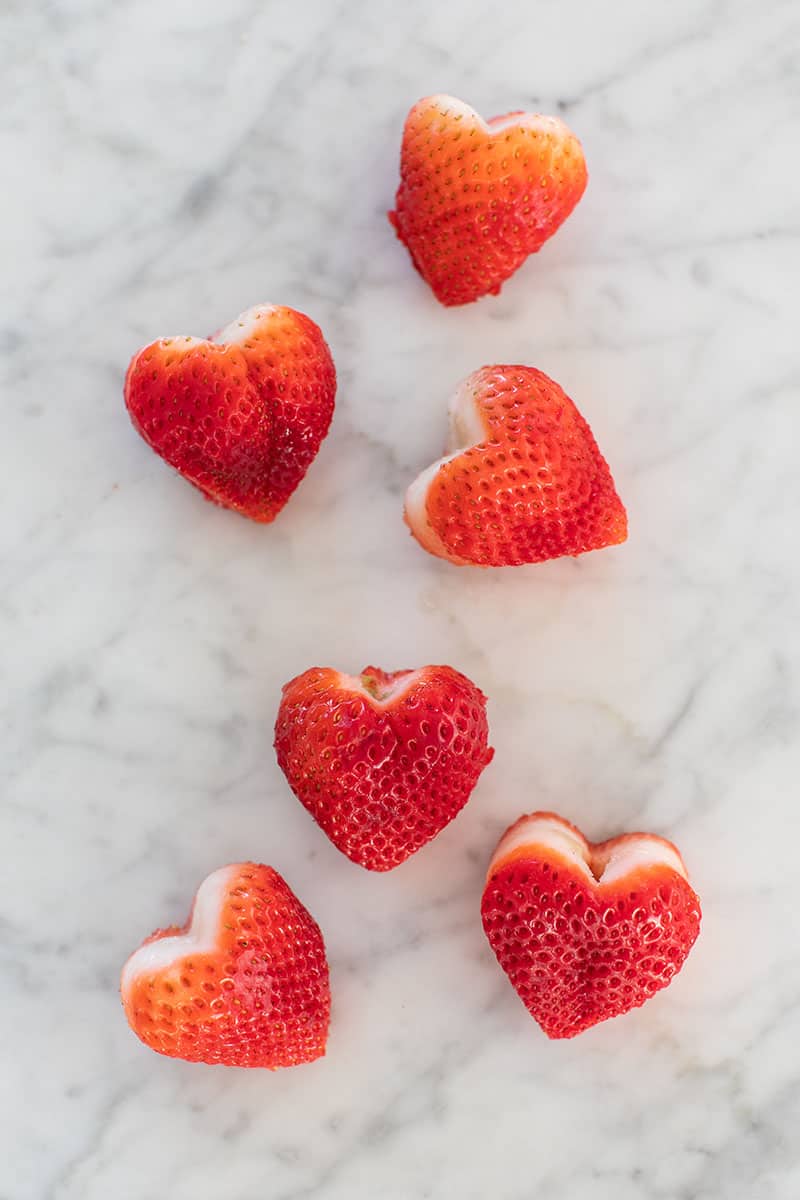 You'll need these heart cutters and large juicy strawberries. The larger the strawberries the better the heart shape! Use the smallest cutter in the pack.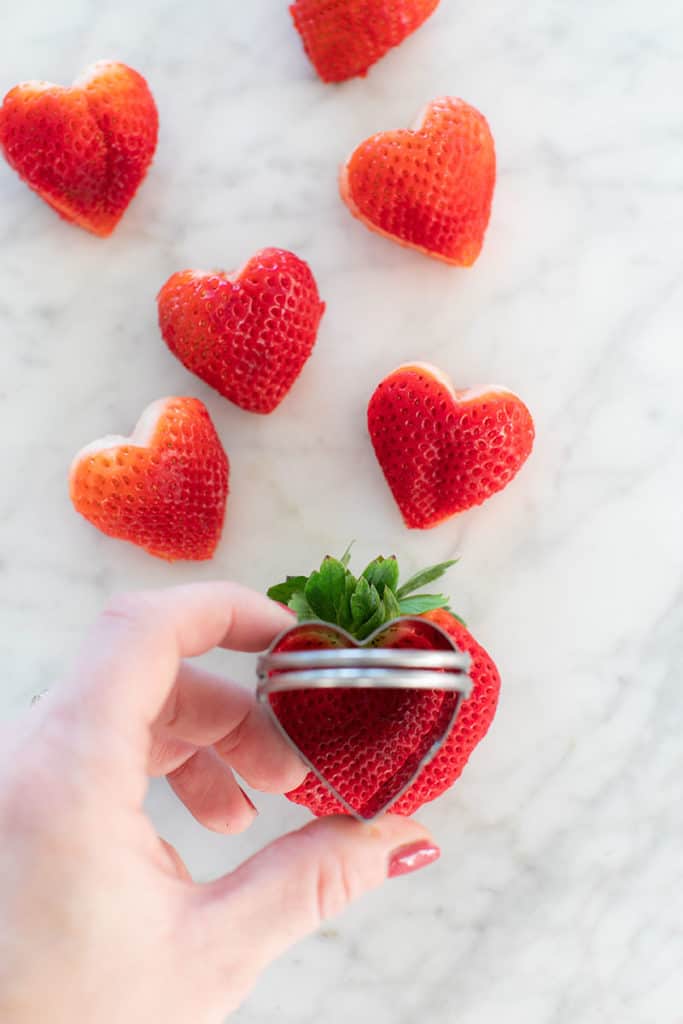 Take the cutter and press down on the side of the whole strawberry to make the shape. That's it!!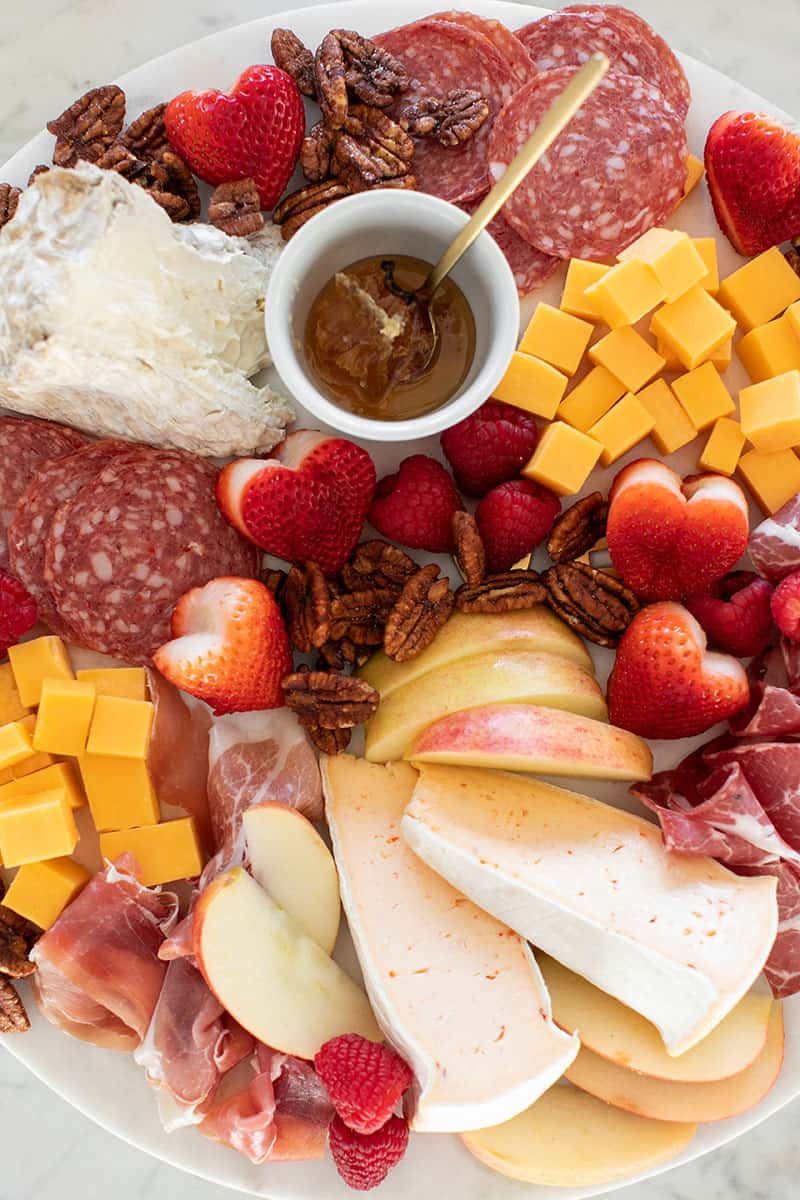 Place the hearts around the platter!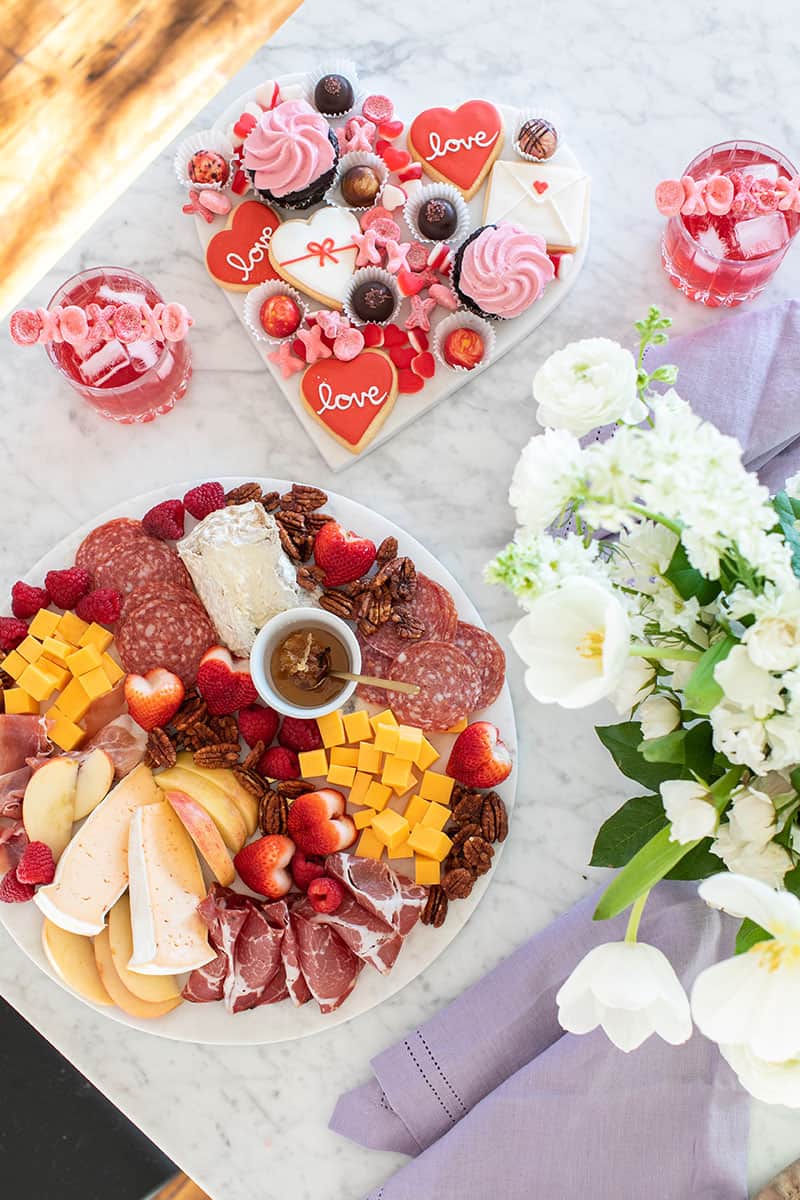 This is how the platters will look like together! Isn't that such a stunning spread?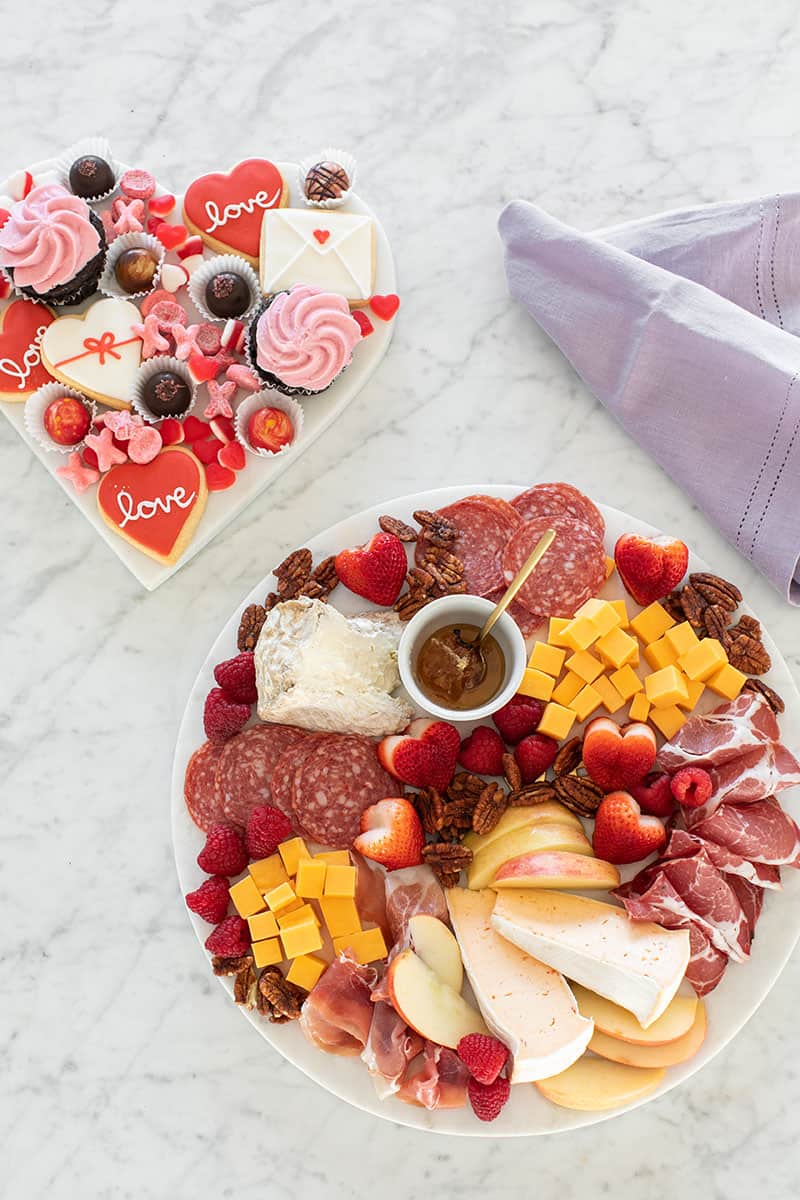 Valentine's Day Cocktails
Now that you have the boards assembled, it's time to think about cocktails! Of course, you can always serve wine which pairs so nicely with cheese and meat.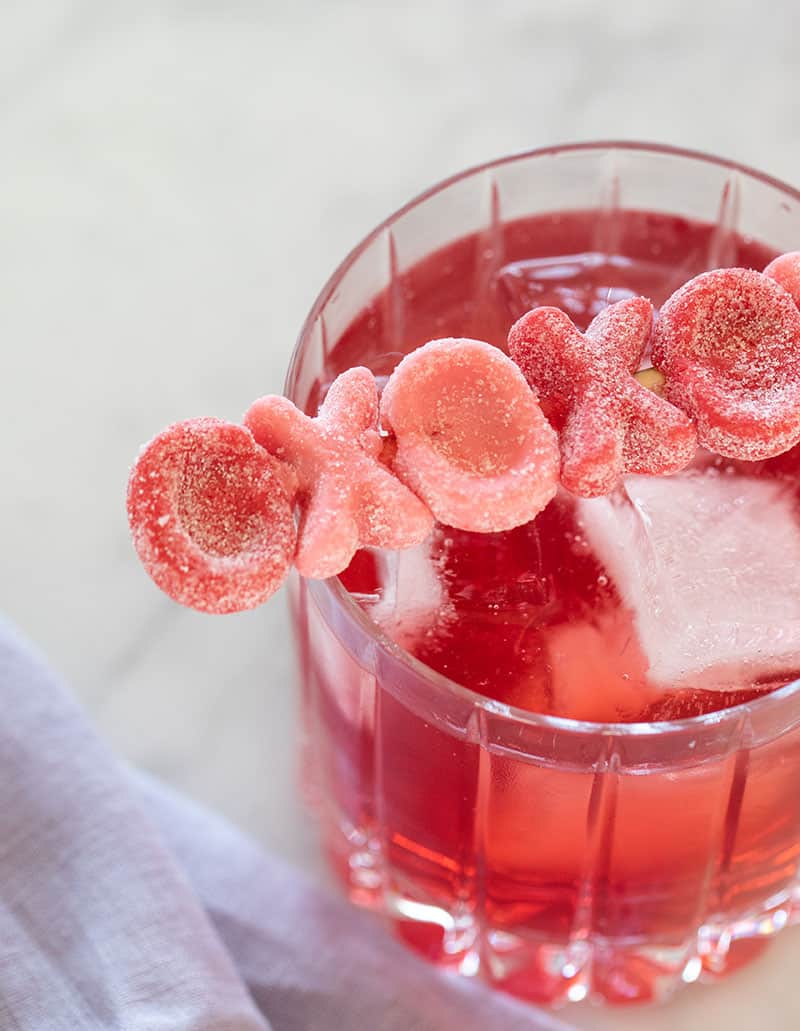 However, there really isn't anything better than a festive cocktail! I mean, at our parties we serve both! Here are some ideas for cocktails:
14 Valentine's Day Cocktails You'll Love
Cocktail Gummy Skewers
Add a charming touch to your Valentine's Day cocktail with DIY gummy skewers. These are perfect to place on the top of the glass before serving.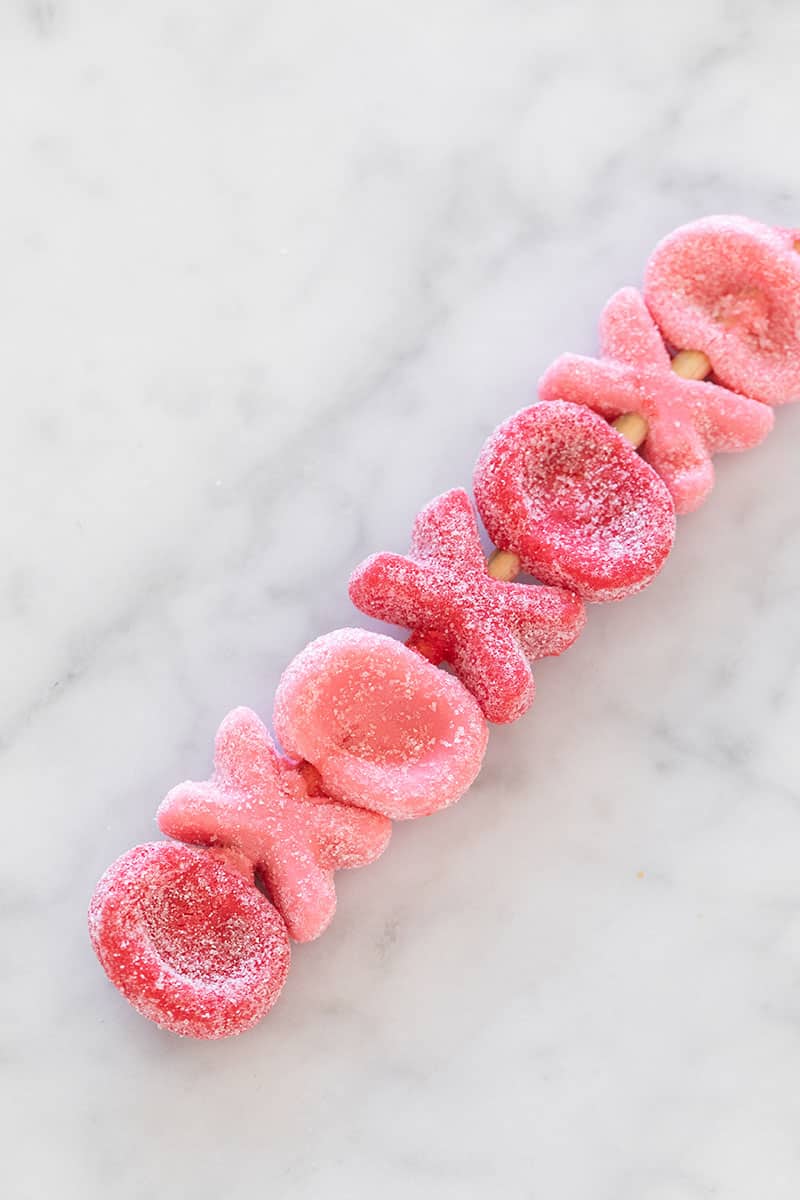 Supplies
Wooden Skewers or Cocktail Picks
Scissors
If using wooden skewers, cut them to the opening of the glass, leaving a little end on each side so the skewers can rest on the glass.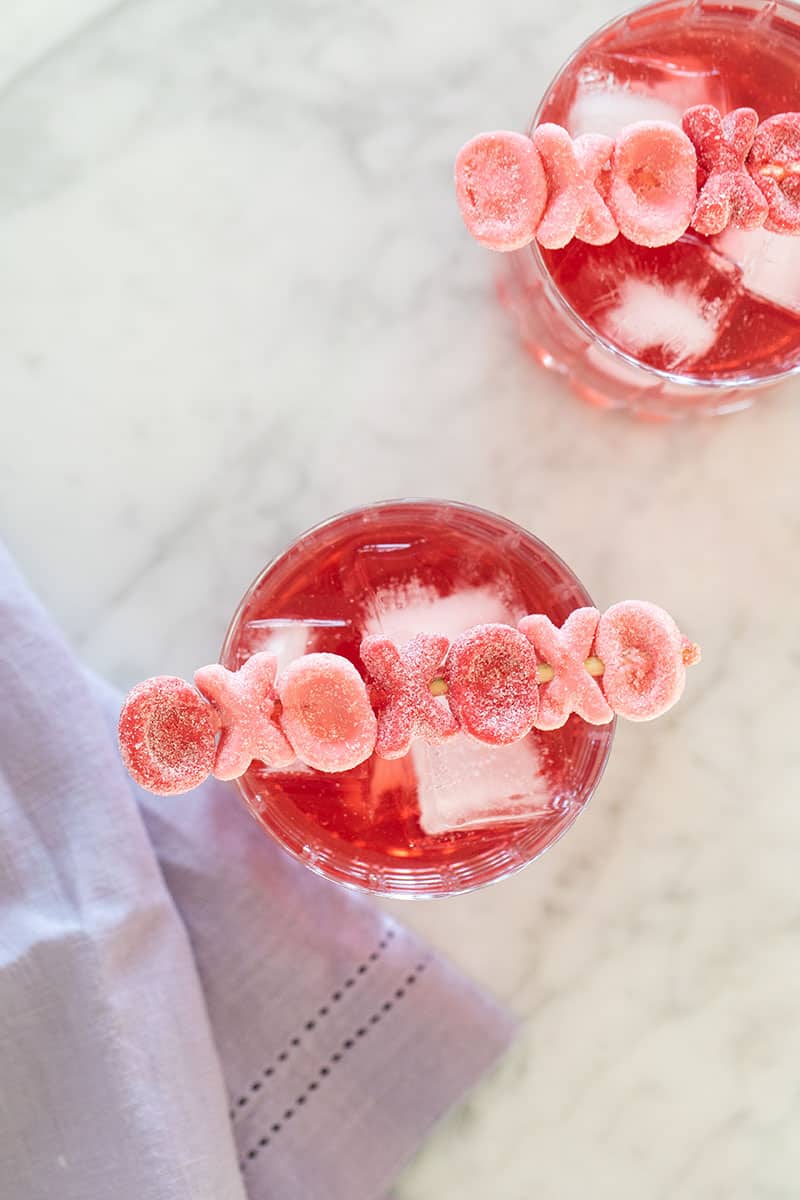 Add the x and then o to one side of the skewer, then do the same the other side. We find it's easier for the gummies to slide on when they don't have to be pushed all the way down the skewer, which is why we do one end and then the other.
Once your dessert platter and charcuterie platter are finished, add some flowers or a heart-shaped wreath to the table, set out small plates and napkins and you're ready! The easiest Valentine's Day meal ever! Let us know if you make this in the comments below. We love to hear your thoughts!
Also, tag us on social @sugarandcharm so we can see your pictures on share!
You can also FOLLOW US on FACEBOOK, INSTAGRAM, and PINTEREST to see more delicious recipes, cocktails, desserts, and parties!
This post may contain affiliate links. Please read our disclosure and privacy policy.
This post contains affiliate links.