How to create a charming Alice in Wonderland tea party for kids! Read on for great ideas on decor, food and more!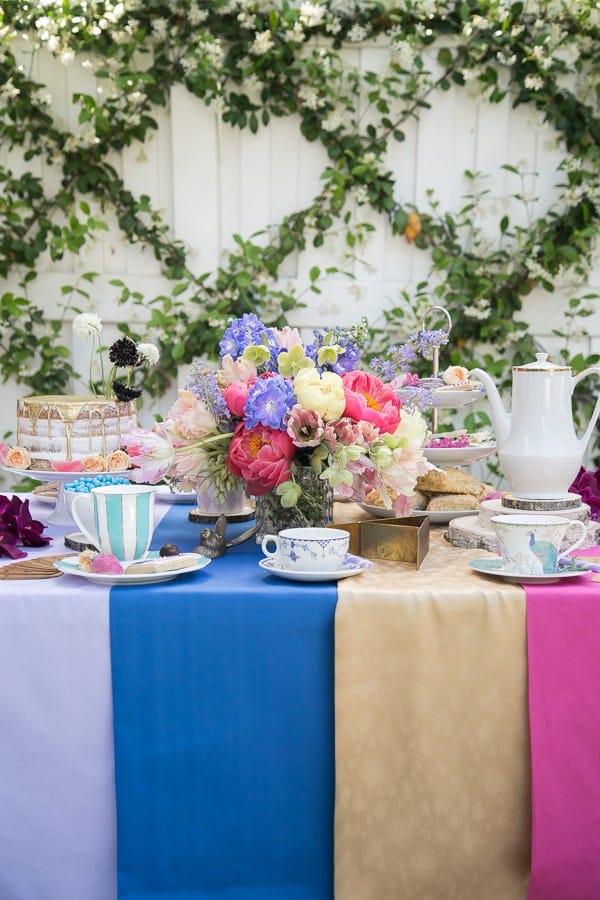 For the decor, I scoured vintage shops and antique stores for funky teacups and found a plethora of unmatched, colorful cups and saucers.
We served warm tea with honey, delicious tea sandwiches, macarons, the cutest chocolate cats, marzipan strawberries, shortbread cookies with "eat me" written on them, lemon scones and a delicious vanilla cake with asymmetrical flowers added to it!
How To Plan an Alice in Wonderland Tea Party – Step By Step
Send out your invites well in advance.
Grab some thrift and vintage shops for interesting and mismatched cups, saucers and plates!
Create an easy finger food menu, with a good helping of sweet and colorful treats.
Make sure you have a big enough table or tables for your spread. If you have space outside, opt for the outdoors, just like Alice did.
Add some floral arrangements for a further pop of color and freshness.
Have plenty of tea and soft drinks ready to serve.
Enjoy!
How to Decorate Your Alice in Wonderland Tea Party
Don't worry about being matchy-matchy. Mix the flowers with old and new tableware in various patterns – this will allow you to create your own look.
If you are able to visit a flea market or garage sale, look out for old silver trays, teapots, and teacups. Don't be afraid to mix and match teacups too. Straw hats can also be incorporated into your tablescape for a fresh look.
Fresh flowers are always a must when throwing a party! The flower arrangements should be lush and have an "unarranged" feeling to them. Mix roses with other garden-variety flowers such as hydrangea, tweedia and black-eyed Susan's.
Sweets For Your Tea Party
And of course we didn't forget the candy! Pink gumballs and chocolate candies were placed on the table to add a punch of color and sweet charm!
The important thing is to keep it colorful and varied! Why not fill teapots with lollipops or apothecary glasses jars with shiny wrapped sweets! You can really get creative when the theme is colorful chaos!
Other sweets are often served with full tea or light tea. Common types of sweets found on tea party menus include various types of sponge cakes, Madeleines, cupcakes (which are ideal for kids' tea parties) and trifles.
Be careful not to have too much overlap in the types of sweets you serve. Ideally, your sweets menu will include a variety of flavors, such as seasonal fruit (or, in the cooler months, preserves), cream, vanilla or chocolate.
Tea at your Alice in Wonderland Tea Party
With so much of a focus on the foods in afternoon tea, it can be easy to overlook the…. tea!
Here is a list of top teas for afternoon tea, as most of them pair very well with a range of foods found on afternoon tea menus. Try to select bold teas for rich or strongly flavored foods or more delicate teas for more subtle foods.
Consider including at least one caffeine-free tisane ("herbal tea") or a decaf option, in case some guests are sensitive to caffeine.
Finger Sandwiches at your Alice in Wonderland Tea Party
Finger sandwiches (also known as "tea sandwiches") are often served at full tea, a heavier style of afternoon tea menu.
Classic afternoon tea finger sandwiches include egg salad, tea sandwiches, cucumber tea sandwiches, smoked salmon finger sandwiches, roast beef finger sandwiches, ham finger sandwiches, and chicken salad finger sandwiches. (These types of simple recipes tend to work well for kids' tea parties.)
However, you can venture beyond these more traditional tea sandwiches with other tea sandwich recipes, like watercress tea sandwiches or buttered radish finger sandwiches. Just be sure to keep the intensity of the flavors in your finger sandwiches comparable to the level of flavor in your tea and sweets.
Top Tips for Hosting an Alice in Wonderland Tea Party
Make sure to send out your invites well in advance.
Find mismatching cups and saucers in vintage and thrift shops.
Have a floral centerpiece for an added pop of color.
Have some caffeine-free tea available for guests.
Check Out These Other Great Party Ideas
Halloween Party Trick or Treat Bar
How To Throw a Last Minute Birthday Party
How To Host A Wine And Cheese Party
30 Unique Party Theme Ideas by Eventbrite
DIY Party Bags from UpCycled Comics by Redted Art
If you host an Alice in Wonderland Tea Party let us know how it turned out in the comments below! 
You can also FOLLOW US on FACEBOOK, INSTAGRAM, and PINTEREST to see more delicious recipes, cocktails, desserts and party ideas!