Here's an easy guide to how to host a gluten-free birthday party, with delicious gluten free party food. From planning a super simple menu, making a delicious gluten-free dessert to decorating a birthday party!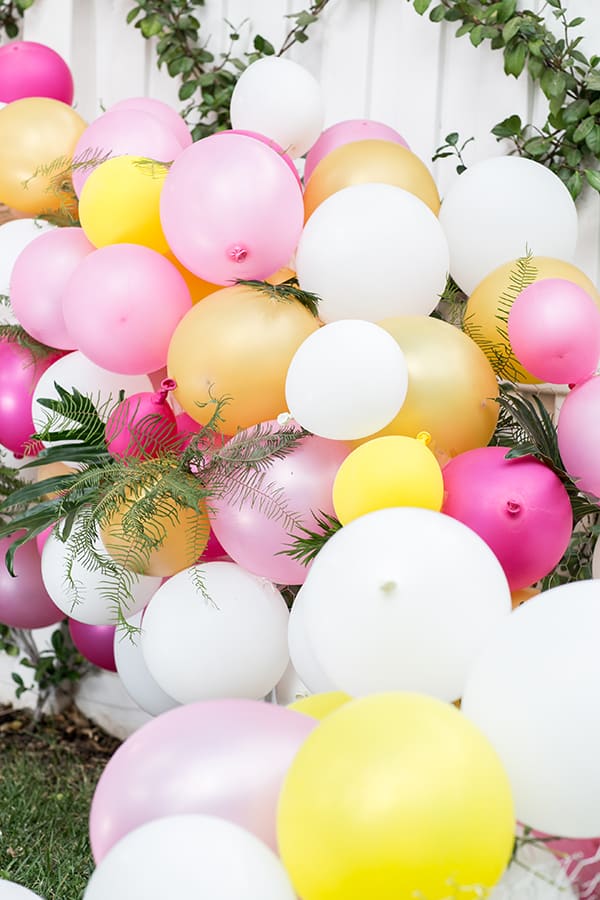 We were thrilled to team up with Freschetta® to host a charming, yet simple gluten-free birthday party! Full of delicious gluten free party food. For this event, it was important to create a perfect gluten-free menu that addressed the guest of honor's gluten-free diet, but was still a delisious meal that everyone could enjoy!
It can be difficult, and even stressful, to find tasty, gluten-free options that please everyone, but with crispy, delicious gluten-free pizza from Freschetta®, it was so easy to pull the menu together.
I was able to spend more time making the get-together fun and festive! I started with effortless decor… a low table setting with comfortable throw pillows! You can't go wrong there.
Read on for awesome gluten free party food and party ideas!
How To Host A Gluten Free Birthday Party – Step by Step
Decide on the theme and the date of the party.
Send out invitations 6-4 weeks prior to the event.
Plan the menu, in this case it's a gluten free menu.
Purchase party decorations and make any DIY projects.
A week before the party, make sure you have ordered anything you need to purchase online.
A few days before the party, grocery shop and prepare.
The day before the party, make anything you can that is make-ahead.
Day of the party, decorate, cook and enjoy!
Birthday Party Deocrations
DIY Balloon Arch
We hosted this birthday party outside and made it a cozy atmosphere by creating an easy-to-make balloon arch for the backdrop for the party. Balloon arches are so fun to make and you can use any color of balloons to fit your theme.
Flowers
Every party needs flowers! You can make your own simple arrangement or buy one from a local florist. Either way, flowers add instant decorations to a table and make the party festive. You can also enjoy them for the week after!
Throw Pillows
Create an inviting party with a variety of throw pillows. Guests can use these to sit and relax.
Low Table
For the outdoor party, we used a low coffee table for seating. This was you don't even need chairs, just the pillows.
Birthday Party Essentials
Plates
Napkins
Glasses and Silverware
Cakestand
Gluten Free Party Food – Savory
For the menu, we served Freschetta's® Gluten-Free, Thin & Crispy 4 Cheese Medley Pizza, that even my none gluten-free guests devoured! The crust is so crispy and delicious, it's definitely the kind of thing you crave when it's gone.
Paired the pizza with a garden salad and a tasty rosé sangria.
Gluten Free Party Food – Desserts
For dessert, I used this recipe to create a decadent chocolate gluten-free birthday cake! Here are more delicious gluten-free desserts you can make:
Gluten free chocolate brownies
Chocolate Chip Cookies Gluten Free
Cheesecake Gluten Free
47 Gluten Free Desserts from Bon Appetit
Gluten Free Party Food – Punch Recipes
We served a rosé sangria, but there are so many delicious party punch recipes you can make!
Blackberry Margarita Party Punch
What does it mean to be gluten free?
If someone is on a gluten-free diet it's because they have a sensitivity or allergy to gluten and need to manage symptoms of celiac disease. A gluten-free diet excludes gluten. Items like wheat, rye, barley, couscous and wheat germ all have gluten protein which needs to be avoided. You can read more about it here.
What food is gluten free?
Foods that do not have grain in them are usually gluten free. Things like vegetables, fruit, fish, meat, poultry, beans, dairy and legumes are all gluten free. Some whole grains are gluten free as well.
Does milk contain gluten?
Plain milk is dairy free and so it butter. There are things like a malted milkshake that would not be dairy free as it has barley.
Here is a gluten-free food list that will help you when choosing a menu for a gluten free birthday party.
How do you entertain guests at a birthday party?
Create a beautiful setting for guests to enjoy.
Have an activity or something special for guests to do.
Always have food and drinks!
Music should be playing to set the mood.
Talk to everyone at the party to make them feel welcome.
More Parties!
If you have tried these Gluten Free Party Food ideas or any other ideas on Sugar and Charm, then please rate it and let me know how it turned out in the comments below! 
You can also FOLLOW ME on FACEBOOK, INSTAGRAM, and PINTEREST to see more delicious recipes, cocktails, desserts and party ideas!