If you have the perfect spot for a hammock in your yard and you've been thinking about adding one, this post is for you! Sharing ways you can create your own hammock oasis in your backyard!
I've always wanted a hammock to relax in. But not just a plain hammock, I'm talking about a hammock oasis! An area for guests to just lay back and fully soak in the country feel of our property.
It's the perfect spot to have a nice cocktail and good conversation. It's like an extension of our indoor and outdoor space! Before, the area was just two trees in the middle of the yard screaming for a hammock, and now it's a mini hammock oasis and we're loving it!!
Gently swaying away stress and experiencing island life right in my backyard!
Here's a photo of the two trees in our yard that are perfect for a hammock! They are screaming to have a beautiful hammock connecting them, so we did it!
How to Hang A Hammock
Supplies
Screw Eye Hooks – Large
Drill Bit – One size smaller than the screw eye
Chain – Two pieces. Measure the length to the tree and then have the store cut twp pieces. Leave a little extra.
Spring Snap Link – Get 4 of these, two for each side. These are to connect the hammock hooks to the eye hooks. Some hammocks come with these, but if they don't you'll need them.
Directions
Measure the distance between the trees. You'll need to know this when buying the chain links.
Also, measure the height of where you want the hole on each tree so the hammock is even. Use a marker to mark each height and where you'll screw in the hole.
Using the drill bit, choose one size smaller than the screw eye and make a pilot hole in the tree.
Screw in the eye hooks to each pilot hole.
Add the spring snap link to each side of the chain links and connect it to the hammock and to the tree on each side.
10 Tips for Creating a Hammock Oasis
Shopping for Hammocks
There are several on the market! Here are a few of our favorite ones, including the one we used in our Hammock Oasis.
Outdoor Side Tables
Place a side table next to the hammock for lanterns, candles, and a place to set drinks.
Find one about the same height as the hammock, so it's comfortable to reach. Here are some good suggestions:
Add Pouf
Adding a pouf near the hammock is great for extra seating or to set a tray on for food.
Market String Lights
Nothing sets a more romantic atmosphere than string lights! It adds the perfect amount of glow as the sun goes down.
Run an intension wire from an outlet and hang some beautiful, temporary market lights above the hammock.
Citronella Candles
Keep those bugs away with citronella candles!! These are a must during the summer months. Here is a DIY for making your own citronella candles!
Throw Pillows
When you think about the outdoor space, think about it as an indoor living space. Do the same as you would indoors, but with outdoor items.
A must-have for creating a laid back, relaxing environment are pillows! Having a pillow to lay your head on in the hammock makes a world of difference!
Pillows are also a great way to add a pop of color to your space. I used this one and this one.
Lounge Blankets
It gets chilly at night (even in the summertime), so having some blankets on hand is always a good idea.
Acrylic Tray
Perfect for serving food and drinks, you can place it on the pouf.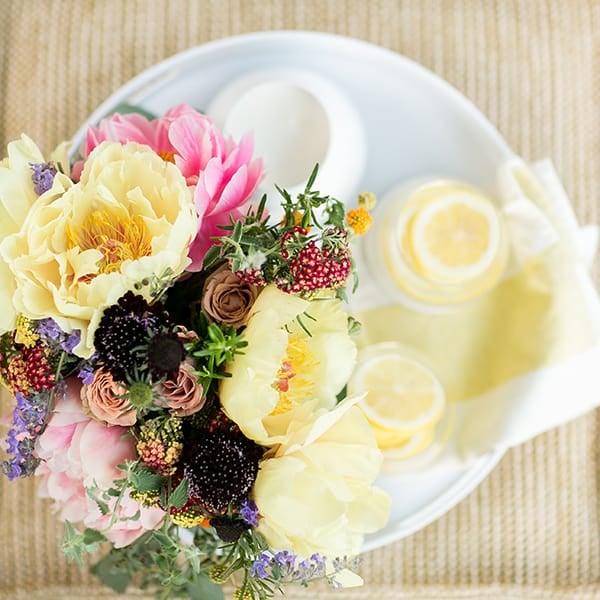 Fresh Flowers
Add fresh flowers to the tray for some decor. They add instant decor and create a charming ambiance.
Outdoor Lanterns
Just like string lights, outdoor lanterns and candles create a warm, inviting and romantic atmosphere.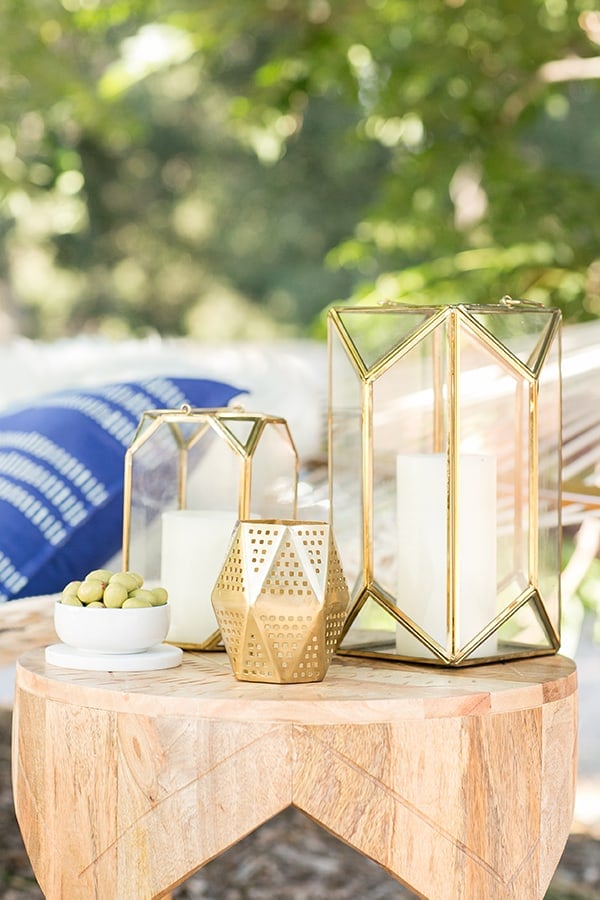 We'd love to see photos of your hammock oasis! Please leave a comment below and also tag us @sugarandcharm on social!
You can also FOLLOW US on FACEBOOK, INSTAGRAM, and PINTEREST to see more delicious recipes, cocktails, desserts and parties!