There are so many excellent tasting rooms in Carmel to enjoy a glass, but these are my picks for the 5 best tasting rooms in Carmel!
After exploring Monterey on our recent trip there, we couldn't believe our taste buds after wine tasting in the charming village of Carmel-by-the-Sea. Although there are actual wineries in the region as well, we loved staying in town and sipping our way through Carmel's local wine offerings.
Pinots and Chards are the thing up in Monterey, but other varietals we tried were delicious too! Hopefully you're inspired to check out Carmel's charming wine rooms if you're ever up in Northern California!
Scratch Wines is probably the closest to the anti-tasting room, tasting room with edgy art adorning its wine labels and stationed right in a fun art gallery.
Winemaker Sabrine Rodems is the guru behind their delicious Grenache and also the winemaker for the popular Wrath winery. Yay for women winemakers!
Aside from the fact that owner Alan Silvestri is the genius composer of such iconic movie theme music like Forest Gump and Back to the Future, the man knows good wine.
We loved the Pinot and also his plethora of hit movie songs playing in the background!
Scheid is an excellent tasting room, with a super knowledgable staff and yummy wines. We loved the Odd Lot Red, which was a blend and their Pinot was delicious as well.
We had a good time at Dawn's Dream. A few people recommended visiting it and we understand why.
It's down-to-earth vibe, large bathtub (which of course we took a few pics in!) and free dark chocolate made it all worth the visit. We like the Rachael Pinot and the Rosé.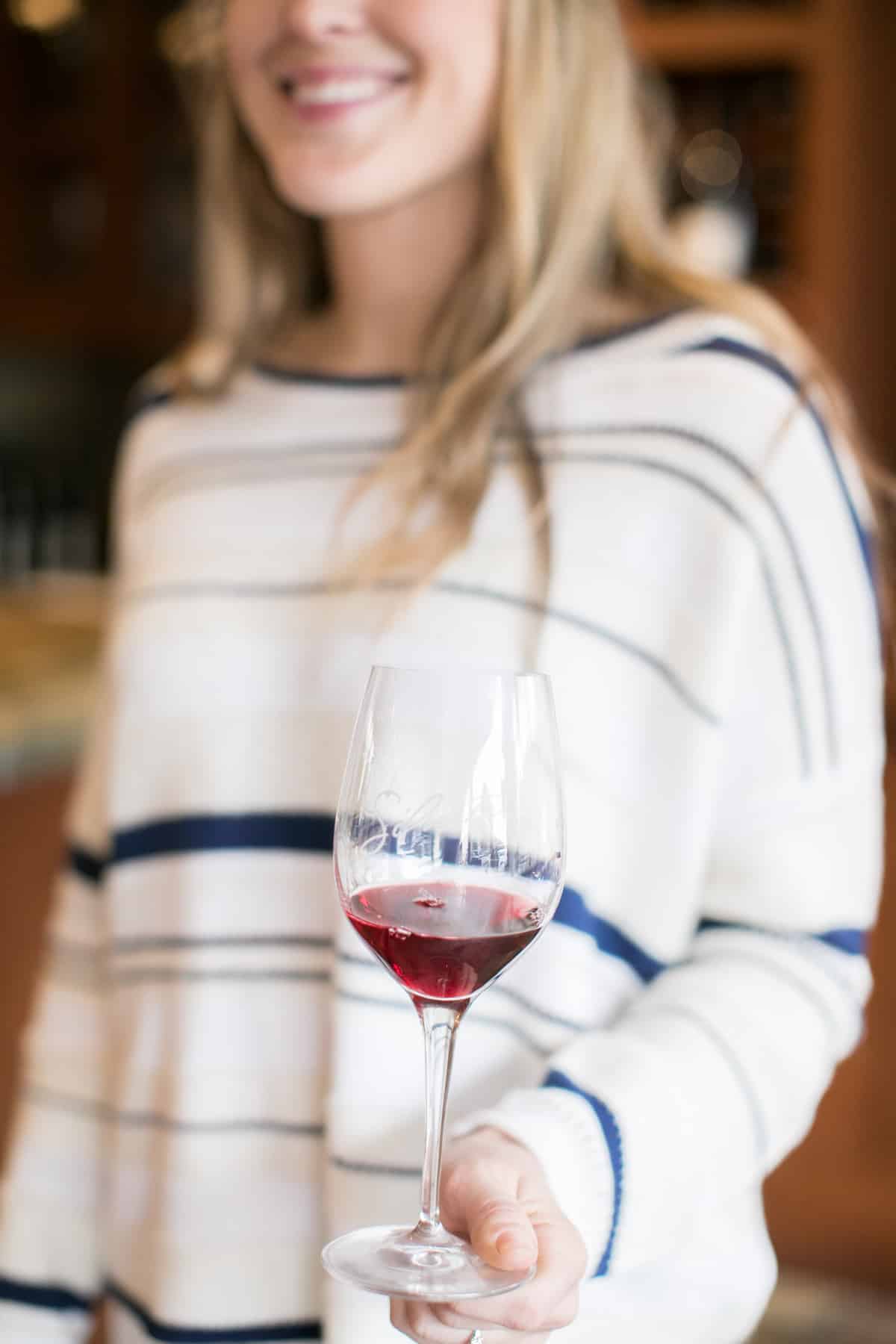 Caraccioli is the perfect tasting room for a relaxing experience where you can sample all of their delicious wines, but also fill your tummy with an assortment of snacks from charcuterie and almonds to olives or chocolate.
One of the few tasting rooms that offer a bit more extensive food choices. You won't be disappointed with Caraccioli!
We stocked up and brought some good bottles home. I love to open special bottles of wine when I entertain.
Check out our guide for serving wine and our wine and cheese party!