A list of the best natural cleaning products that work! These are some of our favorite products to clean our home with.
It's very rewarding to create a healthier cleaning kit to clean your home with. I personally love to clean my house, especially when I have good products to use.
After years of testing different brands and using several natural and non-natural products, I feel like I've created a really good natural cleaning kit.
All with products that work without harsh chemicals. These products are perfect for cleaning all areas of your home!
We've removed harsh chemicals from our cleaning kit and replaced products with plant-based ingredients, that are biodegradable and fewer warnings on the labels.
If something works just as good without the chemicals, why not use it? It makes me excited to clean my home with items that smell good and are actually cleaning! Also, check out our cleaning checklist to help you clean too!
What are the Best Natural Cleaning Products?
There are truly so many natural cleaning products on the market today. Some are more "natural" than others and I suppose if you want 100% nontoxic, you can make your own with simple ingredients.
We wrote about creating your own cleaning products here. But if you're like me, I do a mix of both. I have a few homemade cleaners, but I also have my absolute favorite products as well.
Best All Natural Bathroom Cleaning Products
Bathroom Cleaner – Better Life cleaning products have proven to work wonders for safe cleaning.
Their bathroom products feel like old-school cleaning products and smell good with, tea-tree, eucalyptus and peppermint. The bathroom cleaner feels strong and works well for a deep clean, highly recommend all three of their bathroom cleaning products.
Toilet Cleaner – Better Life has the best natural toilet bowl cleaner. It's a gel that coats the bowl and you leave it on for about 5 minutes. It works so well, better than any other natural toilet cleaner.
Glass Cleaner – Better Life glass cleaner is streak-free and works well.
Light Bathroom Cleaner – Common Good lavender bathroom cleaner is a nice, light cleaner and good for a quick wipe down. Also made with tea tree and lavender essential oils. The products are formulated without sulfates, biodegradable, and are certified cruelty-free.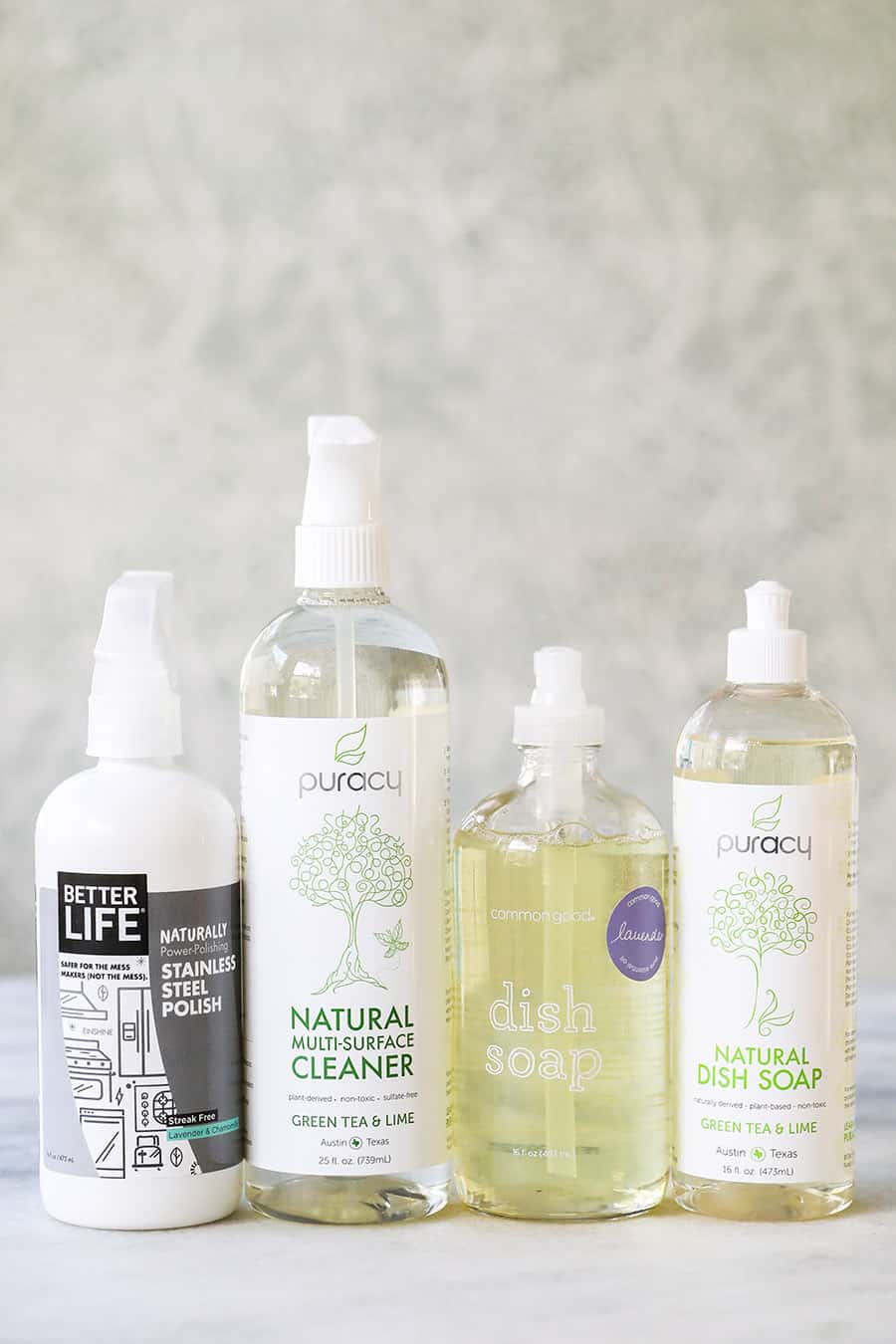 Best All Natural Kitchen Cleaning Products
Stainless Steel Cleaner – Better Life stainless steel polish is awesome! It has the exact texture of any stainless steel product on the market, but natural! 100% our favorite stainless steel product leaving appliances streak-free.
Multi-Purpose Cleaner – Puracy is our favorite, pure, all-purpose cleaner. It smells good with lime and green tea and effectively cleans surfaces. The brand makes really good products without dyes, sulfates, parabens and phosphate-free. Also, rated by the New York Times as the best All-Purpose Cleaner and has positive reviews.
Dish Soap – Puracy has our vote for the best, pure dish soap. It's completely plant-based and has a thicker consistency. It cleans pots and pans and wood cutting boards well.
Dishwasher Hard Water Booster – We have very hard water where we live and our dishes come out with a cloudy film around them if we don't use a booster. Lemi Shine is literally the only booster that will actually cut through the film and make our dishes incredibly clean and clear! It mostly uses citric acid and it's also phosphate-free, biodegradable and non-toxic.
Best All Natural Floor Cleaner
Better Life wins again for the best floor cleaner. We love their Dirt-Destroying floor cleaner and it's a good squirt and mop that works on all floor surfaces leaving the floor feeling clean and looking shiny.
It's a deep cleaning formula all without harsh chemicals and there is no rinsing required. It's also only $6! Use it with this mop and then toss the pad in the washing machine after I'm done.
The Best Natural Products for Laundry
Laundry Detergent – Seventh Generation Pods is our choice as well as Dr. Bronner's Castile Soap. The pods are easy to toss in and work really well. The Castile soap is affordable and can be used for laundry and many other ways too.
The lavender smells SO good and leaves clothes feeling clean. They are not to be used together, but you can switch them off depending on the load you're doing. Puracy is also a great choice for healthy laundry detergent.
Wool Laundry Balls – Instead of dryer sheets try wool dryer balls with lavender essential oil. Add about 10 drops of oil on each ball and your clothes come out smelling so good and fresh!!
Stain Remover – Puracy has one of the most powerful, natural stain removers. It works really well and definitely with keeping in your laundry kit!
Linen Spray – You can spray it on sheets or clothes for an instant refresh. If you need wrinkles out, spray it on a shirt and then toss it in the dryer for a few minutes.
Best Multi-Purpose Cleaning Products to Have in Your Kit
Dr. Bronner's is used to clean just about anything! It's inexpensive, works really well and can also be used to make your own products. We use it for laundry, body wash, dishes. It's just a great product to have on hand.
Seventh Generation Bleach is also a safe and effective, natural items to keep on hand. As we all know, bleach is so powerful and can make anything sparkly white, but it's not the best for you. Seventh Generation has come out with a Chlorine-Free Bleach that is also tough on stains.
Aunt Fannie's Vinegar Wipes – I love cleaning wipes and these are as pure as you can get!
I store all of my cleaning products in a metal bin under my kitchen sink. Using these products makes cleaning fun for me and I enjoy the process when I can clean with pure ingredients.
We hope you've learned something about a non-toxic cleaning kit and that you try a few of these products out! We truly love and have tested and used them all. Leave a comment and let us know if you've created a natural cleaning kit!