Sharing 5 Natural DIY Cleaning Recipes that work. We use natural ingredients and essential oils to make these wonderful cleaning products. Also, download our Free Printable Recipe Guide!
Spring is in the air and we're excited to share five of our favorite DIY natural, cleaning recipes that work!
We use essential oils for smell, vinegar to clean, baking powder to scrub, Castile soap for a deep clean and witch hazel for a delicious room spray! All of the ingredients are natural, work well and smell good. Below are the five basic recipes you'll need to clean your entire house!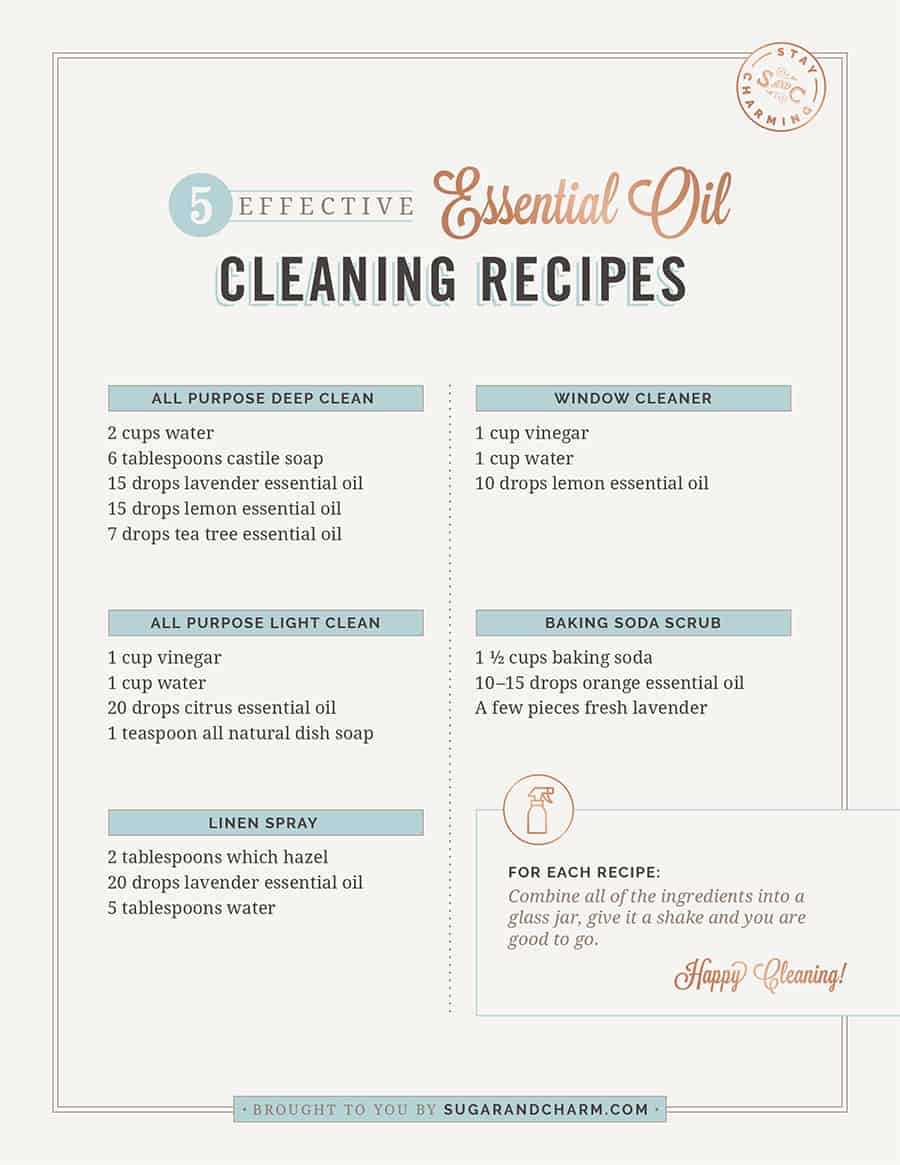 To help make it even easier to create your own natural cleaning products, we're sharing a free printable that you can download, print and keep in your cleaning closet! Click here to download our essential oil cleaning recipe chart!
Must Have Supplies to make DIY Cleaning Products
Dr. Bronner's Castile Soap, White Vinegar, Witch Hazel, Lemon Essential Oil, Lavender Essential Oil, Tea Tree Oil, Baking Soda, Glass Spray Bottles, Funnel. The brand of oils you purchase is up to you. We've linked three brands we like above.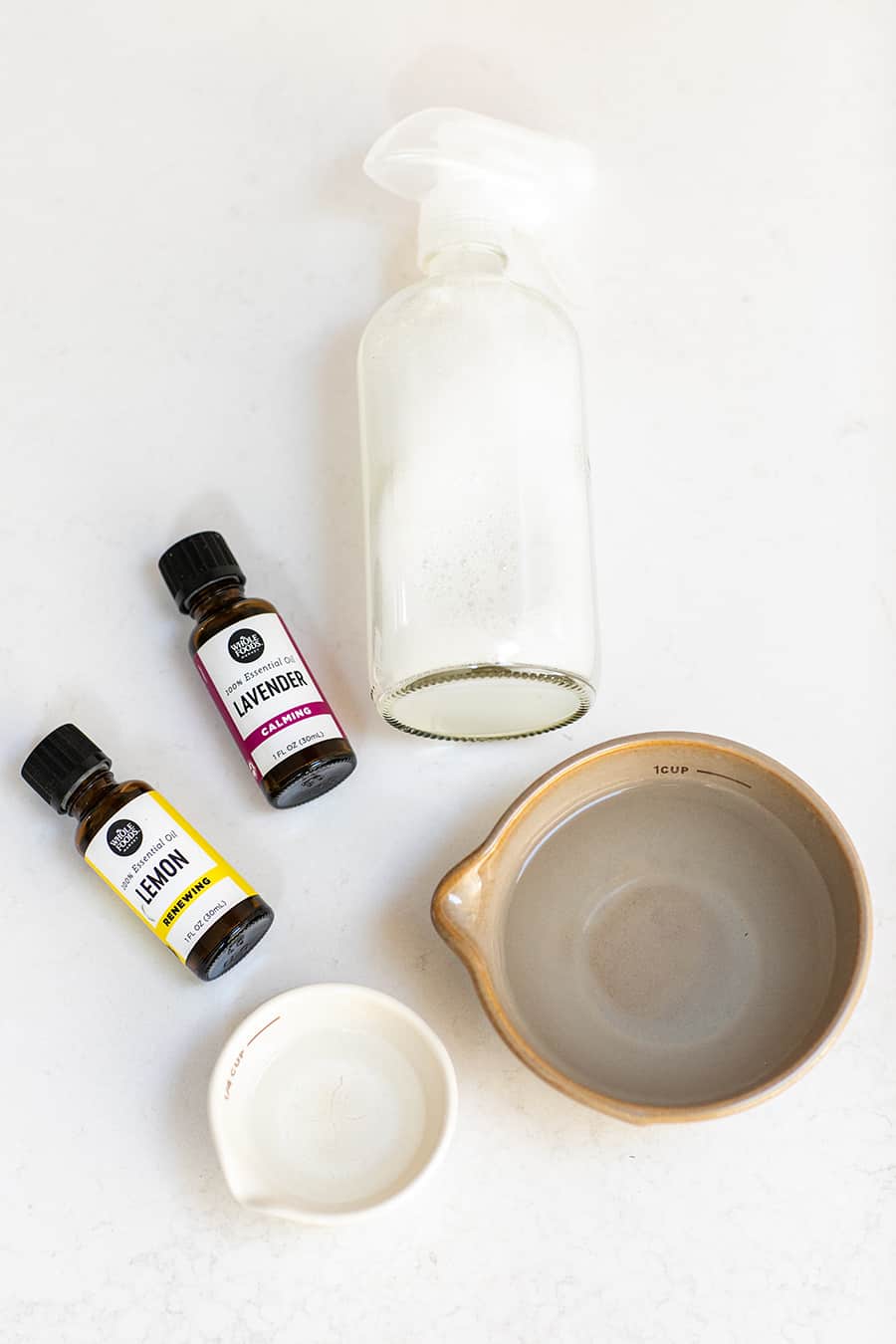 How do you make a multi-purpose natural cleaner?
Making a natural multi-purpose cleaner is very easy. We have two recipes we like to make, you can see on our recipe chart above.
One is a deeper clean using Castile soap, which is biodegradable, pure and tough on grease! We also have a light multi-purpose cleaner that uses vinegar. Distilled white vinegar is an environmentally friendly cleaner that works to leave surfaces clean and also a deodorizer.
Both cleaners have essential oils for smell and water to dilute. They work wonders for countertops, bathrooms and more! However, if you ever need to fully disinfect an area because of flu or a virus, you'll need to use a store bought disinfectant spray.
But overall, these two natural multi-purpose cleaners work great for everyday wiping down and cleaning. They smell good too!
How do you make a natural window cleaning spray?
For a very effective window and glass, cleaner try our recipe using equal parts vinegar and water with a few drops of essential oil. You can also add a little lemon juice if you prefer too.
It leaves windows clean and streak-free! It's also very affordable to make and smells so good with the lemon oil. You'll be amazed at how well this window cleaner works!
DIY Natural Linen Spray
Linen spray is something we use every day. The recipe in our recipe chart is perfect and has a strong lander scent, which we love. We use it every night before bed and throughout the day.
The smell of lavender for us, evokes peace, rest and simplicity so we enjoy spraying it over pillows and sheets and in the air. We use witch hazel, water and lavender essential oil. You can use any essential oil you prefer. It's all about the smell and what evokes happiness and peace for you.
We used this small amber bottle to put our linen spray in. We keep it bedside and use it daily.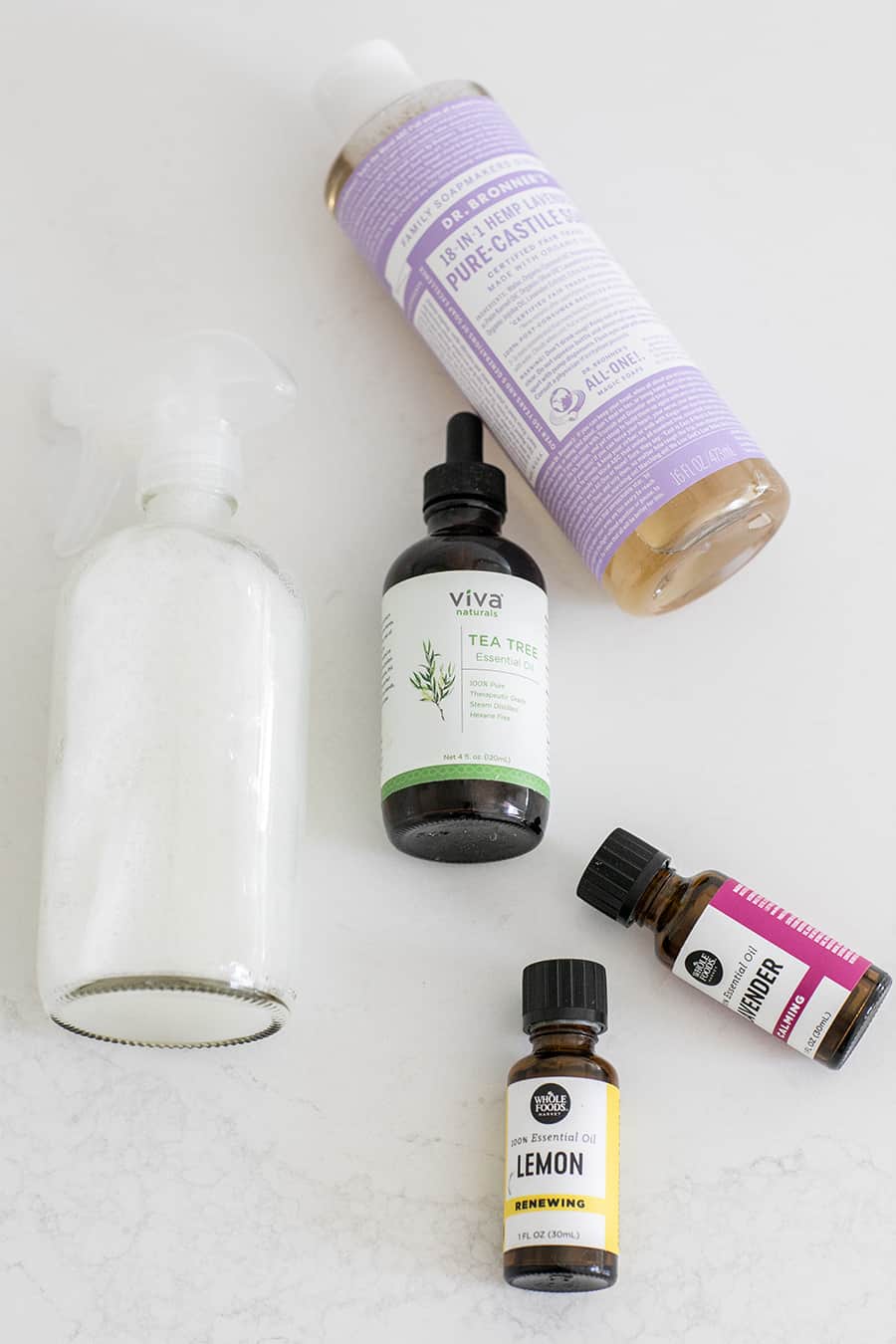 Which essential oils are best for cleaning?
Essential oils have been used for thousands of years for cleaning, healing and other purposes. However, there is limited scientific evidence on how effective they are. For us, we have three oils we truly do believe in for natural scent and healing properties. Lemon oil is effective in helping clean surfaces as well other benefits too.
Using lemon oil and lemon juice in our DIY cleaning products is an effective, natural way to clean your house even though it won't kill all bacteria.
As for lavender, this is strictly for scent and healing. It's one of our favorite scents so we add it to most of our cleaning products and laundry items. There is no cleaning benefit to lavender oil.
The scent of lavender is what we love. It brings a sense of peace to the space. Also, have you ever tried lavender oil on a minor burn? It actually works wonders to initially soothe the pain.
Tea tree oil is said to kill certain bacteria and fungi. We like to add this to our cleaning products for an extra boost.
How can I make my own natural cleaning products?
You can make your own cleaning products using natural ingredients, clear glass bottles and essential oils for smell. Once you invest in the main ingredients you'll be able to continue making your own products and refill your glass spray bottles.
You can use a label machine to label your cleaning products.
More Cleaning Ideas You'll Love!
How to Create a Charming Home Cleaning Kit
Charming Cleaning Checklist – Free Printable!
Recipe for Sweet Orange Lavender Scrub
Also check out our post about using less plastic in your home and the best plastic alternatives.
Another great home idea is to make an Emergency Kit. See how and our recommendations here.
If you make your own products using our recipes please share with us! We love to know your thoughts. Happy Cleaning!!