Easy ways to reduce single use plastic in the home and go plastic free. These are quick, affordable ideas that can even save you money! And while these simple changes may seem small, they make a big impact when we all participate together to keep our planet clean.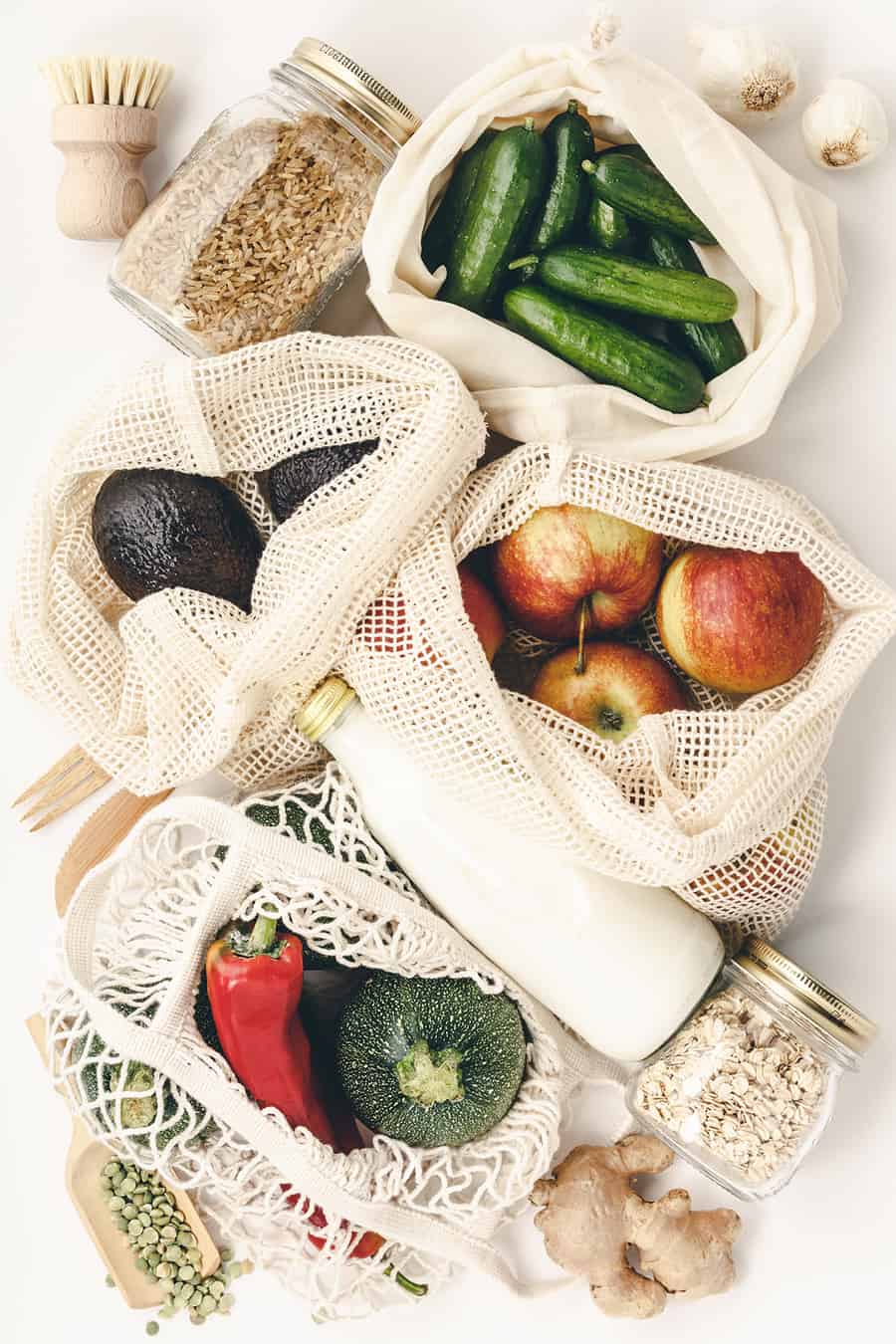 The challenge to stop using plastic can be daunting because it's everywhere! It feels overwhelming to even begin and you might wonder, does it really make a difference? The answer is yes. The statistics are alarming with how much plastic ends up in our oceans and fills our land.
Do me a favor and before you read more, please read this quick fact sheet on single use plastic. I hope you will also make a few of these changes below.
I can't stress enough that you do not have to be perfect at this! Imperfection is completely welcomed and expected. If we all just make a few simple changes, that become part of our lifestyle, it will have tremendous impact.
The focus here is on single use plastic items that are totally easy to change out. Years ago these options wouldn't have been availble to us, but now I feel so fortunate to have better options than plastic.
Better Than Plastic
Everything listed below is BETTER than plastic, works better and of course lasts longer! You will save money and can implant these items effortlessly. These are ideas that anyone can put into place and once you start implementing them, it will become like second nature.
I'm a firm believer in everything in moderation, even when it comes to plastic-free alternatives. You have to be realistic and make the changes easily fit into your lifestyle, otherwise it will never work.
And although we're sticking to household items for this, don't forget there are tons of options for plastic-free, for clean beauty (even cotton swabs!) and for sustainable clothing and goods.
Plastic Free Kitchen Alternatives
Re-Usable Bags
In California, they started making customers pay for plastic bags at grocery stores. At first, it was an adjustment for many… I have to pay for my shopping bags?! But then, people quickly caught on and started bringing their own reusable bags. It's now weird if you load up your groceries in plastic bags.
Reusable bags are not only plastic-free, they're heavier, better quality and way more comfortable to cary than old plastic bags.
Just buy some affordable canvas utility bags and a cold bag and you're set!
Mesh Bags
These are perfect for fruits and veggies and keeping the refrigerator organized. They're also great to bring to the grocery store instead of using individual plastic produce bags.
Quick tip – ditch the produced bags all together! They are totally not necessary and I just toss the produce straight into the cart.
Plastic Free Stasher Sandwich Bags
Say goodbye to plastic ziplock bags and HI to Stasher! They are an investment upfront, but you'll never have to but the $6 plastic ziplock bags again. These are made from silicone and are to be used in place of small plastic bags.
They are freezer, microwave, oven and dishwasher safe. How can you go wrong?!
Lunch Box
Hands down one of the best purchases I've ever made. I've used the same Planet Box to pack lunches for my kids for the past 5 years… it's a game changer for many reasons.
First, you will never use individual plastic bags for lunches ever again! Best news ever!
Second, my kids don't have to worry about opening any packages, all of their food is presented to them as soon as they open it. It's pretty much plated and ready to eat!
Third, it makes packing a lunch fun! Filling the different compartments with colorful food, proteins and grains is rewarding.
Quick tip – buy the carry case and 2 ice packs, so you always have an ice pack in the freezer for the next day. I just switch the out everyday.
Another option for work is the Eco Lunchbox which is better for adults. It's stackable with larger sizes.
Trash Bags
This is an easy switch! Buy biodegradable trash bags, like UUNI which are made from plant materials and are certified compostable in the U.S. and Europe.
100% Reclaimed Plastic Multi-purpose Trash Bag
Water Bottles
This one seems like a no-brainer, but it's incredibly important as plastic water bottles fill our oceans and a small percentage of them actually get recycled. Reusable water bottles are one of the best things you can buy.
Something we did this year was buy Yeti Tumblers in four different colors for each one of my family members. We each picked out the color we wanted and took ownership in our new tumblers. We use them every single day at home, for car rides, trips to the park and school.
Another benefit to this was that the amount of dishes in my sink were cut in half! Instead of everyone grabbing another glass for two sips of water, we all just filled our Yeti's up and there was no confusion on who's is who's.
We took it a step further and ordered the gallon jug that we take on road trips, day trips and beach trips to refill our tumblers.
There are a million options for reusable water bottles. Anthropologie has some cute ones!
Re-Usable Coffee Cups
Americans alone throw away almost 25 BILLION styrofoam coffee cups every year. That is alarming, frustrating and we have to make an impact to do better.
Buy a good quality, re-useable coffee mug that you love, brew your own coffee at home OR take it to your local coffee shop and have them fill your cup! You'll actually enjoy drinking from your own cup more than you know.
Here are some of my favorites!
W&P Porter Ceramic Mug for On the Go Coffee
Sustainable Bamboo Plastic Free Cup
Rambler Bottle with Hotshot Cap
Reusable K Cups for Keurig
We've all come to love the Keurig for the ease and the amount of coffee brands they have partnerships with. However, each one of those little plastic K cups is a single-use plastic item that gets tossed in the trash.
There is an alternative and again, will save you money! Instead of buying the expensive single use K cups, you can purchase these re-useable K Bpa free cups. Simply add in ground coffee grinds and then use it just as you would with the other cups.
Yes, the reusable are made of plastic, but you will use one cup over and over again, reducing single-use plastic. This is perfect for tea too!
Glass and Silicone Straws
I use large glass straws for my smoothies every day! I can't even imagine using a plastic straw, as the texture and luxury of the glass straw are so much better! Here are the colorful glass straws above. I LOVE them!
There are several alternatives for straws these days. I give my kids the silicone ones and they love them. For cocktails I like to use paper, metal or bamboo straws. I just love the look of a brass or gold straw in a low ball glass. So much classier than a plastic one!
Quick tip – Buy a few of the straw brushes to have on hand to clean them. Always rinse them as soon as you're done so nothing dried inside the straw. Also, when you wash them in the dishwasher, make sure the standing straight up so the water can go through them.
Bee's Wrap
Bee's Wrap can take the place of plastic wrap. It's great for wrapping leftover cheese too! It's made of washable, durable cotton that is coated in a mixture of beeswax, tree resin, and jojoba oil.
They also have so many fun colors and patterns to choose from. The sandwich wrap is super cute!
Disposable Dinnerware
It's easy to grab the plastic plates, cups and utensils when entertaining, but there are a few things wrong with that. First, they are cheesy and there are WAY better options. Second, they are single-use plastic items.
A better option is to go with disposable bamboo plates and utensils. They look so much classier, feel better and have a beautiful wooden, rustic look to them. I love using them when entertaining!
Bambu is a wonderful resource for kitchen bamboo items. I love their stuff!
Bamboo Re-usable Dinnerware
There are also several options for re-usable dinnerware made from recycled Bamboo. I love this set for kids from Food 52.
Mesh Nut Bags
This is the perfect reusable bag to continue making fresh nut milks.
Plastic-Free Alternatives for Laundry
Doing laundry can be cleaner for you and the environment. Here are a few of my favorite, sustainable laundry items.
Wool Dryer Balls
Add a few drops of essential oil to wool dryer balls and they'll work to keep static down, fluff clothes and make them smell fresh!
Guppyfriend Washing Bag
The Guppyfriend Washing Bag filters out microfibers released from synthetic materials during washing. It protects our oceans and waterways from
Glass or Cardboard Packaging
Luckily there are many options at the store these days! Grab laundry detergent that is packaged in glass or cardboard or biodegradable packaging.
Cleaning Products
Glass Spray Bottles
Make your own cleaning products to store in glass bottles. We have some great cleaning recipes that work really well. Furthermore, cleaning companies have started making concentrates to fill up glass bottles.
Here are some of the best cleaning products that have eco-friendly, plastic free packaging:
Veles is fully plastic free and uses an aluminum and glass bottles. 97% of it is from made from food waste!
Supernatural – all natural cleaning concentrates that are sustainably sourced. The bottles are glass too!
Meliora Gentle Scrub and Laundry Powder – The entire line is single-use plastic-free.
Blueland and Reformation – Reformation is also one of my favorite sustainable clothing lines. They came out with a cleaning collaboration with Blueland.
Amber Glass Spray Bottle with Measurements – Make your own cleaning products with this very useful glass spray bottle. No need to measure, the bottle does it for you!
Latex Gloves
Natural latex gloves that are reusable are much better than disposable for cleaning.
Tips for Using Less Plastic
Your journey to using less plastic will be uniquely yours. Just being mindful and asking for paper bags, buying items in glass containers and not using plastic water bottles will help. Every little detail helps.
I hope you've been inspired to change a few things in your household and make a commitment to stick to it. As the demand for sustainability and less plastic grows, companies are rethinking the way they create their products. So buying from brands that are making the changes is beneficial for all!
I'd love to know your favorite plastic free alternatives below! Leave a comment telling me your favorite way to reduce single use plastic in your home.
More Ideas and Posts You'll Love
5 DIY Cleaning Products That Work!
Sweet Orange Lavender Scrub
You can also FOLLOW US on FACEBOOK, INSTAGRAM, and PINTEREST to see more delicious recipes, cocktails, desserts, and parties!
This post may contain affiliate links. Please read our disclosure and privacy policy.