10 charming table setting ideas to inspire your next dinner party or event. Table sets are one of my favorite things about entertaining, but I know they can be a hassle.
I always tell people that setting the table doesn't have to be extravagant… simple votives, a few flowers, and one personalized detail are all you need. You can mix and match vintage glasses and even silverware.
Add personal touches by printing out photos as place cards or use unique napkin rings like the leather ones below.
The possibilities are endless, whether you are setting your table for Christmas or Thanksgiving this fall.
A handwritten or printed menu is a nice touch, too, and doesn't take much time. I bet you can create a very charming setting using the items in your home and flowers from your garden!
How to Set A Table
Knowing how to set the table is crucial for creating a beautiful table setting. Read our complete guide for everything you need to know to set the table.
1. Modern and Simple Table Setting
This is a beautiful table setting with modern touches and muted colors. Here are Amy's 5 tips for creating this table setting.
2. Blue and White Italian
Beautiful florals, classic blue and white dishes mixed with a natural weave charger. The hydrangeas in the middle are the perfect centerpiece and are easy to arrange too.
Check out Stephanie's tips and buying guide for this setting.
3. Soft Blush Pink Monochromatic
Another idea for setting the table at home is making it monochromatic. Choose one color and use that color throughout the entire setting.
From plates to napkins, flowers to vases and flatware. All one color!
4. Modern and Warm Yellow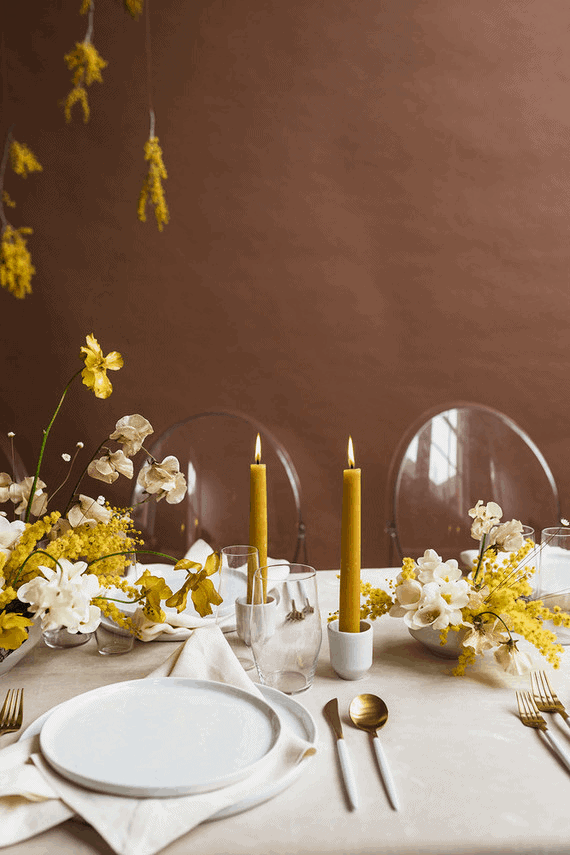 If you're looking for a cozy setting, use this for inspiration. This one is full of warmth, with classic white dishes and taper candles.
5. Romantic and Moody
If you have a darker table at home, play into it with a moody table setting. This one used cream, muted yellow, and black. See more of this beautiful setting here.
6. White and Copper
A simple all-white and copper setting. You don't need much to recreate this look. If you have white dishes and copper flatware, use this as inspiration for your next dinner party.
7. Ruffled Simplicity
The ruffled plates add a touch of elegance, and the flowers are simple like they're picked right out of the garden. Fresh fruit and antique glasses add more sweetness to this table setting.
Quick Tip – If you need vintage, antique-looking glasses, check your local Goodwill. We find them there for $1 almost every time!
8. Outdoor Tropical
If you're hosting a summer party or a tropical party, use palm leaves and bamboo to set the table. Tropical flowers down the center are just the right touch. See more of this kick-off to the summer party here!
9. Romantic and Marble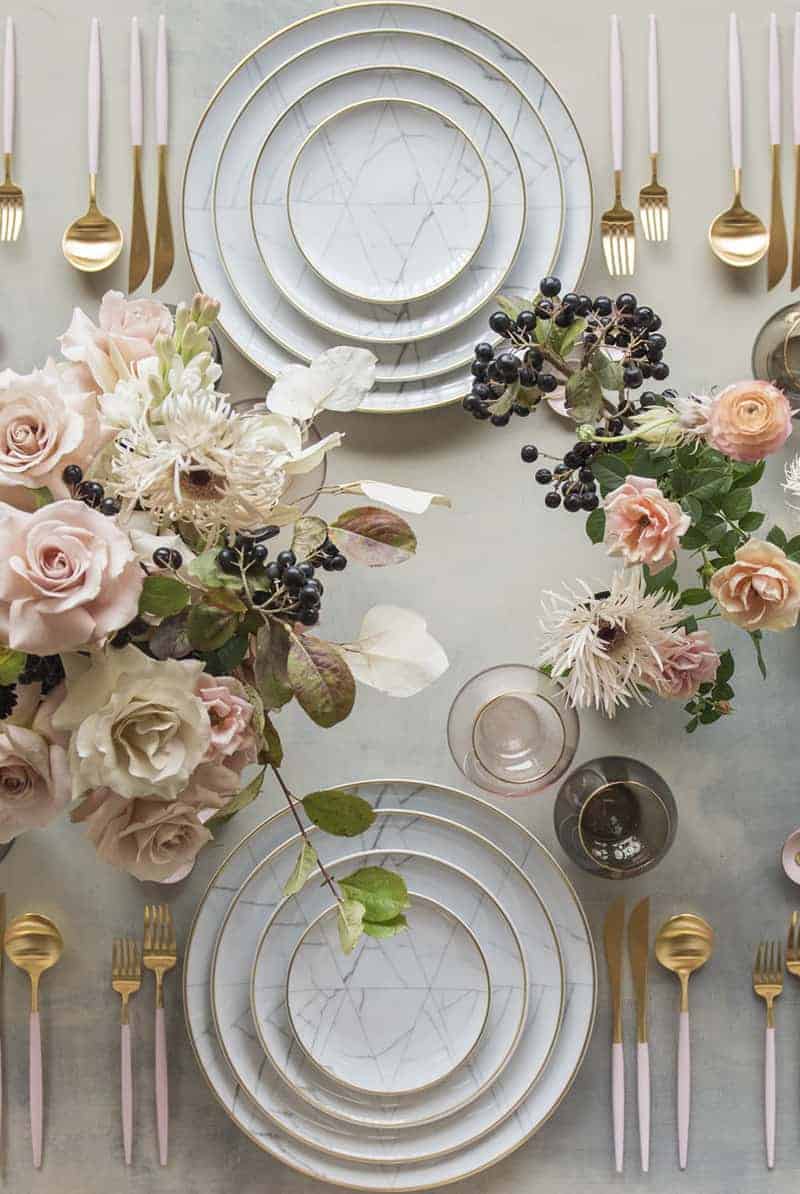 Marble plates give a table-setting texture, and they're unique. This setting is not only romantic but also modern, with modern textures and flatware. It would be perfect for a very special celebration.
10. Rustic Holiday
For all of the holiday parties, use a classic gold, white and green setting.
Table Setting Shopping Guide
Here are a few of our favorite items for setting a beautiful table setting.
Year and Day Pink Everyday Dinnerware
Gold and White Modern Flatware – It also comes in pink and blue!