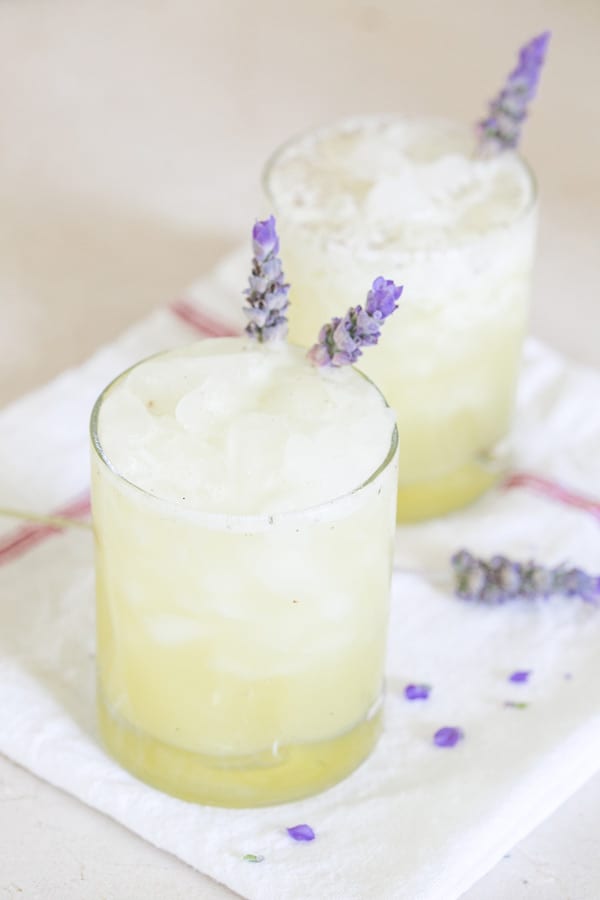 Sometimes during the day I get the urge for a refreshing beverage that's extremely easy and quick to make. I was inspired by the fresh lavender that grows in our front yard. It came with the house and I actually just noticed it the other day when I was picking flowers! I was shocked and probably jumped up and down a bit… yes over lavender. I had to fight with the bees to share just a few sprigs with me. When I finally scored a few sprigs, I made some fresh lavender pineapple juice that was incredible and super simple! These are a great drink to serve when entertaining because you can make a giant batch. You also don't necessarily have to "juice" your own pineapple. You can buy the organic, just pineapple juice or chunks at the store and it makes it that much easier. Also, this is a great base for one mean cocktail. Add a shot of pineapple vodka and you're done! Yum!
Lavender Pineapple Juice (makes one beverage)
1 cup pineapple juice (fresh or store bought)
1 teaspoon fresh lavender
One small chunk of whole pineapple
Directions
Blend all of the ingredients together in a blender until frothy – about a minute.
Strain over crushed ice and garnish with lavender. Enjoy!!