5 ways to create a beautiful Thanksgiving table decor! From linens to glasses and how to set a formal table.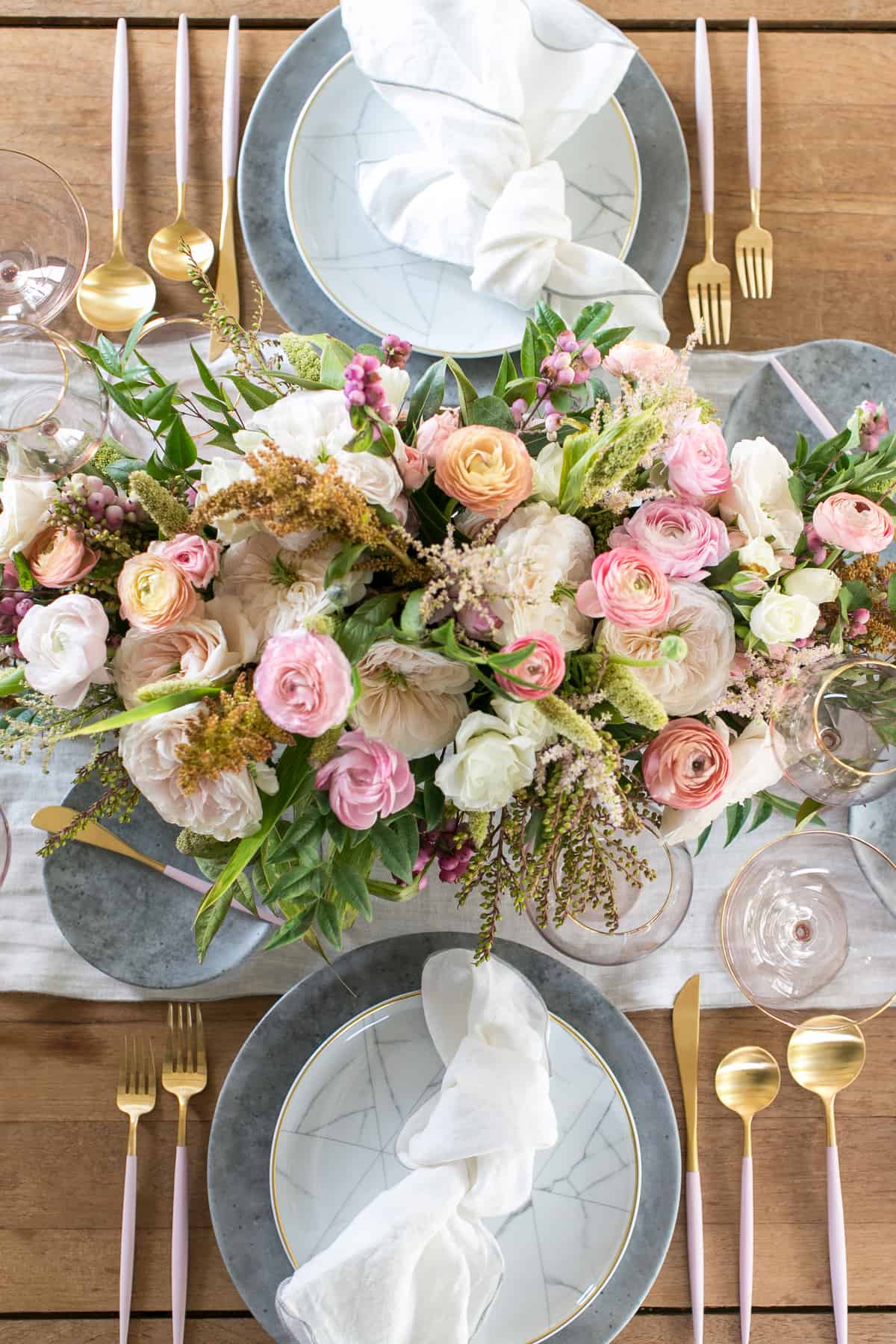 With November upon us, I wanted to share my 5 tips for a beautiful Thanksgiving table decor. Twice a year I like to do a little more of an elaborate table escape and, of course, it's for the two biggest food holidays, Thanksgiving and Christmas!! This is when the linens, nice dinnerware and more glasses than you can drink from come out and we set a beautiful table to make the holiday extra special. So try out these 5 steps below and you'll be on your way to one charming table!
5 Key Areas For Beautiful Thanksgiving Table Decor
Linen
Materials and colors
Table runners
Flowers
Formal Touches
Bonus: Dessert Inspiration!
Tip 1: Linens For Your Thanksgiving Table Decor
We are all about the small charming details when creating a table escape and linen is one of my all time favorite materials to use for dinner parties.
If you want some further napkin inspiration, then have a look at how Martha Stewart folds table napkins here!
Tip 2: Choose Materials and Colors for your Thanksgiving Table Decor
This year for my Thanksgiving table decor I was inspired by marble, concrete and then shades of pink and orange. I love being able to use natural linens and then add pops of color with flowers, glasses and spray-painted pumpkins.
When deciding what scheme to go for, a useful guide comes from the interior design world. Here are the seven key things to consider (you don't have to use them all)
Space. Space is one of the most important elements of interior design, look what space you have and plan your thanksgiving table decor accordingly. If yo have a smaller space, make sure you aren't too busy with lots of items, or use decor that's too small for a wider space
Line. Lines give birth to forms and shapes and are responsible for establishing a sense of harmony, contrast and unity.
Forms. Forms mean shapes in general, an outline of any three dimensional object in the space.
Forms can be created by combining two or more shapes and can be accentuated with the help of other elements like texture, patterns and colors. A well-defined form establishes harmony and additional forms add balance to the space.
Light. Light is one of the most obvious elements of interior design. Either natural or man-made, without light other elements namely color, texture and pattern have no significance at all. Light sets in the mood and ambiance into a living space and highlights every other element including space, line, and forms.
Color. Each color has three distinct characteristics namely Hue, Value and Intensity, and an interior designer must be well aware of these characteristics to perform various permutations and combinations.
Texture. Texture mainly deals with surfaces and determines how a typical surface looks and feels. Texture adds depth and interest into a living space and defines the feel/appearance and consistency of a surface.

Pattern. Patterns add interest and life to interior design and work along with colors. Patterns tell a story of their own and add the elements of continuity and smooth transition in a living space. Patterns could be of any shape and mostly comprise of attractive and repetitive designs.
Tip 3: Use a Table Runner
Add in a charming linen table runner to tie everything together. A chic table runner can make such a difference to the overall look. I can't recommend it enough! It's the perfect base for your thanksgiving table decor.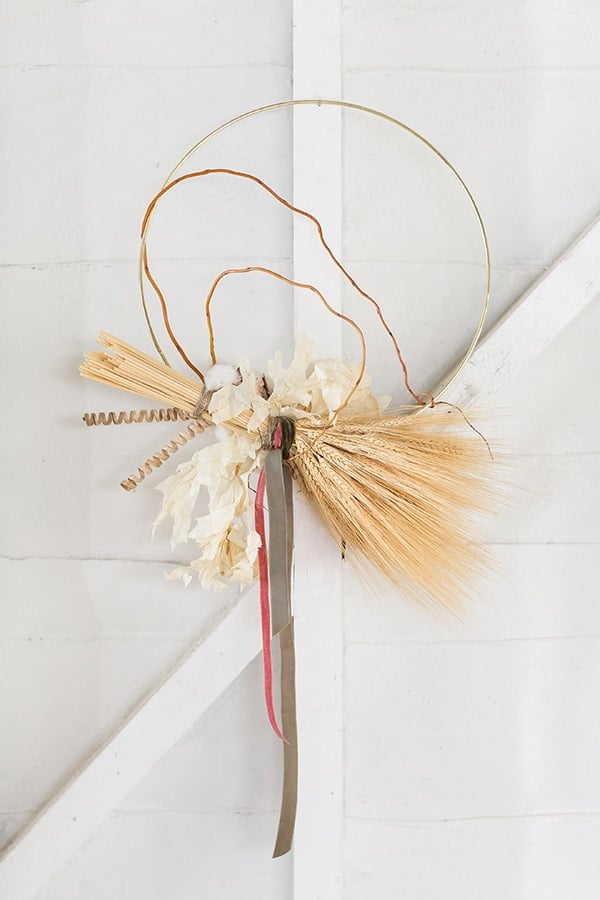 Keep these runners at one-fourth the width of the table. When deciding on the table runner length, use the same drop guideline as a lengthwise runner, allowing 6 inches on each side of the table, with or without a tablecloth. 
Runners placed widthwise should align with each table setting, serving as a place mat for two.
Tip 4: Using Flowers for your Thanksgiving Table Decor
If there's any dinner party you should splurge on the flowers, it's Thanksgiving! Order a pretty arrangement or try to make one yourself. Make sure it's a low one so people can converse over the table.
Thanksgiving is traditionally celebrated with Autumn Flowers, such as Anemone, Baby's Breath, Carnations, Chrysanthemums, Cosmos, Freesia, Gerbera Daisies, Gladiolii, Statice, and Zinnia, highlighting the center of the table.
Tip 5: Add a Formal Touch to your Thanksgiving Table Decor
For holidays like Thanksgiving and Christmas, it's nice to add a little formal touch to make this thanksgiving table decor different from regular dinner parties.
To do this, set out extra glassware, like water, wine and cocktail glasses (at least 3 glasses for a luxurious look) and then set out a full setting of silverware, including a bread plate. You can see our modern table setting guide here.
Bonus Tip: Dessert Idea For Thanksgiving
Lastly, this isn't really part of the thanksgiving table decor, but just sweet dessert inspiration, because it's dessert, hello! For an easy entertaining idea, I created a simple caramel apple station that you can serve at the table!
This is so easy and so much fun to make! Slice apples, add lemon juice to them so they won't brown, then add caramel and other toppings to them.
Check Out These Other Great Thanksgiving Ideas!
DIY Thanksgiving Dessert Table
Charming Printable Thanksgiving Tags
Thanksgiving Kitchen Essentials
Easy Thanksgiving Appetizers by Moms and Munchkins
DIY Edible Thanksgiving Table Favors by Forkly
If you have tried these Thanksgiving Table Decor tips, let me know how it turned out in the comments below! You can also FOLLOW ME on FACEBOOK, INSTAGRAM and PINTEREST to see more delicious recipes and party ideas!