If you're looking for ways to save money on your wedding, here are some 7 tips for creating DIY wedding flowers on a budget! With the help of friends, you can create beautiful DIY wedding flower arrangements by using seasonal flowers and choosing elegant, yet simple designs that anyone can do.
A few months ago, I helped a friend out with DIY flowers for her rustic barn wedding. She had a large wedding of 200 guests and didn't want to spend a fortune on florals.
We came up with a plan to create gorgeous arrangements for less than half the price a florist would charge. The wedding turned out incredibly stunning and the bride and guests loved what we created!
This is one of the few friends we've done flowers for on their wedding day.
Wedding Flowers on a Budget
So for those of you who are planning your wedding and want to stick to a certain budget on flowers… here are 7 tips for creating DIY wedding flower arrangements!
Asking for Help
Ask a friend, family member or someone you trust to help execute your vision for your flowers. They will also be the ones to put the arrangements together the day before the wedding, bring them to the wedding and set them up. I've done this for several of my friends!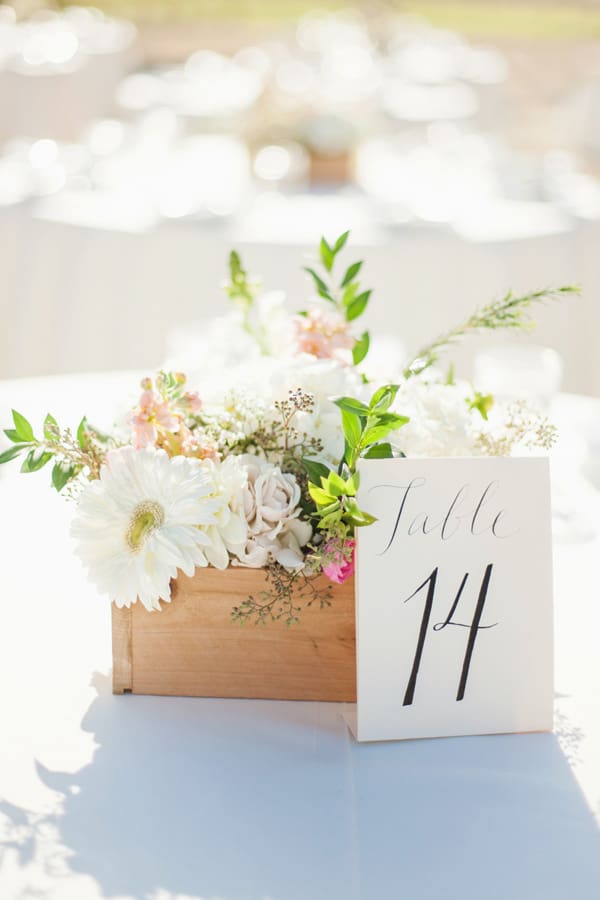 Use Seasonal Flowers
Shop by your wedding colors, not by the type of flower. If you love a certain type of flower that's not in season, you will pay a fortune flying them in from another part of the world! Instead, shop by seasonal flowers in your wedding colors.
Buy from Local Growers
Buy from local growers in your area. You can't beat the quality of the local flowers! We bought the majority of the flowers from Skyline Growers (a local farm) and some from the LA Flower Mart.
The ones that came from Skyline were bright, full and lasted much longer than the ones from the mart, which were flown in and probably cut a week before.
Use Your Friends
Use your friends! This would be the only time I would say that (ha!) but it's true. If you know someone who makes awesome wooden boxes or someone who can get a good deal on vases, ask them to help.
We had a local woodworker create 13 wooden flower boxes for the centerpieces. They ended up costing half the price compared to wooden boxes online.
Shop Vintage and Thrift Stores
Shop vintage and thrift stores for glass vases and unique objects to put flowers in. You will most likely have months to plan your wedding, so slowly buy things you like and start a mini collection. Stores like Goodwill have great options for very inexpensive vases!
Florist to Create Bouquets
Use a florist to create your wedding bouquets and boutonnieres. When I help my friends, I always make sure they have a florist create their wedding bouquets. This way I can focus solely on the decor flowers and not worry about the delivery of the bouquets and boutonnieres.
What to Ask your Venue
When you're shopping for a venue to host your wedding, try to find a place that will allow for a full day set up, the day or even the night before. This will help relieve any time-related stress when creating your flowers.
You can even make sure everything is set up the way you want! I've worked at venues where you're only allowed two hours for set-up and it's absolutely exhausting!
More DIY budget-friendly Ideas You'll Love
Frequently Asked Questions
How much do you spend on flowers for a wedding?
Wedding flowers can vary depending on location, budget, guests list and more. But the average couple spends anywhere from $700 to $3000.
What flowers are needed for a wedding?
Here's a list of wedding flower arrangements and other decorative flowers you'll want for your wedding:
Flowers for Wedding Party
All of these can be optional depending on your wedding, what YOU want and how many people will be there.
Brides bouquet
Bridemaids bouquets
Grooms boutonniere (although this is totally optional these days!)
Groomsmen boutonnieres (optional)
Flower girl flowers (optional)
Boutonnieres and corsages for parents of the bride and groom
Ceremony and Reception Flowers
Keep it simple and within your budget. If you don't need ceremony flowers, then don't have them! Remember, this is your wedding and all of the details are up to you!
Entryway flowers
Petals for tossing
Aisle decorations
Centerpiece flowers for each table setting
Flowers for the bar
Restroom flowers
Newlyweds chairs and table
If you want to see more, here's a full checklist for wedding flowers.
How can I get cheap flowers for my wedding?
Follow our tips for creating flowers on a budget. Furthermore, shop local flower farms, farmers' markets, grocery stores, and wholesale markets to find cheap flowers.
Is it bad to have fake flowers at your wedding?
These days, faux flowers look so real! It's actually a great option for anyone on a budget to use fake flowers. You can assemble all of the flowers months before the wedding!
Let us know if you use any of these tips! We would love to see your DIY wedding flower arrangements so please tag us @sugarandcharm on social!
Photos by Michelle Warren Photography.