If you're looking to personalize gift wrapping for someone special, you can make your own photo wrapping paper using our tutorial! It's a special way to wrap a present and doesn't cost much!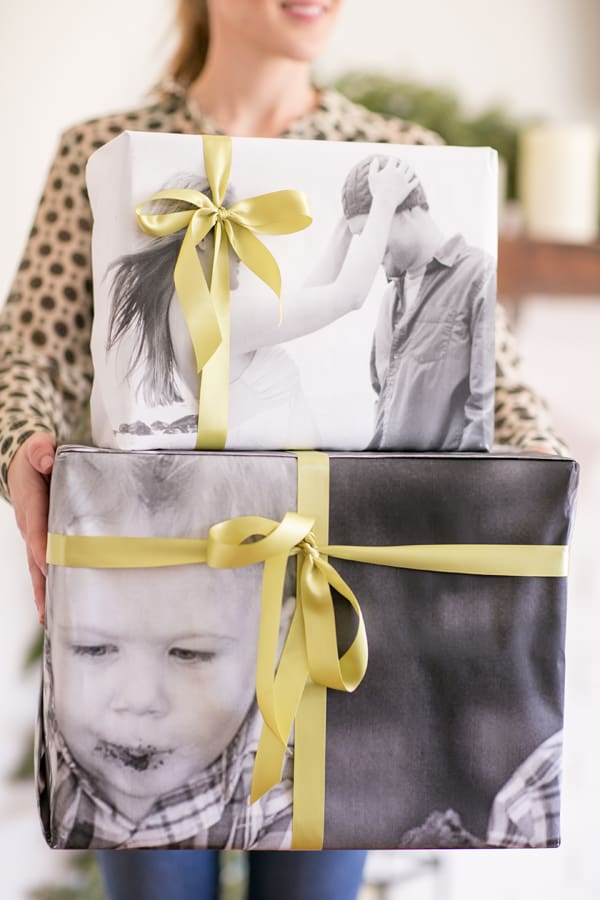 A few years ago (wow time flies), I did a video on photo wrapping paper and have since wrapped several of my presents like this! We recently re-shot the idea for FYI which will be broadcast on the FYI channel!
How To Use Photo Wrapping Paper – Step by Step Video Tutorial
Watch the video at the bottom of the post for the how-to!
I realized I never took any good photos of it and it's such a wonderful idea for the holidays! We're happy to share this tutorial video we shot for Lifetime Moms!
Photo Wrapping Paper – Creative and Versatile!
The great thing about photo wrapping paper is it's only limited by the photos you have! In this day and age we are taking more photos than ever, so why not put them to use, get them out of the phone and into the real world – ha!
Why not use some wedding or honeymoon photos for an upcoming anniversary? Or some baby photos for Mother's day? Get creative!
Finishing Touches for your Gift
A lovely way to finish off your photo paper wrapped gift is to add some ribbon, a bow and even a bit of green!
Including some foliage, like a pine tree branch, adds a special touch and will really make the gift pop!
Placement of your Photos
When wrapping your gift, keep a mind on where you want your key images to be prominent, don't have them bent round corners or obscured by the bow. Use the ribbons and bows to highlight a key area.
You can keep borders on the paper, to give you some extra paper to work with when taping up.
Top Tips For Photo Wrapping Paper
Most local office supplies stores will blow up and print out photo wrapping paper for you.
Make sure you get the right sized wrapping paper for the item you are wrapping.
Boxes make the ideal item to wrap, lots of flat surface areas to display your photos on. If you can place your gift in a box, I'd opt for that.
Add ribbons and a bit of green, for a special touch.
Check Out These Other Charming Gift Ideas
If you have tried this Photo Wrapping Paper or any other ideas on Sugar and Charm, then please rate it and let me know how it turned out in the comments below!
You can also FOLLOW ME on FACEBOOK, INSTAGRAM, and PINTEREST to see more delicious recipes, cocktails, desserts and party ideas!