What's not to love about cheese fondue! Below are some great ideas for the ultimate Fall Fondue Party. Pair the cheese dip with a lovely red wine and you've got yourself a melty, gooey and delicious cheese and wine party too!
Are you all ready for the most incredible Fondue spread ever?! We had a blast creating the ultimate fall fondue party that's perfect for entertaining! Fondue has been one of my all time favorite meals since I can remember.
The intense flavor of creamy, melted swiss and gouda cheeses with wine and garlic, is something I'll never get sick of. It's a classy comfort food that I could literally eat it all day!
We went a little fondue crazy and made the entire table the spread for all the yummy things that taste delicious dipped in this classic fondue cheese recipe. You can really go overboard here because there are a lot of food items that would be perfect dipped in cheese… don't even get me started!
For our fondue party, we did a ton of veggies from our friends at Heirloom, and then some crostini (because bread and cheese, hello.) and then added in meat, more veggies and fall fruit.
See the whole list below, plus our favorite fondue recipe. We hope you find some charming fondue inspiration and enjoy!
How To Make The Ultimate Fall Fondue Party – Step By Step
Get your table sorted! Make sure you have a covered table big enough for all your lovely dipping items and of course the fondue.
Spread out all your items on the table, mixing crudites with some crostinis and other snacks like mixed nuts.
Invest in a good fondue set, it'll be making a comeback over the years for sure! Plus it provides a lovely central focal point.
Add a pop of fall color with some flowers.
The Table Spread For Your Fondue Party
Before making the table a spread, tape down some brown craft paper. Then lay all of the veggies, bread, meat and fruit out.
I found these adorable appetizer plates from here and they were the perfect size for a few pieces of fondue, so the cheese didn't drip on anything else.
Dipping Items For Your Fondue Party
Gone are the days of just carrots and celery!
Here's a list of some of the food items we included to dip into the fondue: cauliflower, brussel sprouts, green beans, watermelon radish, apples, pears, charcuterie, crostini, endive, small tomatoes, almonds, zucchini, apples and pears. The possibilities are endless so get creative!
The Fondue Set
Fondue sets come in all shapes, sizes and there's a range to suit most budget. But investing in a good fondue set is so worth it!
The beautiful Swissmar Lausanne copper fondue pot is my fall splurge. I bought it from Crate and Barrel and plan on using it for many family fondue nights in the future…especially as my two boys grow! You can also find it here too. And don't forget to buy the fire gel too.
Wine For Your Fondue Party
To keep things easy, serve your fondue up with a really good glass of red wine. You can do a festive cocktail too, but is there really anything better than cheese and wine?!
You can opt for white wine too,  crisp dry whites such as Muscadet, Chablis, dry Alsace or Austrian riesling or a young grüner veltliner are great choices.
If going for a lovely red think light, like Beaujolais or Oregon pinot noir, that pair perfectly with this rich, creamy concoction.
Flowers
And of course, it's not a Sugar and Charm party without gorgeous blooms! Erin from White Fig Designs made us these beauties!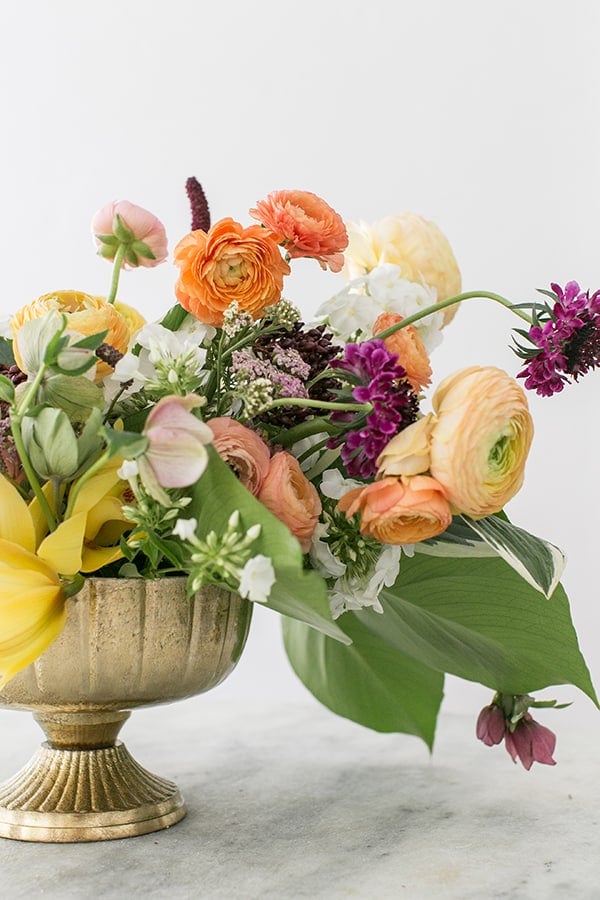 Top Tips For A Fall Fondue Party
Make sure you have a good sized table and lay donw brown craft paper, so you can spread your items freely, to create a lovely tablescape.
Invest in a good quality fondue pot.
Cook your fondue on the stove then transfer to the fondue pot.
Stay away from water when preparing your fondue, use flavorful liquids such as wine and broth.
Check Out These Other Charming Party Ideas
Hosting a Charming Tropical Party
How To Host a Wine and Cheese Party
How To Host a Fall Charcuterie Party
Wine and Cheese Party Ideas by Diva Girl Parties
19 Fall Party Ideas by She Tries What
If you have tried this Fall Fondue Party or any other party idea on Sugar and Charm, then please rate it and let me know how it turned out in the comments below! 
You can also FOLLOW ME on FACEBOOK, INSTAGRAM, and PINTEREST to see more delicious recipes, cocktails, desserts and party ideas!