Are you all ready for the most incredible Fondue spread ever?! We had a blast creating the ultimate fall fondue party that's perfect for entertaining! Fondue has been one of my all time favorite meals since I can remember. The intense flavor of creamy, melted swiss and gouda cheeses with wine and garlic, is something I'll never get sick of. It's a classy comfort food that I could literally eat it all day! We went a little fondue crazy and made the entire table the spread for all the yummy things that taste delicious dipped in this classic fondue cheese recipe. You can really go overboard here because there are a lot of food items that would be perfect dipped in cheese… don't even get me started! For our fondue party, we did a ton of veggies from our friends at Heirloom, and then some crostini (because bread and cheese, hello.) and then added in meat, more veggies and fall fruit. See the whole list below, plus our favorite fondue recipe. We hope you find some charming fondue inspiration and enjoy!
Before making the table a spread, tape down some brown craft paper. Then lay all of the veggies, bread, meat and fruit out.
I found these adorable appetizer plates from here and they were the perfect size for a few pieces of fondue, so the cheese didn't drip on anything else.
Here's a list of some of the food items we included to dip into the fondue: cauliflower, brussel sprouts, green beans, watermelon radish, apples, pears, charcuterie, crostini, endive, small tomatoes, almonds, zucchini, apples and pears. The possibilities are endless!
The beautiful Swissmar Lausanne copper fondue pot is my fall splurge. I bought it from Crate and Barrel and plan on using it for many family fondue nights in the future…especially as my two boys grow! You can also find it here too. And don't forget to buy the fire gel too.
To keep things easy, serve your fondue up with a really good glass of red wine. You can do a festive cocktail too, but is there really anything better than cheese and wine?!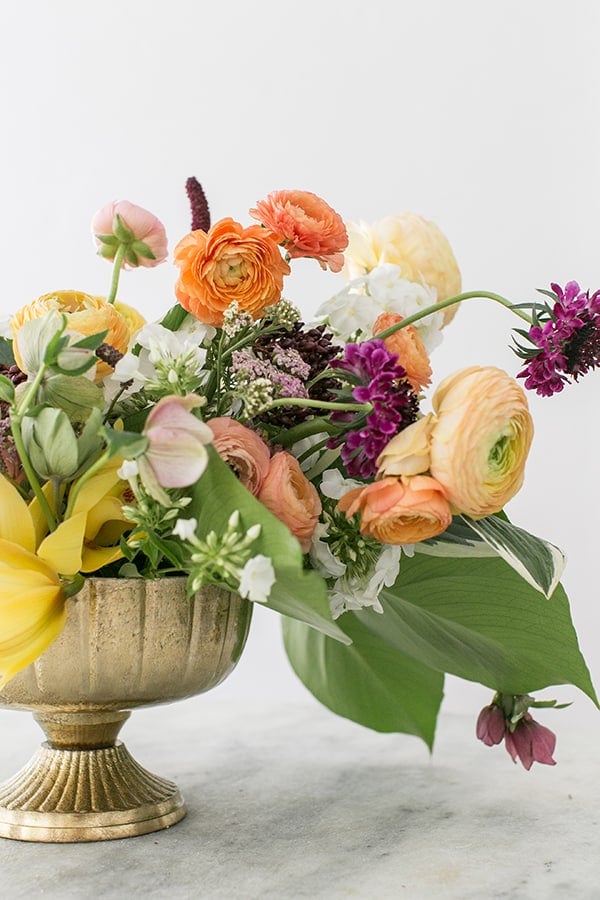 And of course, it's not a Sugar and Charm party without gorgeous blooms! Erin from White Fig Designs made us these beauties!