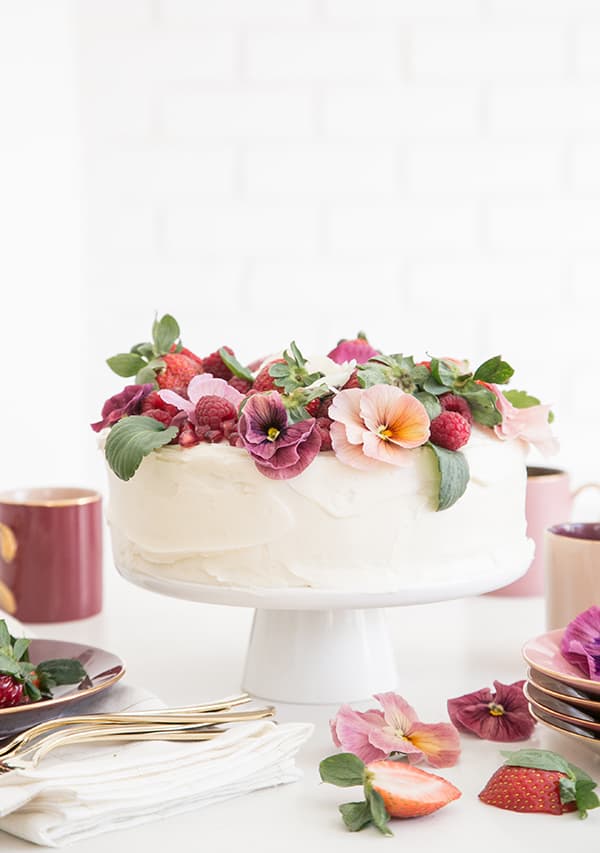 Do you know how easy it is to decorate a cake?! ANYONE can do it and we're showing you with this gorgeous, pink velvet cake recipe! We topped this cake strawberries, raspberries, beautiful pansies and a few pomegranates to give it instant decor that's not only effortless, but stunning! Your guests will adore this cake and the "effort" you put into decorating it. It's by far my favorite red velvet cake recipe… we adapted it from Cook's Illustrated and made it a pink velvet cake! Although, you can go lighter on the pink if you prefer!
Pink Velvet Cake Recipe
2 1/4 cups flour
1 1/2 teaspoons baking soda
1/4 teaspoon salt
1 cup buttermilk
2 large eggs
1/8 cup vegetable oil
1 tablespoon distilled white vinegar
1 teaspoon vanilla extract
1 tablespoon unsweetened cocoa powder
1 tablespoon pink food coloring
12 tablespoons unsalted butter
1 1/2 cups granulated sugar
Directions
Preheat the oven to 350 degrees
Whisk together buttermilk, eggs, vegetable oil, vinegar and vanilla in a tall liquid measuring cup, set aside.
In a small bowl, add the cocoa powder and food coloring together, set aside.
In another bowl combine the flour, salt and baking soda, set aside. (Lots of setting aside : P)
With an electric mixer and a paddle attachment, beat the butter and sugar on medium high.
Reduce speed and then add the buttermilk mixture and flour in 3 additions, alternating.
Add cocoa mixture and beat on low until everything is incorporated.
Divide the batter into 2, greased 9-inch round pans.
Bake for about 20 to 25 minutes, try to take it out when the center is just a little wiggly. NOTE: Everyone's oven bakes differently based on many factors, do not take the cake out of the oven until you feel it is cooked. Use the tooth pick method if you're nervous to take it out a little before.
Whipped Cream Cheese Frosting 
16 tablespoons unsalted butter, softened (must be soft!) and cut into chunks.
4 cups powdered sugar
1 pound cream cheese, softened (must be soft!)
1 1/2 teaspoon vanilla extract
pinch salt
Directions
With an electric mixer, beat the butter and sugar on medium speed until light in color and fluffy about 2 minutes. Add in the cream cheese and beat on high until incorporated. Add in vanilla and salt.