Create chocolate filled raspberries in just a few easy steps! These are the perfect treat for a party or to garnish desserts with.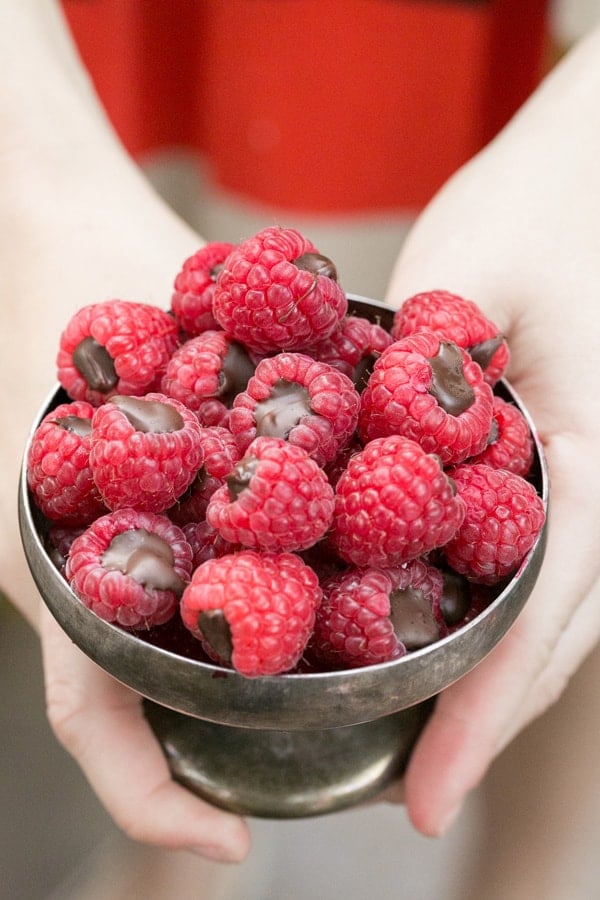 We had originally made these chocolate filled raspberries for an ice cream bar photo shoot. We all know how well fruit and chocolate go together. So the raspberries quickly became the focus of the ice cream bar and everyone wanted to know more about them.
Many years I ago I also made these on the side to garnish my for a baking competition
One thing we know for sure is that these cannot be easier to make. They are literally chocolate filled raspberries and that's it. But they're so delicious and you'll continue eating them one by one until the bowl is empty!
Chocolate Filled Raspberries
To make these you'll need a piping bag or a plastic ziplock bag and scissors.
You'll also need a bowl to melt the chocolate chips and a microwave.
Ingredients
Semisweet chocolate chips or if you prefer milk or dark chocolate chips.
Raspberries
Directions
Wash and pat dry the raspberries or lay them on a paper towel to dry.
Melt the chocolate chips in a microwave for 45 seconds, then continue stirring with a spoon to melt them.
Fill a piping bag with the melted chocolate and then cut a tiny hole in the bottom of the bag.
Fill each raspberry with the piping bag filled with melted chocolate.
Place them on parchment paper to dry.
More Desserts You'll Love!
Homemade Brownies with Chocolate Frosting
How to Make Easy Caramel Sauce
Three Ingredient Honey Lemonade Popsicles
How to Make Churros Ice Cream Sandwiches
Let us know if you make these chocolate filled raspberries by leaving review below.
You can also FOLLOW US on FACEBOOK, INSTAGRAM, and PINTEREST to see more delicious recipes, cocktails, desserts and parties!