W love a beautifully wrapped present! We're sharing 3 creative ways to gift wrap with the P-touch Embellish, including a custom message on a ribbon and a mulled red cider kit!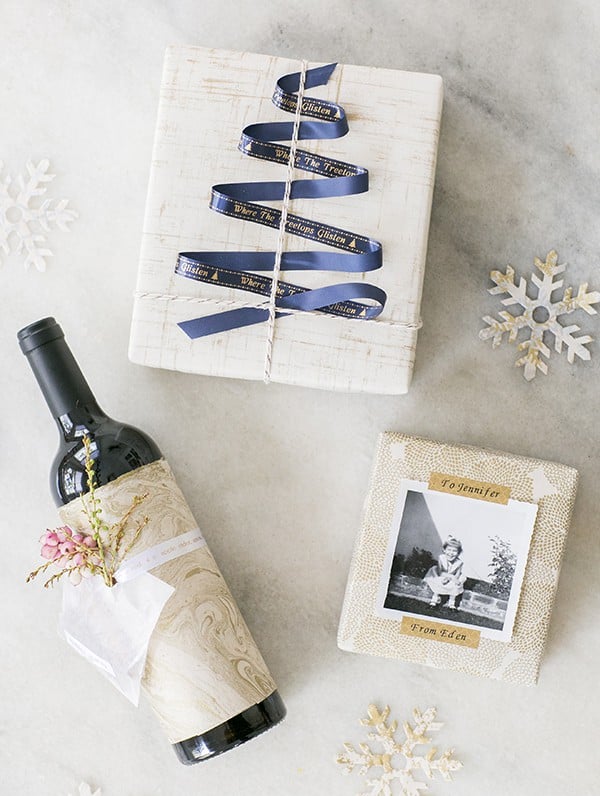 'Tis the season to be wrapping… fa la la la la, la la la la! I'll admit, I LOVE a beautifully-wrapped present! I know it's what's inside which is the surprise, but when someone hands me a gift that is thoughtfully wrapped with a unique touch, it always puts a smile on my face!
Since I was a kid, I liked getting crafty with wrapping paper… I even created our own photo print wrapping here. But now the new P-touch Embellish Ribbon and Tape Printer is turning my wrapping game upside down!
I mean, how adorable that you can personalize ribbon to say whatever you want?! And it looks SO professional, pretty much like you had it printed and made just for your special gift.
The trick is to be creative with the P-touch Embellish when wrapping and once you play around with the machine, there really are endless ideas and ways you can wrap using it.
3 Ways to Gift Wrap with the P-Touch Embellish this Holiday Season!
Personalized Photos for Gift Wrapping
1. We added a little personal connection to help conjure up sweet memories using a simple photo. Then, using the gold patterned tape, we labeled who it was to and from and also taped the photo to the gift. I absolutely love how simple but incredibly special this is. It's the little details that make all the difference!
For this we used the gold patterned tape and Calgary font and taped it over the photo to the wrapping paper.
Custom Ribbon for Gifts
2.We created a Christmas tree using the P-touch Embellish ribbon and wrote some sweet lyrics from one of our favorite holiday songs. You could also write an actual phrase on the ribbon and use it as a holiday card!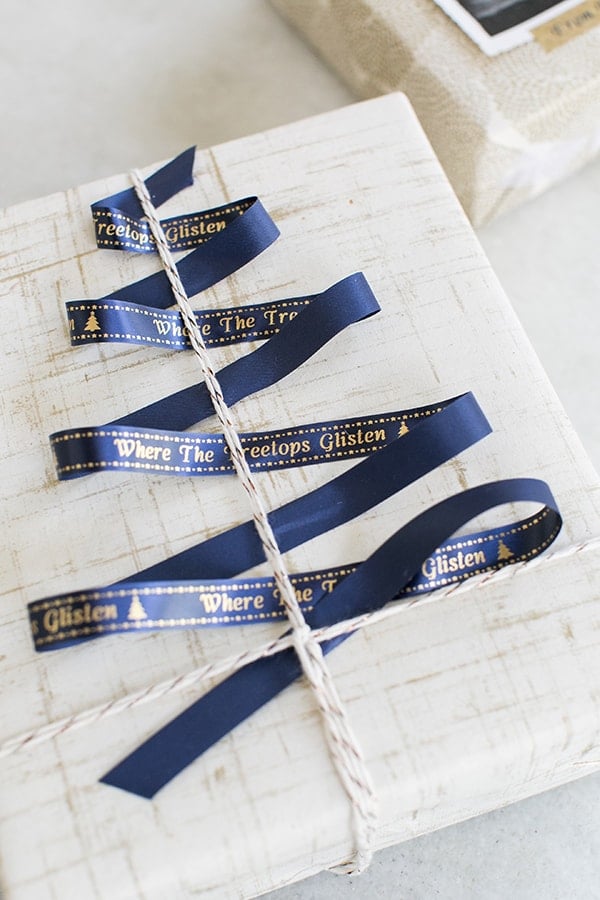 For this idea, we did a continuous pattern and the Berlin font in bold. We also added in a little treat to separate the lyrics.
How to Wrap a Wine Bottle for a Gift
3. If there's one thing I give the most during the holidays, it's a bottle of wine! A good bottle of vino is literally one of the best hostess gifts and the perfect gift to give to someone who has everything.
Mulled Red Wine Cider Kit
So we thought it would be fun to dress it up a bit and make it a mulled red wine cider kit. We added the spices, honey and then on the ribbon, typed out the directions and recipe! How fun, right?
This idea uses the US font and we just wrapped the ribbon around the wine bottle with a tiny bag of spices!
You may also like our tutorial on Photo Print Wrapping Paper!
This post is sponsored by Brother P-touch Embellish Ribbon & Tape Printer.