These concrete pumpkin decorations are so delightful! You put them on your front porch or as a table centerpiece, wherever you want a bit of fall charm!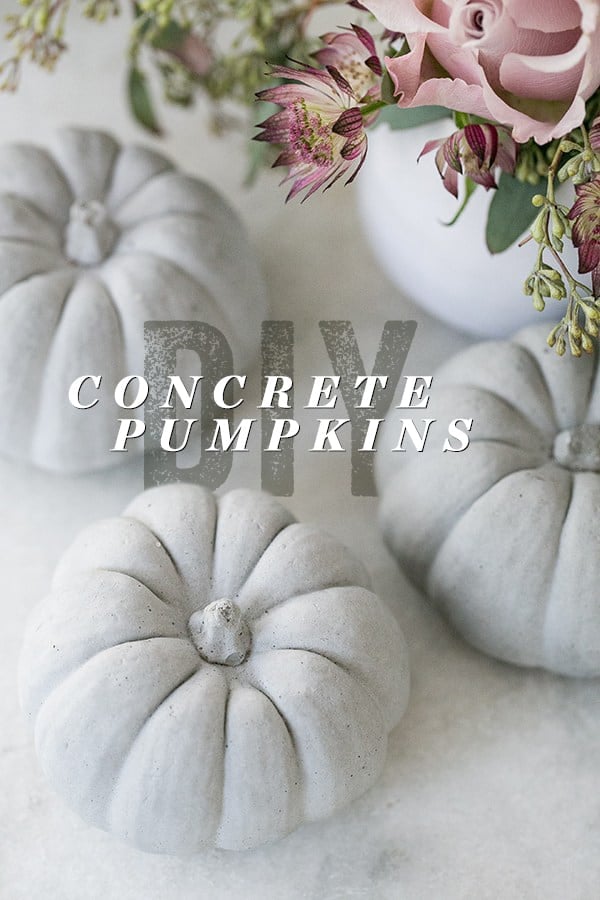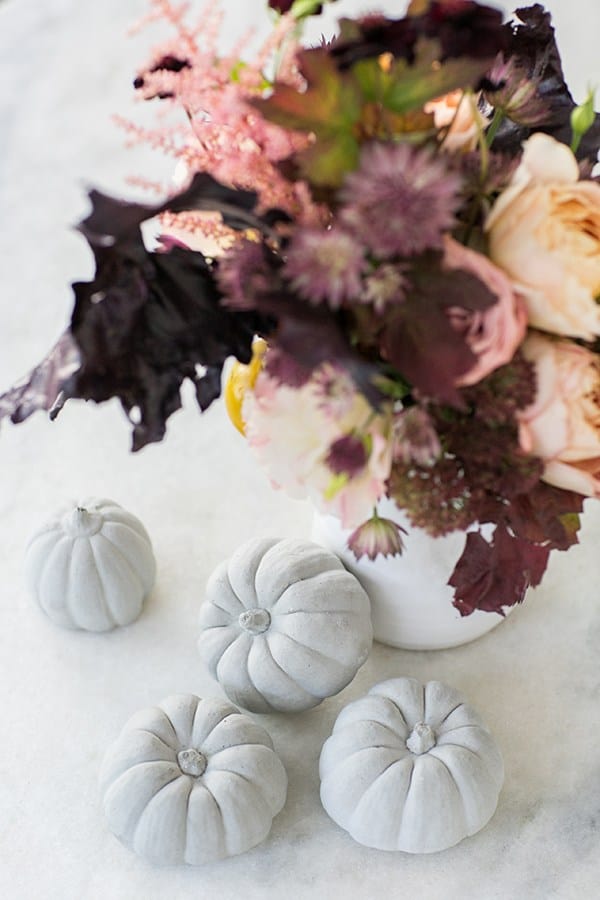 Who knew concrete could be so charming, right?! We made these DIY concrete pumpkins from silicone molds and a really cool, crafty concrete mixture!
I think they're adorable and have such a modern vibe to them too. They're also super versatile and would look gorgeous on a table setting for Thanksgiving or add them to a spooky Halloween party.
Perfect to set on a mantle for some charming fall decor too! After the season is over, pack them up and use them again next year!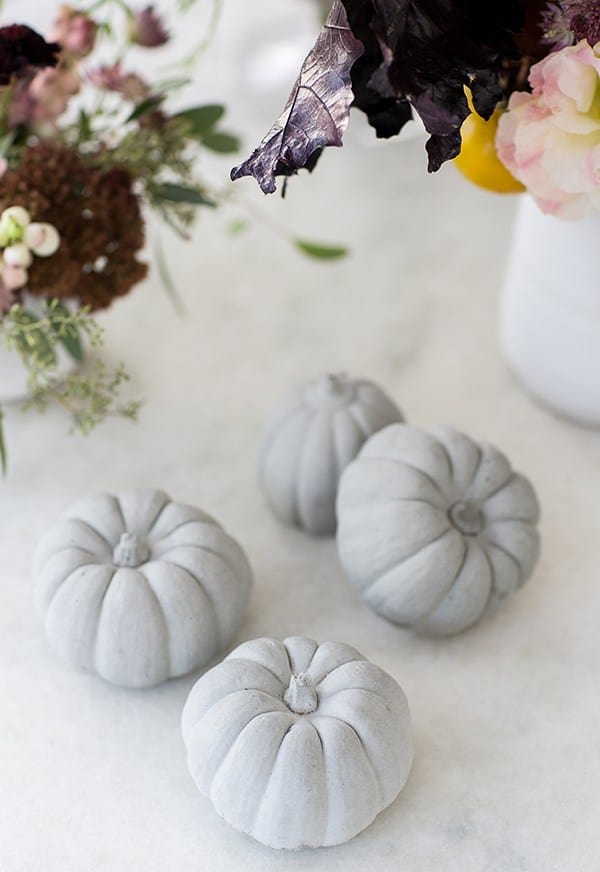 How To Make Concrete Pumpkin Decorations
1 — For these concrete pumpkins, you'll need to get two small silicone pumpkin molds and three medium pumpkin candle molds. We used 4 oz and 5.5 oz pumpkin molds from Van Yulay.
2 — Buy a few molds so you can make pumpkins at a time.
3 — Follow the directions on the back of ShapeCrete to create a plaster consistency. It's a 3-to-1 ratio of ShapeCrete and water. Just ensure it's not too watery. Otherwise, it doesn't set well.
4 — Wearing gloves, mix really well in a bucket, then just pour into your molds. Let it sit for 1 to 2 days, and then gently pull them from your mold.
5 — You can paint and decorate the pumpkins as you please. I liked leaving them just as is!
Options for Pumpkin Molds
We ordered the molds from Van Yulay. Here are more options as well.
Silicone Pumpkin Molds – Various sizes
Crafting Concrete For These Pumpkin Decorations
We used ShapeCrete, which worked wonderfully and was incredibly easy! It's a really fun product to play around with, and the projects you can do are endless!
A few years ago, we actually bought different products to create our ShapeCrete type of mixture, which was way more work! So this was really great to test out and WAY easier.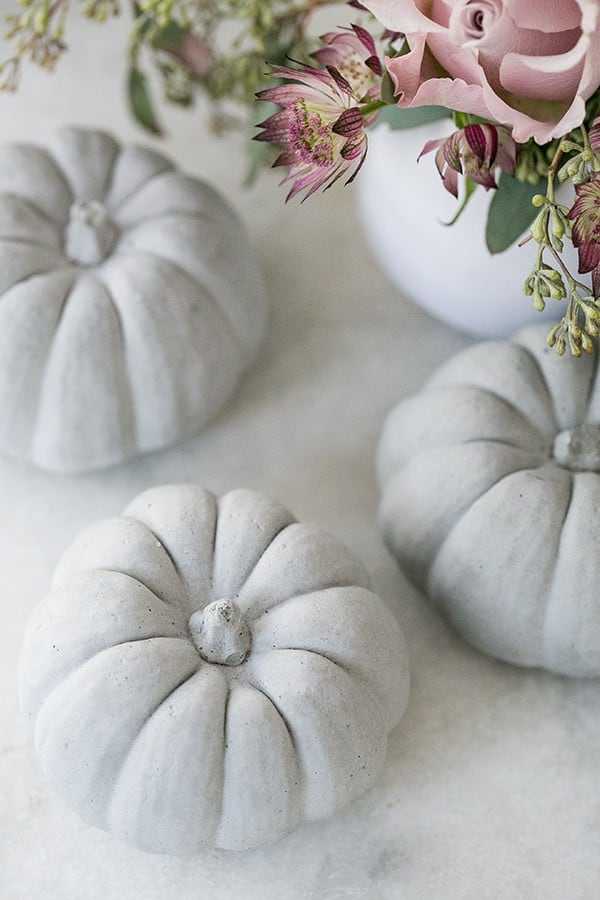 What Kind of Paint Can Be Used On These Concrete Pumpkins?
Use either acrylic enamel or epoxy paint on concrete statues. Though you can use acrylic enamel on both interior and exterior statues, epoxy is only suited for interior statues.
Don't apply epoxy paint to exterior concrete statures, or sunlight will cause the finish to fade.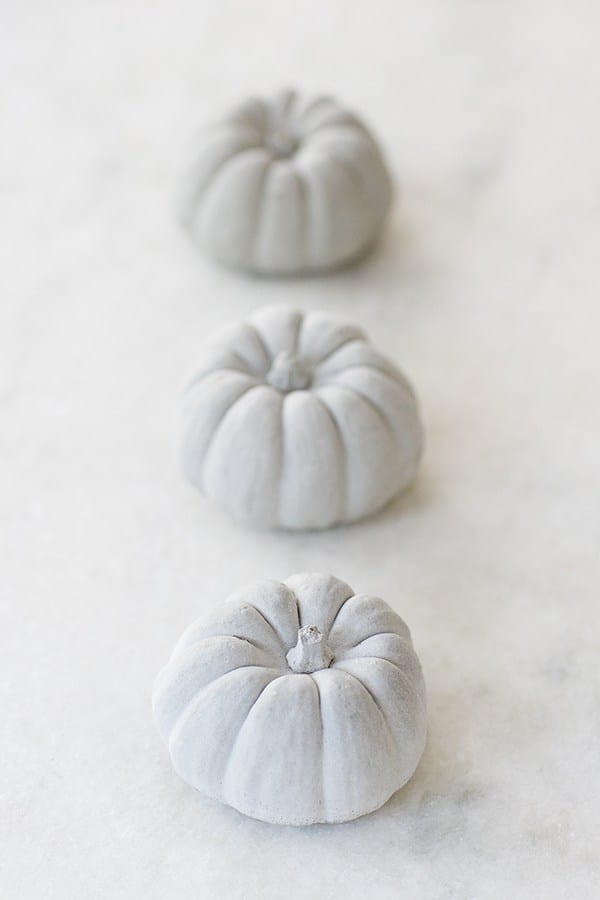 How To Paint Concrete Pumpkin Decorations
1 — If you do want to paint your pumpkins. Apply a base coat to the entire statue, using either a brush or a sprayer.
2 — Use either a latex exterior paint or paint formulated especially for painting concrete in a color that is appropriate for the topcoat color you will be using.
3 — If your sculptures are painted, use a stiff nylon brush with hot, soapy water.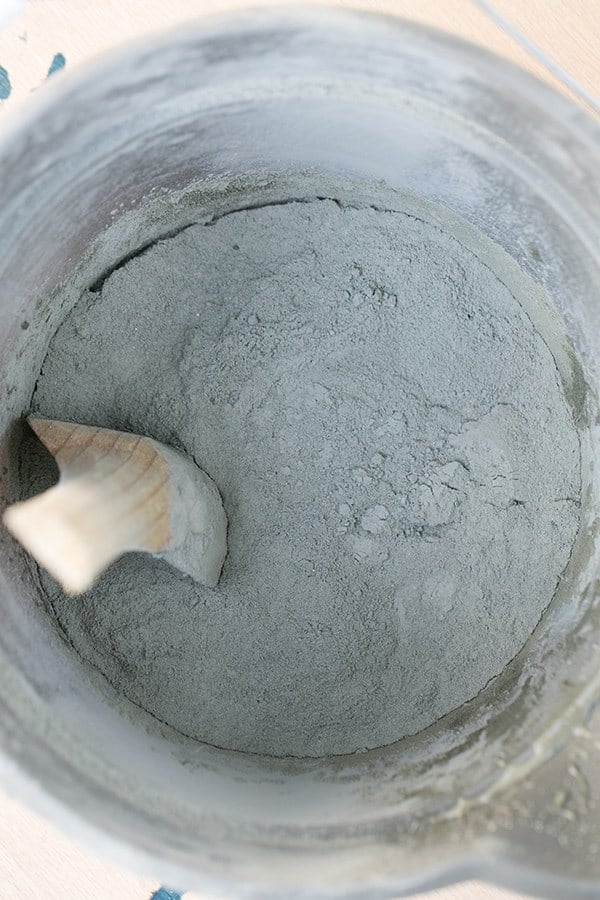 Tips For These Concrete Pumpkin Decorations
— Work outside. This stuff creates a ton of fine dust that almost burns. A mask is recommended.
— Use a disposable drop cloth.
— Wear gloves.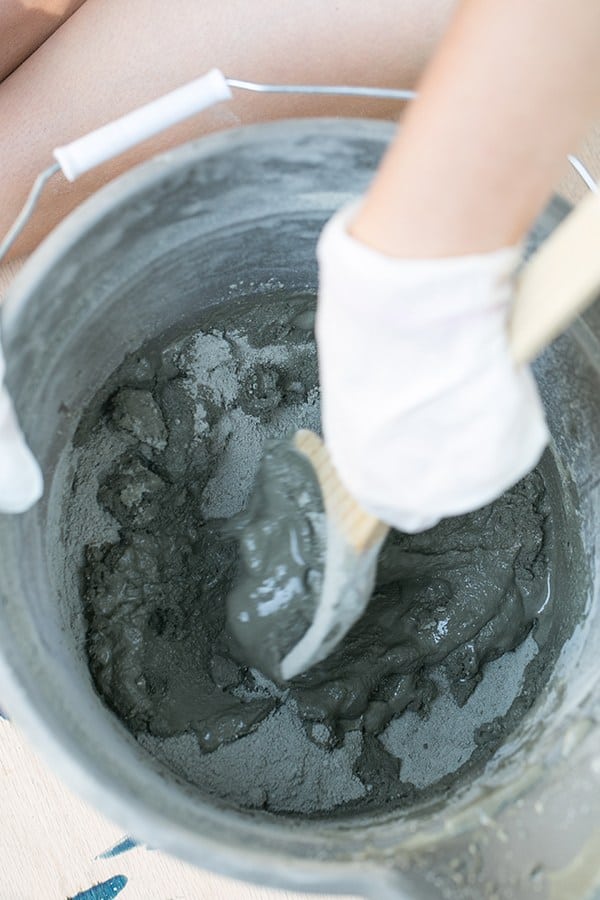 — Eye protection is also advised. When you are stirring this mixture up, you don't want it to go flying in your eye.
— Work on a level surface.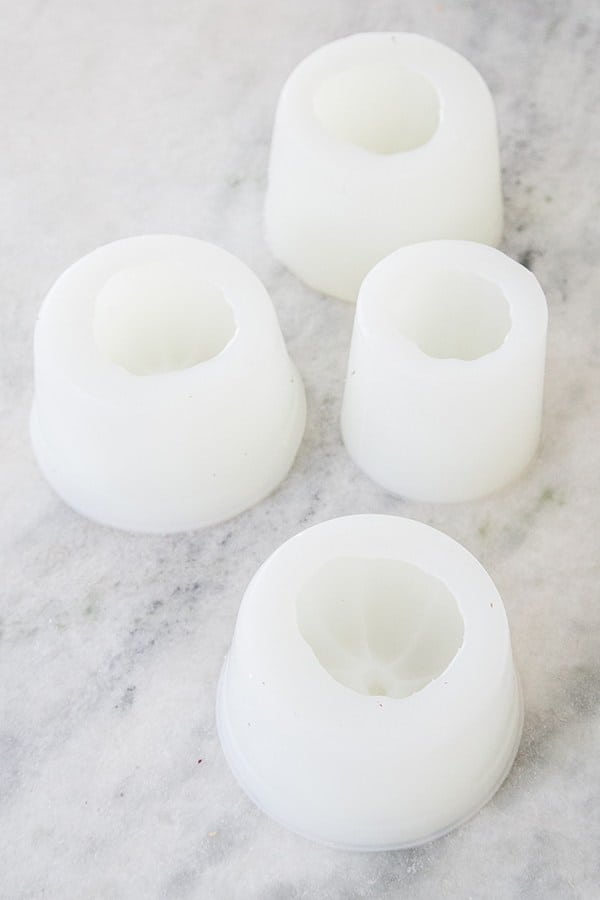 Wrapping Up…
So if you're looking for a fun and easy DIY project to give your home some charming fall decor, look no further than these concrete pumpkins! They're simple to make with just a few materials, and the result is so adorable.
I think they would also be perfect as a Thanksgiving table centerpiece or even part of your Halloween decorations. Give them a try – I promise you won't be disappointed!
Check Out These Other Great Halloween Ideas
Our Favorite Halloween Decor and Entertaining Items
A Charming and Vintage Halloween Party
How to Plan a Pumpkin Carving Party
The Perfect Halloween Candy Cart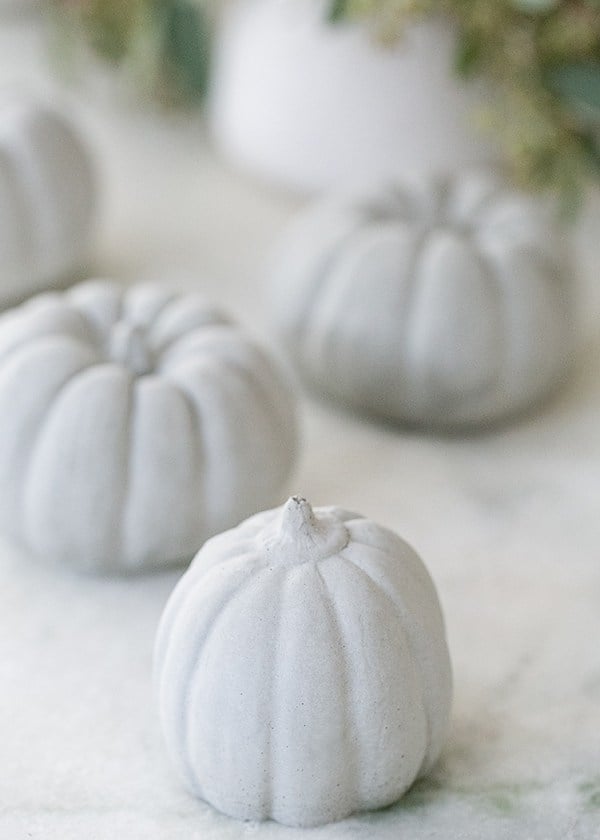 If you have tried this concrete pumpkin decoration project, please comment and let us know how it turned out!
You can also FOLLOW ME on FACEBOOK, INSTAGRAM, and PINTEREST to see more great projects!