A visit to an Airstream overlooking Malibu. Sharing how to entertain when staying in a vacation rental.
Airstream Updated
Update 2021 – The original Airstream we stayed at was burnt to the ground a few years ago. They have since created an entirely new place and have added more to it.
We thought this was a fun and unique location to feature in our latest When Entertaining In series. Our nieces came to visit us from London, so I rented a Malibu Airstream nestled on the top of a mountain.
The renovated Airstream sits incredibly high in the mountains, the view of the ocean and surrounding terrain are exquisite and breathtaking! It was actually higher than the top of the fog, so we felt like we were literally relaxing above the clouds!
Entertaining for them in such a unique location was so fun. Even though we didn't do much cooking, we set up a pretty entertaining theme, inspired by the sunset and Malibu's fresh seafood.
This kind of entertaining is more like glamping, so it's not for everyone, but the views and experience are extraordinary.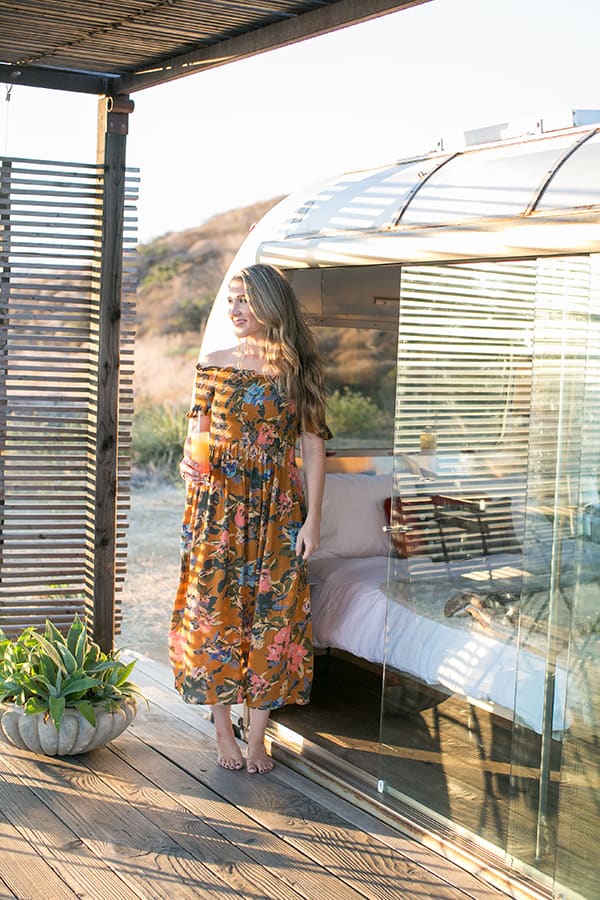 The drive to the Airstream was a little scary on a very narrow dirt road leading up to the sky (it truly felt like it!). I actually contemplated not driving back down to grab our dinner we planned on getting!
But what kind of entertainer would I be if I didn't have some dinner there for the girls? In all honestly, I was about to serve them the breakfast I had packed for the morning as dinner, but my niece, Isabel, finally made the executive decision that we drive back down for the tacos… so we went 2 mph back down the windy dirt road that's carved into some very steep cliffs!
Dinner
Luckily, we made it back with fresh fish tacos, fish and chips and a salmon salad from Malibu's landmark seafood restaurant, Neptune's Net. It was delicious and so worth it.
Flowers
To make the evening special, I had Erin create a pretty floral arrangement, ordered these plates, because they reminded me of a sunset, and brought my favorite silverware with us. I always pack a few of my own entertaining items because it's always hit or miss on what the rental/hotel/house will have on hand.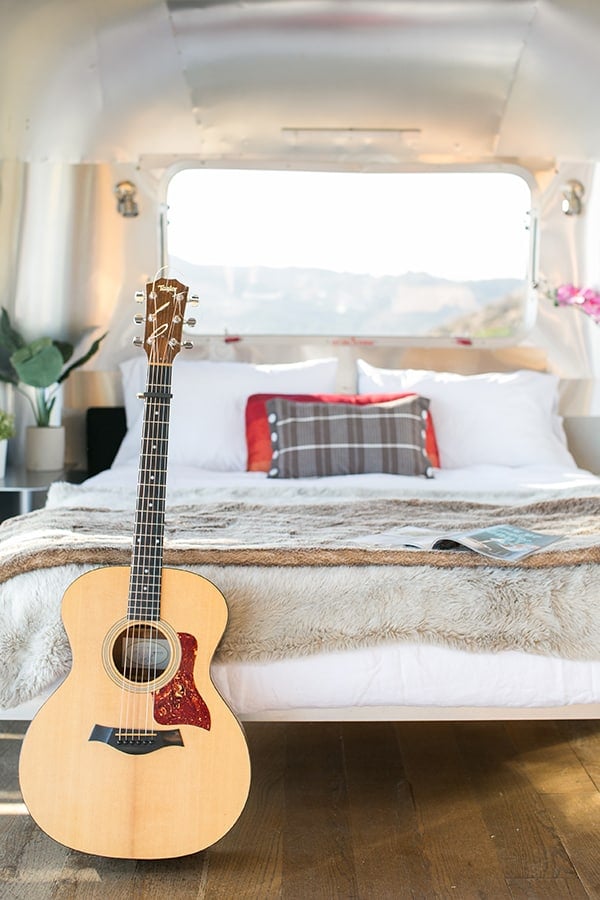 Sunset Cocktail
For the cocktail, I made a very simple concoction using cold-pressed orange juice and grapefruit juice, 2 ounces of tequila and a dash of grenadine to resemble a sunset. It was so easy and yummy! You can easily make these nonalcoholic too.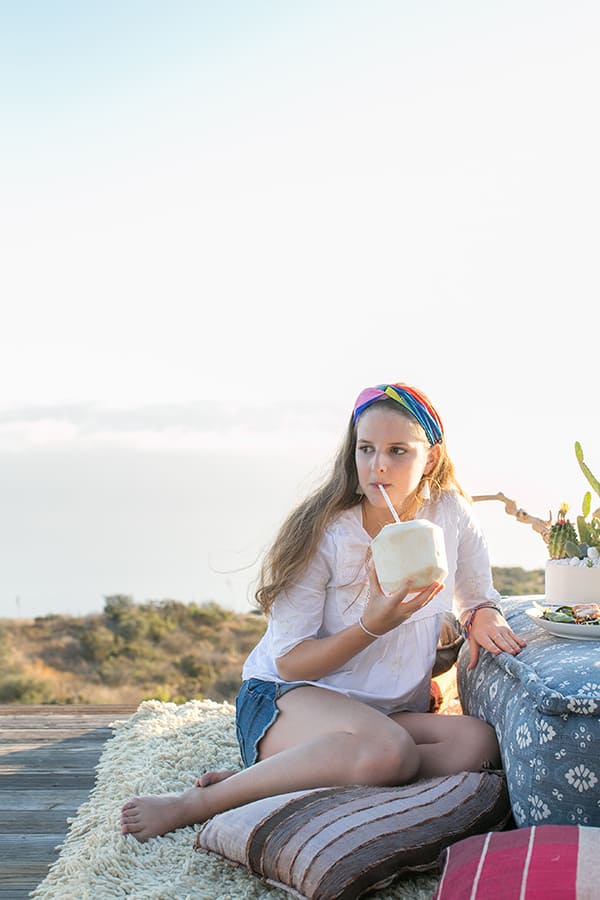 We brought giant coconuts from the store and used all of our strength to cut the tops open! It was worth the effort and so yummy to have fresh coconut water out of a coconut while watching the sunset.
The Airstream is fairly tucked away up on the cliff and once the sun went down it was literally pitch black outside. You have to bring flashlights and be prepared if you stay here. There is zero cell service too! It's very much like camping but with some luxury amenities. It's definitely super secluded up there which can be a bit creepy if you're not comfortable with that kind of vibe.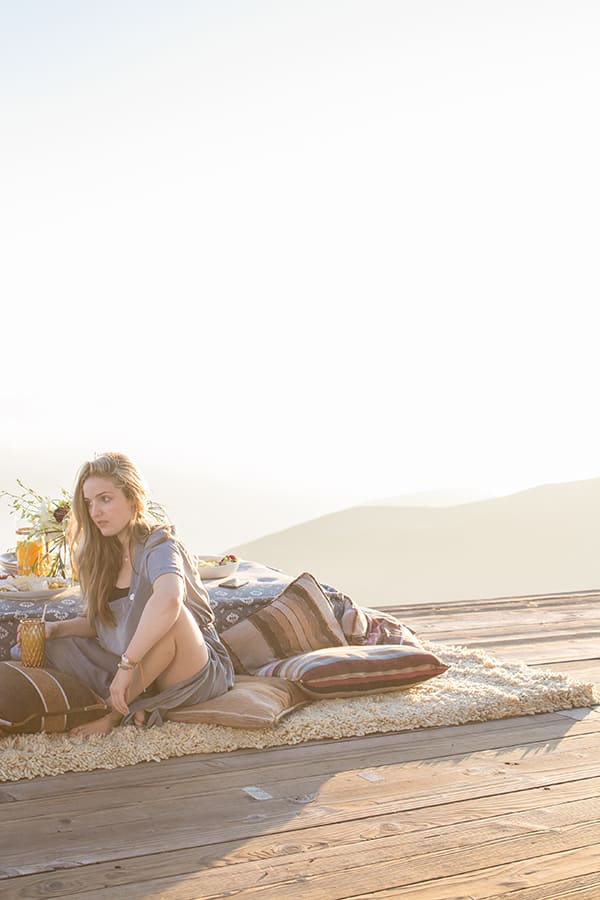 Chocolate and Candy Platter
Since the Airstream was pretty much camping, but with a few extra amenities, I wasn't sure what I would be able to make. There are no fires or bonfires allowed, so s'mores were out of the question.
We stopped by the truly delectable K Chocolates at the Malibu Market and grabbed truffles, vodka-filled chocolates and I brought the cutest tropical candy from Sugarfina to make a little candy platter! I really loved this idea and how easy it was!
Sunset
As the sun set, the fog started rolling in through the mountains creating an illusion of a giant waterfall. I had never seen anything like it in my life! We sat watching it unfold, it was truly breathtaking.
At night the stars were so bright we each got cozy in a fur blanket and sat on the deck stargazing and chatting. We all saw shooting stars, which was a treat. It's so fun to have girls around since I'm always surrounded by boys!
stunning photo credit by Madcitizen