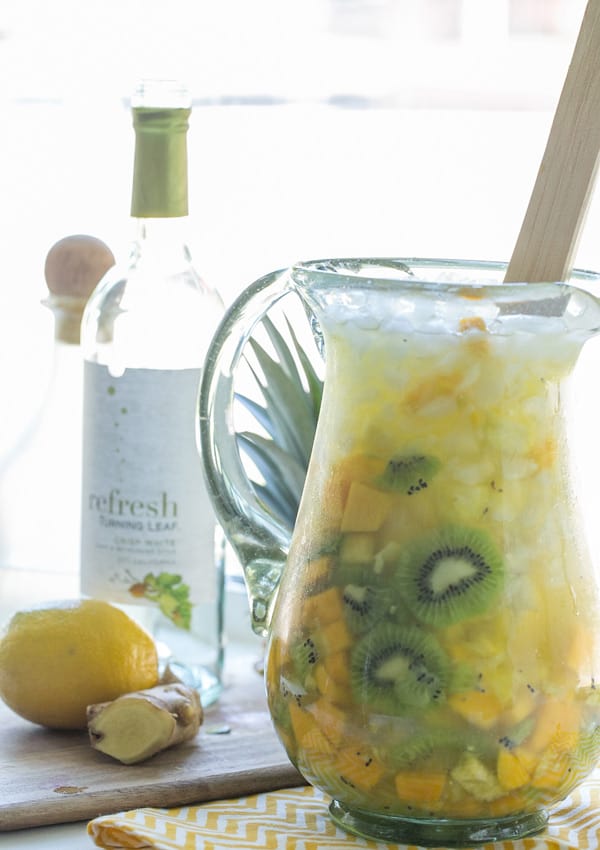 This post is sponsored by Turning Leaf Refresh Wine
Some of the schools around here started last week. Parents are getting everything ready and sending the kiddos off for another year of learning, growing and experiencing. So to celebrate the last few weeks of summer we've created an amazing fizzy white wine sangria using Turning Leaf's new Refresh, Crisp White. This recipe is so refreshing and incredibly tasty, I seriously had 2 full glasses with dinner last night! It's not very sweet and the tropical fruit, like mango, pineapple and kiwi add such a vibrant flavor and color. We also added a little ginger to spice things up! It's now one of my favorite recipes for entertaining. Another bonus is that it's easy to make and serves 6-8 people! And it looks gorgeous in the glass too! Oh and I should mention that Refresh is only $8 a bottle! So enjoy these last few weeks we have left of summer with a glass of refreshing, fizzy white wine sangria! Cheers!
Fizzy White Wine Sangria
1 bottle Turning Leaf Refresh, Crisp White
1 mango, peeled and diced
1 pineapple, peeled and cubed
3 kiwis, peeled and sliced
3 tablespoons lemon juice
1/8 cup minced ginger
Handful of fresh mint
Peel, dice and cut all of the fruit.
Add it into a glass pitcher.
Pour one bottle of Turning Leaf Refresh Wine over the fruit and 3 tablespoons lemon juice.
Muddle lightly, then let it sit in the refrigerator for a few hours.
Fill with ice and stir. Fill each glass with fruit, sangria and ice. Garnish with fresh mint.