Who doesn't love a good baby shower game and free printable! This baby shower trait game printable was one of my favorite games from my own baby shower a few years ago!
I like it because it doesn't involve eating gross baby food or candy bar diapers, ha!! I thought it was very interesting and funny to see what my friends and family chose for the different baby traits!
Once you choose your shower theme (see these 10 chic showers!) you have to plan the games. Pick three games to play during the baby shower. More ideas below.
How to Play the Baby Shower Trait Game
The mom-to-be fills one out one trait card before as the answer sheet.
Pass the rest out to guests to fill out.
Each guest checks either mom or dad for what trait they think the mom-to-be wants the baby to inherit from each parent.
In the end, the soon to be mama announces her answers and whoever has the most right choices wins!
Make sure you always have at least 2-3 prizes for a few winners.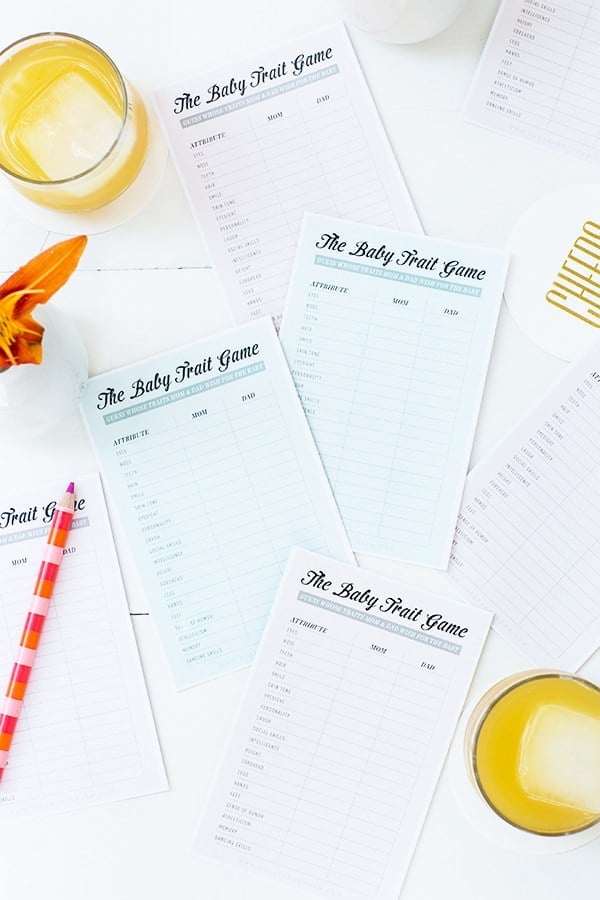 Free Printable
Have these printed on card stock and then just cut them out. Super easy and fun! Click the links below to download and print the charming baby trait game printable. There are two colors!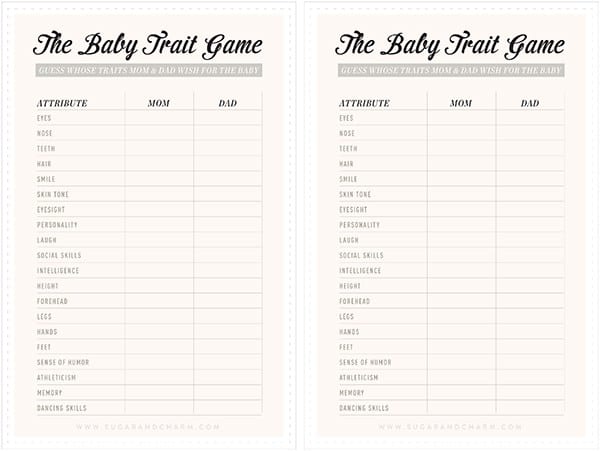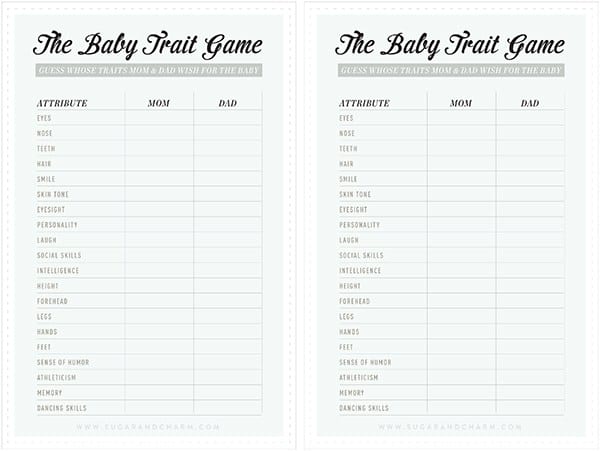 Baby Shower Games
Here is a list of some other fun baby shower games you can play!
Don't say the word baby!
I've always loved this game at showers. You give each guest a safety pin or a necklace and if someone says baby, you can take their necklace. The person at the end of the shower with the most necklaces/pins wins!
Drink the bottle!
Fill baby bottles with water and have guests drink from them, whoever finishes drinking the water first wins! This is too funny to watch!
Baby Sketch Artist
Blindfold guests have them sketch a picture of a baby on paper. Whoever looks the best wins!
Baby Animals
Who doesn't love baby animals?! Print out adorable pictures of baby animals and have guests match them to the mom.
Let us know if you use our Charming Baby Shower Trait Game Printable! Please tag us on social or leave a comment below! We love to see what you all do!