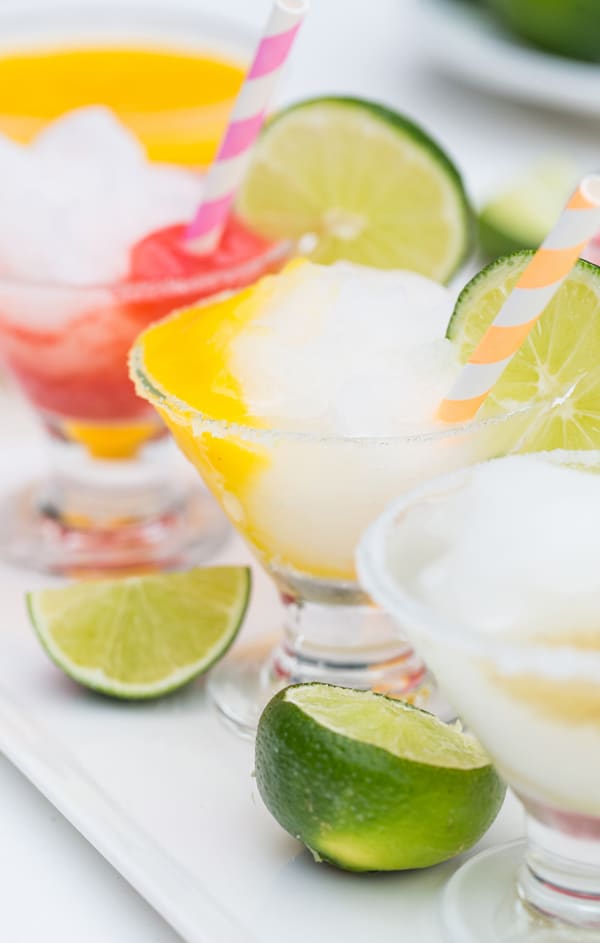 Happy Cinco de Mayo! We're celebrating with the best fruity frozen margarita recipe! This margarita recipe is fresh, not too sweet and incredibly easy to make. To create these colorful, fruity frozen margarita flights, we made one batch of frozen margaritas and then made 3 fresh fruit purees to add on top. You can have fun and experiment using your favorite fruits. We chose strawberry, kiwi and mango and they each paired very well with the frozen margaritas! It was a blast trying all of the flavors and the presentation is quite impressive for guests! Enjoy and happy Cinco!
Frozen Margarita Recipe 
1/2 cup fresh-squeezed lime juice
3 ounces simple syrup
3 ounces triple sec
6 ounces tequila
4 cups ice
Blend all of the ingredients in a power mixer until smooth. If you're not ready to serve, store it in the freezer. You can salt or sugar the rim depending on your taste!
Fruity Purees
You can make any fruit puree you desire! Just blend about 2 cups of frozen or fresh fruit and a tablespoon sugar until smooth. You can freeze it for a few minutes so it thickens. Then just pour a little over the margarita mix when you're ready to serve!