The best fruity frozen margarita recipe! They're made with fresh ingredients, no mixers and perfectly sweetened! Furthermore, they're pretty simple to make!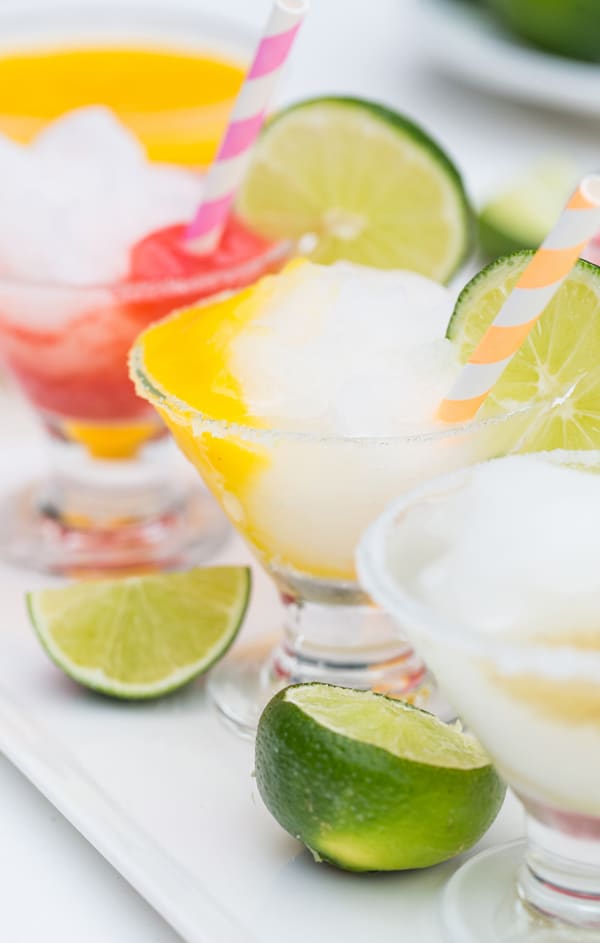 The best part about this recipe is that you can make one large batch of frozen margarita and then create a fruity flavor by making fresh purees.
If you get really motivated, make 3 different fruit purees to create a mini margarita flight full of color and flavor! You just add the puree on top of the frozen margarita and that's it!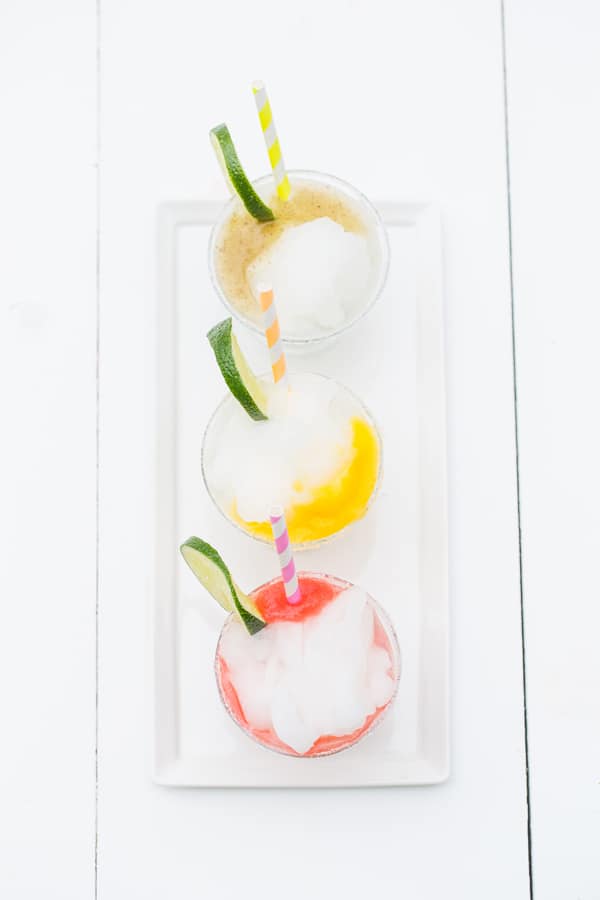 Frozen Margarita Flavors
There are so many flavors you can choose. For this recipe, we use a base frozen margarita and then add purees over the top for the fruit flavor. We're made strawberry, kiwi, and mango.
It was a blast trying all of the flavors and the presentation is quite impressive for guests.
Here are some more flavors you can make:
Guava
Blackberry
Blueberry
Pineapple
Raspberry
Peach
Honeydew
Papaya
How to Make Frozen Margaritas
Ingredients
Fresh-squeezed lime juice
Simple syrup
Triple Sec
Tequila
Ice
Directions
Blend all of the ingredients in a power mixer until smooth.
If you're not ready to serve, store it in the freezer.
You can salt or sugar the rim depending on your taste!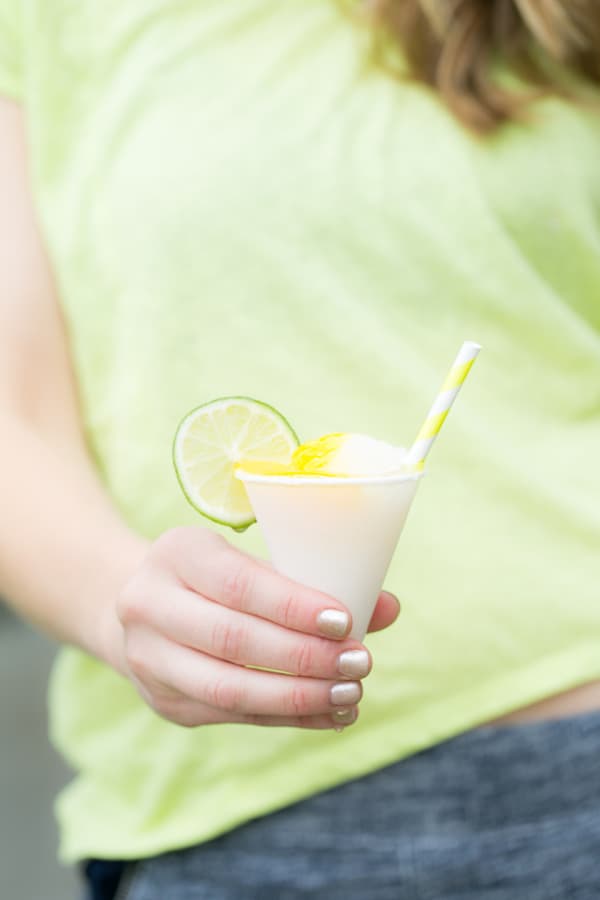 Fruity Purees
Fruit purees are easy to make. You just puree a cup of your preferred fruit with a tablespoon sugar in a blender until smooth.
Freeze the puree for a thicker consistency or pour straight over the frozen margarita!
If you're making margaritas flights, serve them in these mini margarita glasses with a cut paper straw!
A Brief Margarita History
Margarita history starts with Margaret Sames. In 1948, she invited some guests over for a cocktail party and decided to experiment with some alcohol. She mixed Cointreau and tequila with a bit of lime and salt around the edge of the glass. That's who invited the Margarita.
You can find ten marvelous Margarita recipes on our website here.
What is a Margarita?
Now that you know the history of Margaritas, you might wonder what's in a Margarita. Are there different recipes?
There are actually quite a few recipes. But the original recipe calls for Tequila, orange liqueur, lime juice, and a bit of soda. There's also some salt on the brim of the glass.
Since it's inception, Margaritas have evolved to include variations of liqueur, Tequila, as well as other options.
How Much Alcohol Is in the Margarita?
Typically, there are two ounces of Tequila in a Margarita. You can add more or less depending on how you like the taste of Tequila in your Margarita.
In addition to Tequila, you also add one ounce of orange liqueur, but this is optional depending on the kind of Margarita you are having.
What is the Best Tequila and Glasses for Margaritas?
If you want to make the very best Margarita, you need the best Tequila. You need the gold standard of Tequila.
You can choose Patrón Silver. This Tequila offers notes of fruit and agave that complement your Margarita.
You can also choose Herradura Tequila Anejo. It's a kind of Tequila that boasts of rich citrus flavor with a hint of red pepper. Although, this particular Tequila can be pricy.
A really great priced Tequila is the Olmeca Altos Plata. It is priced at a very reasonable $25 and it goes well with Margarita mix. Another reasonably priced Tequila is the Casa Noble Añejo, which is priced at $57.
People often confuse Triple Sec as Tequila, when it is actually orange-flavored liqueur.
You always need the traditional Welled Margarita Glass. It offers a wide rim for you to put salt or sugar on it. It's an elegant design that's perfect for Margaritas.
Basic Margarita Ingredients
The basic Margarita ingredients include Tequila, orange liqueur, lime juice, some soda, and salt around the Welled Margarita Glass.
Having said that, you can also make a variety of other Margarita drinks. You can make honeydew Margaritas, coconut Margaritas, lemonade margaritas.
There are tons of ways to make a Margarita unique, you just have to decide how you like it and eventually make Margarita history. 
More Margarita Recipes You'll Love!
Here are 10 Best Unique Margaritas too!
Let us know if you make these! Leave a comment and a review below!
Frozen Margarita Recipe 
This margarita recipe is fresh, not too sweet and incredibly easy to make. To create these colorful, fruity frozen margarita flights, we made one batch of frozen margaritas and then made 3 fresh fruit purees to add on top.
Print
Pin
Rate
Ingredients
Frozen Margarita
1/2

cup

fresh-squeezed lime juice

3

ounces

simple syrup

3

ounces

triple sec

6

ounces

tequila

4

cups

ice
Fruity Puree
2

cups

fresh fruit

1

tbsp

sugar
Instructions
Frozen Margarita
Blend all of the ingredients in a power mixer until smooth. If you're not ready to serve, store it in the freezer. You can salt or sugar the rim depending on your taste!
Fruity Purees
You can make any fruit puree you desire! Just blend your fresh fruit and a tablespoon sugar until smooth. You can freeze it for a few minutes so it thickens. Then just pour a little over the margarita mix when you're ready to serve!
Nutrition
Calories:
205
kcal
|
Carbohydrates:
30
g
|
Protein:
1
g
|
Fat:
1
g
|
Saturated Fat:
1
g
|
Sodium:
14
mg
|
Potassium:
103
mg
|
Fiber:
1
g
|
Sugar:
26
g
|
Vitamin A:
250
IU
|
Vitamin C:
7.8
mg
|
Calcium:
9
mg
|
Iron:
0.8
mg