Travel guide to visiting Carmel by the Sea. Places to stay, eat and shop in Carmel California.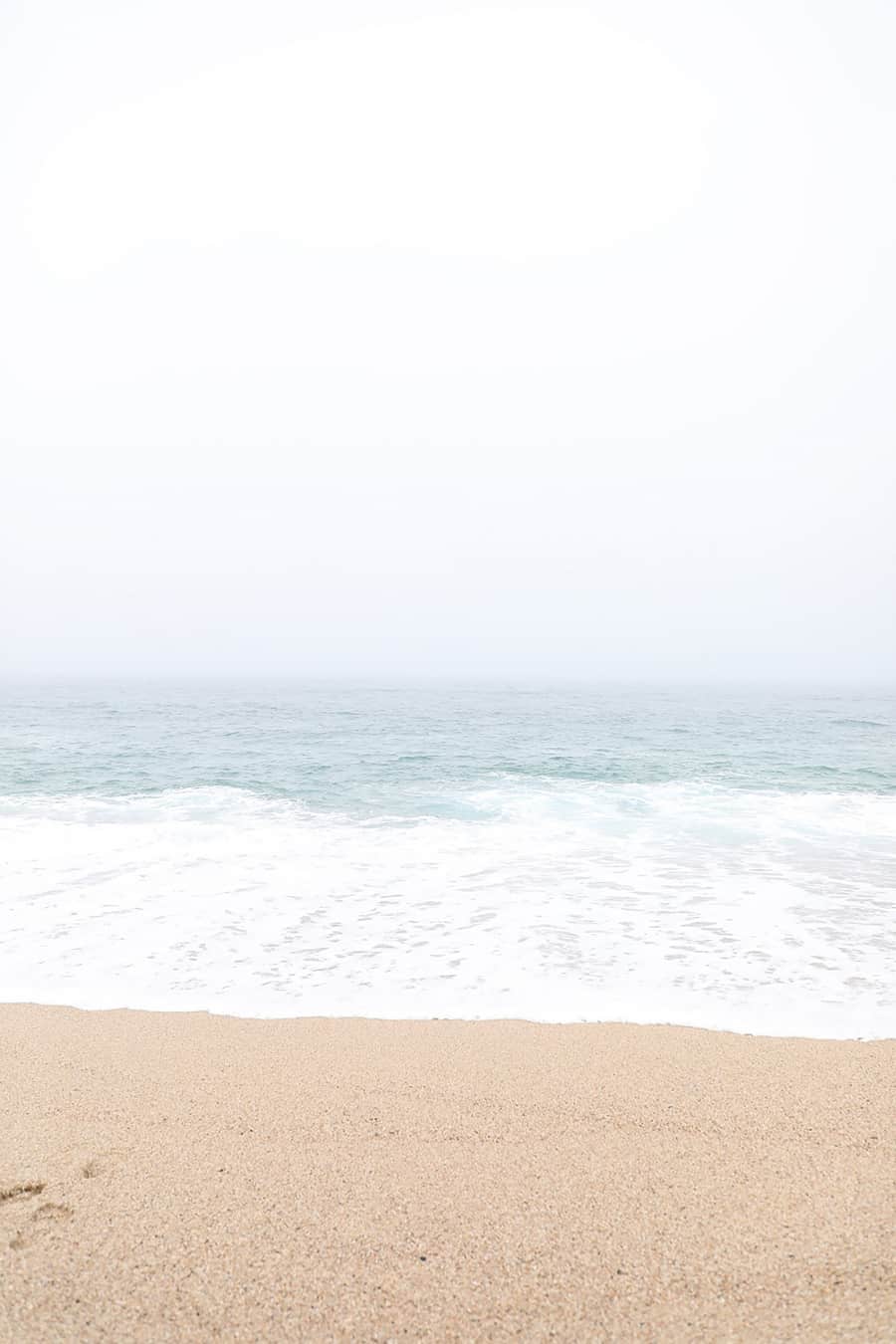 A few weeks ago Zan and I spent a weekend in Carmel-by-the-Sea with See Monterey. We were lucky enough to explore a few different areas within Monterey County and, by the end of the trip, Carmel captured our hearts! With a subtle European feel, Carmel is the cutest, little village that sits right next to the ocean and there's so much to explore within the entire area.
From the world-famous Pebble Beach Golf Course to Big Sur and Monterey, you're close to an endless supply of things to do and surrounded by beauty…and the best part is that there's no traffic!
We flew into the Monterey Regional Airport from LAX which was a dream! So quick, easy, and small, and the perfect way to start our trip. Below I listed 10 of our favorite reasons to visit Carmel-by-the-Sea!
Beautiful Weather
1. It's stunning all year long! We went in early March and had a nice blend of beautiful and cozy foggy days mixed with warm, sunny days! It was brisk and refreshing, much needed for us.
White Sand Beaches
2. Carmel has white sand beaches – If there's one unique thing about Carmel-by-the-Sea it's that their beaches are GORGEOUS.
They're some of the most beautiful beaches in California and I can say that with confidence since I've explored countless Cali beaches from San Diego to the tip of California, where I'm from, near the Oregon border!
Carmel beaches have a coarse white sand and stunning blue water. I felt like we were in a different country!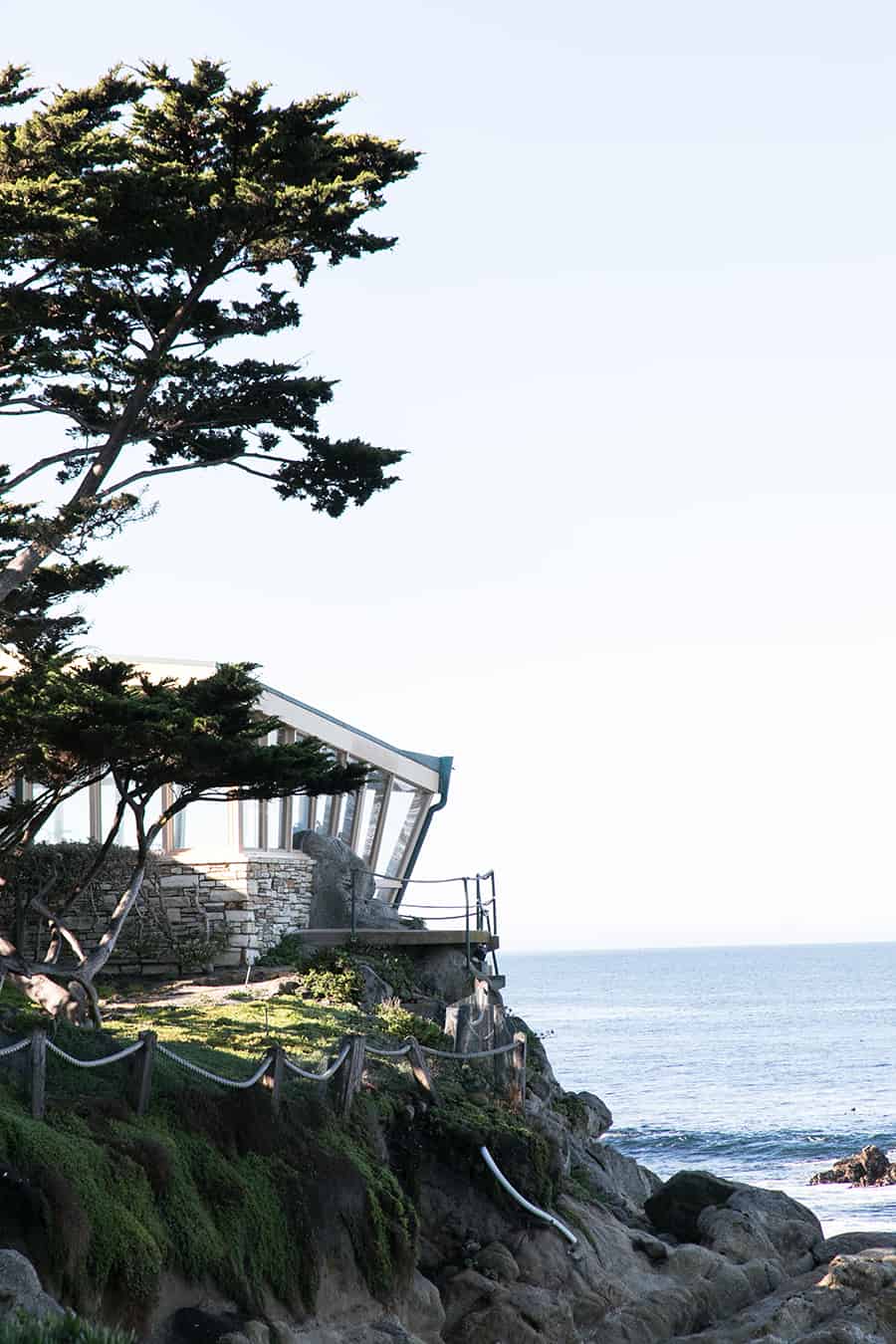 Architecture and Coastal Homes
3. The architecture and coastal homes are the most charming cottages ever. They're beautiful, full of character and all very unique. In Carmel, no one has house numbers so most owners give their houses names, similar to nice boats!
There are name plaques on each house and it was fun to see the different names. I'm curious if new buyers change the name or if the house is always named that forever?! Also, there are Dutch doors everywhere, which only adds to the charm!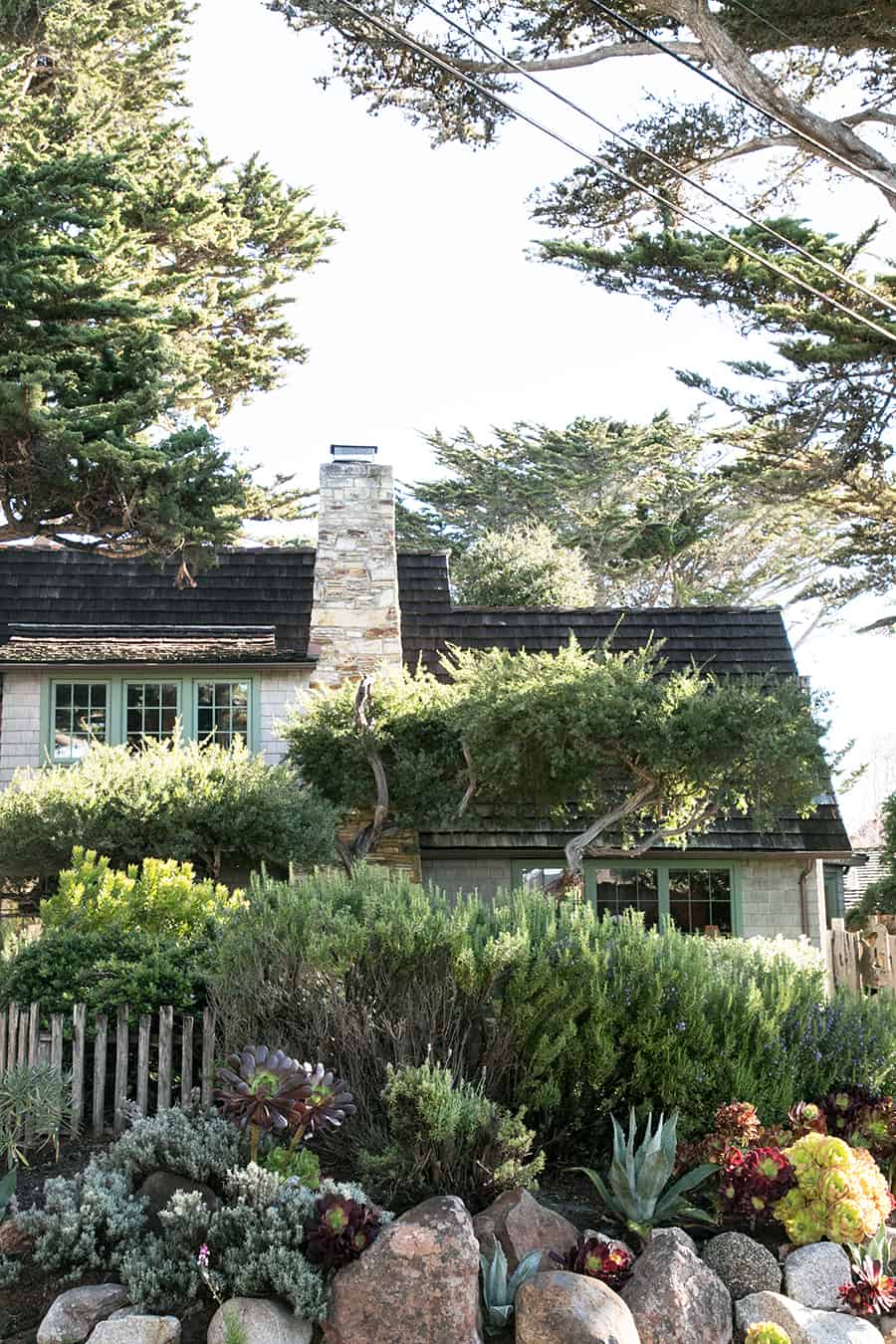 Shopping in Carmel
6. Shopping in Carmel is fun too! You will see very few corporate retail stores and most are locally-owned.
From gift shops, toy shops to candy stores. It's enjoyable to walk around and see what each individual shop has to offer. Some of my favorites were Paloosh, Carmel Company, Cowboy Hat, Elizabeth W and of course, we picked up some toys from Thinker Toys!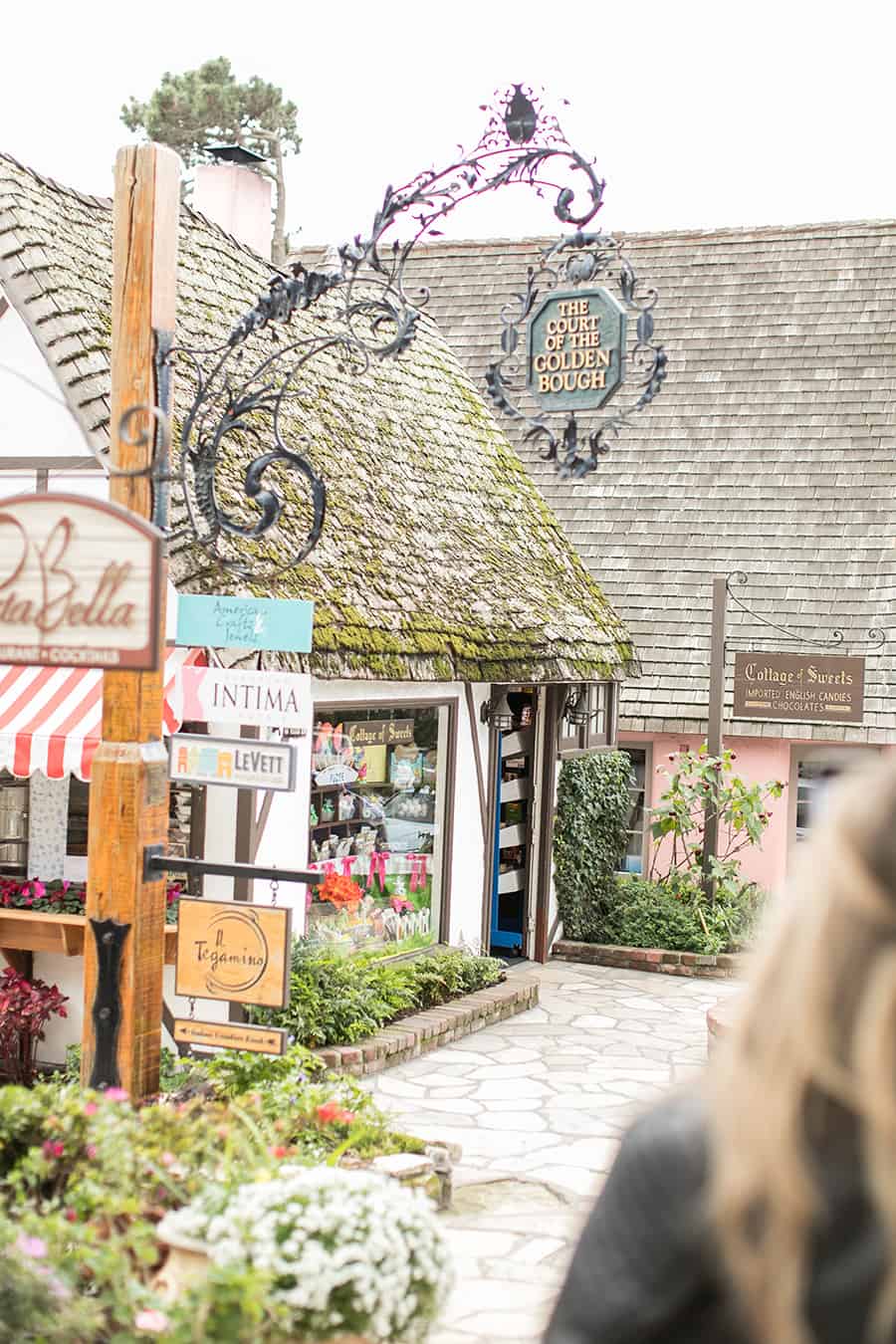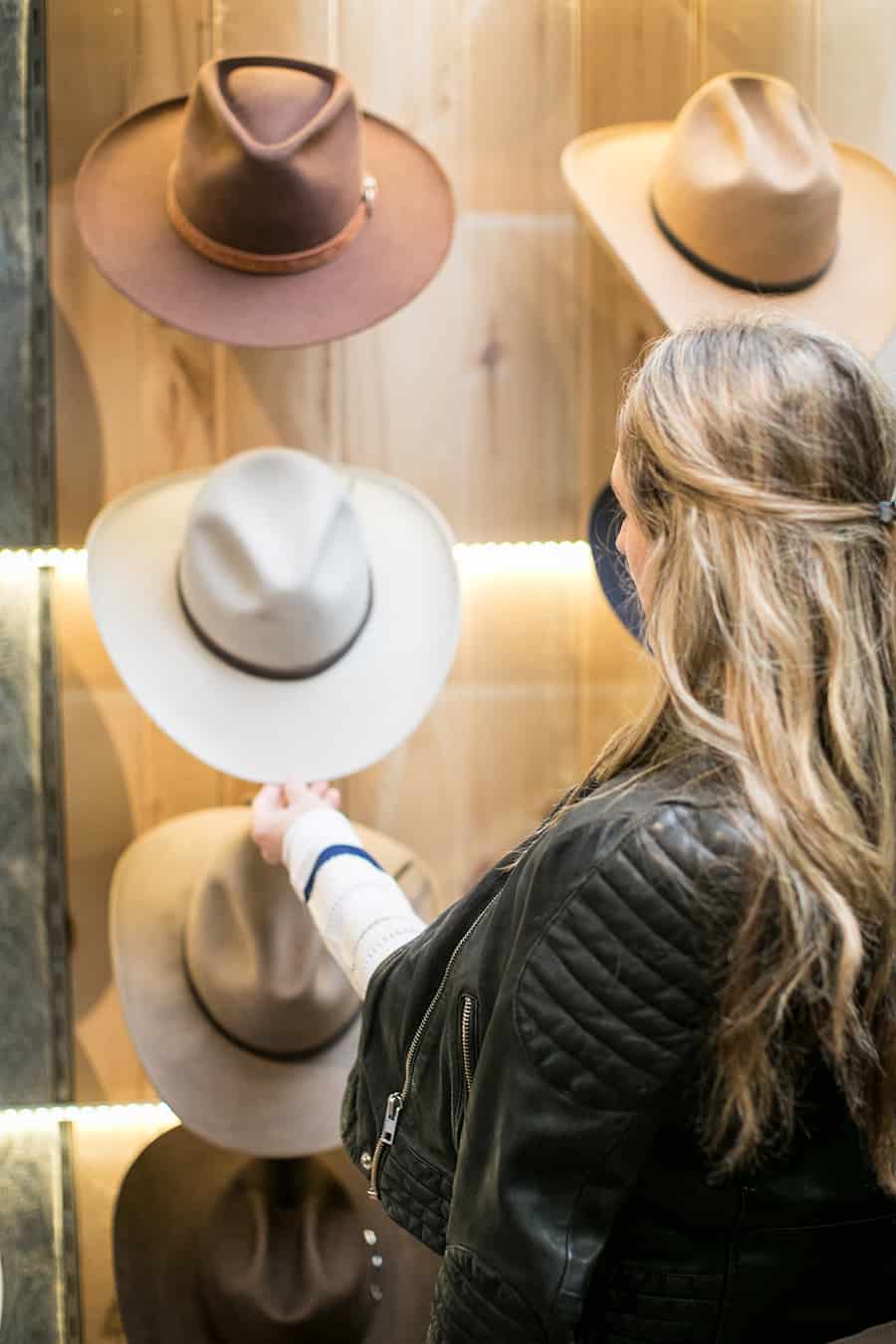 Nature, Flowers, and Trees!
5. NATURE! A sea of blooming flowers paint the village with color and add so much charm. Since the village is tucked away in the forest, the crisp air is filled with an aroma of pine trees, which is our favorite scent!
We would just stop in our tracks and take deep breaths to fill our lungs with fresh pine-scented air. It was truly magical.
Restaurants in Carmel
4. The food in this little village is so good… and walkable! There's a plethora of delicious restaurants to eat at without the long lines and hassle. In the morning we ate at Carmel Coffee House and Carmel Belle and we had a really nice Italian dinner outside in a quaint courtyard at Il Tegamino.
There is also a cheese shop in town. It's the best spot to grab a little picnic food and head to the beach! We also drove a little further out one day to have lunch at Salt Wood Kitchen in Monterey Bay, which was so worth it!! Great atmosphere, food, and cocktails.
Wine Tasting in Carmel
7. The wine tasting rooms! There are about 18 tasting rooms in the small village of Carmel and the best part is that they're all walkable! You can see our favorites here.
We spent a few hours sipping wine at some incredible tasting rooms like Scratch, Dawn's Dream and Silvestri, where we listened to our favorite movie music composed by Alan Silvestri himself.
A few of my favorites… Forrest Gump, Back to The Future and The Polar Express. He makes great music AND wine… we're fans!
Most of the tasting rooms ship their wines as well, so we had the best delivery a few days after we arrived back home. Is there anything better than a box of amazing wine delivered to your door?!
Quaint Hotels and Cozy Inns
8. Carmel by The Seas hotels are so charming and if you stay in the village you're able to walk everywhere, which we loved. There is a wide range of hotels in Carmel.
We stayed at the Hofsas House Hotel which is a boutique hotel known for its history in the town. It was founded in 1947 by Donna Hofsas and started as 4 tiny cottages she rented out while living in one with her husband.
After being passed down to her son, it is now owned and managed by her granddaughter Carrie who is incredibly sweet and grew up in the family business. I love the rich history it has. Zan and I are also looking forward to taking the kids to Carmel this summer and staying at  Carmel Valley Ranch. It's a totally different experience and I'd love to try both!
A Welcoming City
9. The people are beyond kind in Carmel – We noticed that most people go out of their way to help you and make conversation. Something we don't get a lot of with the busy bees in LA!
One gentleman stopped to ask us if we needed directions and guided us to his favorite coffee shop. Then we even had a 20-minute conversation with an older man outside a restaurant about life… he was a photographer from Argentina and gave us very sound advice to "keep life simple."
Doesn't that seem so easy?! Just keep life simple, enjoy the simple pleasures, and live below your means, which is really key to living a creative life. Carmel has a way of slowing you down and forcing you to enjoy the world around us, in all its glory.
The Sunsets
10. The sunsets – Carmel by The Sea has the sunsets are on fire! They are absolutely breathtaking and everyone seems to head to the beach to watch them.
It's really something that you don't want to miss when visiting Carmel-by-the-Sea and a great way to end your trip. For more information about Carmel and Monterey County, visit their website! You will not be disappointed if you visit Carmel! Enjoy and stay charming!