The cutest gingerbread snowman cake for your holiday parties!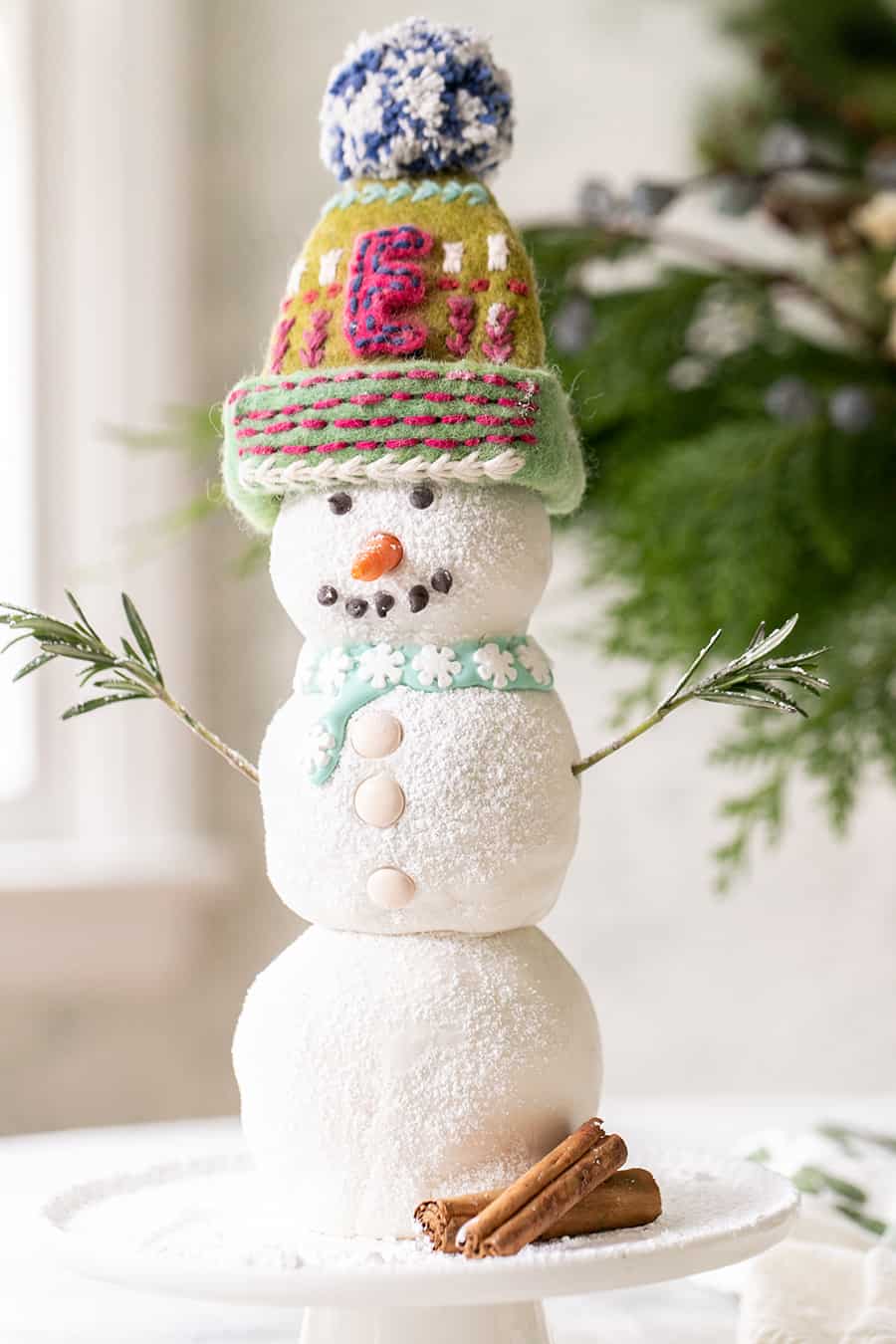 I got creative the other night and wanted to make a snowman cake. I was actually just playing around to see if it would work and, although he is far from perfect (but really who is?), he turned out really cute!
He's made of delicious gingerbread cake, buttercream frosting and fondant and makes the most charming snowman centerpiece! I thought it would be fun to share a few photos and the process I used to create this adorable snowman cake.
This isn't a directions post, but more of an inspirational, have fun and think outside-the-box post. No one's snowman will look the same, but they're all charming in their own way. And they taste good too!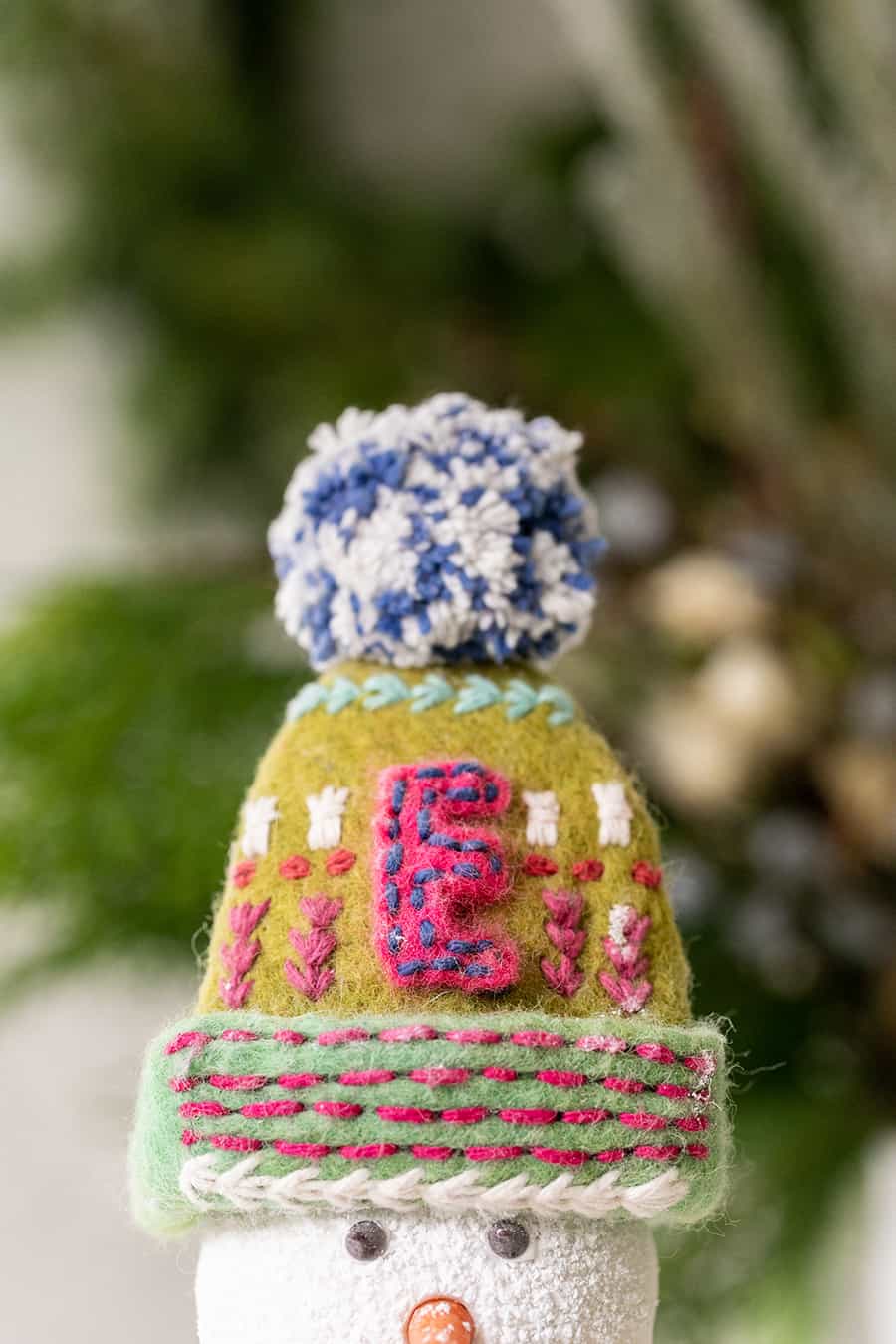 I used a classic gingerbread recipe for the cake. You can use boxed cake too. I also thought a spiced carrot cake would be yummy and perfectly fitting to use as well! If you've ever made cake pops, this is pretty much the same process as that, but on a larger scale.
You bake the same cake (just one cake) in a regular sheet pan, then crumble it and mix in a box of cream cheese to form 3 cake balls. From large to small for the bottom, middle and top! Bakerella, the cake pop queen, has a good tutorial on making basic cake pops.
It's all similar, except to make the snowman you just make three larger balls! I also used fondant instead of candy melts. Again, you can use any cake flavor or recipe you want.
I frosted the snowman cake with buttercream and then put a layer of fondant over him. You can buy this fondant, roll it out and then you'll place it over the cake ball like a sheet, smoothing over the top and sides to make them somewhat smooth and leaving the bottom the area to cut of excess and pinch the fondant all together. It doesn't matter what the bottom looks like since they'll be stacked together. Once they're all rolled in fondant, stack them from big to small and then place a skewer right down the center to hold it in place.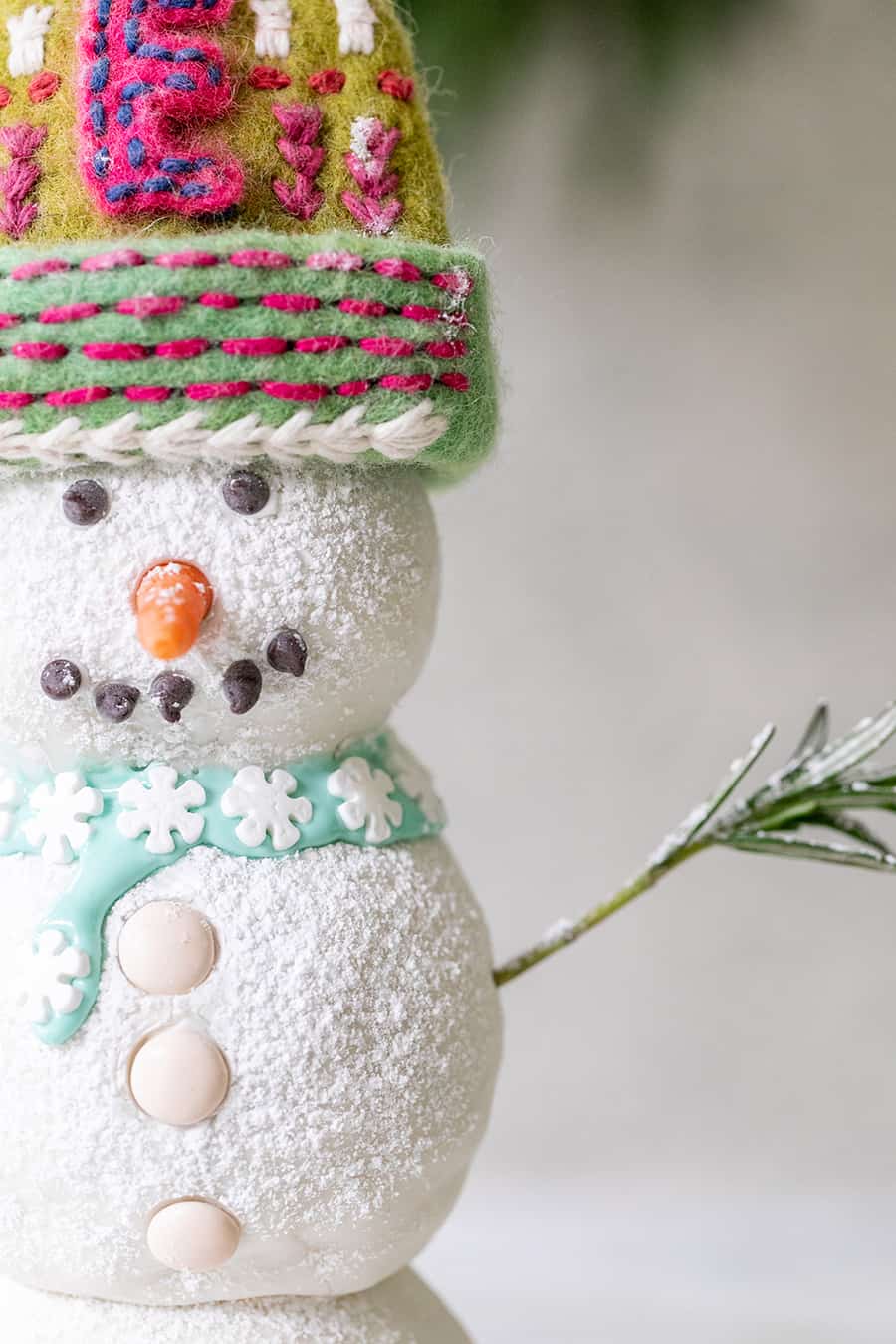 Using a sifter, sift powdered sugar over the snowman, you can tilt it to the side to get each area. You can get creative when decorating the snowman. We used white M&M's for the buttons, mini chocolate chips for the eyes and mouth and rosemary for the arms. I left a little rosemary at the end to look like hands. For the scarf, I used royal icing and little snowflake sprinkles. The nose is the tip of a real carrot and worked perfectly!
To hold the buttons and chocolate chips in place, use a little of the royal icing on the back of them. Press into the fondant to stick them on and viola!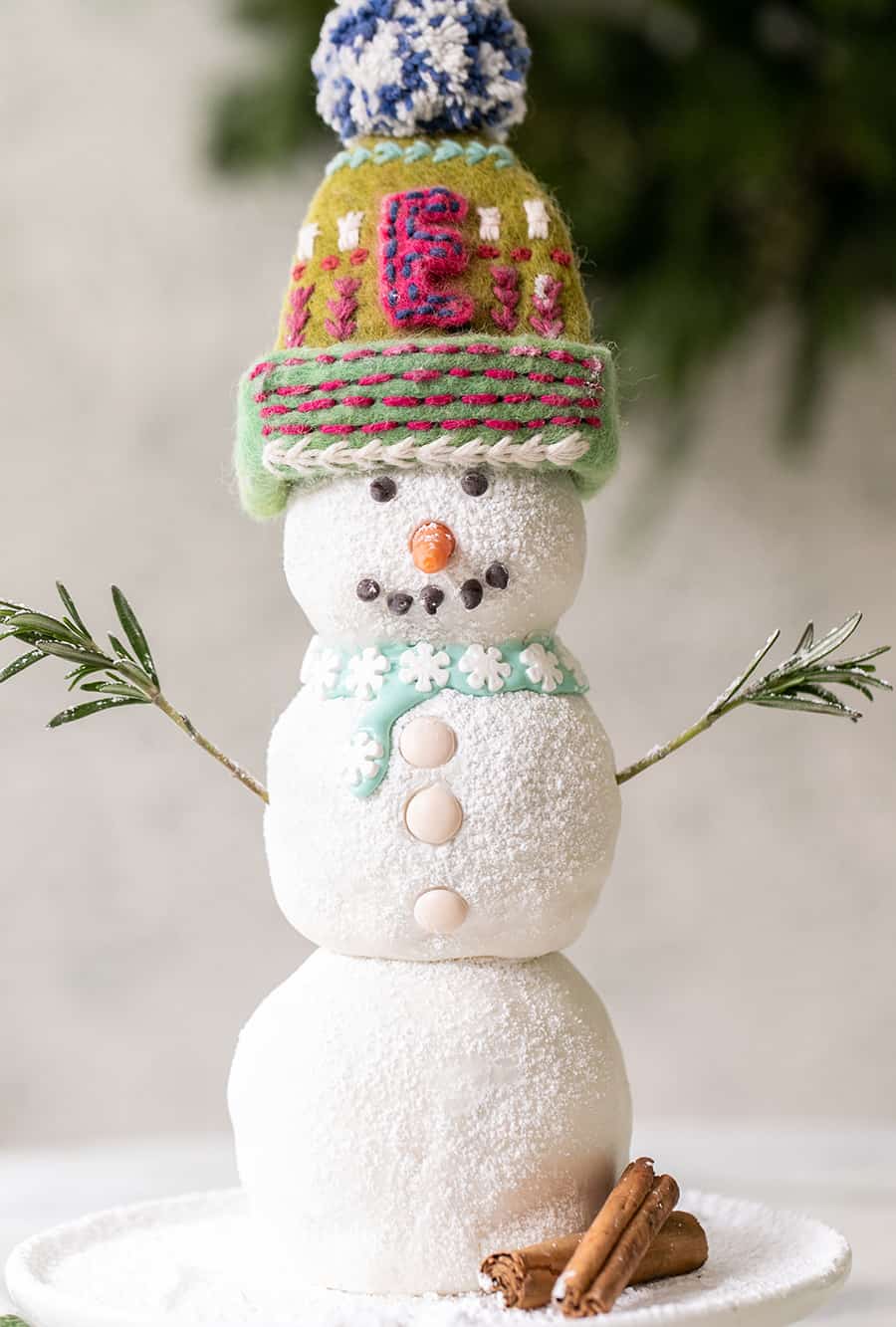 Of course, you can make a candy hat, maybe use a peanut butter cup or something like that, but I really loved the idea of giving the snowman a real hat! I found these bundled up ornaments and knew it would be perfect! I had to cut the back just a little to fit, but I love the way it looks. You can also dip it in a little sugar water to crystalize the rim of the hat, so when it touches the fondant, it won't get fuzzies on it.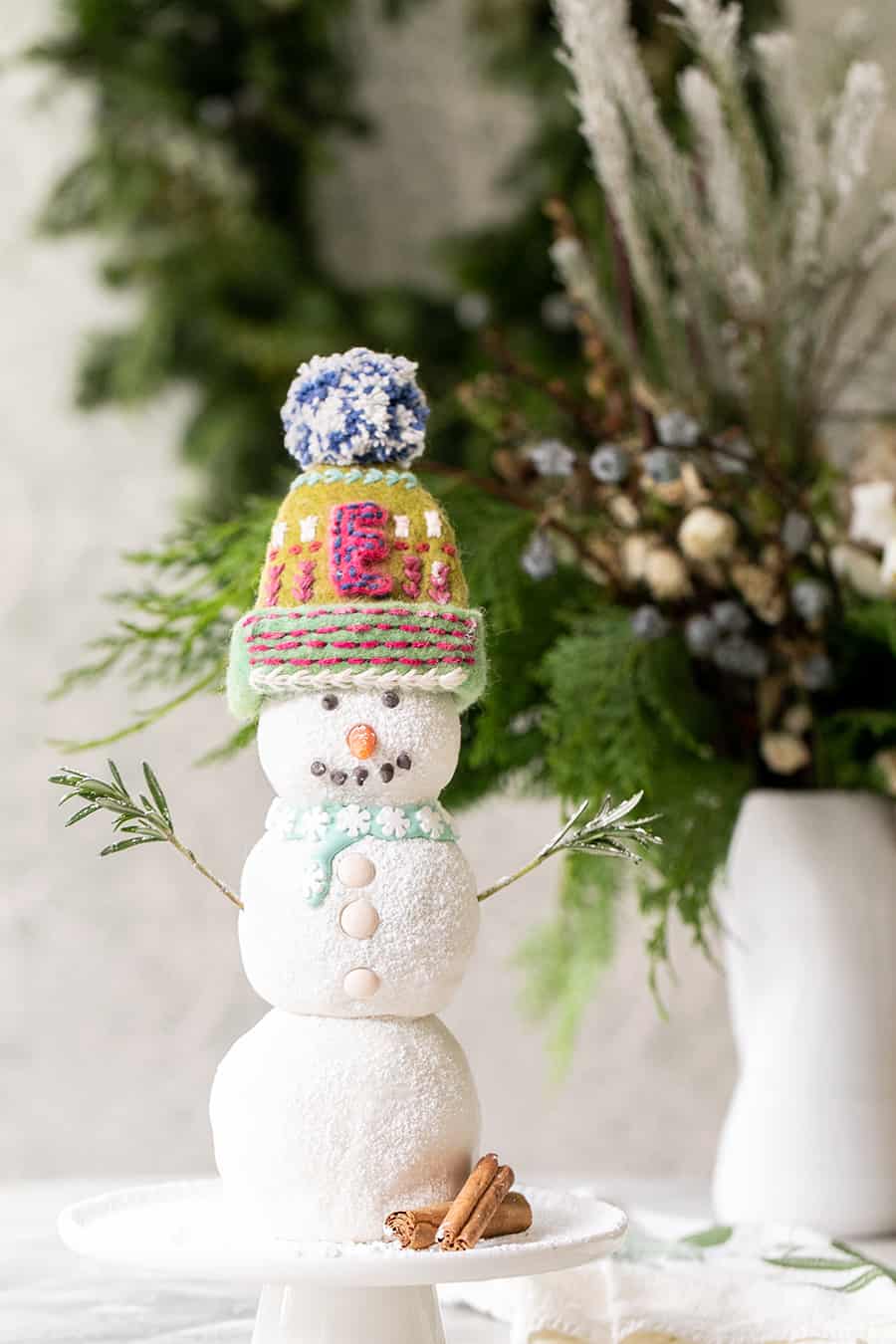 If any of you make this cake, please share and tag us on Instagram and Facebook! I would love to see what you all do and the creative candy pieces and sweets you use to dress him! Happy holidays!