We sharing ways to entertain when traveling and our favorite places to go in Los Olivos California.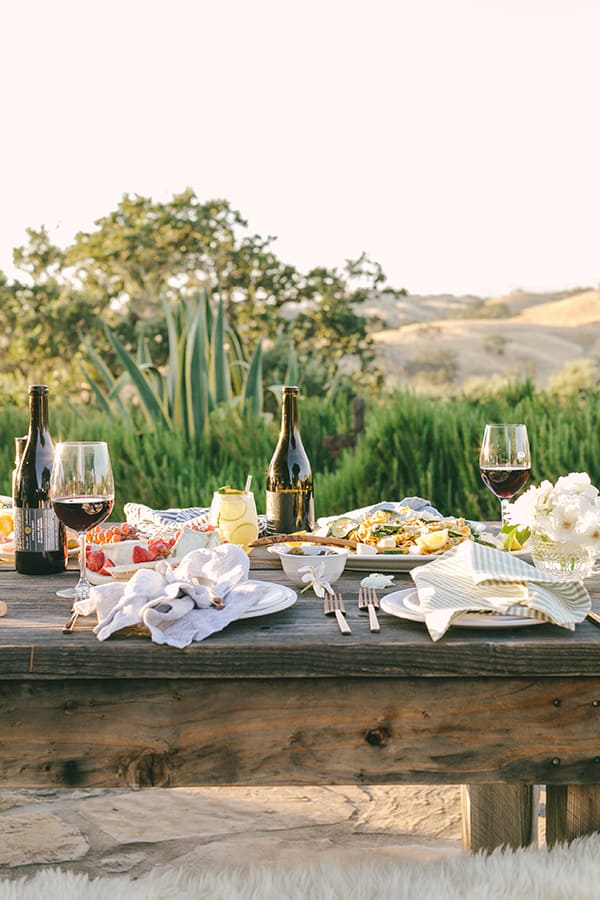 I wanted to combine my love for entertaining and family with travel, and with sites like Home Away and Airbnb being so popular, we're starting a brand new series called When Entertaining in (a little play on the phrase "when in Rome")! The series consists of entertaining tips, inspiration and recipes that are based on a specific travel locale.
We'll be traveling to various fun destinations, scoping out charming properties to stay for the weekend and then showing you all how we entertain there. It's always a challenge creating a warm entertaining setting when it's not in your home, so hopefully we'll inspire the traveling entertainer.
We'll feature local markets, florists, recipes, bloggers and eventually chefs to show you how we pull together a fabulous dinner party in a rented vacation house! We played around with the idea this past weekend and did a mini-version of what's to come in the sweetest wine country town of Los Olivos.
It's centered in the Santa Ynez Valley and home to many wineries and adorable tasting rooms scattered along with the picturesque town. We rented this home because I couldn't resist the pool and views! It was the perfect setting for entertaining.
To set the table I brought some mixed cloth napkins to give it a casual feel. I also brought copper utensils, white plates and paper straws from home to use. The overall feel was very relaxed but inviting.
Los Olivos Market
I did all of my grocery shopping for dinner at the charming Los Olivos Market. I also found it online for you all! The market is small, but has a decent selection and all the staple items you might need, including some fresh produce. I was able to get everything for the cocktail and even picked up this adorable colorful pasta!
Dinner in Los Olivos
For dinner, we served this pasta recipe and a delicious cheese board with olives and charcuterie on the side. It was simple and we ate it all for lunch the next day!
Los Olivos General Store
Also, the Los Olivos General Store is perfect for picking up some fun entertaining items.
I served these super simple cocktails before dinner called The Clear Conscious. It's one I've had in wine country before but tweaked it. It's a mix of vodka, fresh-squeezed cucumber, orange juice, lime juice, and ginger ale.
Los Olivos Wineries
We stopped by wineries before to pick out some bottles for dinner. There are so many wineries to choose from, but on this trip, we went to Andrew Murray, Fess Parker, and Zinke tasting rooms.
The Airbnb we rented in Los Olivos has the most beautiful pool and view. The most perfect spot to rest and relax.
Enjoy Cupcakes
Instead of making desserts, Enjoy Cupcakes sells cupcake flights inside Saarloos + sons. They're so good!
And we ended the evening with the sunset and many hours of play and relaxing in the pool. It was truly such a fun little family getaway!
Also check out our time at the most epic vintage airstream in Malibu!
And thank you Zan Passante for shooting these gorgeous pictures for us!
You can also FOLLOW US on FACEBOOK, INSTAGRAM, and PINTEREST to see more delicious recipes, cocktails, desserts, and parties!