Guest bedroom ideas for creating the most calming and beautiful small guest bedroom retreat. How to decorate a guest bedroom and the essentials items you need to add charm to a small room.
When it comes to entertaining, creating a warm and inviting space for your guests is important for making them feel at home. There are simple things you can include in your guest room retreat that makes a huge difference in the environment.
How do you Decorate a Small Guest Bedroom?
This guest room is only 7ft wide so I wanted it to feel bright and open and spa-like. When I was finished designing this room, I actually wanted to stay in it myself! We kept the decoration simple but added details that help create a mini relaxing retreat and not just a typical guest room.
Make sure to add in plants, lots of pillows, reading light and spa products. These all help add charm to a small guest bedroom.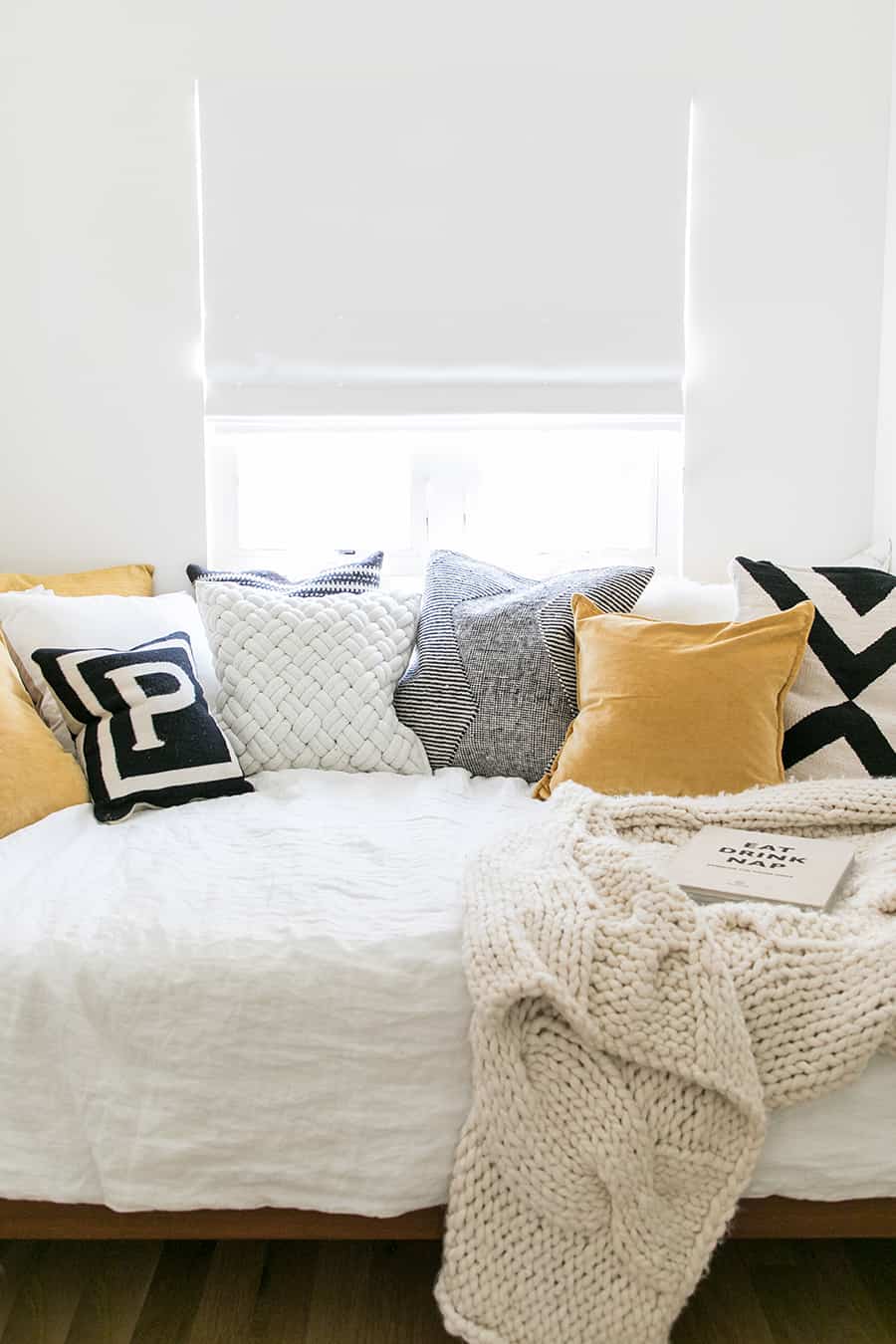 I added a full size bed at the very end of the bedroom right against the window which fills the room with natural light. I piled the bed with fluffy pillows and incredibly comfortable bedding. The bed fit perfectly in that space and there's even room underneath to store suitcases.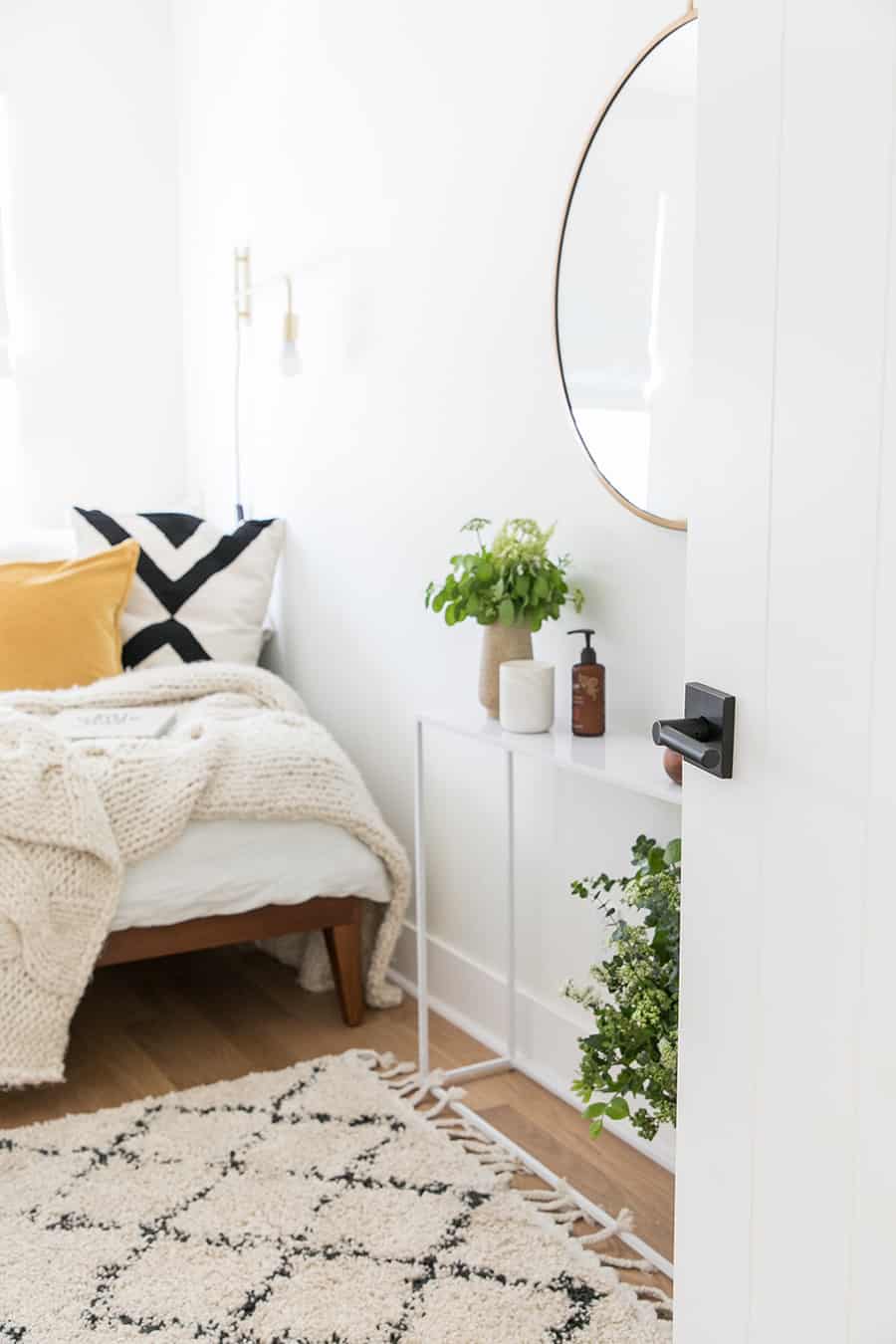 Since there's no closet, I added 5 brass hooks to the wall to hang towels, robes, hats, sweaters or even hangers with clothes. Every detail, down to the door hardware is important… because what better statement than a solid, custom door handle when you first open the door to a beautiful guest room? Schlage Custom hardware offers customizable style and functionality options to adapt to the changing life of any room.
You can change from a doorknob to a lever, a traditional look to a modern look in just minutes! It's those little details that make a difference and your guests will be so happy in their room away from home! Here are the 10 tips for creating a charming guest bedroom retreat.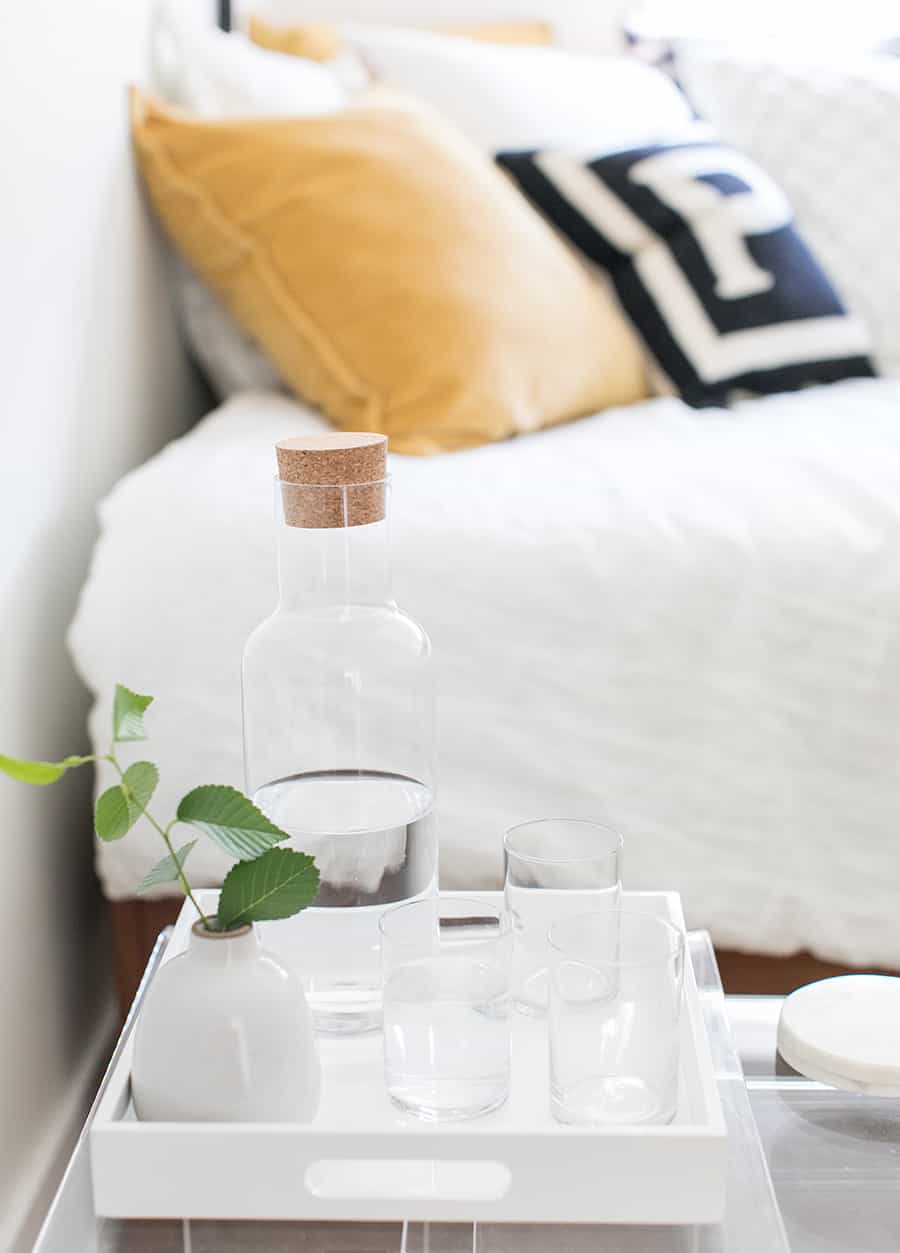 Guest Bedroom Ideas for Creating a Charming Retreat
1. Add a carafe of water near the bed with little cups. This is a nice gesture and your company can refill it before bed or as needed.
Guest Bedroom without a dresser…
2. Having a luggage rack available for guests to place their suitcase off the ground is a must, especially if you don't have an empty dresser in the room. Provide a luggage rack and hooks. You can keep it under the bed or in a closet when it's not in use.
3. Place a hairdryer in the guest room because it's one thing that guests always ask for! I store it in a drawstring bag that says "hair dryer" and hung it upon a hook. You can add a small brush and hairspray in there as well!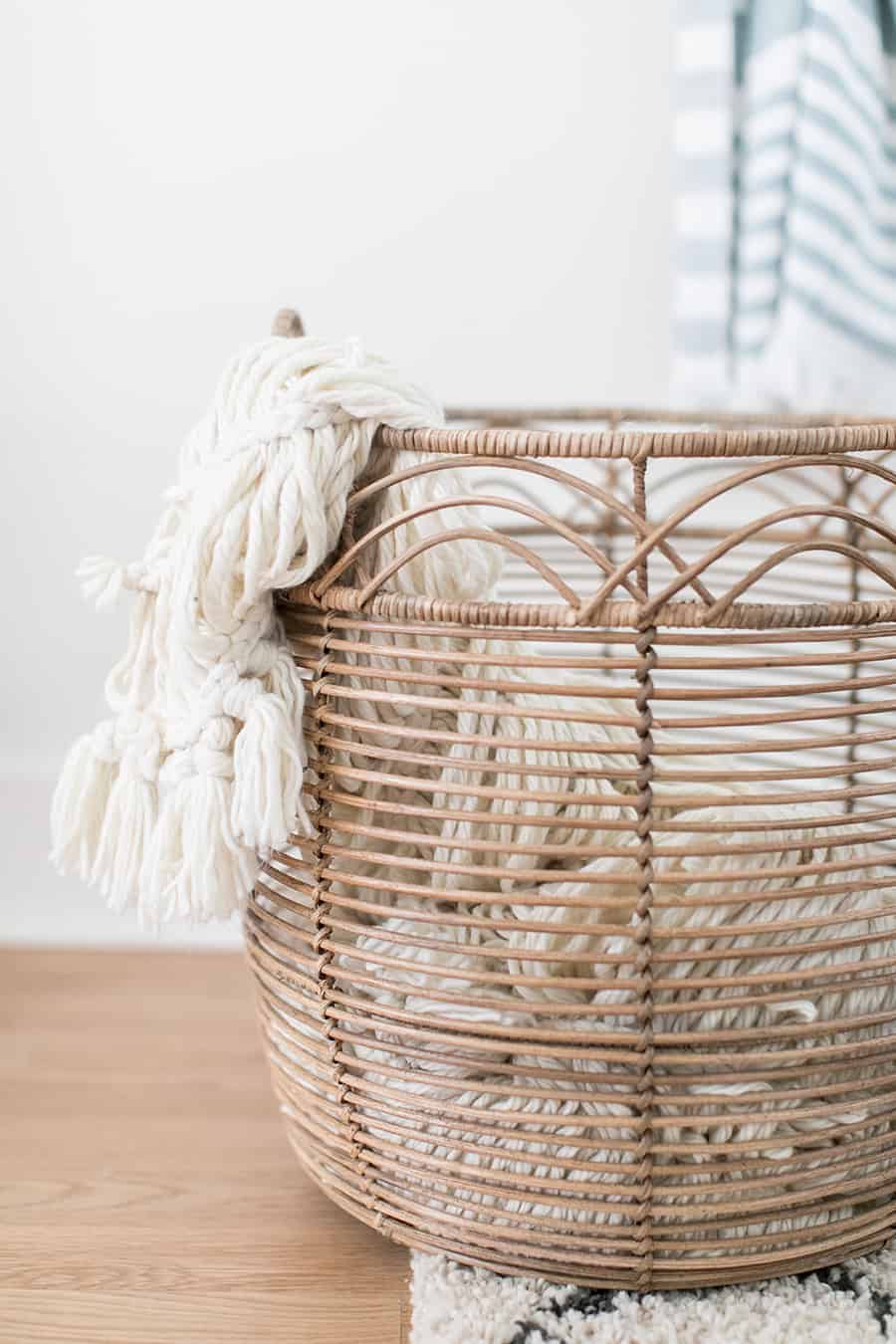 4. A laundry hamper is another item that should be placed in a guest room to separate dirty clothes from the clean ones when you're suitcase-living.
5. Robes and towels are a nice touch when preparing a guest room. It's one of the benefits when you're at a hotel to have a fluffy, clean robe to wear when you're getting ready.
What color should a guest bedroom be?
Keep the bedroom a calming color. Light paint shades like blues and yellows are good. White is always a great color and then add in colored accessories.
6. A few products I really enjoy putting in a guest room are facial mists, essential oils and hand creams. Choose scents that are soothing, calming and good for both men and women.
7. Fresh flowers always add a charming touch. You can pick some up from the grocery store and arrange in a pretty vase or create garden arrangements using flowers from your yard.
8. Door hardware makes a huge difference in the overall quality and feel of the room. That's why I was excited to find out about Schlage's new Custom™ Door Hardware collection.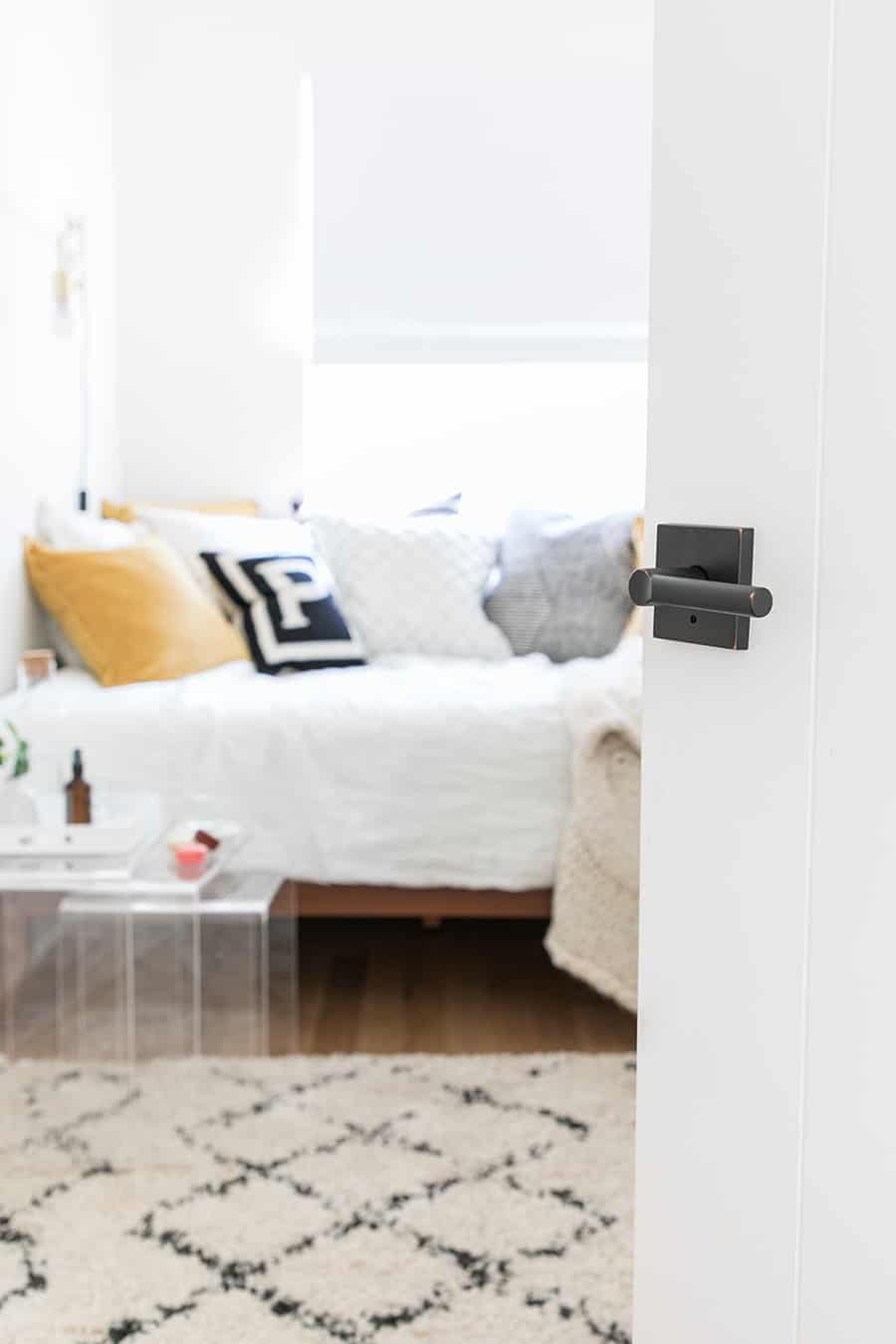 After looking through the 70+ options and combinations available in this new collection, I decided to go with the Schlage Custom Northbrook Lever with Kinsler Trim, with the bed/bath lock, in aged bronze. We appreciated how easy it was to install (just a few minutes!) and how durable it is. It feels very solid and secure too.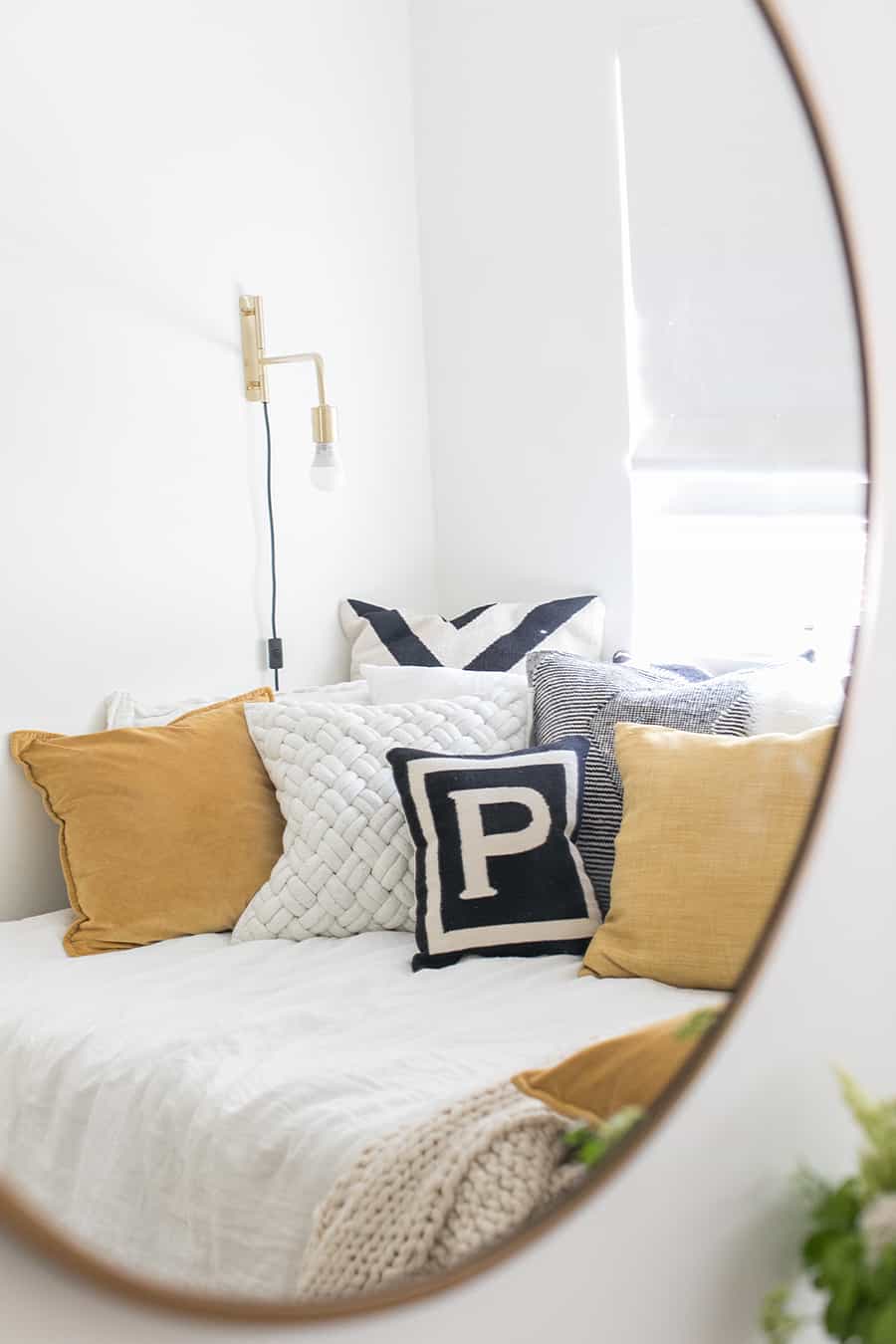 9. A large mirror is a must for a guest bedroom so guests can enjoy getting ready in their own space. I used a large, gold hanging mirror and put a small console under it.
10. Reading is a hobby most people do while on vacation. Make sure you have good lighting or lamps near the bed so your guests can fit in some reading time.
I put 2 brass swing arms on either side of the bed. It's so relaxing to sit in between all of those pillows, with the low light on, and read a book!
Guest Bedroom Essentials
So to recap, here's a list of items you need to create a Charming guest bedroom retreat and what every guest bedroom should have:
Luggage Rack
Laundry Basket
Cozy Bedding
Lots of Pillows and Extra Blankets
Large Mirror
Plants and Flowers
Hair Dryer
Water and Cups
Reading Lights
Cozy Robe
Candle and Bath Products
A Cozy Bed and Side Tables
How to Style a Guest Bedroom
Once you have the items above, you're ready to style! Use these photos as a guide. Add your own touch, color and ideas. Always use throw pillows to make it look comfortable. Art on the wall is a good idea for styling too, but don't add too many personal photos in a guest room.
More Home Ideas
Sugar and Charm Cleaning Checklist
We hope you learned a few guest bedroom ideas to make your