Ojai is one of our favorite places to visit in California. It's a beautiful town nestled in the Topatopa Mountains. There is a lot to do in Ojai and you can easily fill a weekend up with fun activities, shops and delicious food!
Charming Travels to Ojai
Ojai, California has been a mini-travel destination for us over the past 7 years! Aside from having a history of celebrities making their home there, Ojai is a charming little California town that's perfect for day trips.
It's just a quick drive from Los Angeles and is a place where you can really relax and enjoy the stunning scenery.
Most of the time we just head there for the day, but this time we decided to stay the night so we could wake up and visit the olive oil ranch and eat breakfast at Knead! Below is a little travel guide for some of our favorite places and what to do in Oja
Where to stay in Ojai
Ojai Valley Inn and Spa: Perfect for the ultimate relaxation and luxury getaway. We've stayed here a few times and it's pretty magical. A beautiful pool, s'mores every night and giant oak trees that light up. It's awesome for families and even dogs!
Ojai Rancho Inn: We stayed here and I liked the rustic vibe. It definitely has more of a motel feeling and to be honest I felt it was a little pricey for one night. It's not luxury, but there are Jacuzzi tubs in the rooms and our son loved that.
Lavender Inn: I have yet to stay here but I hear it's very relaxing and peaceful! The name alone makes me want to spend a weekend here!
Blue Iguana Inn: We've driven past this place many times and heard it was a very nice Inn to stay at! We'll be trying it next time!
Caravan Outpost – If you like vintage Airstreams, this place is for you!
Where to Shop in Oaji
deKora & Co: This was by far my favorite store in Ojai! It's full of home decor, beauty products, furniture and the owner has the best style ever! I'm a little envious of this place, ha!
Shop Summer Camp: Located in an old gas station, this store is stocked with cool rustic-inspired camping decor! If you liked Wes Anderson's movie Moonrise Kingdom then you'll love this store, haha!
Tripple and Ramble: Indoor and outdoor decor and beautiful entertaining items!
Barts Books – One of the largest independently owned and operated outdoor bookstore in the states.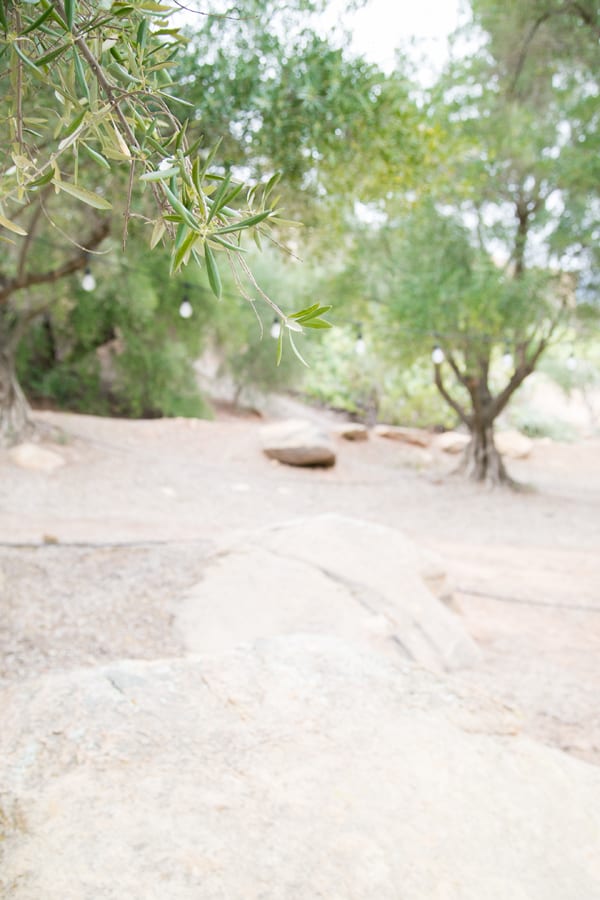 What to Do in Ojai
Horseback Riding: You'll see horses everywhere in Ojai, which I love! There are several companies, like Valley Trail Riding Company, that offer horseback tours. They have awesome pony rides for kids too.
New Oak Ranch: A place for u-pick lavender. Only open a few months out of the year, so check the dates before you go!
Old Creek Ranch Winery: We love wine tasting here! It's peaceful and you can sip a glass of wine outside while enjoying the setting.
Hot Springs – You can hike to beautiful hot springs.
There are also plenty of hiking and gorgeous drives all around Ojai! Definitely enough to do to keep you busy for a visit!
Olive Oil Ranch: We spent the morning running around the grounds, relaxing in the hammock and tasting olive oil from the farm. It's a beautiful place to visit and the olive oil is incredible. Our favorite is the garlic oil olive! It's only open Wednesday and Saturday.
Where to Eat in Ojai
Triple & Ramble – This is one of our favorite spots in Ojai. It's like an outdoor wine retreat! They have a small menu with appetizers, meats and cheeses and really good wine. Also, an adorable shop to browse. It's truly adorable. Only bad part, they don't allow kids. I understand, but we can never visit if the kids are with us which is a bummer.
Ojai Pub – This is a newer place in Ojai and we had brunch here. It was fantastic! Cocktails are great too and they serve craft beer.
Topa Topa Brewing Co. is one of our favorites! It's right downtown Ojai and there are plenty of seats and tables inside and out. Inside the brewery is a separate little walk-up window where you can order delicious Asian fusion street food like wings and tator tots. They are SO good!!
Boccalis: We've eaten here countless times because we LOVE the outdoor setting (it's nestled in orange groves!) and the giant lawn for our son. The pizza is their main thing and it's not bad. But I love the eggplant parmesan and antipasto salad and you can't leave without getting a strawberry shortcake!
Ojai Coffee Roasters in close to downtown and you can grab a quick latte here.
Nocciola – A fine dining Italian restaurants with incredible pasta and wine! You have to make a reservation and it books up very quickly.
Ojai Deer Lodge: We love the rustic atmosphere of this place! It's a tiny, cozy lodge with a giant fire place and great outdoor seating. The food is rustic too and they serve good Bloody Marys with bacon and Moscow Mules. Late at night they have live music too!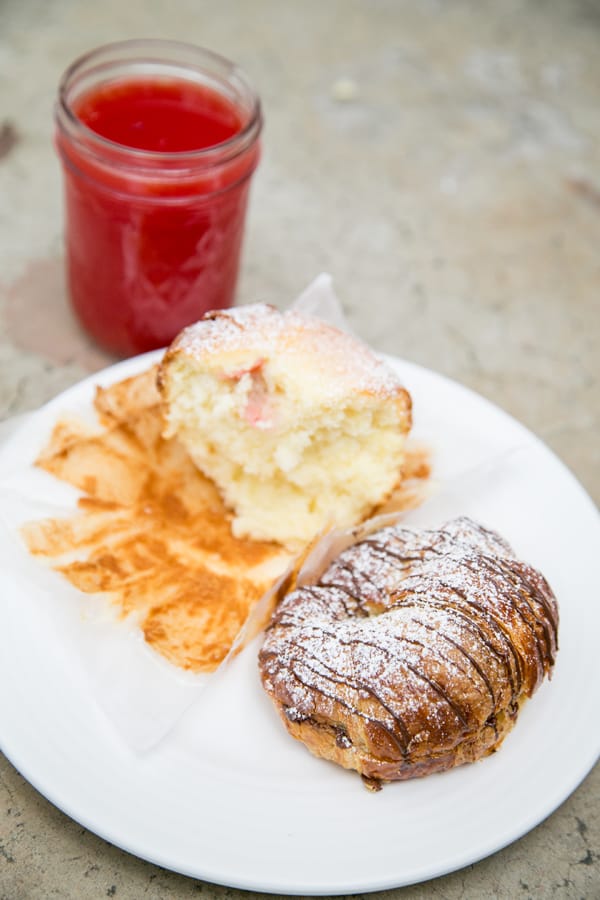 The Farmer and The Cook: This is my favorite lunch spot! It's an organic vegan market and cafe serving up delicious Mexican-inspired cuisine! We love it!
Azu: We had reservations here and then switched to go to Deer Lodge last minute. We'll try this next time because I've heard great things about it!
The Summit: You can stop here for burgers and shakes if you're in upper Ojai. It's had a history and was closed for a while, but it's open again and was bustling when we drove by!
Ojai Pixies
These pixie tangerines are grown throughout the Ojai valley. They're very proud of these too! You will see pixie mimosas and cocktails on local restaurant menus. You can also pick up a pixie orange candle too! They are very good to eat as well!
More Travel Posts You'll Love
Check out Eden's Corner for more fun travel and day trip posts!
You can also FOLLOW US on FACEBOOK, INSTAGRAM, and PINTEREST to see more delicious recipes, cocktails, desserts, and parties!