Inspired by the beautiful woods that surround the cabin, I brought the outdoors in with this charming, woodsy theme kids bedroom in Tennessee. It's their favorite room in the house and I'm sharing all of the details!
When we bought our cabin in Tennessee, the boys room was my top priority. I wanted them to feel comfortable in their new home and have a space that reflected the outdoors.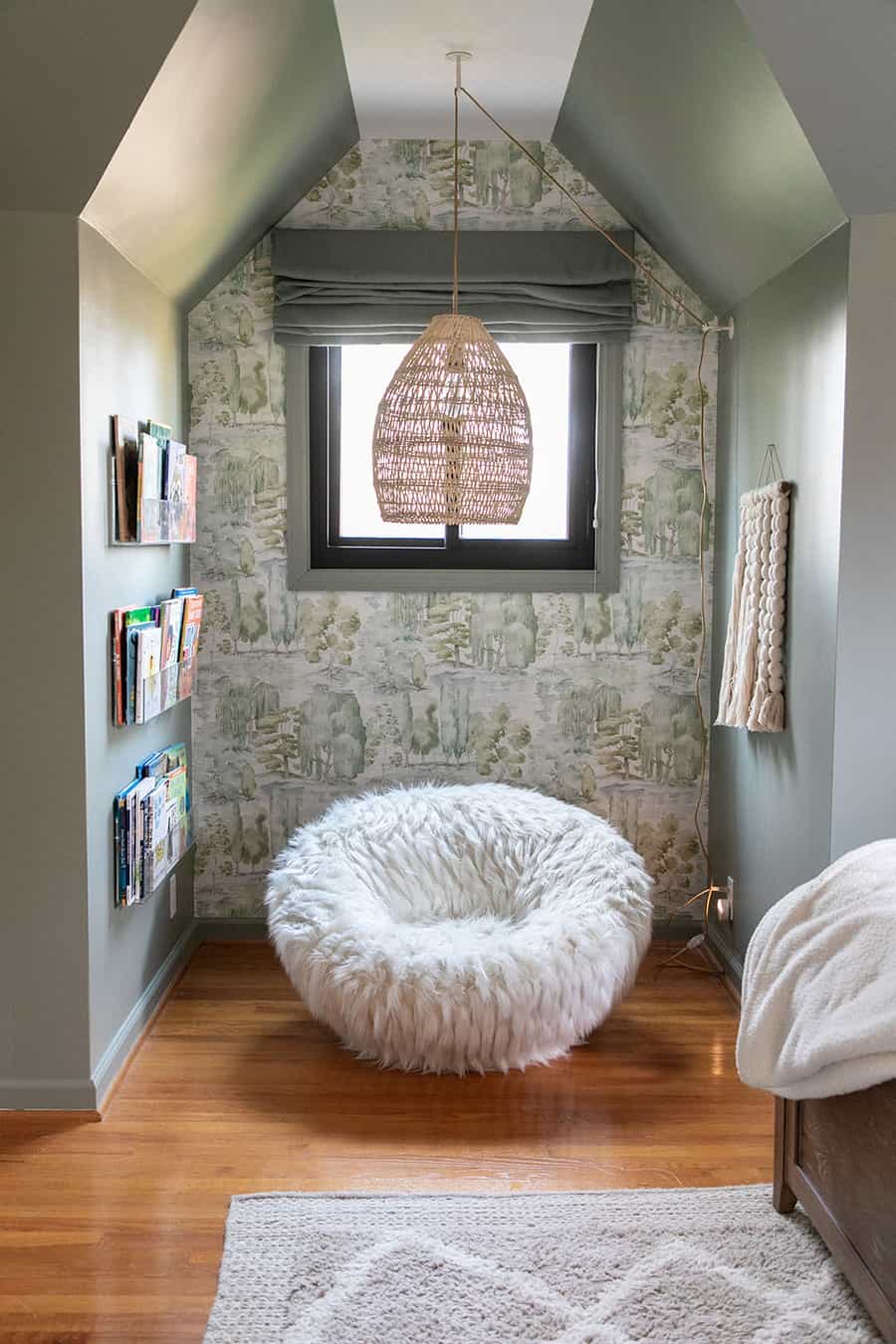 The cabin is surrounded by woods, which brings the most beautiful wildlife. We have deer, bunnies, turtles and colorful birds that live right outside out window.
So I quickly began planning the room with an inspiration board on Pinterest and with the help of my friends at Pottery Barn Kids, Pottery Barn Teen and Calico Corners I was able to create a beautiful room for my boys!
Kids Bedroom Ideas
Wallpaper
The very first step I did when putting this room together was picking out a wallpaper. I went through several designs until I found the exact one with muted colors and beautiful trees.
I chose Waterperry in Willow and Olive from Wallpaper Direct. The colors are so beautiful!
Paint
I am really into rooms that are all painted one color, including the baseboards and doors. We found a greenish, gray that goes perfectly with the wallpaper. I debated painting the ceiling the same color too, but opted out to keep it a little brighter, since the sun doesn't shine as much here in TN!
For the paint color I went with Pigeon from Farrow and Ball.
Custom Roman Shades
There really is nothing better than beautiful, custom drapes. I wanted the color to be the same as the wall color so everything blends together.
Calico Corners made the process so easy! I ordered about 25 sample swatches and held them up to the wall and couldn't believe I found the exact color match to Pigeon.
I worked with a design consultant at Calico Corners, who told me how to properly measure before ordering, which helped a lot.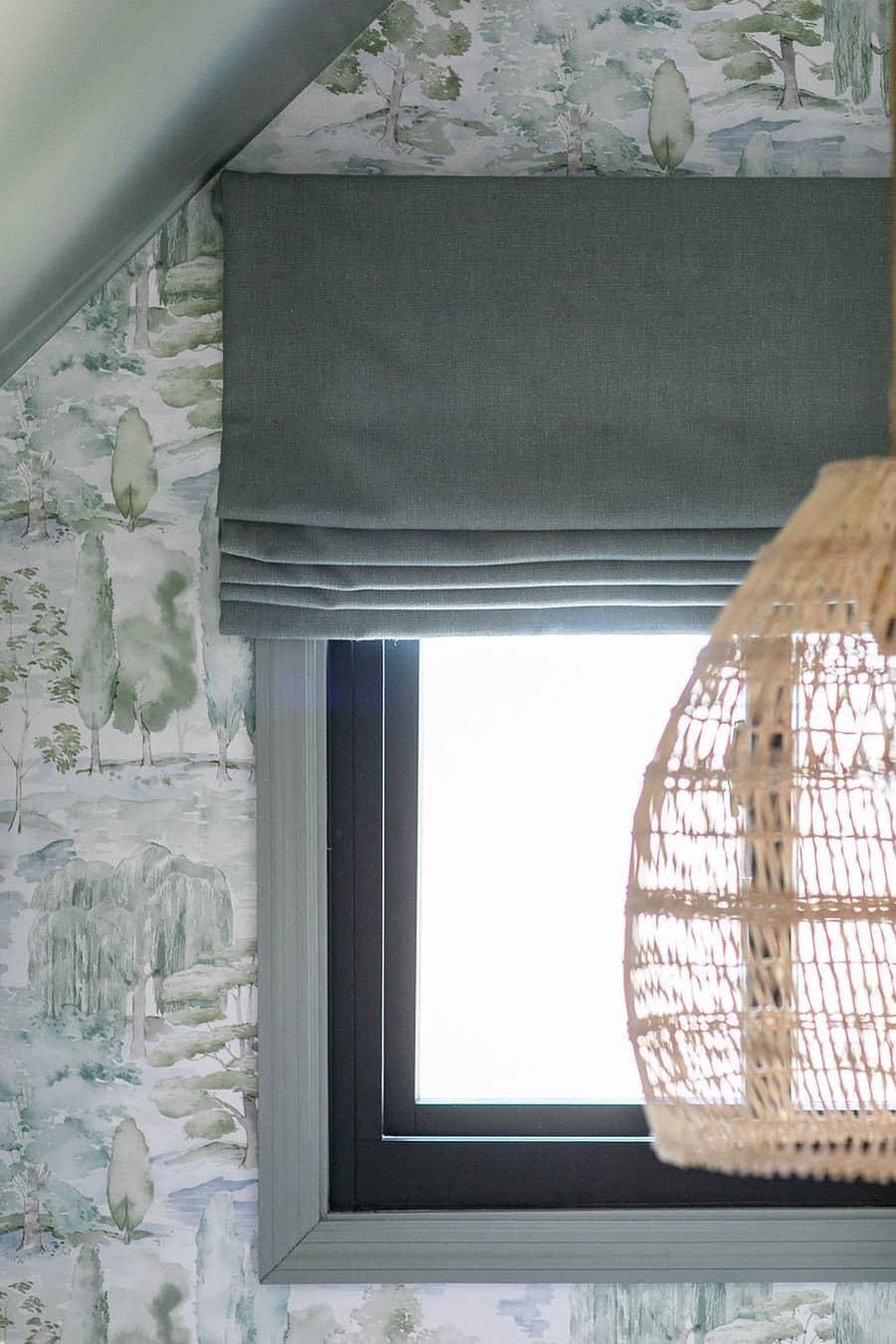 We ended up doing Emporio Haze in the flat roman shade with a blackout lining. I also love that the woven fabrics have been pre-treated with stain repellent finishes applied by the manufacturer. Especially useful in a kids bedroom.
We installed them ourselves which was easy to do. The curtains look amazing and we are beyond happy with them and how easy it was.
Furniture
The furniture was so fun to pick out! To go with the woodsy theme I chose wood furniture in smoke gray from Pottery Barn Teen. I picked items from both Pottery Barn Teen and Kids.
The swivel chair in the reading nook has been a very big hit! Also, the swinging hammock chair is also a favorite for the kids.
Callum Triple Tall Bookcase with Drawers – Love the drawer space for toys and the amount of shelving space too.
Hampton Classic Bed – These are classic, super sturdy beds that we'll have forever. You can add a trundle under them for more storage or an extra bed!
Winter Fox Faux-Fur Groovy Swivel Chair – The best chair to sit and read a book in!
Bedding
Added some texture and stripes to the room with the bedding. I fell in love with the sustainable made, cotton striped set in white/onyx. It kind of looks like a very light blue, which I like and goes so well with the bedroom.
Cozy Bed Blanket – A must for the cold nights at the cabin.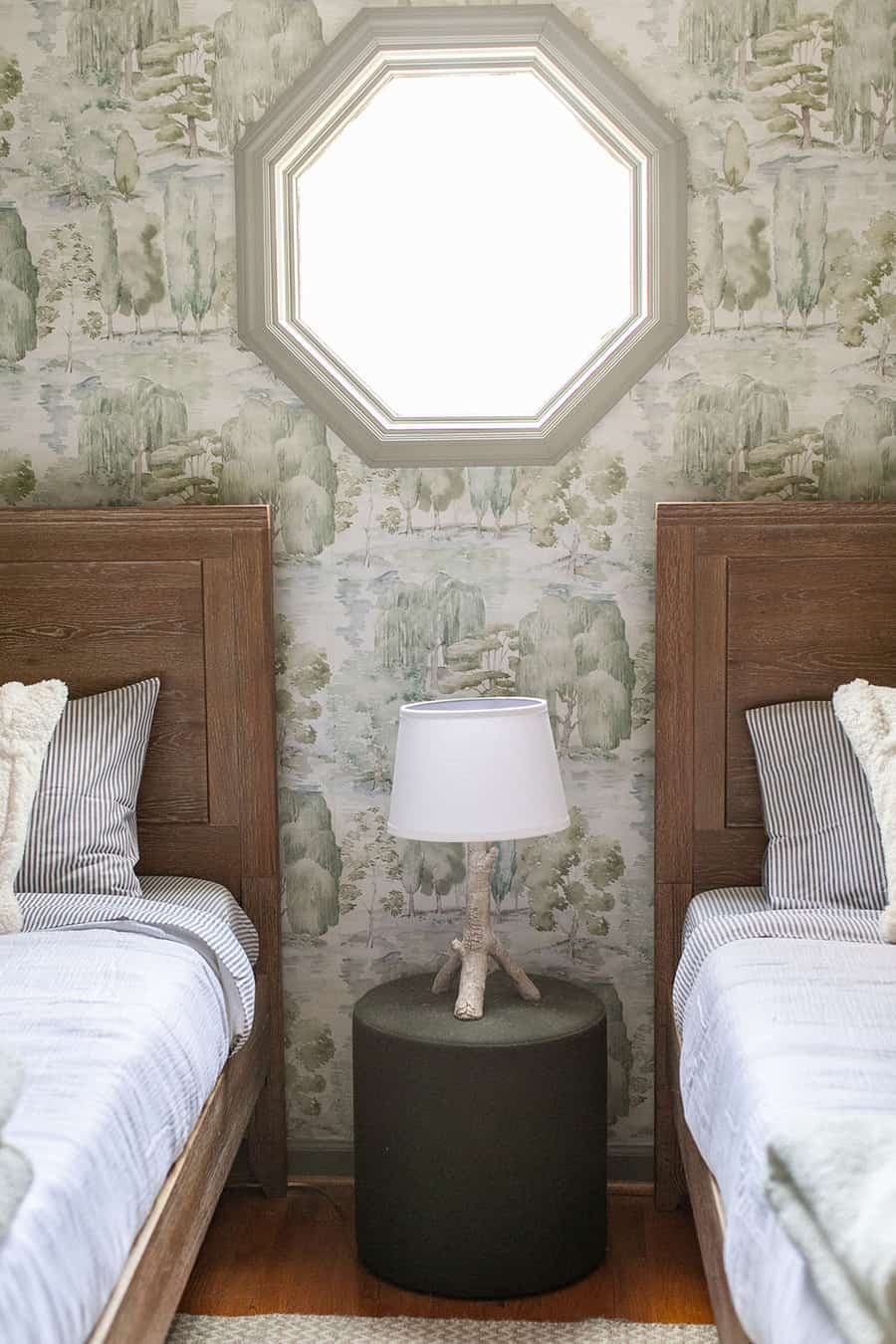 Decorative Accents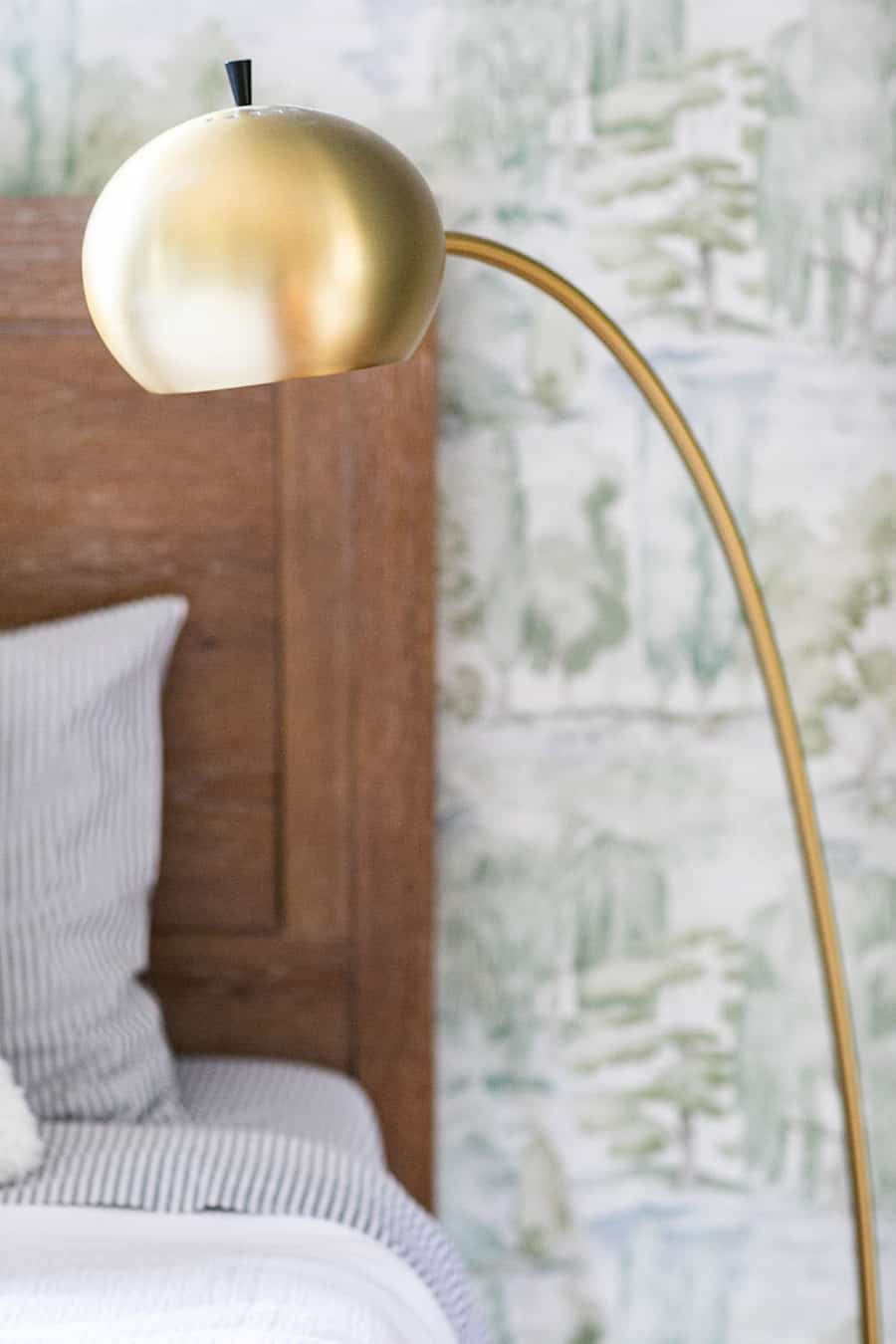 West elm x pbk Petite Arc Metal Floor Lamp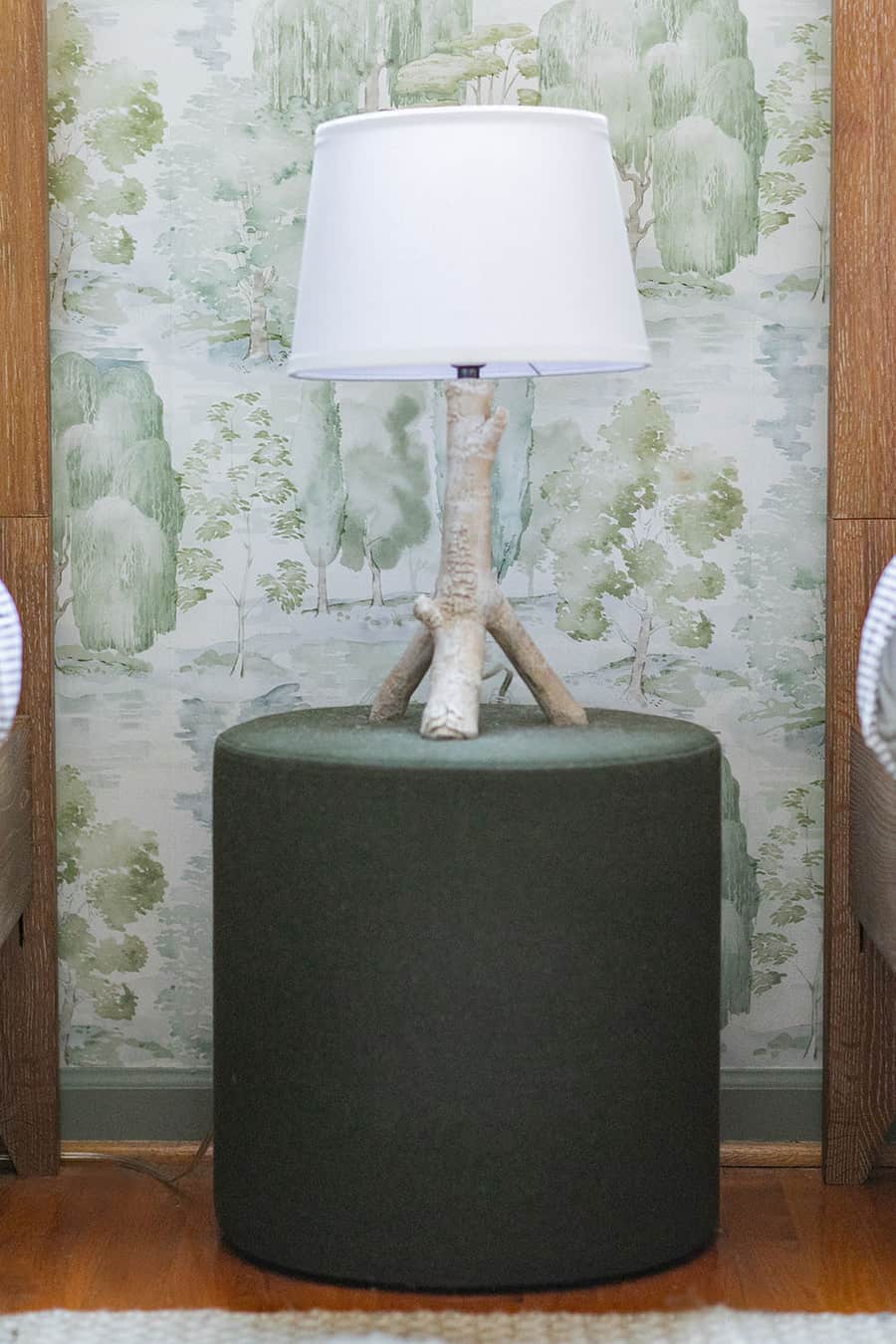 Acrylic Wall Shelf – Perfect for storing books.
Lego Table – A must for any child who loves legos!! This and the lego storage bins have saved us.
My Tips for Decorating a Kids Room
Pick a theme and a color theme and use that as your guide for decorating.
Create a ready nook with lots of books and a cozy chair.
Hide toys as much as possible so it feels like a bedroom. I put toys in baskets in the closet or in tow drawers or toy chests. The boys can easily access them in the drawers of their bookshelf or in a trundle under the bed.
Add a unique element like a swinging chair or a mini rock climbing wall. Something that makes it stand out and different.
Invest in custom drapery!
Frame family photos and art the kids make to decorate the space.
Cozy bedding is a must too! My kids literally love getting into their beds at night because the bedding is soft and luxurious.
Wallpaper a wall or the ceiling for a quick way to add a ton of color and texture.
Hope you enjoyed this bedroom and got a few ideas for your own kids! I also finished the laundry room in the cabin which you can see here. Also check out these cool half painted rooms for inspiration!
You can also FOLLOW US on FACEBOOK, INSTAGRAM, and PINTEREST to see more delicious recipes, cocktails, desserts, and parties!
This post may contain affiliate links. Please read our disclosure and privacy policy.