If you're looking to spruce up a laundry closet in your home, here are some laundry closet ideas that are easy to do and make a huge difference!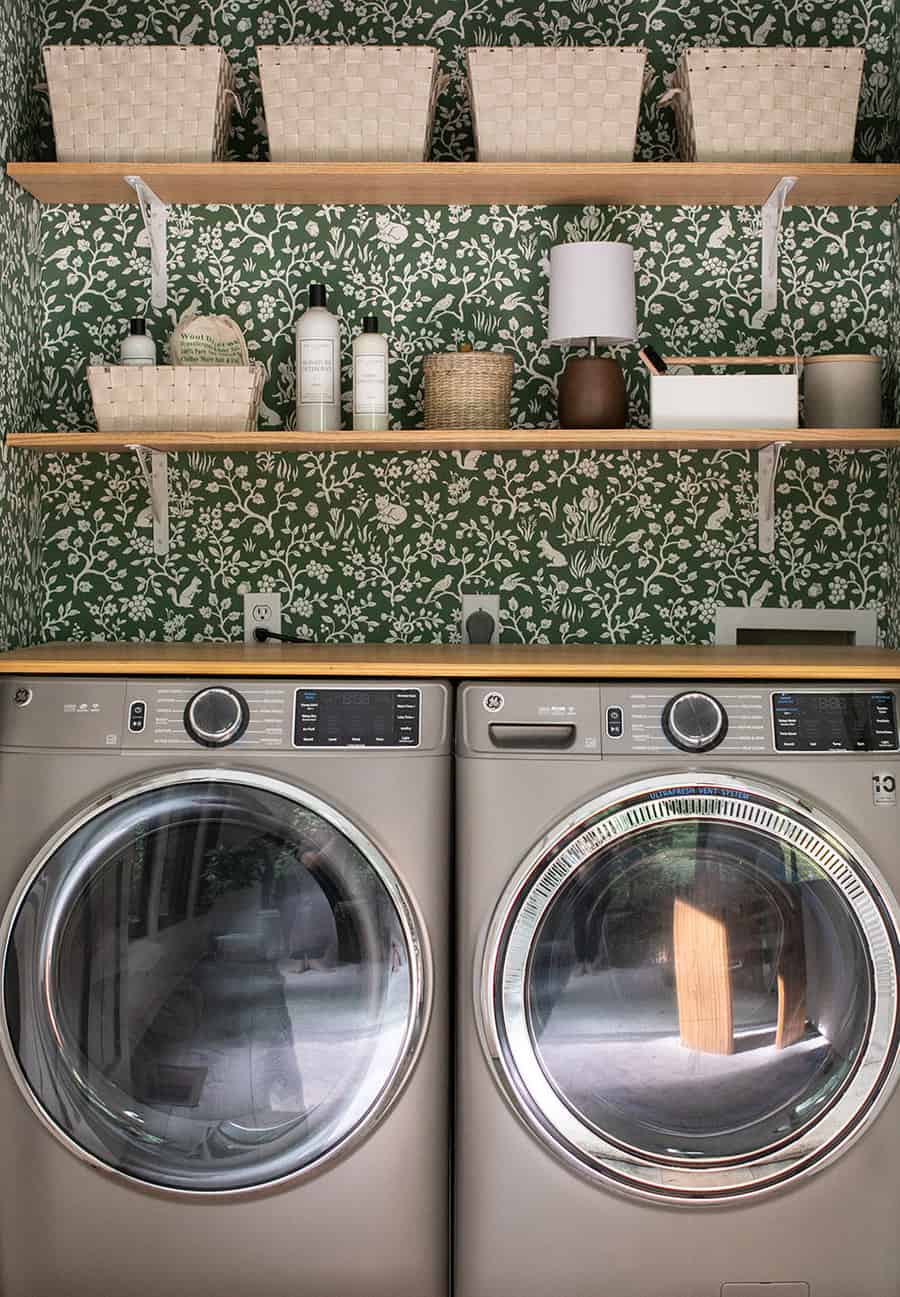 We have been doing projects throughout the cabin we bought in Knoxville. One of the first projects we did was the laundry closet. By doing a few simple design updates we were able to create a charming space to do laundry!
Creating a space that you love is so important for living a happy lifestyle. It's a space you spend so much time in and when it's well designed and kept clean, it truly can you make you happy!
Laundry Closet Makeover!
Laundry Closet Before
Here is the space before. It had random shelving that needed to be torn out. Taking the shelving out was pretty simple to do and didn't have to be perfect since we'd be covering it with wallpaper.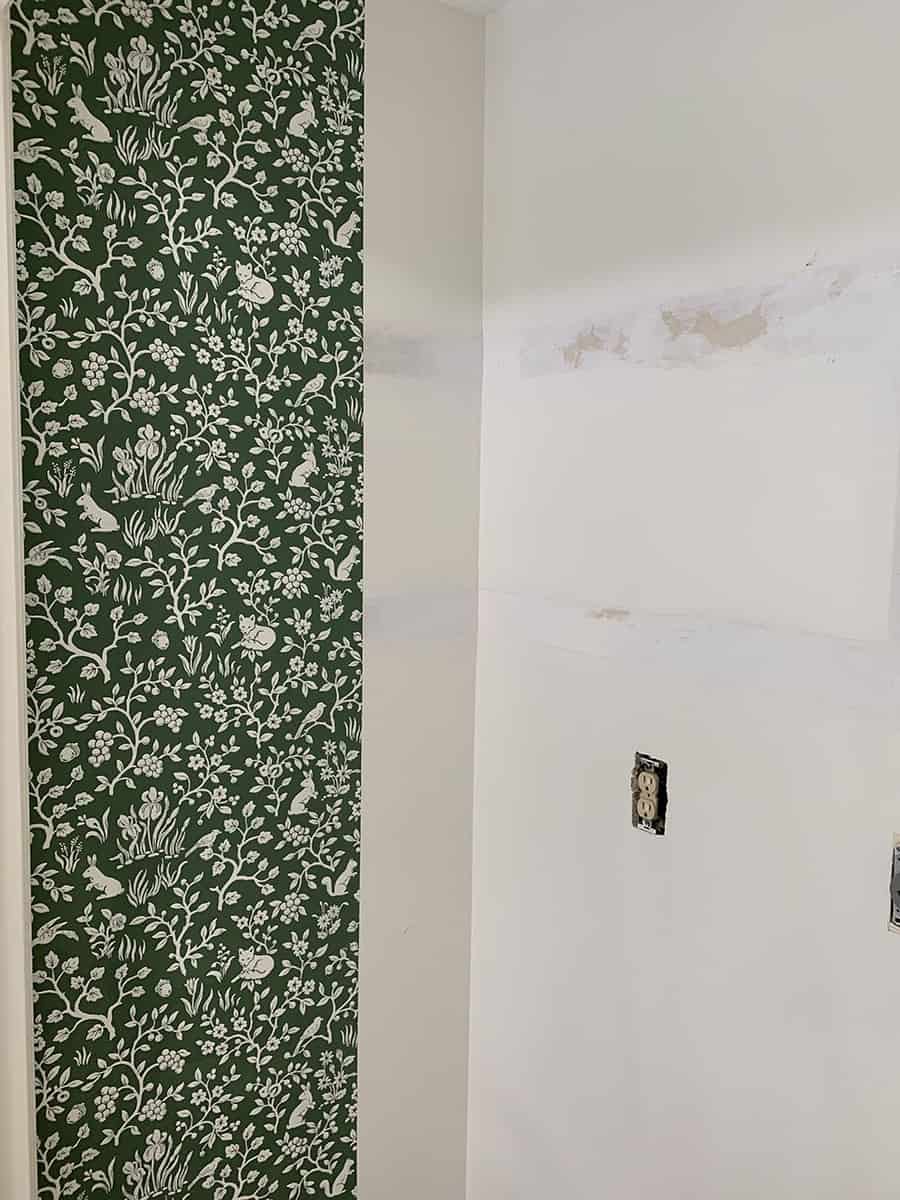 Wallpaper is such a great idea for a laundry closet or room. It's a space in the home that can be fun, bold, and colorful! Since this cabin is surrounded by Tennessee woods, I found this beautiful woodsy, green wallpaper to use.
The wallpaper makes such an impact in the laundry closet. There are hundreds of designs to choose from when picking out the perfect wallpaper! Find something that goes with the theme or color of your home or location.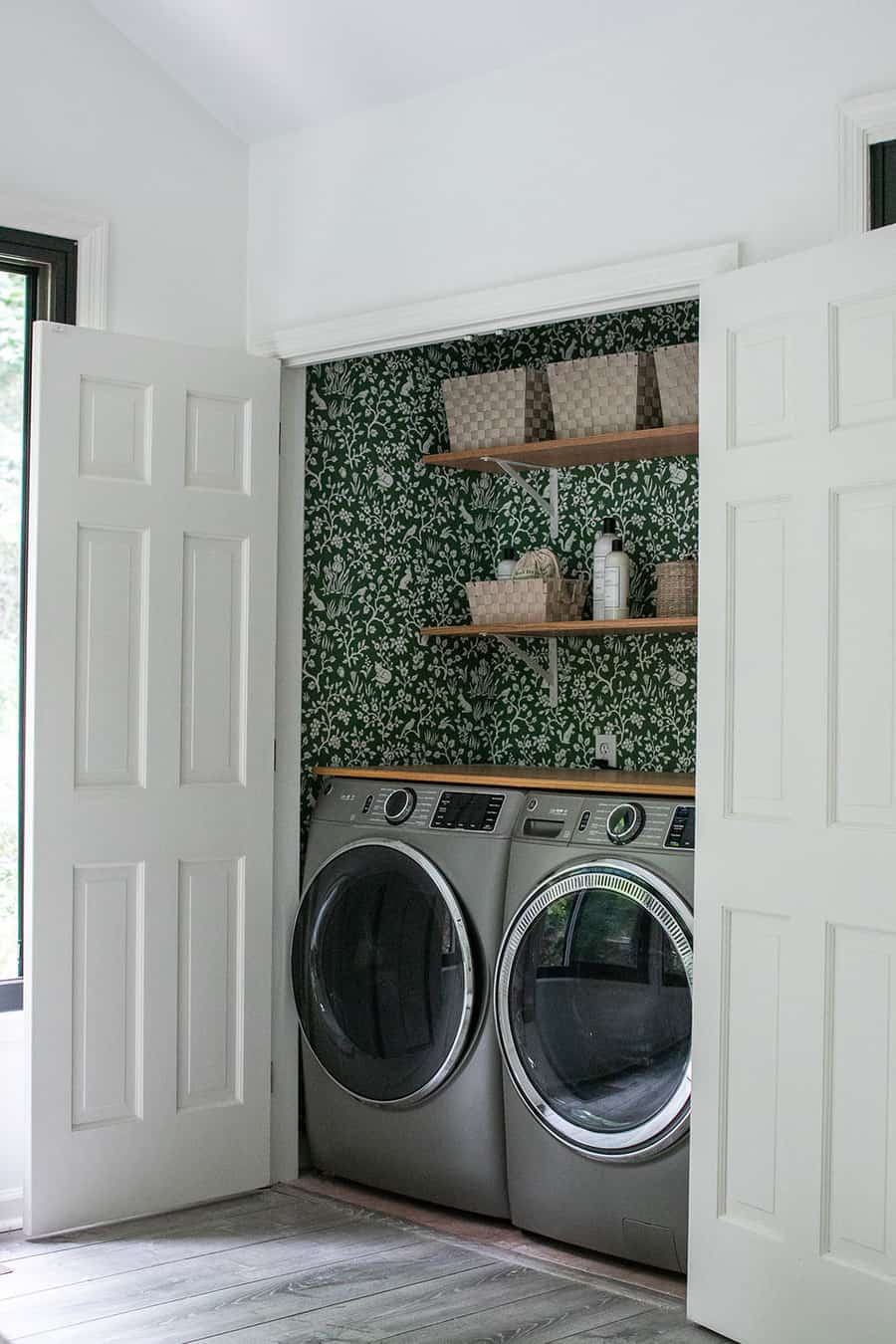 Laundry Closet After
My husband has become a pro at wallpapering, so he was able to get it up within a few hours. Here are some tips for hanging wallpaper.
We used the Magnolia Home wallpaper in Forest Green.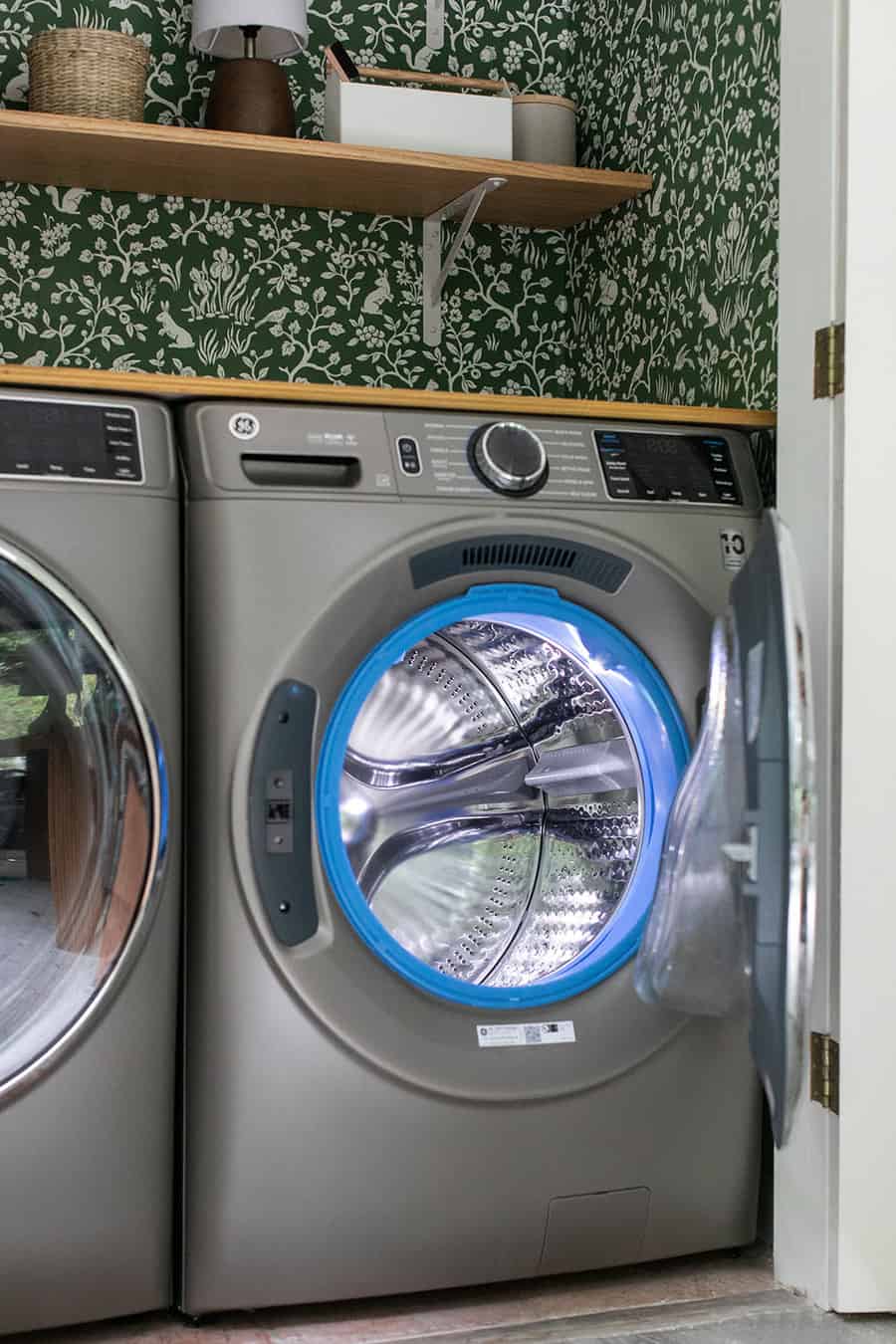 Next, we installed our GE Smart Front Load ENERGY STAR® washer and Smart Front Load Electric Dryer with Steam and Sanitize Cycle.
This was a small challenge because my measuring wasn't great! The stunning washer and dryer were a little big for space, but with some trial and error, we were able to get them in there nice and snug.
I truly have never owned a better washer and dryer. They are so quiet, wash our clothes beautifully, and have many fun features to use. I've never taken clothes out of a dryer smelling better and that stay warm for days! It also dries clothes very quickly.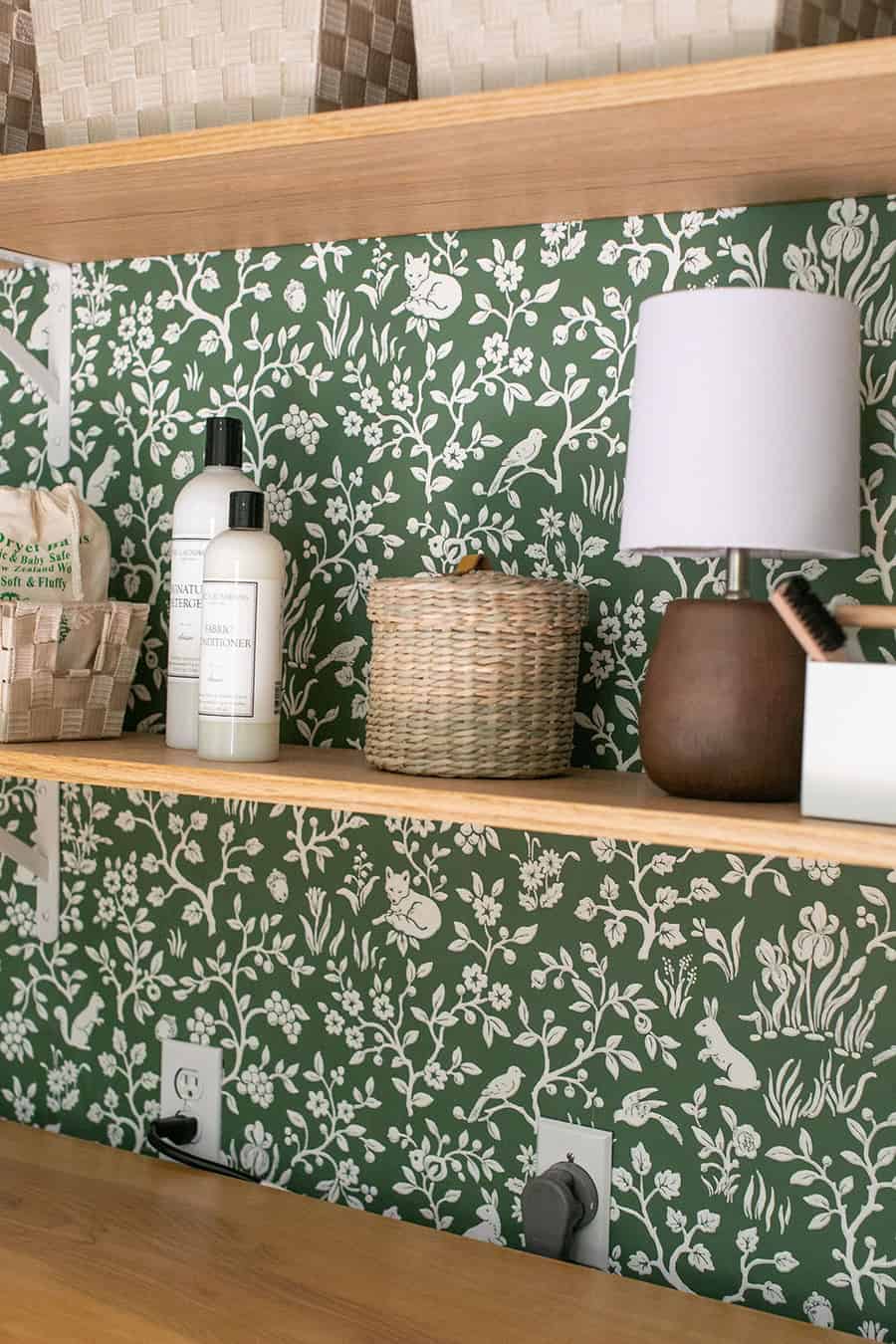 Once the washer and dryer were in the closet, we installed the upper shelving. You'll want to measure the length of the closet and the depth you want the shelving to be.
Home Depot sells solid oak wood in various sizes. We found one that had an 11″ depth and then cut the length to our needs. Each one was $38 and we painted it with a clear coat sealer.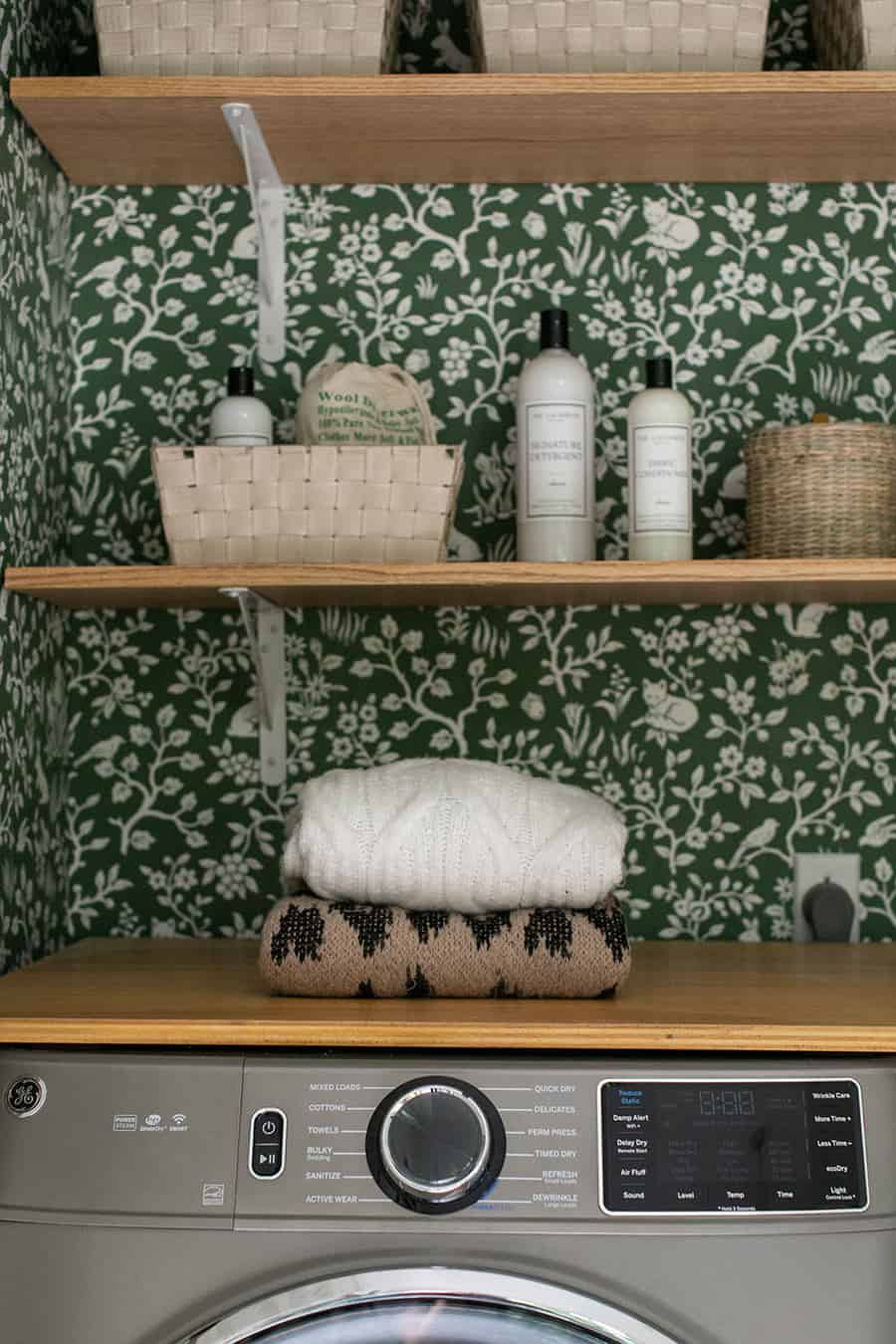 In addition to the shelves, we also purchased a solid piece of wood to go over the washer and dryer to make a table and a folding counter.
Instead of installing this, we added nonslip furniture pads to the bottom of the wood once it was cut and stained and let it rest on top of the washer and dryer.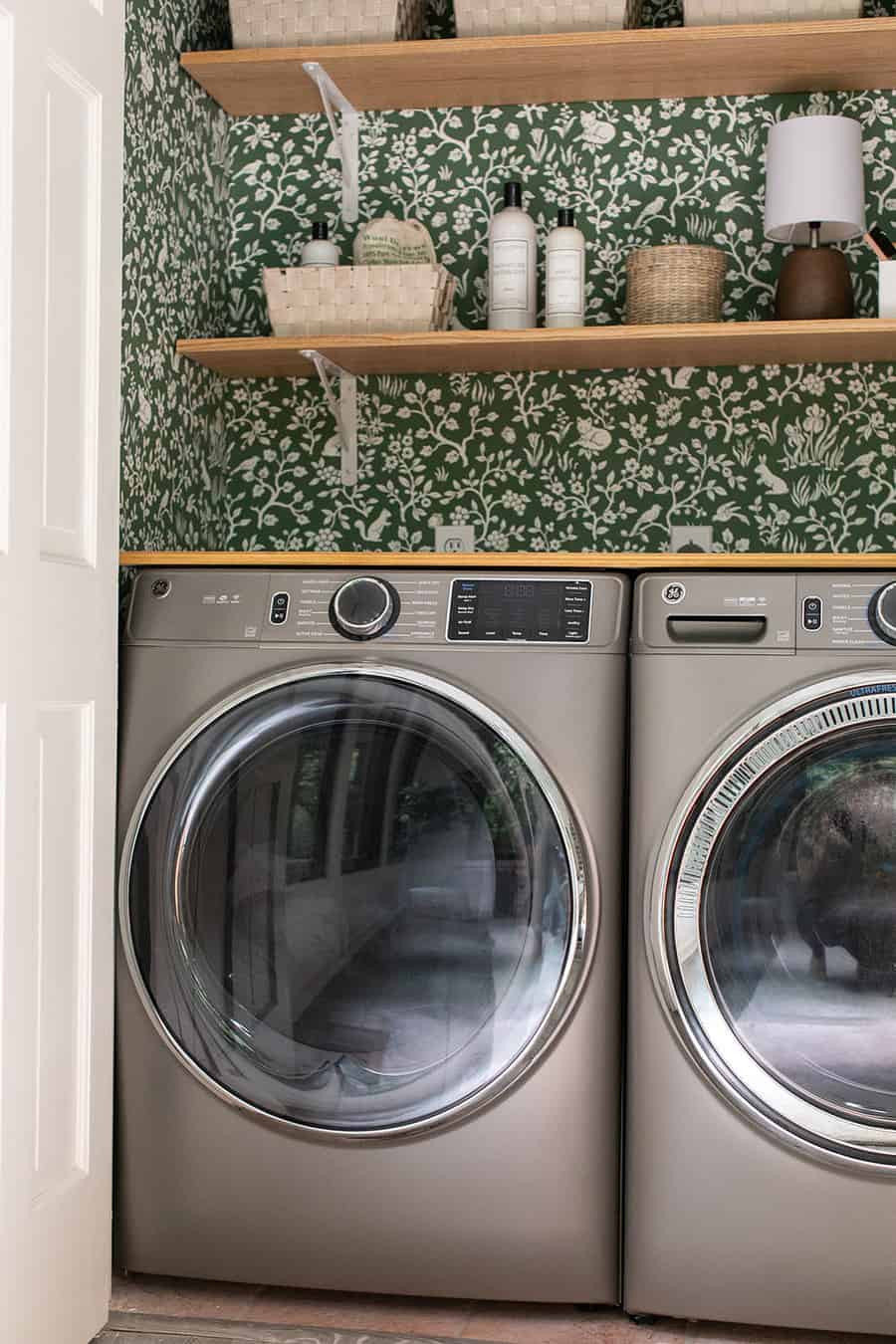 The open shelving was hung using these affordable, heavy duty brackets.
After everything was installed and finished, I added some fun laundry soaps, baskets, and accessories. See the full list below!
Laundry Closet Accessories
Baskets – These are perfect for storing items that you don't want to be seen! Cleaning products, household tools, towels, batteries, laundry supplies, etc.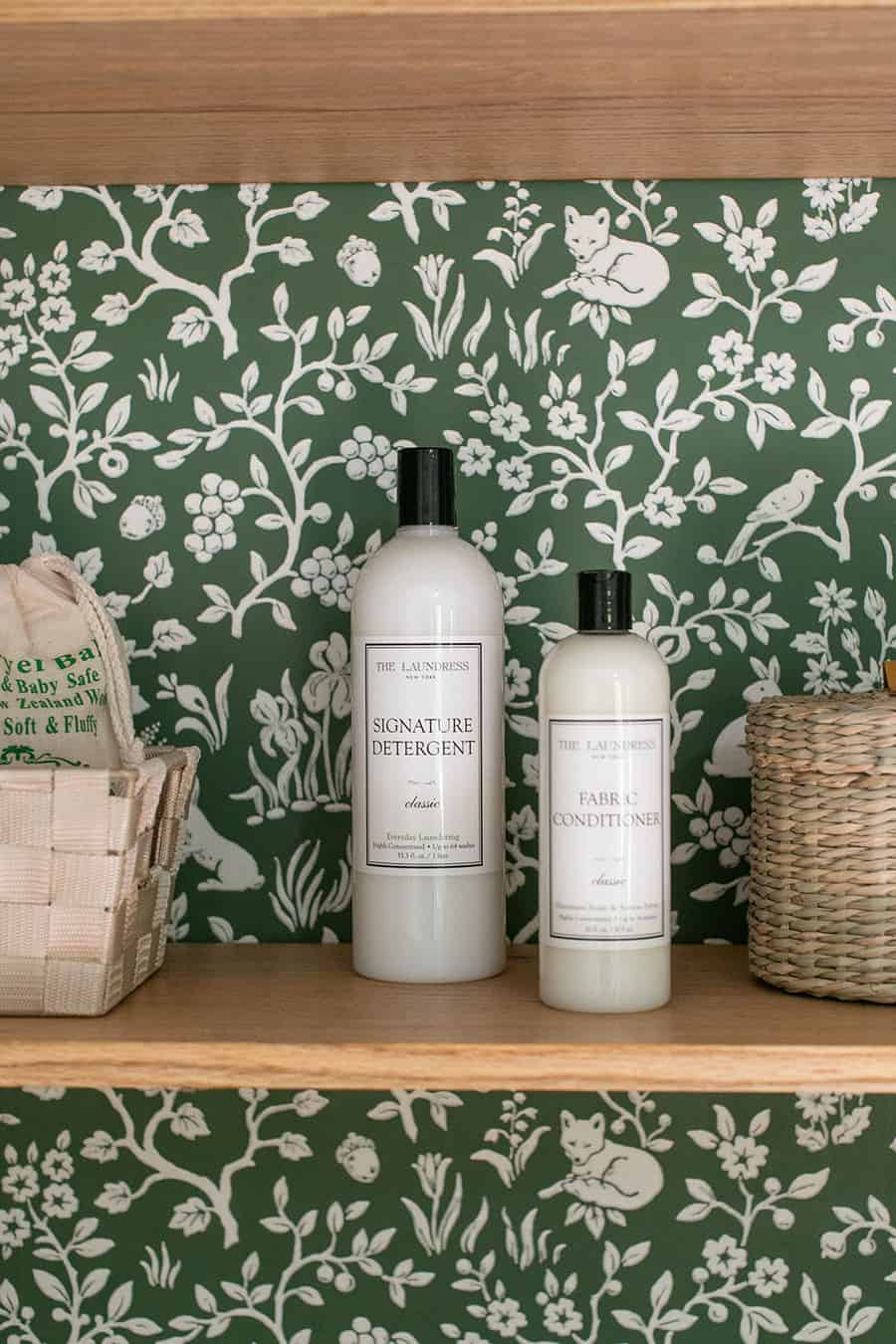 Laundry Soaps – There are many beautiful laundry soaps on the market. The Laundress is what we used.
Laundry Tool Box – Keep stain pens, brushes, essential oils, and other small laundry items in here. We used this one.
Wool Laundry Balls – These are great and I love the bag they come in. Add essential oils to them before tossing them into the dryer with clothes.
Jars – If you have stain removers or use powdered laundry detergent, large jars are great to add to your closet.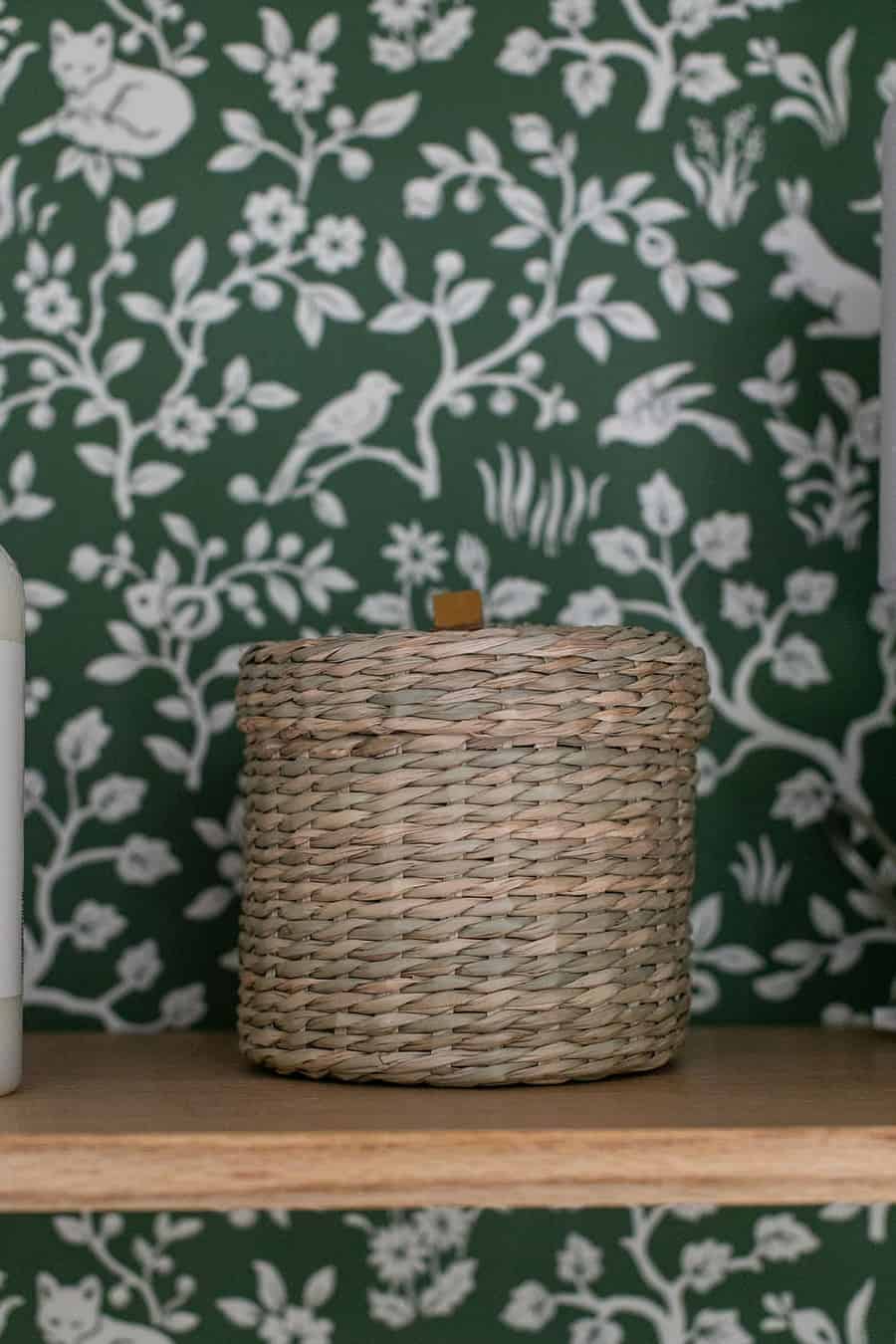 Lint Holder – We all know the importance of emptying lint from the dryer after each use. If you don't have a trash bin nearby purchase a small container to hold the lint.
Stain Remover Brush – This brush helps remove stains on all fabrics. It's a great addition to have in a laundry closet.
Lamp – For any late night laundry folding! We used this one from Target.
Laundry Closet Lists
Now that you've seen our before and after, here's a recap list of laundry closet ideas you can do to spruce up your space!
Open Shelving
Wallpaper
Storage Baskets
Updated Washer and Dyer
Folding Table
Hooks
Updated Laundry Supplies
Frequently Asked Questions
How do I organize my laundry closet?
First, start by adding shelving and baskets to place items. Use hooks to hang brooms or dustpans. Labels are great for organizing items too. Use the back of the doors if you have room to hang items.
How much space do you need for a laundry closet?
If you're building a new laundry closet, give yourself extra room! Extra room in the back, the front, and the sides. Measure the size of the washer and dryer and make sure to give more space. The minimum would be 40″ deep.
Stackable Laundry Closet
If you're creating a stackable laundry closet, use the entire other side for custom shelving.
More Home Decorating Projects You'll Love!
5 Natural Cleaning Products that Work!
How you Can Hygge Your Life and Home
Creating a Charming Room for Boys
How to Install Interior Barn Doors
Guest Bedroom Ideas for Creating a Charming Retreat
We hope you're inspired to give your laundry closet a little makeover! Let us know if you have ay questions at all!
You can also FOLLOW US on FACEBOOK, INSTAGRAM, and PINTEREST to see more delicious recipes, cocktails, desserts and parties!
This post may contain affiliate links. Please read our disclosure and privacy policy.