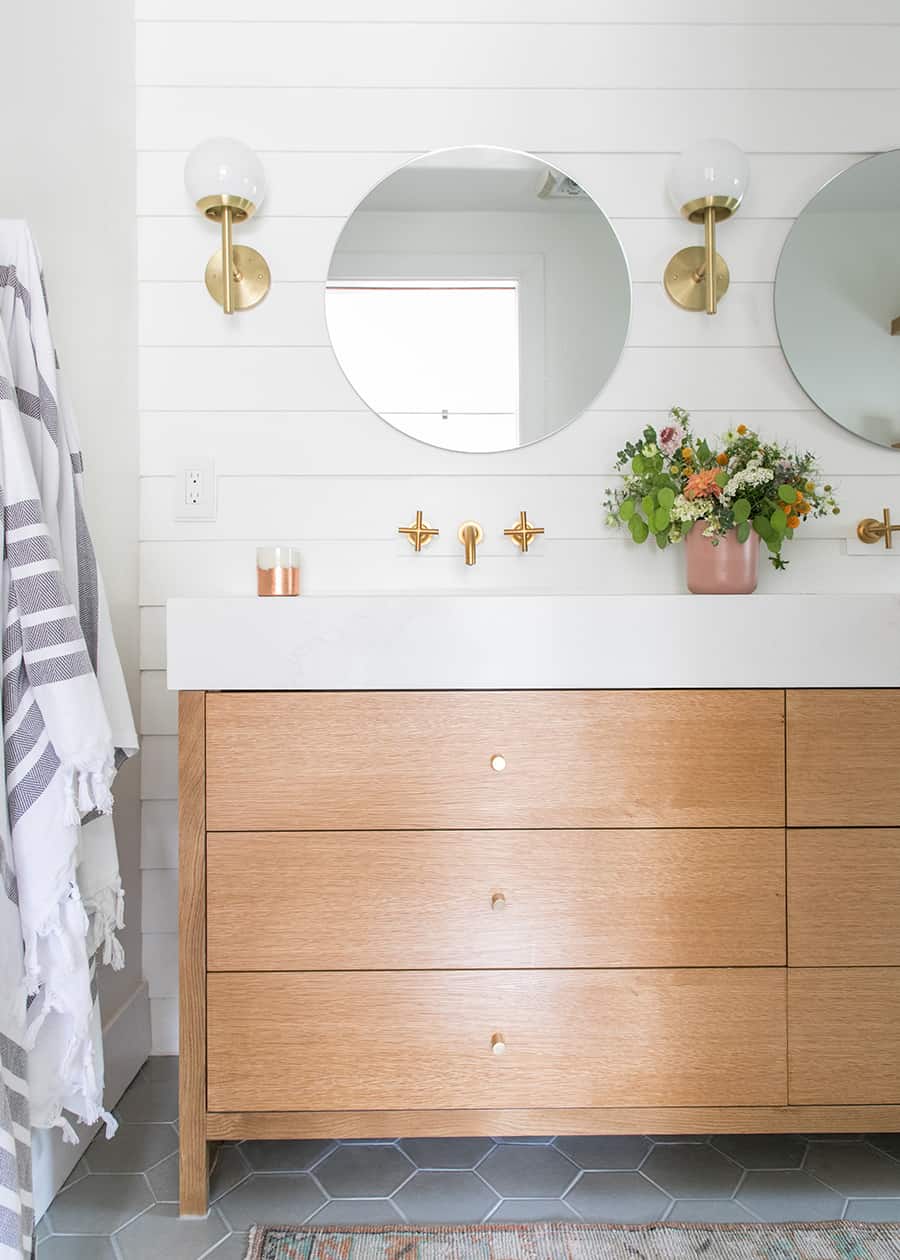 We are so excited to finally share our bathroom reveal!! We were honored to work with my friend, designer Sarah Sherman Samuel, on the design of the bathroom and she nailed it of course! It's everything we hoped for and then some.
I wanted the overall feel of the bathroom to be clean and spa-like, but with a subtle rustic touch. We added in some shiplap on one side of the room to give it a bit of that farmhouse vibe, but kept everything else fairly modern. The bathroom was super small before we gutted it, so we pushed it out a little to make room for a double sink, which was a must for us! I used two of the Kohler's Kathryn under-mount sinks in white and we absolutely love them!! We used all Kohler products in the bathroom and I honestly could not be happier with them. The quality, style and finish color.. it's all so good!
For the faucets, we decided to go with the Purist wall-mount (we went back and forth between wall and deck mount!) in brushed gold. They're sleek, modern and feel so luxurious! We're beyond happy with the look and the quality of them and have gotten so many compliments on the fixtures. The pop-up drain in brushed gold matches perfectly too! If you decide on wall-mount faucets, it's a little more work trying to line everything up with the sink, counter, lights, mirrors and faucets, but worth it to have a really clean counter space. I love not having to clean in between a faucet!
The lights!! I just adore the 6" Athena Cedar & Moss wall sconces and the way they look centered between each mirror. They're stunning and we're so familiar with Cedar & Moss now that we've used them throughout our entire house. I love that cohesiveness it brings to the home.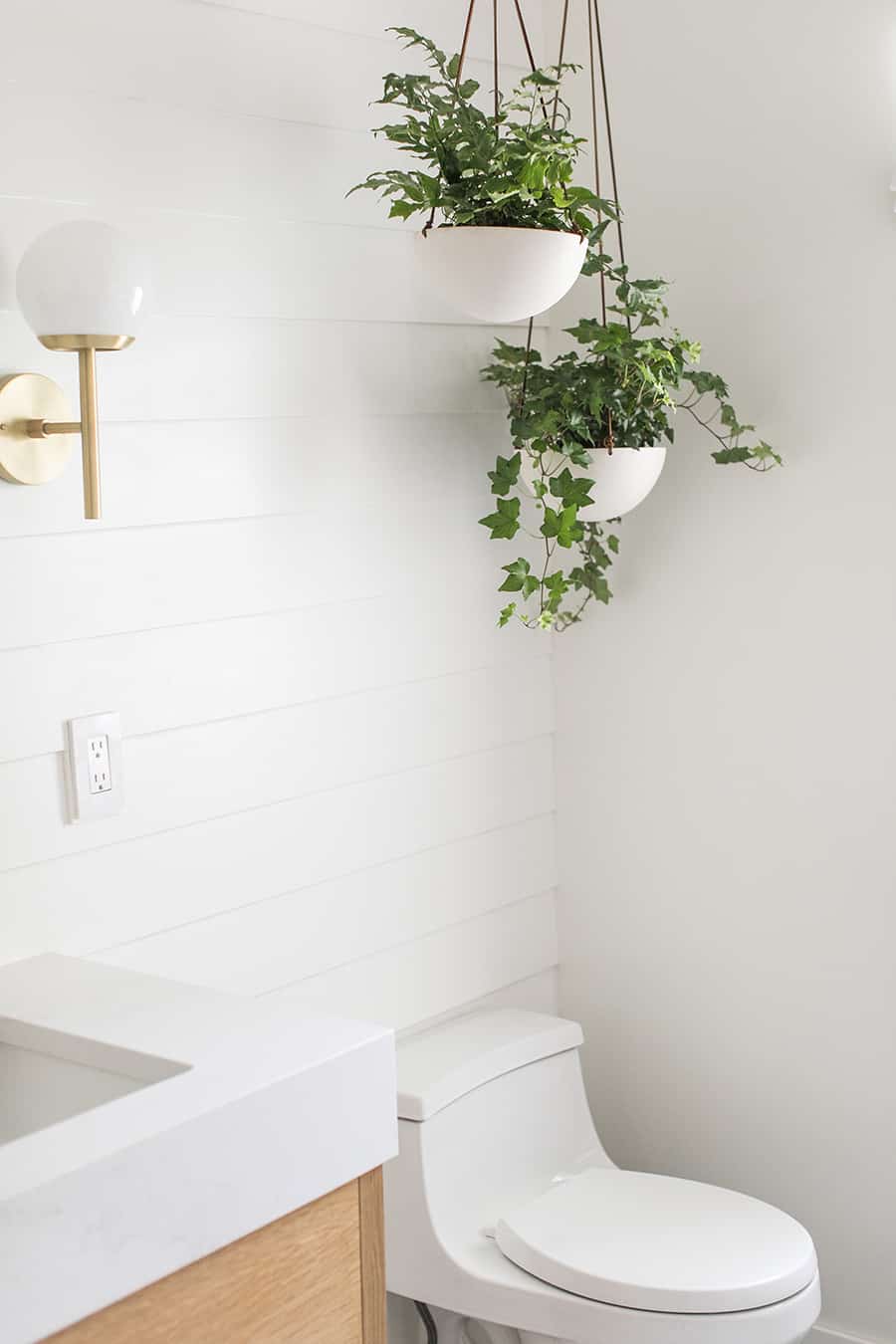 The Jonathan Adler brass hand ring holder was a gift from Zan years ago. I still love and use it every day!
The tile was really fun to pick out from Fireclay. Sarah gave me a few choices and I ended up going with the classic large 6″ hexagon from Fireclay in London Fog. I can't express how much I LOVE the color of the tile! It's the most beautiful shade of blue-gray that I've ever seen. We did the 2″ hexagon on the shower floor and love it. If I ever redo another house, I'm probably going to put that tile everywhere, I want to sleep on it!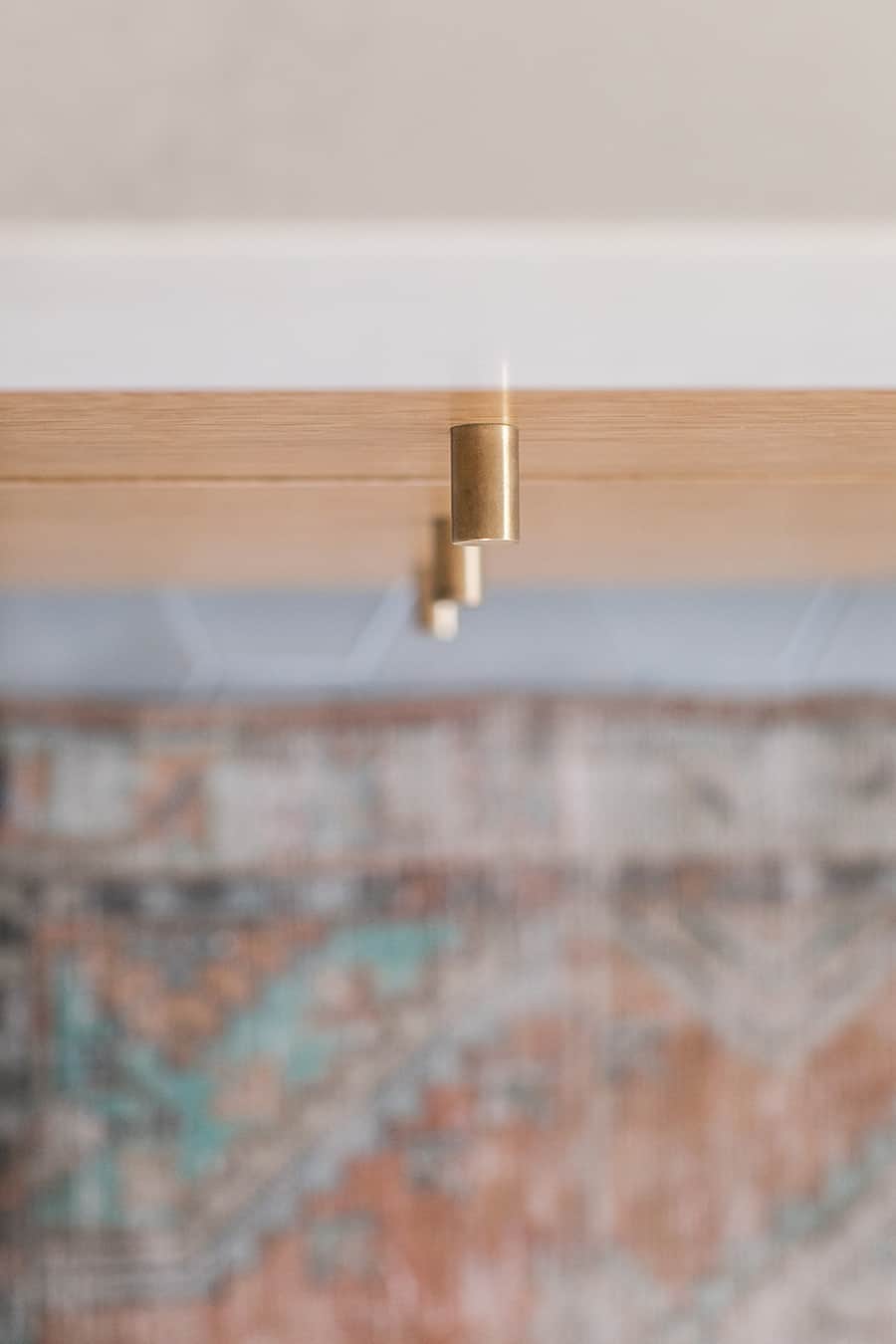 We used the exact same gorgeous counter from Caesarstone in Calacatta Nuvo in the bathroom that we did in our kitchen! We ordered two slabs and used them both! I've said it before and I'll say it again… it's literally the BEST!! Easiest clean up, no stains, so durable. I can't even imagine not having it in our house now. We are such huge fans! Having quality fixtures and counters makes such a big difference.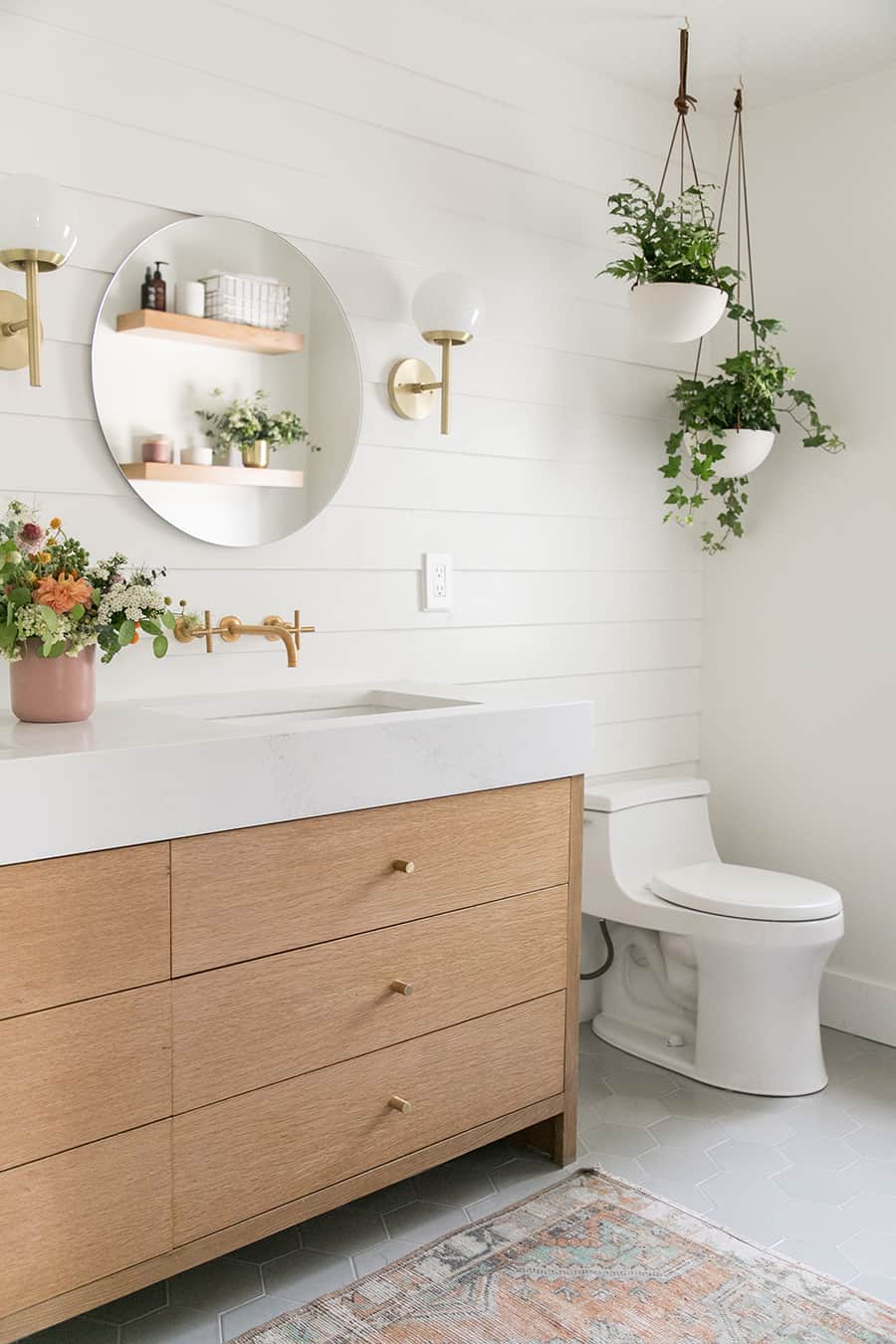 We had a hard time finding a vanity we liked in the size we wanted, so we had one custom-made. The main concern here for Zan and me was having enough bathroom storage for hair dryers, towels and all the other bathroom items we use… ahem, a drawer-full of make-up!! To solve that problem we did 6 large drawers! It's SO great to finally have room for my hair dryer and flat iron!!
We wanted the look of a thick counter, so we had the cabinetmaker and fabricator figure that part out… I think that's the hardest part about the remodel, trying to coordinate all of the small details so that one thing wouldn't mess something else up.
For the shower tile, we chose the Fireclay 1×6 sheeted tile in Sugar (how perfect!) for a super clean, serene look. It feels very fresh in there and I love the simplicity of it. It's really gorgeous. The tile is also sheeted so that helped tremendously when installing it.
We continued the fixtures in brushed gold throughout the shower and added Kohler's Shower head. The shower head is certified to meet flow, force, and water coverage for water efficiency. It has a 3-part turn for different pressures and we love it. The kids actually shower in our bathroom now because they love that they can have room to play and also change the pressure of the shower head to the rain water. Romeo is always asking us to switch it to that setting for him! Ha!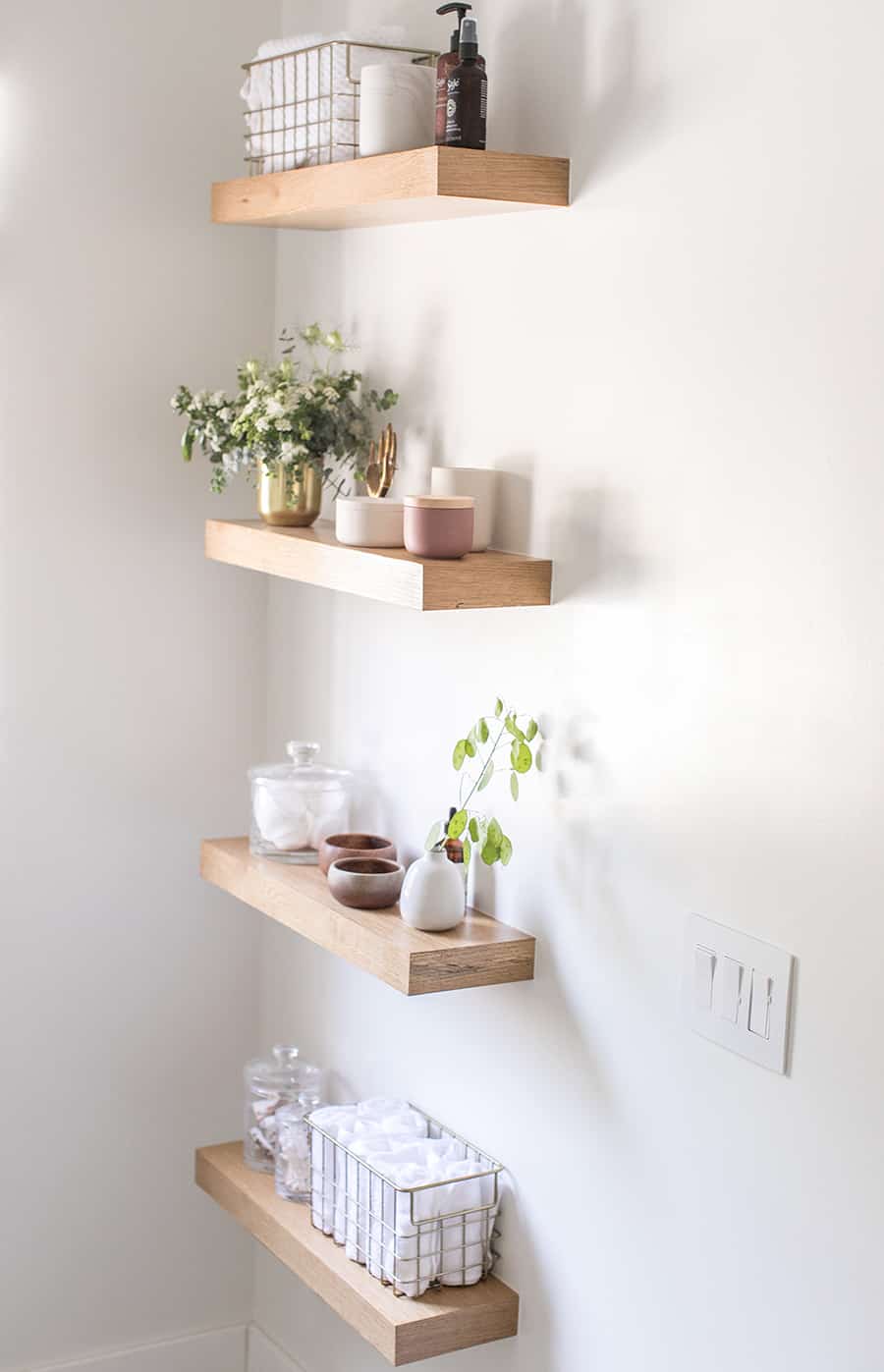 I had our cabinet maker install custom floating shelves for products and storage. I really love having the extra room to store things!
For the toilet we chose the San Souci because of it's simple look. One one-piece toilets integrate the tank and bowl into a seamless, easy-to-clean design, which I really loved. It has a soft-close seat that prevents the seat from slamming… imperative living with 3 boys!
1. Shower Head 2. Pink Canister 3. Wall Mount Faucet 4. Glass Storage 5. Robe and Towel Knobs 6. Hand Soap 7. Brass Baskets 8. Sconces 9. Hanging Planters 10. Pink Vase 11. Rug 12. Toilet
We hope you're inspired by our new bathroom! It's really all in the charming details and even just changing out fixtures and some light remodeling can change the entire space. Stay charming!
Thank you to Kohler Co. for sponsoring this post!