I finally finished our living room makeover! So I asked Sarah, from Smitten Studio, to help me pull together a modern, rustic living room. I needed someone to help bring my vision to life!
Living Room Before and After
There are SO many choices, styles and aesthetics I love, it was a real challenge to just choose a theme. Sarah helped me narrow down what I really wanted and we went through the design process using Pinterest boards, which was so much fun for me because you all know how much I love Pinterest!!
Before I had Sarah help me, Zan and I were using furniture from our college days! As you can see in the before photos, it was a bit of a disaster and in desperate need of some love.
Sarah also helped me with our current kitchen and home renovation and she did a fantastic job! You can actually hire her for consultation work through The Expert.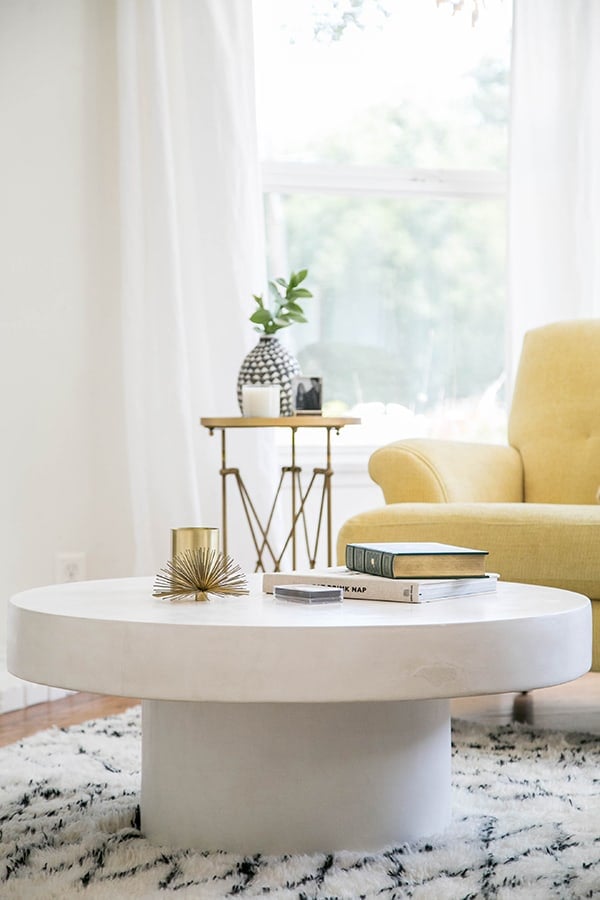 Before this makeover, I had never bought anything new to decorate with besides leather chairs, which we've now moved into our dining room sitting area. It was definitely time to invest in some nice pieces, and a well-designed room that we actually wanted to hang out in, haha.
We had the couch custom-made from an awesome company called Stem. It was fun to choose the style, color, material, legs and height of the couch! Our last couch had a material on it that was not water friendly, so it left huge stains if I tried to clean it with water.
I made sure that the material for this couch was, making my life much easier with a toddler running around!
The pot, with the fiddle leaf tree in it, is from Modernica. They have such cool designs and I love the way it holds my tree!
We wanted to add some lights above the gallery wall, to shine down on the art, and also light up the area in the entry way. I went to one of my favorite online shops for lights and pendants, Cedar & Moss. I adore this company and the quality of their products.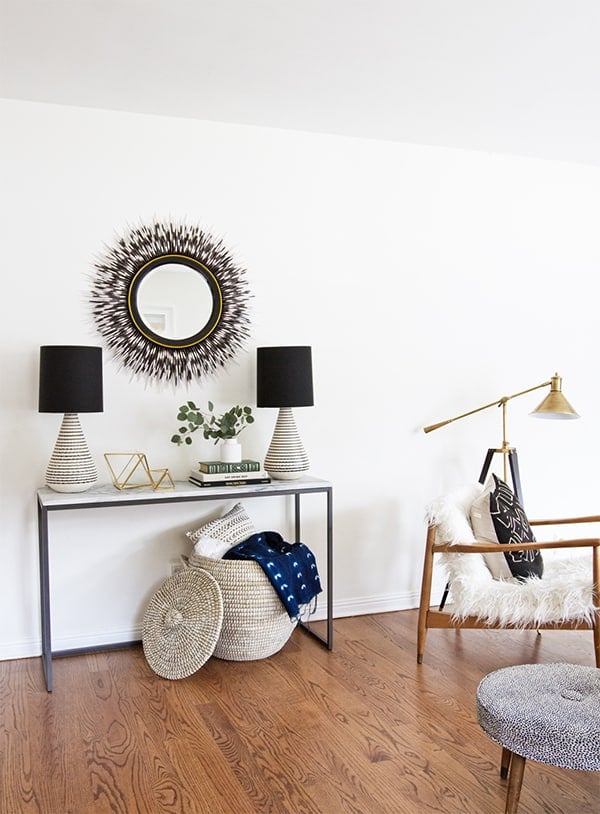 Having many pillows is a must! The pillows with the textured circles are from Marge Carson. We love the quality and style of these. They're so unique and impressively designed.
The comfy yellow chair is from Crate and Barrel.
The coffee table is the shroom table from CB2. It's natural stone and has a raw natural finish.
I wanted a simple console with a marble top, that I could also use to take photos of recipes on, etc. This one from West Elm was affordable and looks great.
The lamps on the console are from Crate and Barrel.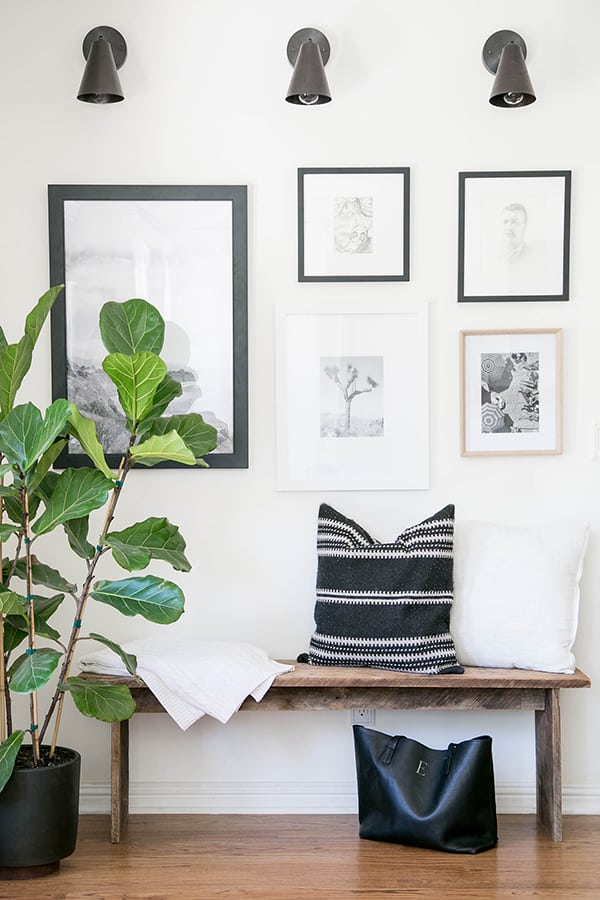 The faux porcupine quill mirror is such a great staple piece and it's perfect for a modern, ranch aesthetic. You can find it here!
The copper side table is actually from Urban Outfitters! It's the perfect size to go next to the yellow chair.
Most of the photos are ones Zan has taken. There is also a drawing he did in high school and then a pencil drawing of Teddy Roosevelt that I bought from Best Made. I'm still going to switch out one frame, and then it will be done!!
I needed a basket under the console for blankets and pillows and I found the white one at HomeGoods. It was obviously a great price too!
The modern, fuzzy chair was gifted to me by a friend and then I reupholstered it in the faux alpaca fur. You can see the DIY video here!
Also, I had a wood worker make the bench, under the gallery wall, using some old wood our neighbor gave us. It worked perfectly and saved my budget too!
The art gallery wall was not easy to put together! Finding pieces and laying it out was much harder than I anticipated, but after much trial and error, I finally have something I love.
Living Room Before Photos
These are some of the before pictures. We didn't living in the house too long before I asked Sarah to work her magic, but as you can see it was in desperate need of design!
More Home Projects You'll Love!
Charming Woodsy Bedroom for Kids
Tips for Making the Perfect Guest Bedroom
You can also FOLLOW US on FACEBOOK, INSTAGRAM, and PINTEREST to see more delicious recipes, cocktails, desserts, and parties!
This post may contain affiliate links. Please read our disclosure and privacy policy.