White plates are my favorite dishware staple and we use them every day, but with this technique, you can create beautiful DIY watercolor plates that will add a pop of color to your dishware collection! You can also add this charming look to bowls, cups, platters, etc.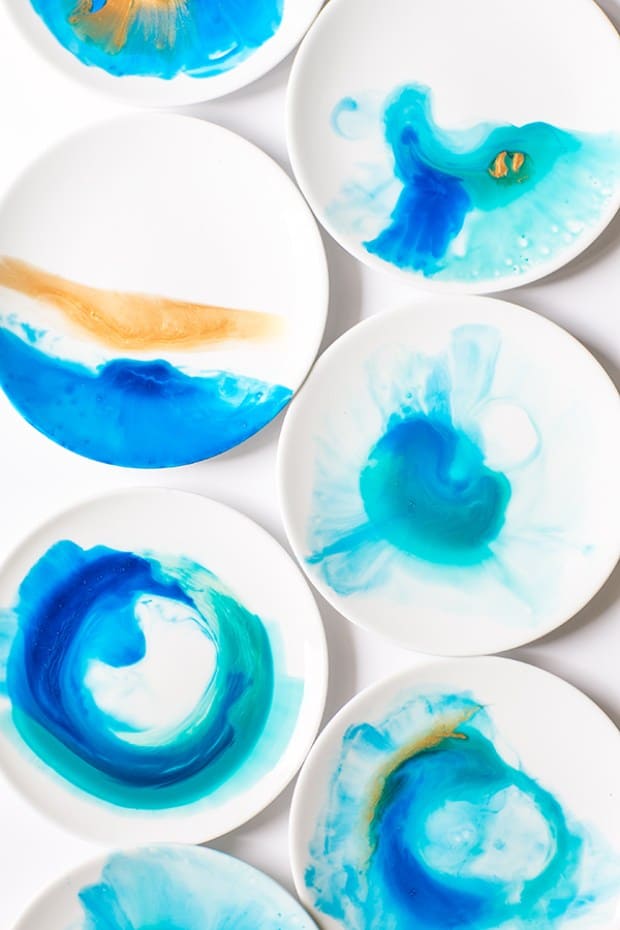 Use any color of paint to go with your theme and get your craft on because these were extremely fun to make! We used porcelain paint with a paint thinner on oven-safe porcelain plates as the foundation for the look.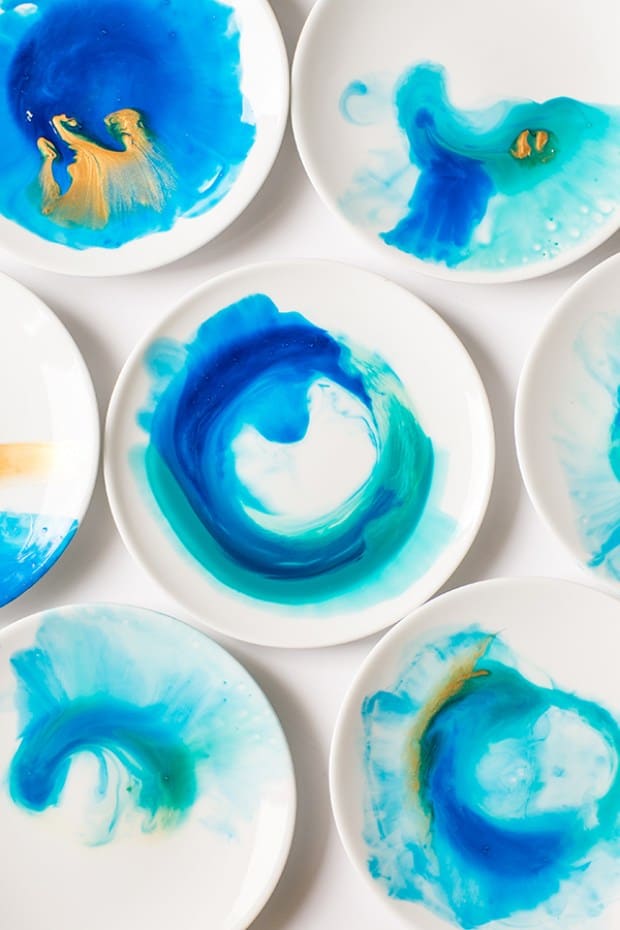 Then we used brushes, droppers, and sticks to make them look like watercolor! Abstract art at its best! Once they are baked, you can wash them in the dishwasher and they're safe to use!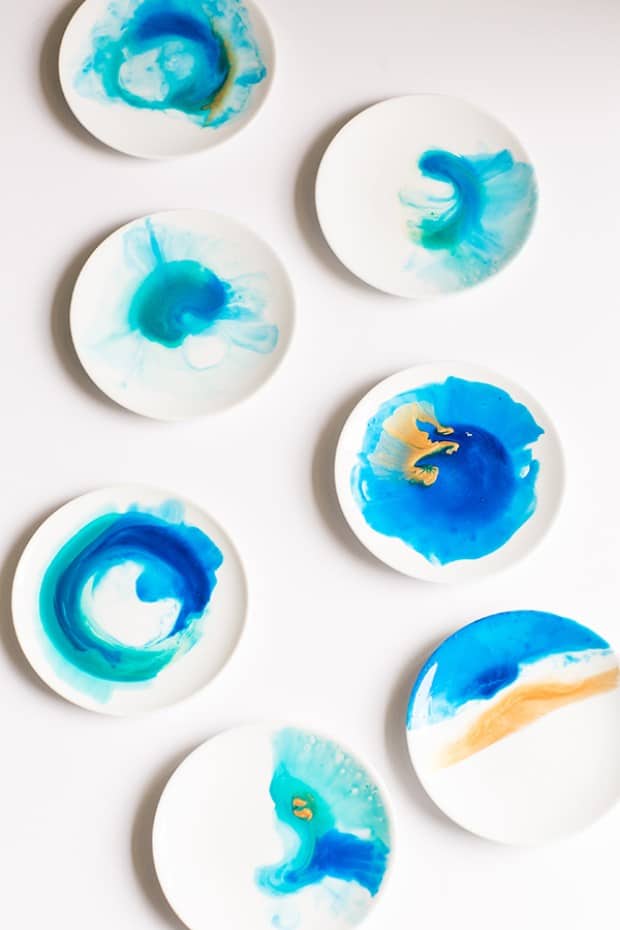 DIY Watercolor Plate Supplies
Water-based porcelain paint.
Pebeo Paint in turquoise, blue, gold and a thinner. BUT they're not all food safe, so do your own research on what is food safe and what's not.
Porcelain oven-safe plates
Paint rushes
Small glass jars for mixing.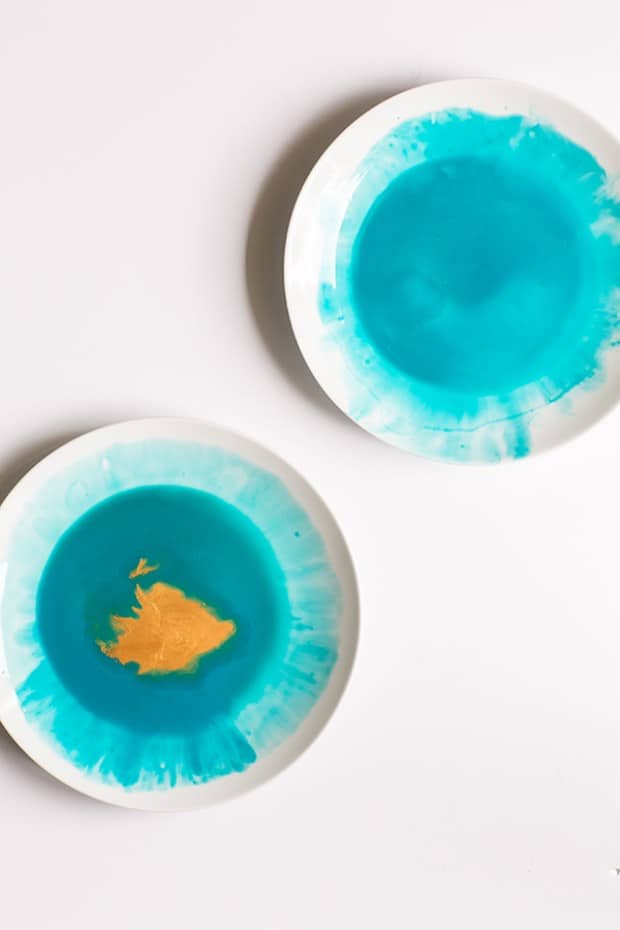 DIY Watercolor Plate Directions
Add a small amount of color into each glass jar.
Add in the thinner until you reach a watercolor consistency.
Mix using a wooden stick or spoon.
Using a dropper and brushes, drop the paint onto a clean plate. Swirl, brush, dot… use whatever technique you want to achieve your desired look!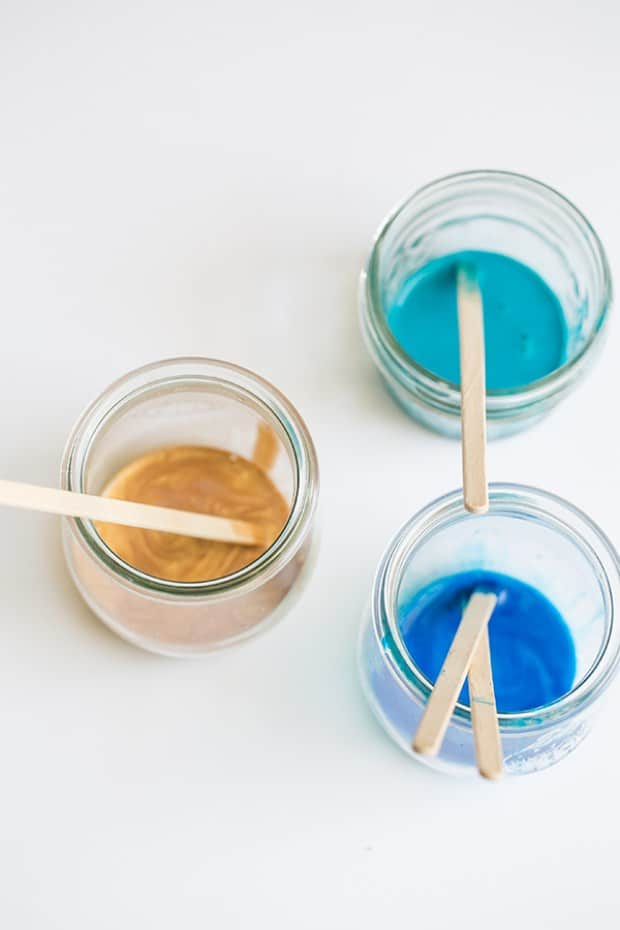 Let the plates dry for 24 hours.
Once the paint is dry (24 hours later), bake for 35 minutes in a 300-degree oven.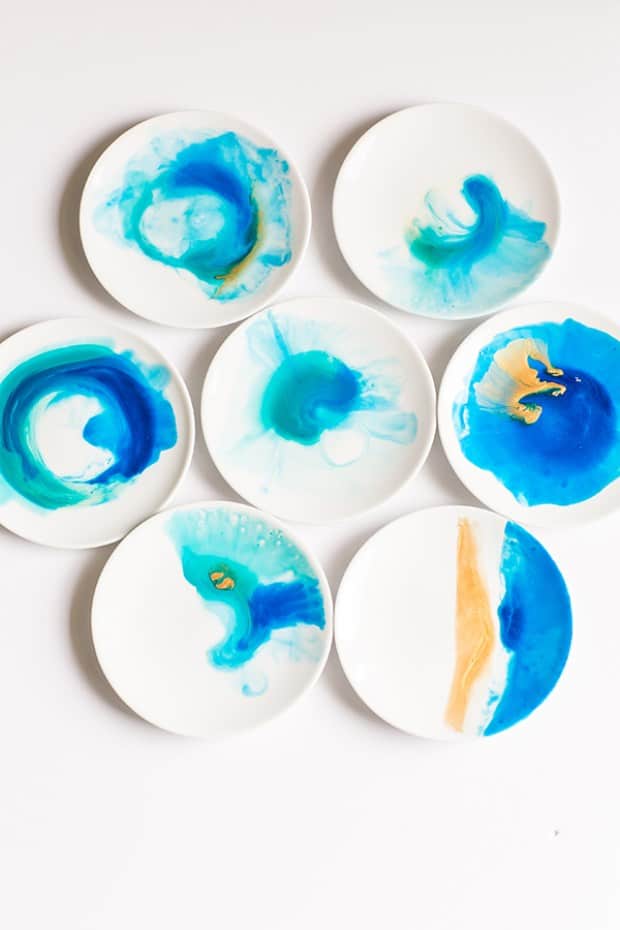 They will be fully cured and ready to use. Also, your DIY watercolor plates will be microwave and dishwasher safe!
Watercolor Plate Variations
If you're worried about the paint being safe to eat off of after it's cured, you can also try a different method. Instead of white plates, purchaeclear plates and create the watercolor pattern on the back/bottom of the plate. Then turn it around to see the design through the top.
You'll be eating off of the clear, unpainted side. Here is a good tutorial for that method.
You can also use the paints on mugs and vases too.
More DIY Craft Projects You'll Love!
Let us know if you make these plates! We love to see what you create, so tag us @sugarandcharm on social!