If you've thrown a few dinner parties where you cooked and did all of the work you know it's not a breeze! I try to follow my rule of focusing on either dinner or dessert. If I'm making a large dinner, then I'll go easy on the dessert and buy something yummy to serve! And in that case, presentation is key! One idea is to serve gourmet ice cream bars and add a charming twist to them. So I came up with a few fun ways to serve delicious ice cream bars. I'm sure many of you have had Magnum's silky ice cream bars dipped in Belgian chocolate. They are truly divine and perfect for adult dinner parties and ice cream socials! All of the flavors are rich and delectable, but my favorite are the double caramel (it has gooey caramel sauce inside!) and chocolate raspberry, which is dark chocolate ice cream, raspberry swirls and dipped in cocoa bean nibs! Hello. I don't think anyone will complain if you served these for dessert!
To add a fun touch to the bars we served the minis in sugar cones and use edible gold glitter to add a dash of sparkle! For the raspberry bars, I decided to serve them with a salted caramel pudding in a martini glass. You can find the Magnum bars in the freezer section at Kroger.
Also, to accompany the bars, I made some quick chocolate stuffed raspberries and Champagne cocktails. All very easy, affordable and super charming!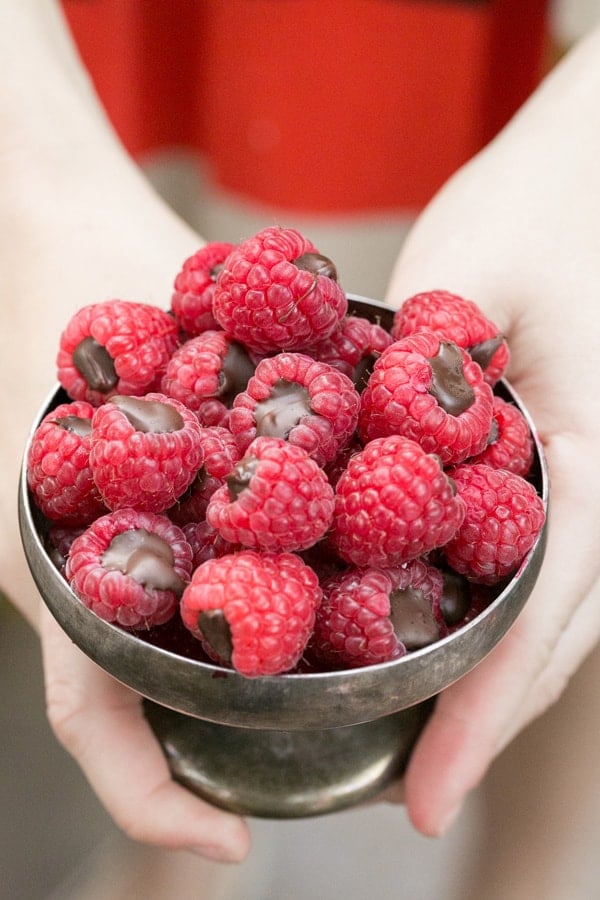 Raspberry Champagne Cocktail
Muddle a large handful of mint, juice of 2 lemons and 1 tablespoon honey in a cocktail shaker. Divide between 4 glasses, fill with ice and add in the Champagne.
Also, serve Champagne in flutes garnished with raspberries.
Flowers by Erin of White Fig Designs
This post was proudly sponsored by Lunchbox.