Here are some awesome kids Halloween party ideas! From music, to party favors and decor to activities – the kids will love them!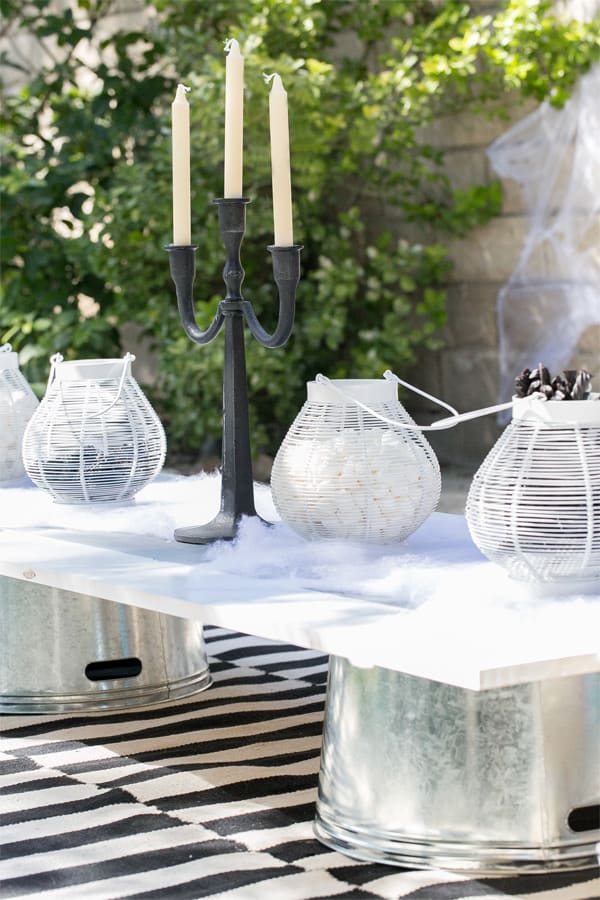 This was the first actual party I've hosted for Romeo and his friends. I'm so happy we got to team up with the incredible Tiny Prints to kick off some good ol' Halloween fun for the kids! I scoured the Tiny Prints adorable and spooky collection of Halloween invites.
I found a skeleton invite and the theme was set!
Having Romeo has made the holidays more fun and magical than they ever were before. I have a feeling I'll be putting quite a few of these parties on over the next 18 years. Thank you Tiny Prints for being a part of our first Halloween party and for inspiring the theme!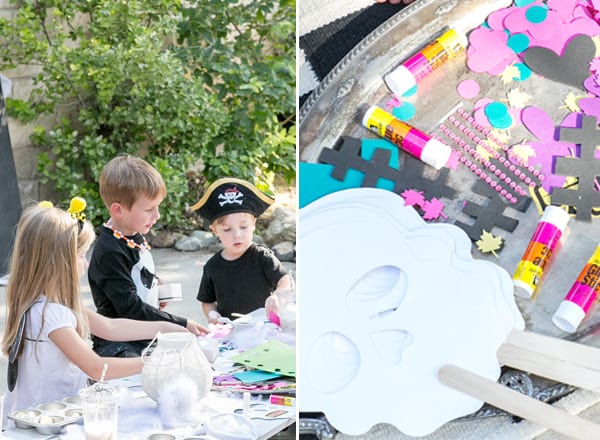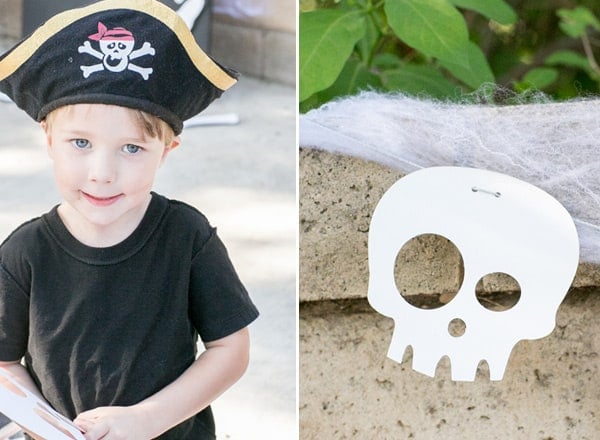 Getting The Invites!
Invites are a lovely way to create a sense of occasion and feel personal. I ordered the invites from Tiny Prints. I love that they're affordable, well designed and set the look for the party!
Kids Halloween Party Ideas – Treats!
Black and white snacks like yogurt covered pretzels, Oreos, meringues, bananas and white cheddar puffs were served in cupcake tins so each kid got their own tray.
I also served cupcakes and a few other sweet treats too.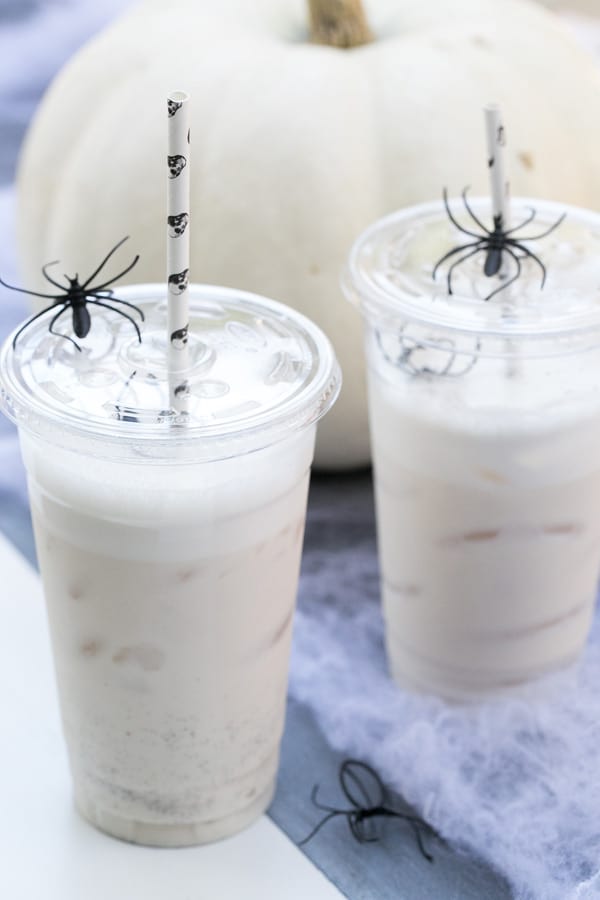 For the drinks I wanted to stay away from sugary juices or soda, so I made homemade almond milk horchata. I checked with the mamas first for any nut allergies, which you should always do.
The kids LOVED the almond milk. I served it in large plastic cups with lots of ice, a skeleton straw and some scary plastic spiders trapped inside and outside the cup. Recipe coming tomorrow!!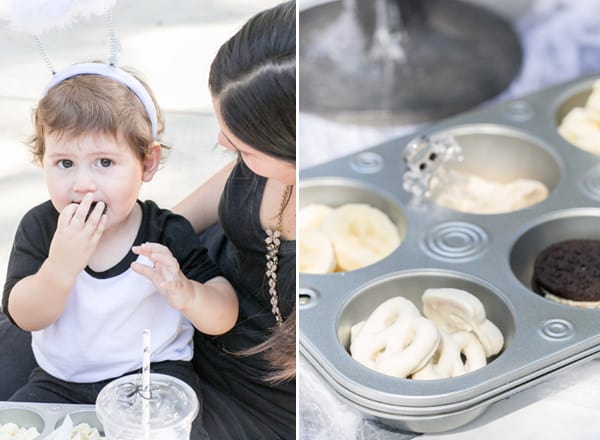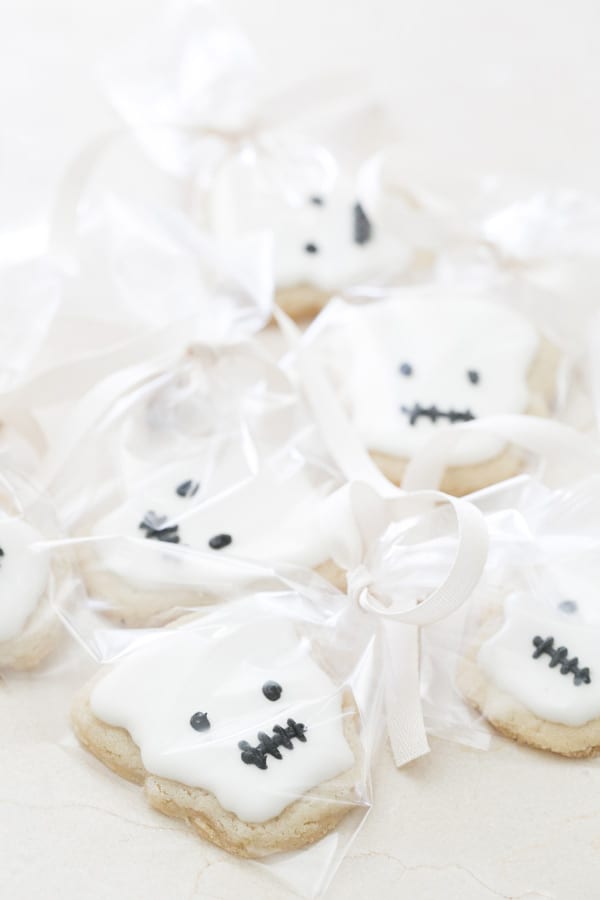 Little skeleton sugar cookies were the perfect take home treat for the kids.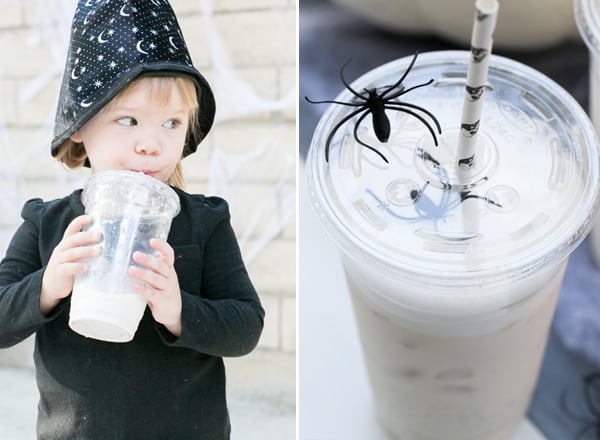 Kids Halloween Party Ideas – Activities!
We made the DIY skeleton magnet board for the kids to play with. Learn how to make the board here!
I also brought out a tray with some skeleton masks the kids could decorate themselves.
We had a dress-up station with black and white costumes and accessories the kids could dress up in. I bought them all from the Dollar Store! Saving money!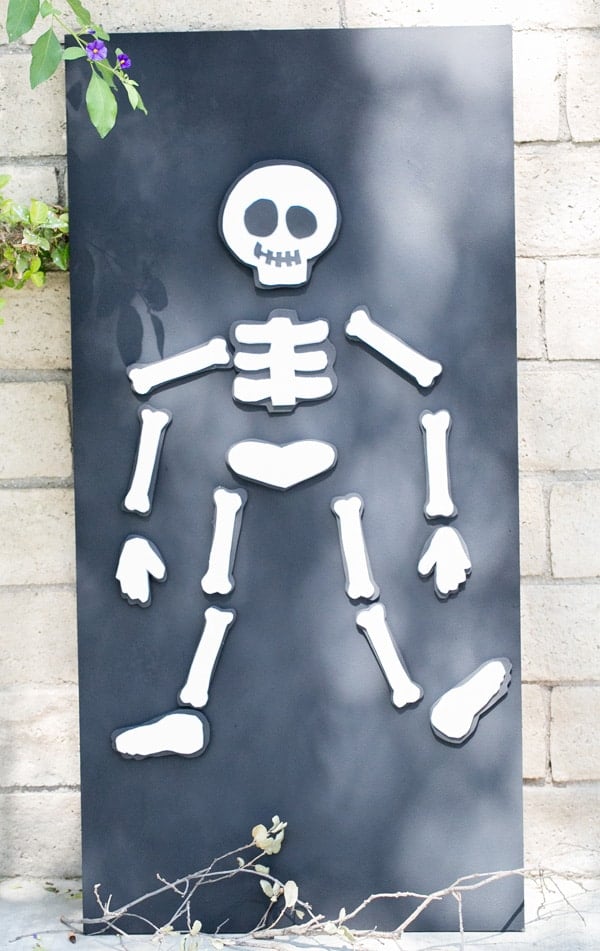 Decorations For Your Kids Halloween Party
Everything was black and white and skeleton themed. I made the kids a mini table from a large piece of wood (I painted white and black) and two galvanized buckets!
I just hot glued the table to the buckets and it worked perfectly. It was just the right height for the kiddos to rest on the floor while they ate and did arts and crafts. Spider webs were hung, and a faux candelabra was the centerpiece on the table, along with white lanterns filled with candy.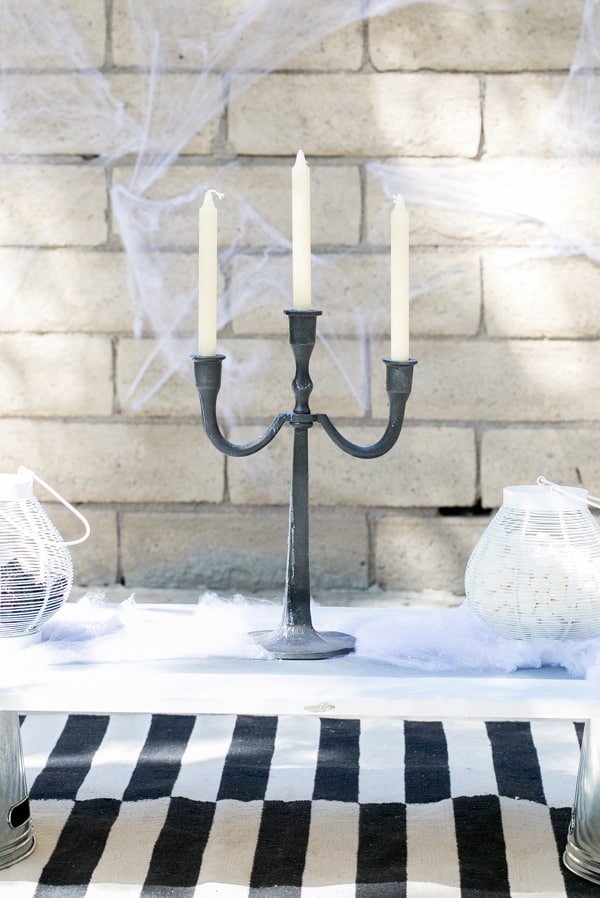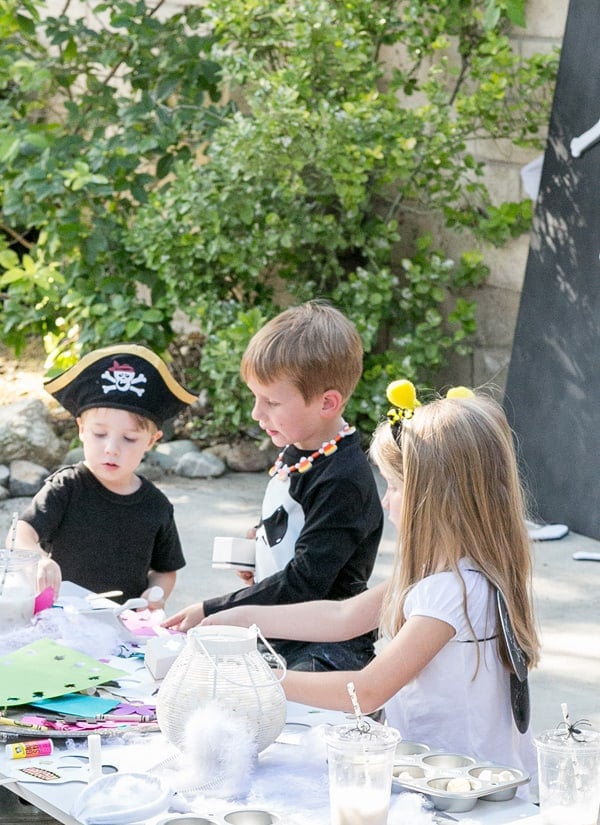 Let The Music Play!
The kids listened to monster tunes on Pandora's Kids Halloween Station throughout the entire party. I love using services like Pandora for parties… that way I don't have to worry so much about making a playlist!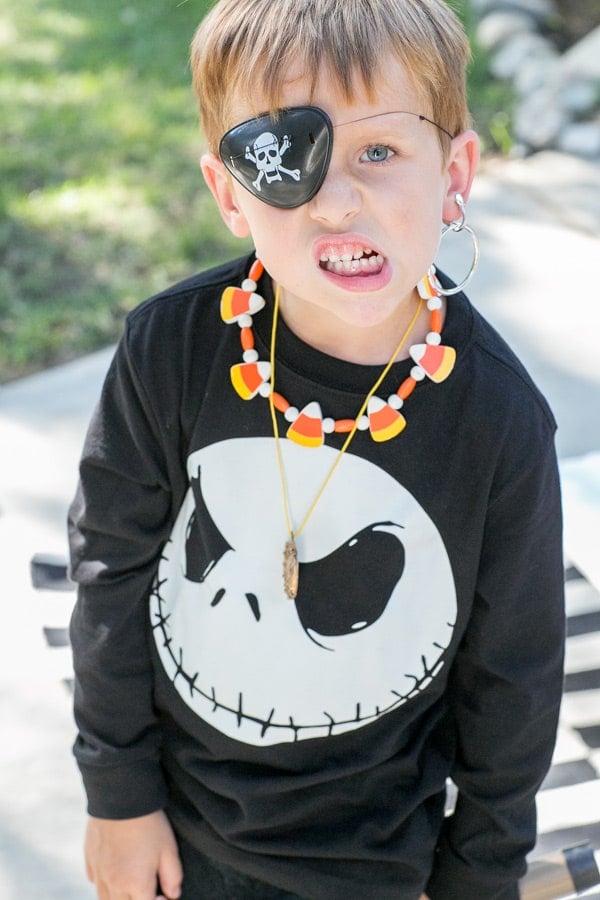 Kids Halloween Party Ideas – Party Favors
Each little guest went home with a tiny bucket of skeleton cookies I made to resemble the skeleton on the invite, a pair of skeleton gloves and an old fashioned black and white candy stick.
Top Tips For A Kids Halloween Party
Using a simple theme like skeletons makes life a lot easier when it comes to decor and favors.
Use a service like Pandora and pick a kids' Halloween music channel, then you don't need to worry about changing the music all the time.
Place some kid friendly Halloween lawn decorations out front for a spooky welcome!
Make sure you have the right amount of treats for the amount of guests!
Check Out These Other Great Halloween Ideas
Our Favorite Halloween Decor and Entertaining Items
Charming &Vintage Halloween Party Ideas
6 tips for creating a charming halloween bar with Pottery Barn // Digital
Easy and Adorable Halloween Brownies!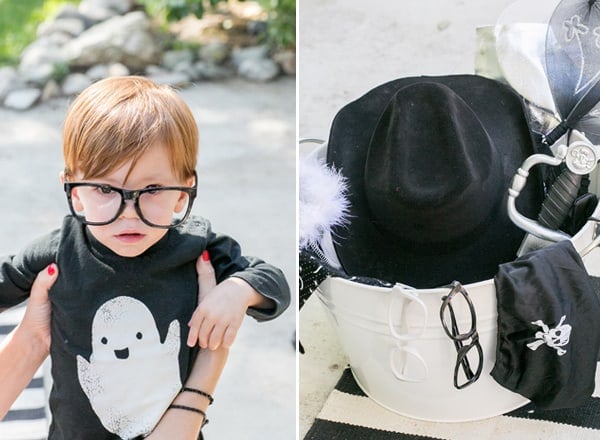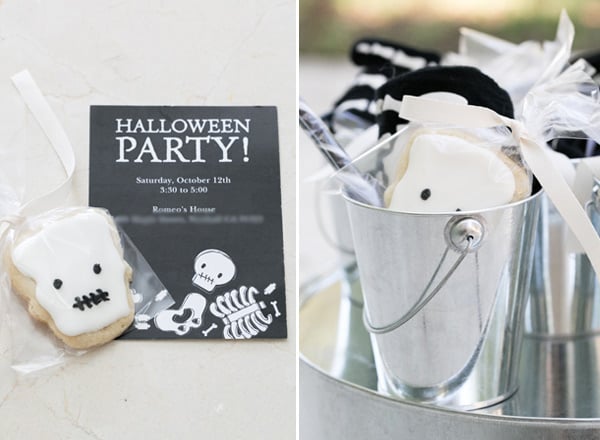 If you have tried these kids Halloween party ideas, or any other ideas on my blog, let me know how it turned out in the comments below!
You can also FOLLOW ME on FACEBOOK, INSTAGRAM and PINTEREST to see more delicious desserts, recipes and part ideas.