Bring some sunshine into your home with a mini tropical party for your family! We're sharing an easy DIY for sand art, tropical recipes and dreaming of a beach vacation.
I've been longing for a warm, tropical vacation! Since it will still be some time before we're able to explore the world again, I thought it would be fun to bring some of those elements to our home. I'm sharing some easy ideas on how to bring tropical flavors, smells and natural elements into your home to for a stay-at-home mini, tropical vacation!
Sand Art
I can visibly remember creating colorful layers of sand at summer camp. Sand art is an easy DIY that you can make with colorful sand, jars and funnels. It's incredibly easy to do and my kids absolutely loved it. It was their first time making this type of art and I know they're going to ask to do it again!
Supplies
Colorful Sand
Funnels
Glass Ball Mason Jars
Directions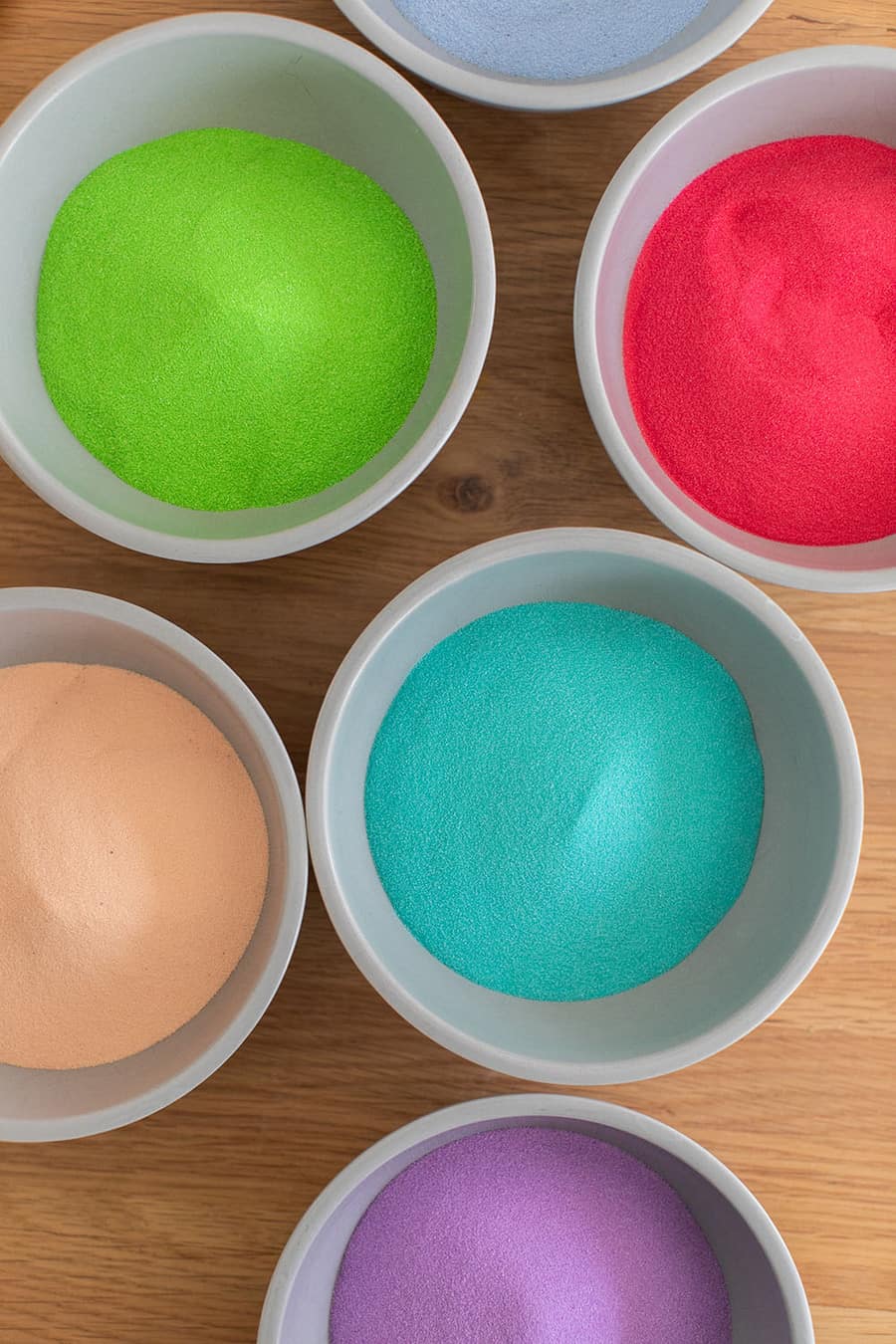 Add the sand into individual bowls with a spoon for scooping.
Hold a funnel over the glass Ball jar and scoop the sand into the funnel.
Move the funnel to place it directly where you want the sand.
Continue until the jar is filled all the way to the top and the sand is packed tightly.
Close the lid and enjoy the layers of your beautiful design!
Tropical Scents
One of my favorite parts about a tropical vacation are the smells of pineapple, coconut, sea salt and the cool coastal breeze. It's life changing! To create these fragrances at we home I lit a few of Yankee Candle's newest collection The Last Paradise Collection. It's inspired by lush jungles, hidden beaches (dream!) and each candle smells like a tropical vacation in a jar…. I need a piña colada right now. 
The Tropical Starfruit is my favorite with scents of pineapple, vanilla and citrus. It smells absolutely amazing! I also love anything coconut so the Coconut Island is also a favorite with it's warm coconut smell and a touch of spice.
You can see the entire collection here and get ready to be transported to a tropical vacation!
Tropical Food
To go with the theme, make a few of our favorite tropical recipes to snack on! Here are some fun options:
Flavorful and Easy Coconut Rice
Tropical Flowers
Having fresh, tropical flowers will really add to the tropical vibe of the party! Head to your local flower mart or order a small arrangement from a local florist. This will add color and bring in an element of nature.
More Parties You'll Love
15 Birthday Party Ideas for Adults
Enjoy!
So until you can enjoy a beach vacation, we hope you're inspired to bring some of the sunshine into your home with these fun ideas and of course the new Yankee Candle The Last Paradise Collection.
You can also FOLLOW US on FACEBOOK, INSTAGRAM, and PINTEREST to see more delicious recipes, cocktails, desserts, and parties!
This post is sponsored by Yankee Candle