An easy One Pan Fettuccine with Prosciutto that is so flavorful and easy to make. Everything cooks in one large skillet, even the pasta! It's a great easy dinner recipe to make and serve with a side salad.
The way this recipe is cooked is what makes it different than the rest. It's all cooked in the same skillet. The pasta cooks perfectly al dente and the sauce simmers with the noddles and a little pasta water.
It's very delicious and easy to make. One of our favorite pasta recipes and to make it even better, we've added Prosciutto which gives it even more flavor.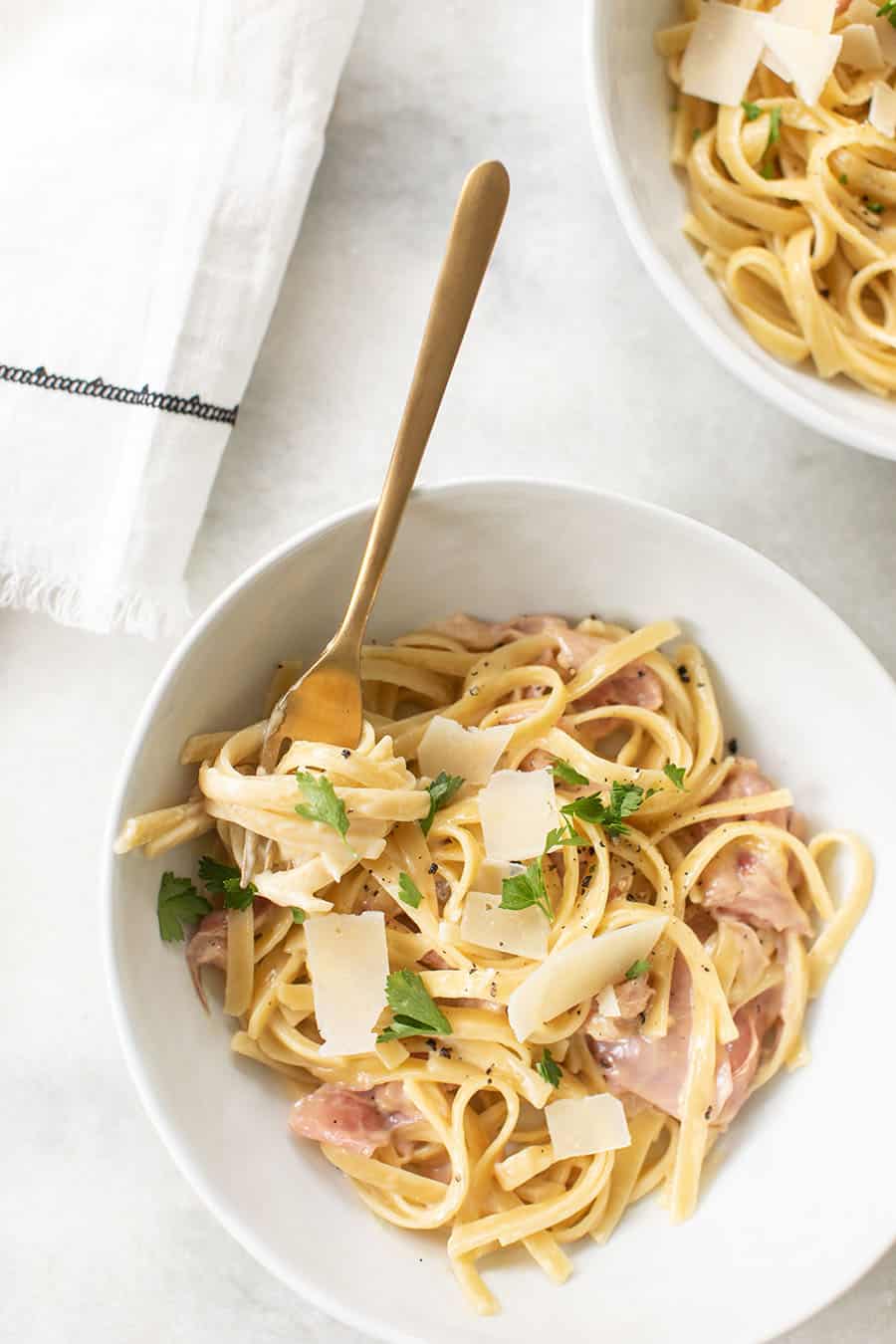 This sauce is an Alfredo sauce, but a little lighter in consistency. This recipe uses heavy cream, parmesan cheese and it's seasoned it with salt and pepper. The perfect comfort food for any season.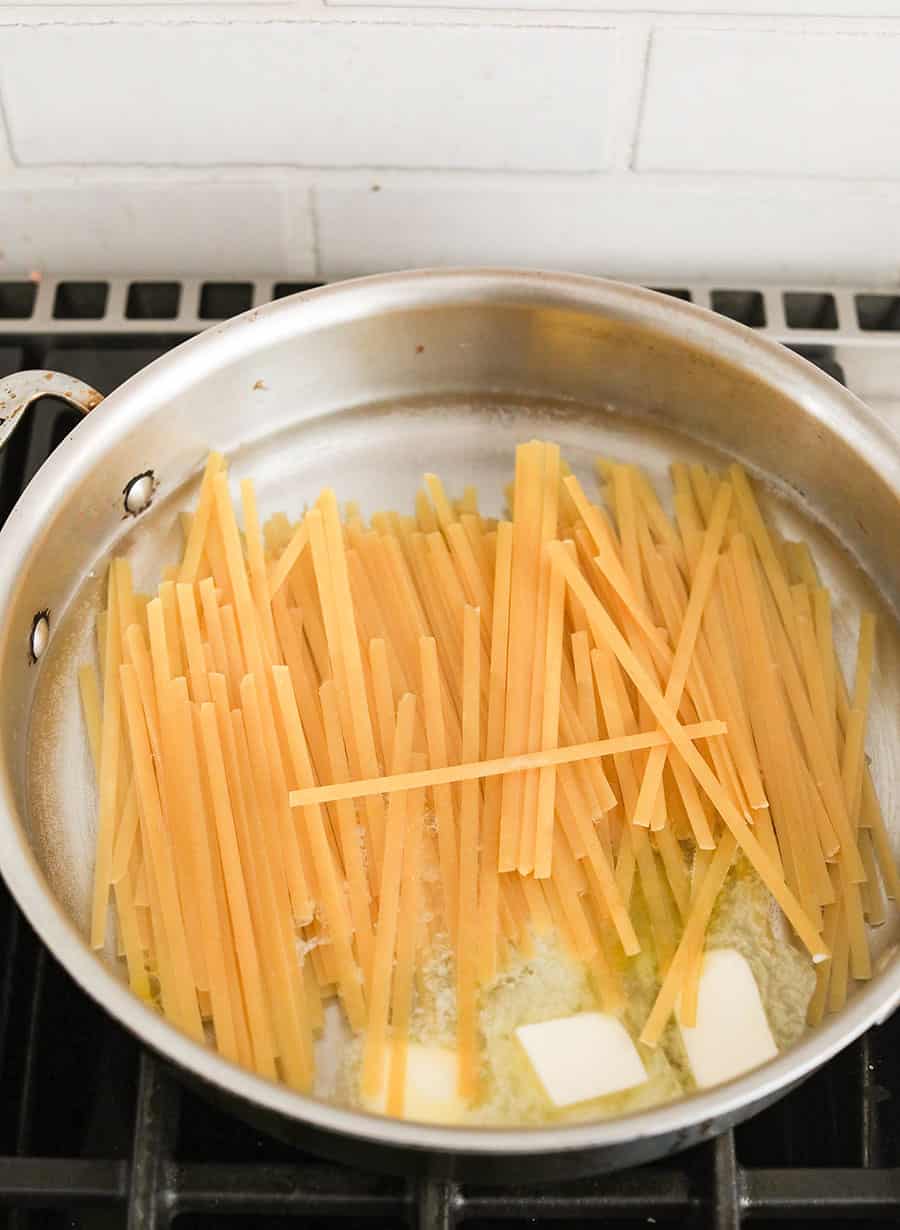 How to Make Fettuccine Pasta in One Pan
Start with a large skillet and 2.5 cups water. Break 1 pound fettuccini in half to fit the skillet and boil the water, butter, olive oil and pasta together for about 10 minutes until the pasta becomes al dente (actually like 5 minutes before al dente, since it will continue to cook with the sauce) and there is just a little water remaining.
Then add in the heavy cream, egg yolks and season it with salt and pepper. Stir until thick and the sauce coats all the fettuccine pasta and becomes a little thicker. It's absolutely delicious!
Added pieces of prosciutto to the sauce for even more flavor. You can purchase pre-sliced prosciutto and just tear off smaller pieces to add to the pasta.
The good thing about prosciutto is that it's already cooked, so you can just add it in the skillet at the end right before serving.
What else can you add to Alfredo sauce?
Don't love prosciutto? Here's a list of other ingredient you can add to this Alfredo sauce!
Shrimp
Chicken
Pancetta
Peas
Mushrooms
Asparagus
Broccoli
What is the difference between fettuccine and linguine?
Fettuccine is a wider noodle than linguine. It's also a flat noodle compared to linguine which is elliptical in shape. Fettuccine is better served with heavy sauces like Alfredo sauce.
Here are some more one pan and one pot recipes you might like!
One Pan Basil and Tomato Pasta
One Pot Meals – By Budget Bytes
Fettuccine Alfredo – Ree Drummond
Food Networks Best One Pot Meals
Please let us know if you make our One Pan Fettuccine with Prosciutto by leaving a review or tagging us with your photo on our social channels @sugarandcharm!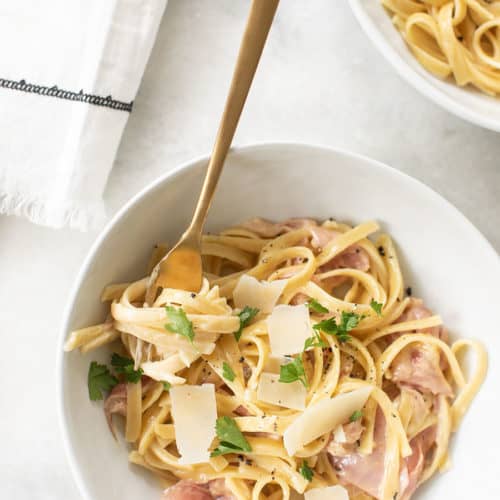 Ingredients
1

pound

fettuccine pasta

,

1 box

2 1/2

cups

water

2

tablespoons

butter

1

tablespoon

olive oil

1

cup

whipping cream

2

egg yolks

1/2

teaspoon

salt

1/2

teaspoon

freshly ground pepper

10

slices

prosciutto

,

torn to smaller pieces

1/4

cup

grated parmesan cheese
Instructions
In a large skillet, combine water, olive oil, butter and dried pasta. You can break the pasta in half to fit into the skillet.

Bring those ingredients to a boil for 10 minutes.

Crack the egg yolks in a small bowl, discard the egg whites and shells.

Add 1 tablespoon cream to the egg yolks and whisk… this will keep them from cooking and when you add to the pasta.

After the past has cooked, al dente, and the water is almost gone, change heat to low and add in the cream, egg yolks, salt and pepper and 1/4 cup parmesan.

Stir until the mixture is thickens. You have to stir, so the cream doesn't burn.

Add in the torn prosciutto and simmer a few more minutes.

Serve with a little more parmesan cheese and some chopped parsley.