A simple, quick guide to sake. How to serve it, pronounce it, the history and a few fun recipes.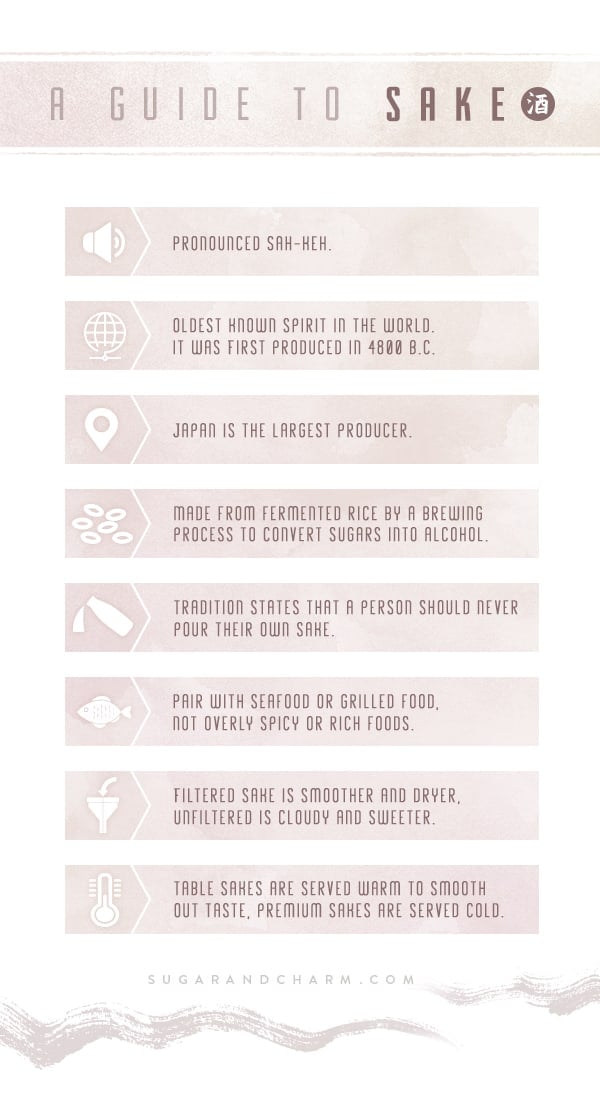 Our favorite Japanese spirit, sake, is known for its powerful health benefits. From anti-aging to reducing allergies, it's definitely a spirit to drink and learn more about! So, to help us all enjoy a little more, we've created a guide to learn more about it and suggested a few to try!
Although we enjoy a few tiny cups at our favorite sushi restaurants, I would love to start enjoying some sake at home. Switching up the evening glass of wine. It is an acquired taste and when it comes to the type, I prefer the unfiltered cold over the filtered warm.
Sake is a drink native to Japan. Now that it's spread worldwide, you might be wondering about where it got its start and the best way to drink it.
We're going to answer all the questions you might have in a brief comprehensive guide that will give you more understanding of the origins of it.
History of Sake
While we aren't exactly sure where the origin of Sake began, we know that the first known recordings were around 500 B.C. The actual process of creating Sake had to do with the chewing of ingredients. Those ingredients were then spit into a large vessel for the mixture to ferment over time.
A new brewing technique took hold without the chewing of ingredients, and that is the brewing process that Japan is known for today.
What is Sake?
It is known as the national beverage of Japan. It's often referred to as a rice wine because fermented rice is used in the brewing process to achieve the end product.
When you ask for Sake, the easiest way to tell if it's quality is the way that it's being served to you. A higher quality will typically be served chilled.
It can be served hot or cold, but we prefer it served chilled because you can get the most out of the various flavors infused into the beverage.
How to Drink Sake?
Now that you've got some background on this traditional beverage, it's time to provide insight into how to drink it. To enjoy the full effects of drinking sake, it's recommended that you sip the beverage instead of drinking it all at once.
It's encouraged that you drink it with your appetizer portion of the meal. The reason for this is because the flavors you're enjoying can help to enhance your meal.
Also, in Japanese culture, you should pour it for others around you before serving yourself. It's a sign of respect for all that you're dining with.
What Does Sake Taste Like?
The taste will differ based on a variety of things. Factors including:
The temperature
Ingredients used
Sake tends to be a beverage on the sweeter side, but depending on the fruits and nuts added to the mixture, the final result will be dry. This is why it's essential to understand the different Sake options you have when ordering the beverage.
How Strong is Sake?
Sake has about 15%-20% alcohol making the beverage overall extremely strong. However, compared to other beverages like beer or vodka, it isn't the strongest.
Much like other cocktails containing alcohol, it will cause you to become heavily intoxicated if you consume enough.
Is Sake Healthy to Drink?
Because of how it's brewed and served in a sake house, it has been linked to improving various physical conditions.
Some researchers have found that consuming it can help a person improve their immune systems' strength. The consumption of alcohol could prove to have various health benefits?
Recipes Using Sake
Sparkling Sake Sangria with Pineapple
Honeydew Sake Sorbet – This is so refreshing and tasty!
Make–Ahead Soju and Sake Cocktails
Bringing Centuries of History to Your Table
We've taken you back in time and answered some questions that you've had about Sake. While it can be strong, there is a way to drink it to ensure that you get the most out of the experience.
You can also FOLLOW US on FACEBOOK, INSTAGRAM, and PINTEREST to see more delicious recipes, cocktails, desserts, and parties!