Our favorite homemade apple pie recipe! This pie is easy to make and paired with our buttery, flaky crust. We're sharing our secret ingredients and tips for making it perfect too!
The apple pie is an absolute staple in American desserts, but it hasn't always been that way. In fact, in the 19th century, people used to enjoy fruit pies for breakfast!
No matter when you eat it though, a great recipe can make or break your apple pie experience. Luckily, we've got the only recipe you'll ever need.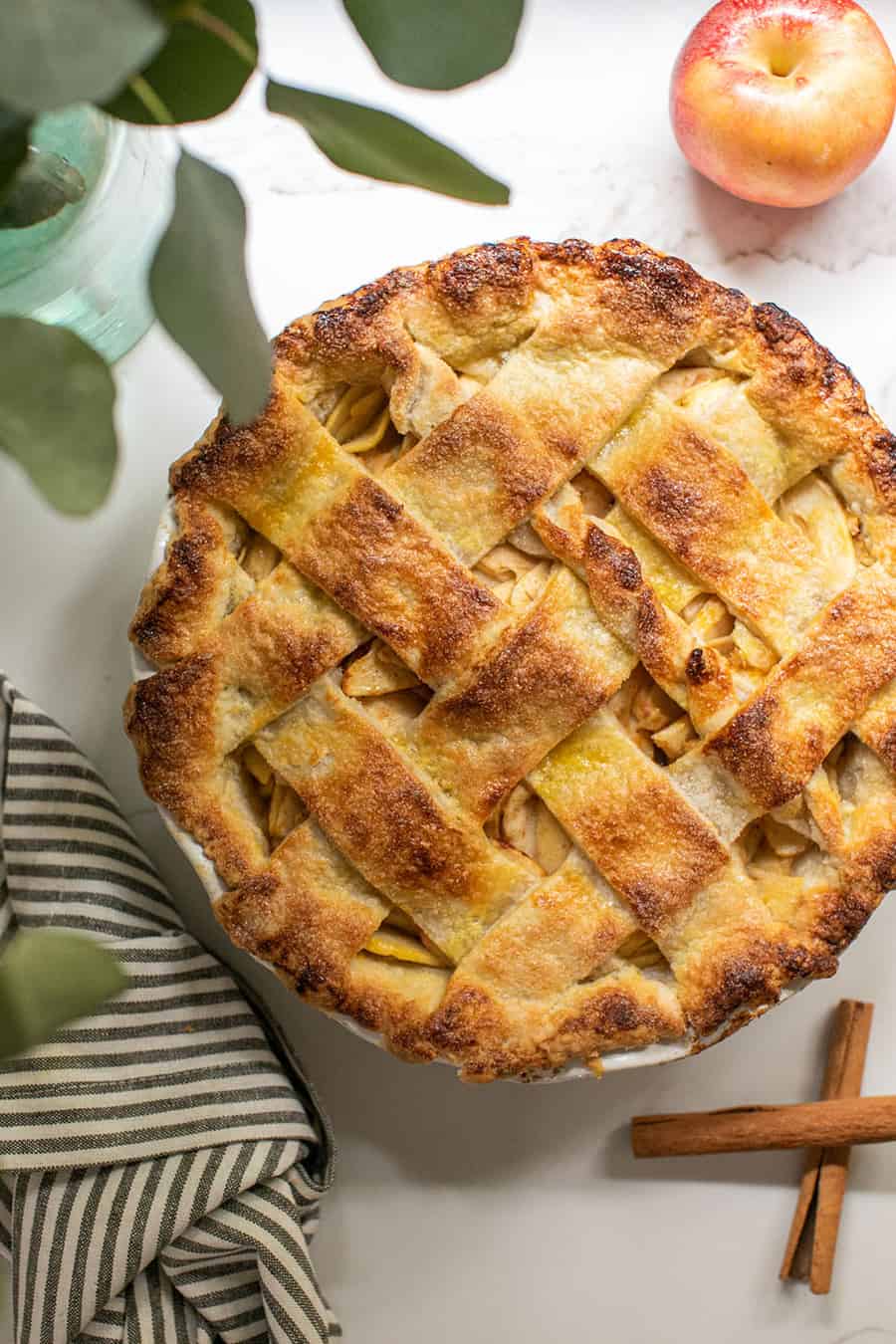 Years ago, I took a pie-making class that was so informative. I learned a lot about the easy process of making pie and the perfect crust.
I also went home with the most gorgeous artesian apple pie and was beyond proud of myself! In addition to learning some basics, I realized how many options there are when making an apple pie. I'm also a picky apple pie person and I don't like the apples cut into chunks, rather than thinly sliced.
I also prefer a crumble top, but since we're making a classic homemade apple pie we did a pretty lattice top for this recipe which is also delicious.
Overall I like a super buttery crust, thinly sliced apples, lots of spices, and a hint of orange which is exactly what you get with this apple pie recipe.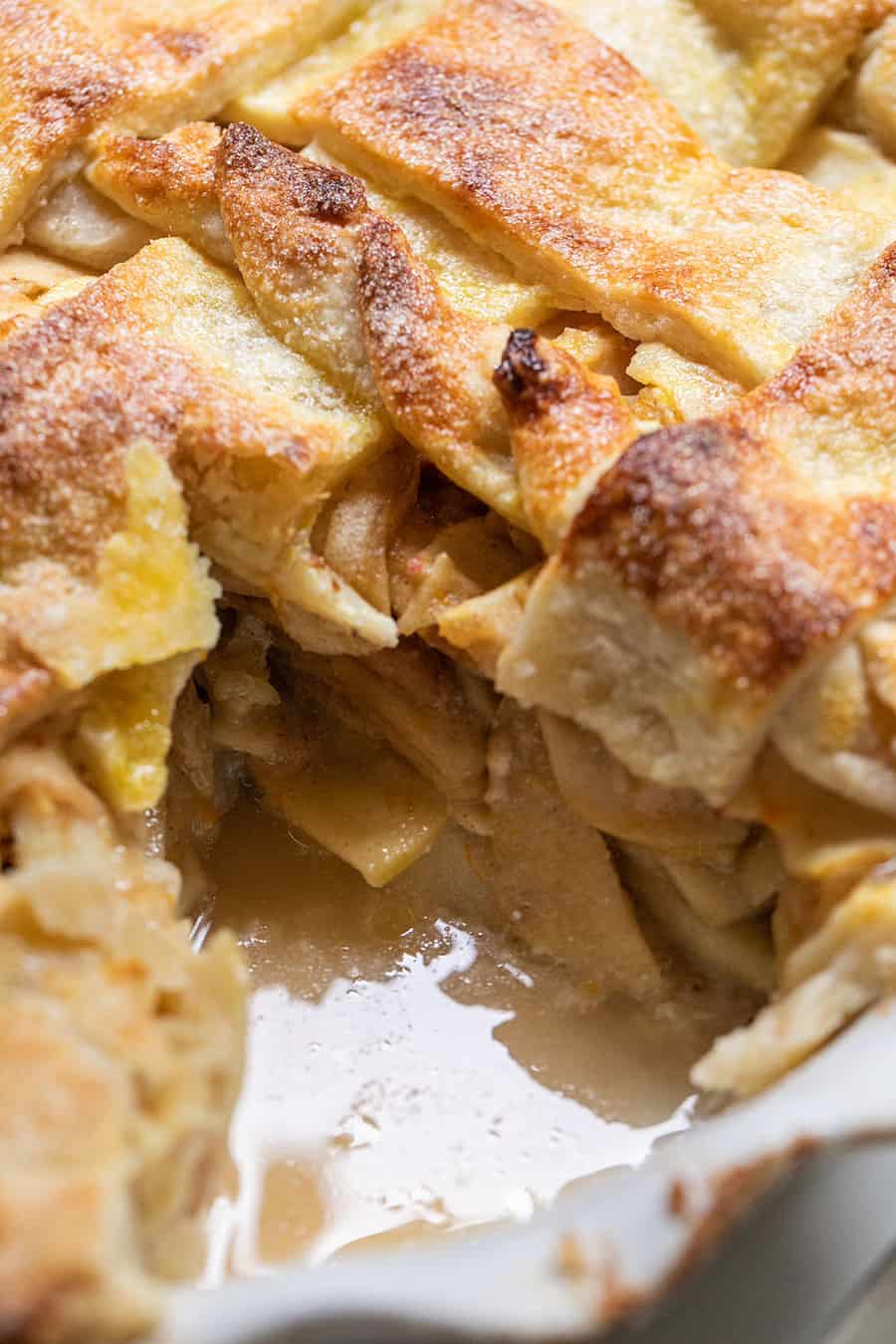 This is one of our favorite recipes and techniques for making apple pie. Before you start baking, we're answering all of your apple pie recipe questions and more below!
Also, try our apple cake recipe too! It's topped with an apple cider glaze, yum!
History of the Apple Pie
"As American as Apple Pie"? Not quite!
The first apple pie recipe actually originated in England. It included raisins, figs, pears, and saffron with the apples.
However, over time, Americans have taken the recipe and made it our own. Today, it's become the all-American dessert we all know and love.
Do You Cook Apples Before Putting Them in a Pie?
Whether you precook the apples in your apple pie recipe is a matter of preference. It can be done both ways, but each method will yield a different consistency.
If you don't precook the apples, they will have a bit of a bite to them. This is the most common way to make an apple pie. As you cook the pie, the sugar and juices from the apples will soften them up.
If you choose to precook your apples, then you will get a softer, gooier filling. If you prefer a soft, falling-apart texture of the apples in your apple pie, then it is advisable to precook your apples before you put them into your pie.
Here's how to precook the apples in your apple pie filling:
Slice your apples uniformly for even cooking
Add your precut apples, sugar, orange zest, and spices to a pot or dutch oven
Cook over medium heat until fork tender (about 15 minutes)
Precooking your apples has the benefit of allowing you to test your filling before it goes into the apple pie. You can add more spices and sugar to taste, or add cornstarch to thicken it up.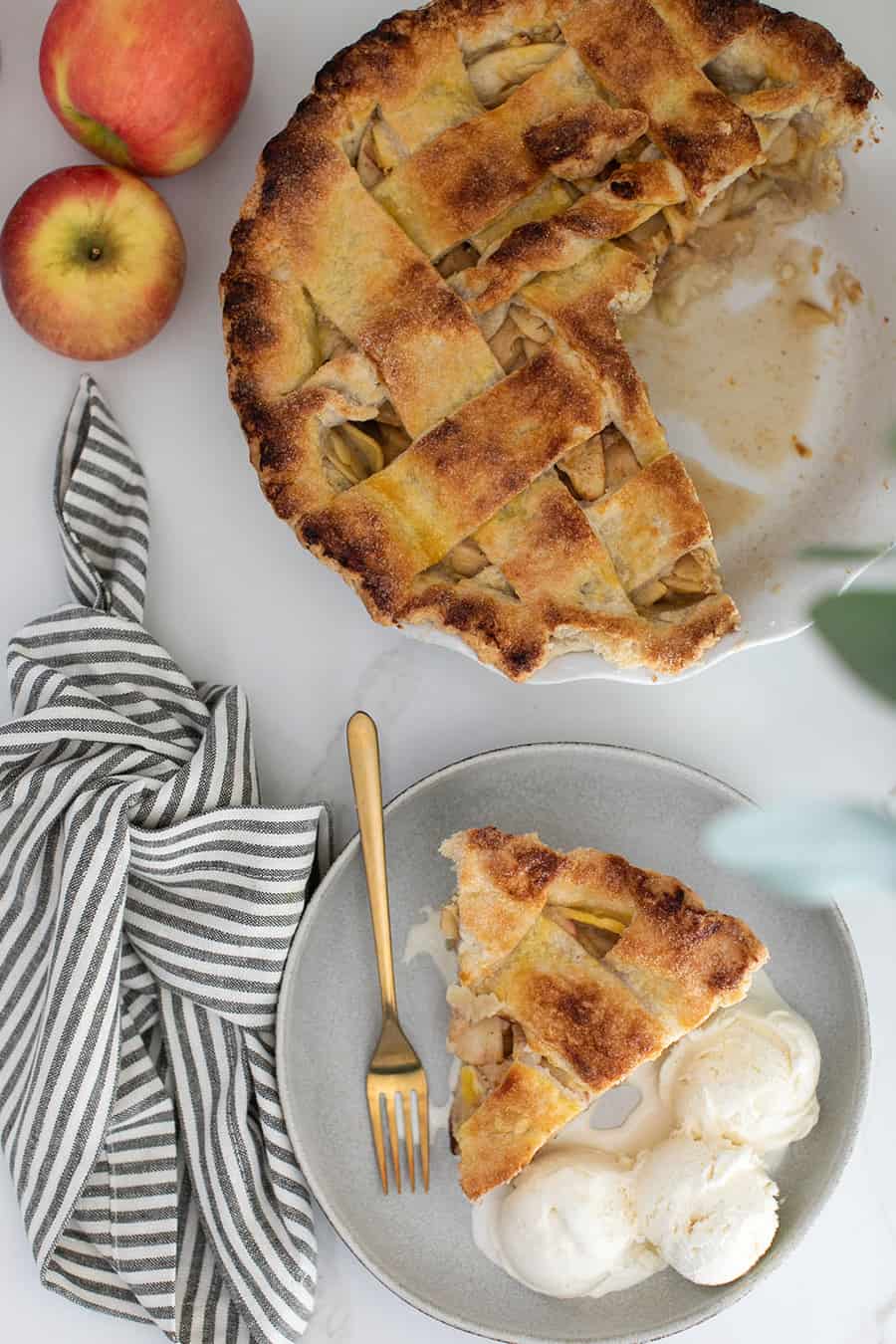 Why Are My Apples Hard in My Apple Pie?
If the apples in your apple pie recipe turn out to be too hard, then this could be due to a few reasons.
Here are the possible reasons why the apples are too hard in your apple pie:
The apple pie was not cooked long enough
The apples used were not sliced thinly enough
If you prefer more tender apples in your apple pie filling, then you can always precook your apples to make sure they soften up enough.
Tips for Making Your Apple Pie Recipe Better
As with all recipes, taste is subjective! If you want to improve your apple pie recipe, then you can adjust sugar and spices according to your personal preference.
Here are a few other tips to improve your apple pie recipe:
Precook your apples to ensure they are tender – You do not have to do this but if you really like tender apples this can be achieved.
Choose the right variety of apples (Granny Smith and Honeycrisp both work great, whereas varieties like Red Delicious aren't as tasty)
Toss your apples with the spices, flour, and sugar, letting them sit overnight to tenderize the apples
Brush the top of your pie crust with butter or egg wash to get it golden brown
Don't be discouraged if your pie doesn't come out spectacular the first time. By experimenting and making adjustments, you can perfect your apple pie recipe.
Can Apple Pie Be Frozen?
If you have leftovers from your apple pie, the remaining slices can be frozen if desired. Simply place the pie in the freezer and wrap it with plastic wrap after it is frozen. It should keep for up to 4 months in the freezer.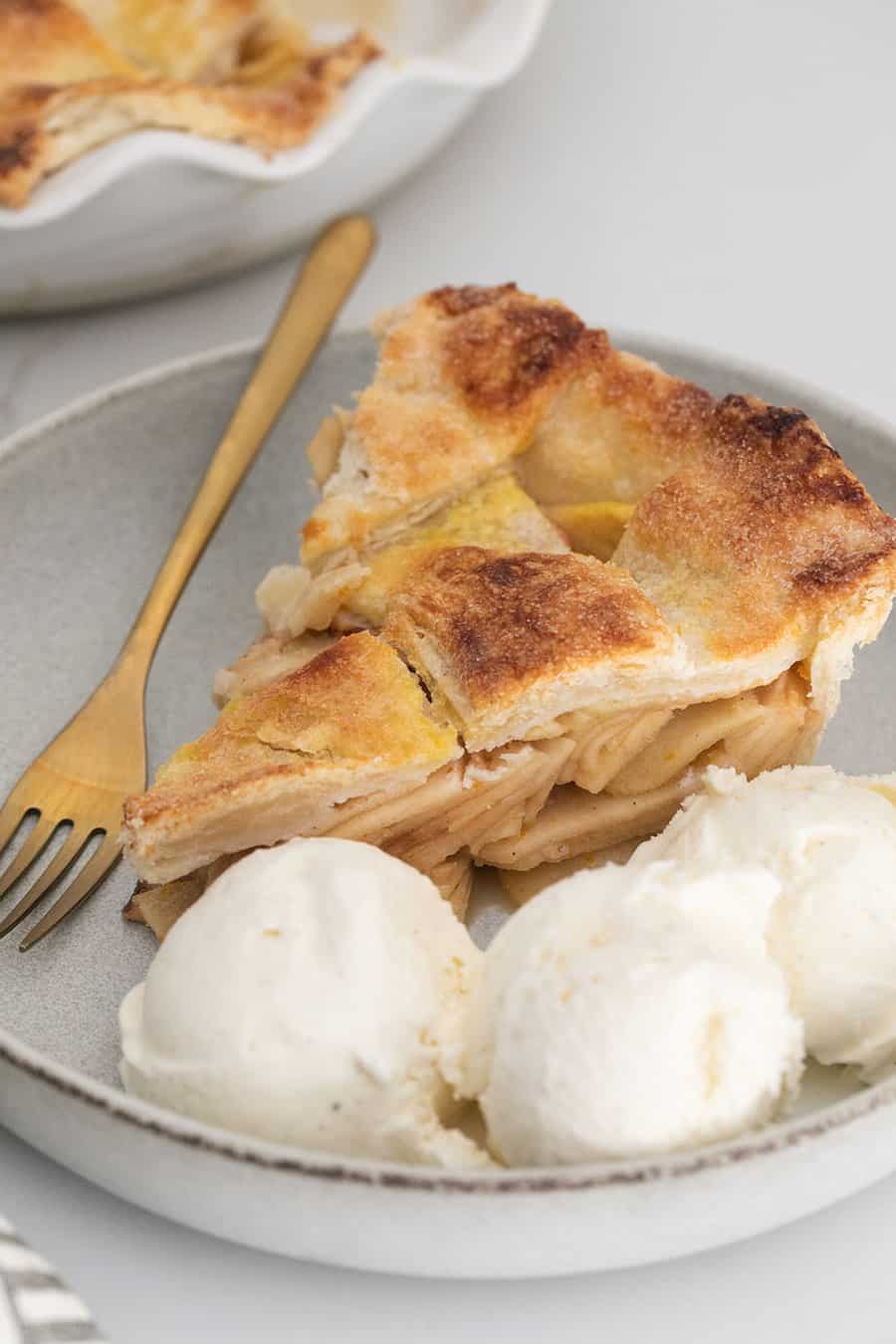 How Long Should a Pie Sit?
To help ensure your pie keeps its structure and isn't too hot, you should let it cool for at least 4 hours before cutting and serving.
Will Apple Pie Thicken as It Cools?
Yes, your apple pie filling will thicken a little as it cools. This usually happens within a couple of hours after baking.
What Apples Do You Use to Make an Apple Pie?
Different apple varieties are more tart or sweet. Depending on what you like, you can choose accordingly.
Here are some apple varieties that work great in this apple pie recipe:
Granny Smith
Honeycrisp
McIntosh
Golden delicious
Braeburn
Cortland
As a general rule, avoid Red Delicious varieties for your apple pie filling. These often have a somewhat bitter flavor and mealy texture that isn't ideal for pie.
Can You Mix Apples for Apple Pie?
Yes! Again, this is a matter of personal preference. Experiment with different ratios until you find whichever you like best.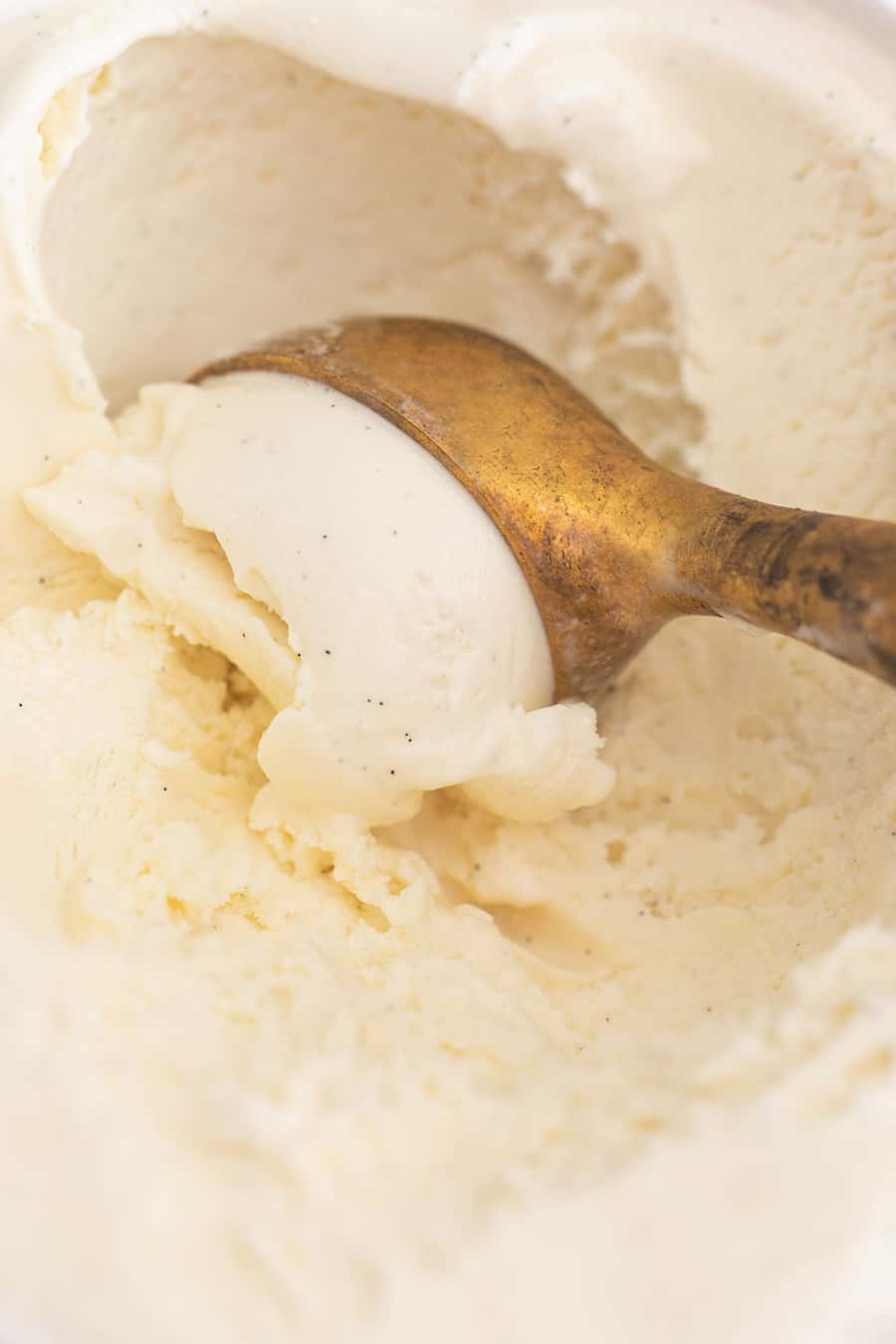 Serve this delicious, warm apple pie with classic vanilla ice cream!
What Is Apple Pie Spice?
Apple pie spice contains the right ratios of cinnamon, nutmeg, allspice, ginger, and cardamom. This makes it perfect for any apple pie recipe. Or, if you prefer, you can always mix these spices up yourself.
Apple Pie Variations
This apple pie recipe is endlessly versatile. If you're looking to change things up, there are lots of ways to do it.
Here are a few ideas for variations:
Add caramel sauce to the filling for a caramel apple pie
Bake the apples without a crust for a gooey baked apple dessert topping
Add cheddar cheese to the filling or slices of cheddar to the top of the crust
Use the filling to make our caramel apple crumble bars
Don't be afraid to get creative with your apple pie recipe. Variety is the (apple pie) spice of life, after all!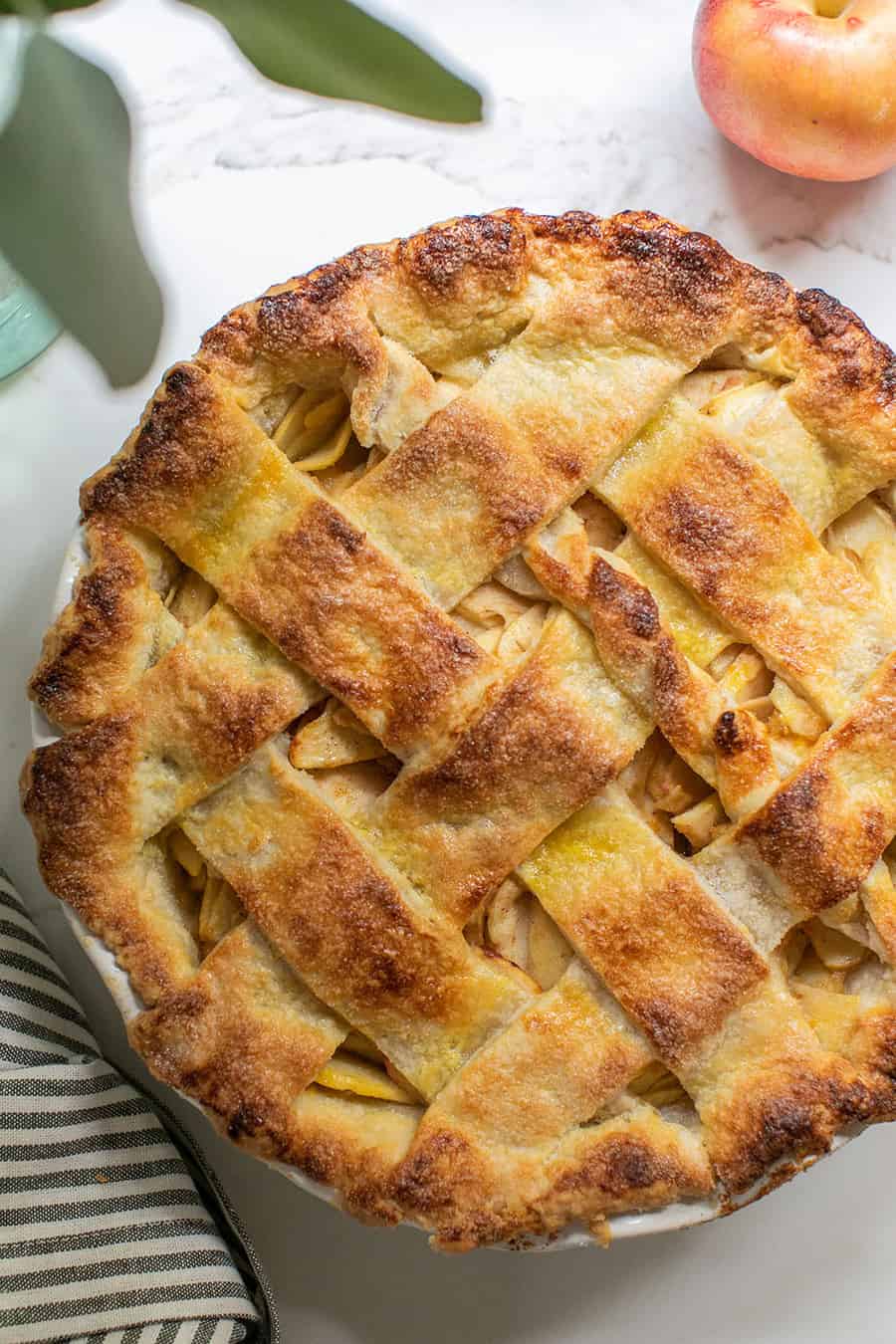 How Do You Keep the Bottom Crust From Getting Soggy?
No one wants a soggy pie crust! Luckily, this can be avoided.
Here are a few ways to help prevent a soggy crust:
Bake the pie on a lower rack in your oven
Increase the thickness of your bottom crust
Place the pie on a hot cookie sheet while baking
Baking the Perfect Homemade Apple Pie
Apple pie is the perfect crowd pleaser for any occasion. It's easy, delicious, and versatile to suit any taste preference. Now that you have the ultimate apple pie recipe, you'll be ready to make your perfect apple pie!
Tools You'll Need
Here are a few items you'll need that will help with making a homemade apple pie.
Rolling Pin
Deep Dish Pie Pan
Mixing Bowls
Measuring Cups
Parchment Paper
Spatula
Pastry Brush
Peeler
Apple Corer
More Pie Recipes You'll Love!
The Best Homemade Pumpkin Pie Recipe
Strawberry Lemonade Pie Recipe
The Most Delicious Chocolate Chip Cookie Pie
Coconut Macadamia Key Lime Pie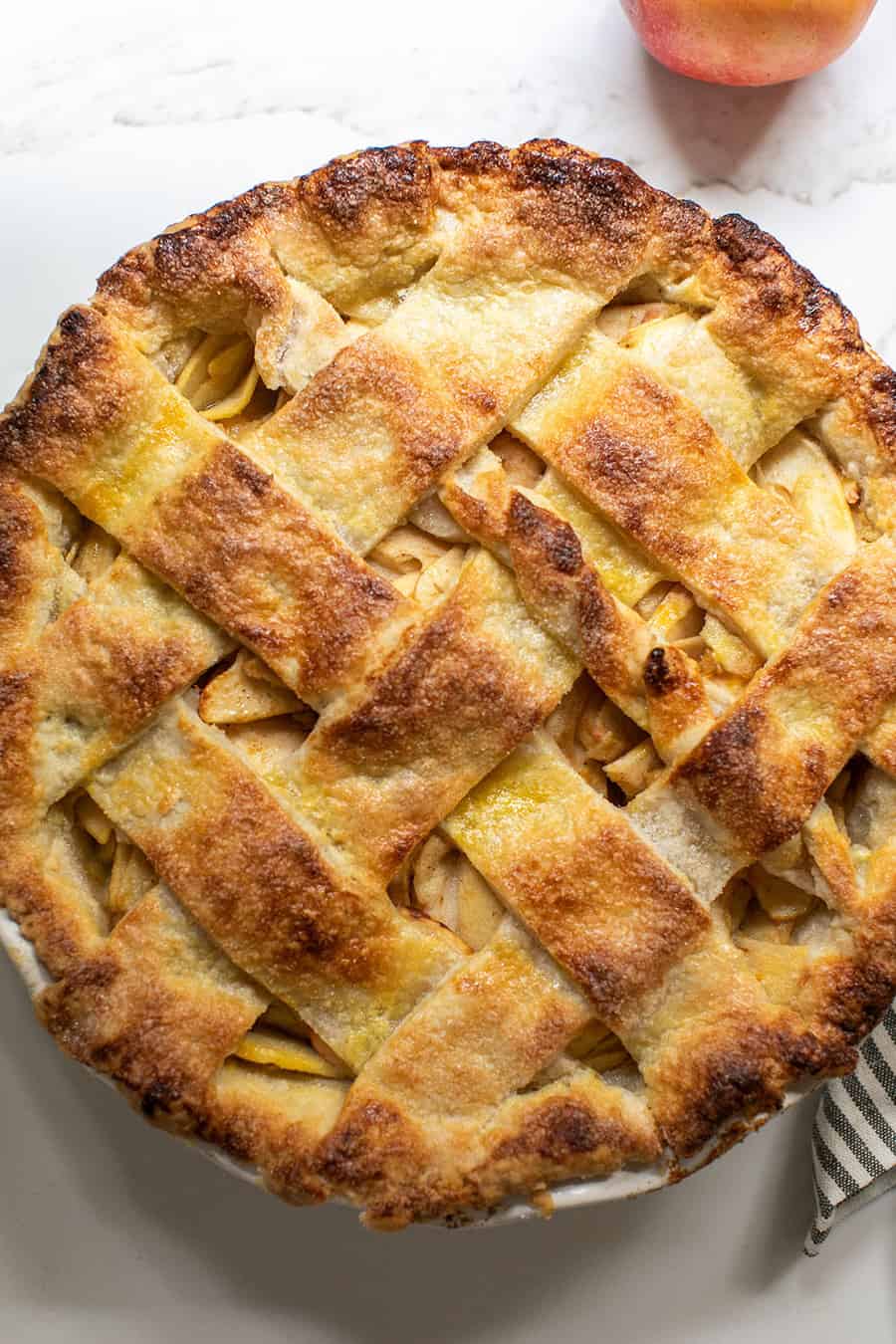 Let us know if you make this homemade apple pie recipe by leaving a review and comment below! We would love to know your thoughts!
You can also FOLLOW US on FACEBOOK, INSTAGRAM, and PINTEREST to see more delicious recipes, cocktails, desserts and parties!
This post may contain affiliate links. Please read our disclosure and privacy policy.
Homemade Apple Pie Recipe
A classic, delicious apple pie recipe with spices, sour cream and rum! Bake in a battery crust, this will be your favorite apple pie recipe!
Print
Pin
Rate
Ingredients
Apple Pie Filling
6

apples

,

peeled and thinly sliced

3/4

cup

granulated sugar

3

tbsp

flour

2

tbsp

orange zest

1/4

tsp

cinnamon

1/4

tsp

cardamom

1/8

tsp

nutmeg

1/8

tsp

cloves

1/8

tsp

salt

2

tsp

sour cream

1

tbsp

rum

,

or bourbon
Egg Wash
1

egg yolk

2

tbsp

heavy cream

1/8

cup

granulated sugar
Instructions
Make our buttery pie crust and divide it in half. One will be for the bottom and one for the top of the pie.

Roll out 1/2 of the pie crust on parchment paper.

Add the crust to a deep-dish pie pan. It's okay to have an overhang of dough as you'll be creating a top to the pie later.

Refrigerate the crust until you're ready to add the apples.

Slice them VERY thinly so they can become tender when baking.

Add all of the apple pie filling ingredients into a mixing bowl.

Using a spatula, fold the apples and the ingredients together until the apples are coated.

Add the apples evenly into the pie crust.

Next, roll out the other half of the pie crust. Then using a knife cut 2" strips to make a lattice top. You can also do a twist or use pie crust cutouts.

Add the dough to the top of the apples, weaving them together to make the top.

Remove the extra dough and pinch together a crust. It does not need to be perfect!

Whisk the egg yolk and cream together and brush all over the pie crust.

Sprinkle sugar over the top.

Cook the pie in a preheated 400-degree oven on the third rack to the bottom

Bake the pie for 45 minutes until the top is golden brown.

Then, cover it with foil (so it doesn't burn) and bake for another 20 minutes.

Continue checking to make sure the pie is not burning on the top. It's okay to have the edges very dark brown, it looks pretty that way!

Let the pie sit for 3 to 4 hours while it thickens.

Serve with vanilla ice cream.
Nutrition
Calories:
1297
kcal
|
Carbohydrates:
322
g
|
Protein:
6
g
|
Fat:
4
g
|
Saturated Fat:
1
g
|
Cholesterol:
4
mg
|
Sodium:
311
mg
|
Potassium:
1168
mg
|
Fiber:
28
g
|
Sugar:
264
g
|
Vitamin A:
640
IU
|
Vitamin C:
67
mg
|
Calcium:
85
mg
|
Iron:
2
mg