Big Sur is a magical, rugged stretch of stunning beaches, hikes, and cliffs in northern California. We took one day to explore it when we were visiting Carmel and this is what we did…
It's about a 20-minute scenic drive to Big Sur from Carmel. First, we stopped at Big Sur bakery for the most delicious coffee and pastries. The bakery was built in 1936 and it's a must-visit when you're in Big Sur! It has a very cozy atmosphere and sits nestled in the Redwoods.
You can also see 10 reasons to visit Carmel and 4 Days in Napa.
We went to Big Sur to see the sites and the peaceful trails this California gem is known for. McWay Falls in Julia Pfeiffer Burns State Park was beyond amazing.
It's a short walk to the most stunning waterfall which spits its water out directly on the sand! It looked like a post card! This scenic view alone is on several top lists for most beautiful places to see.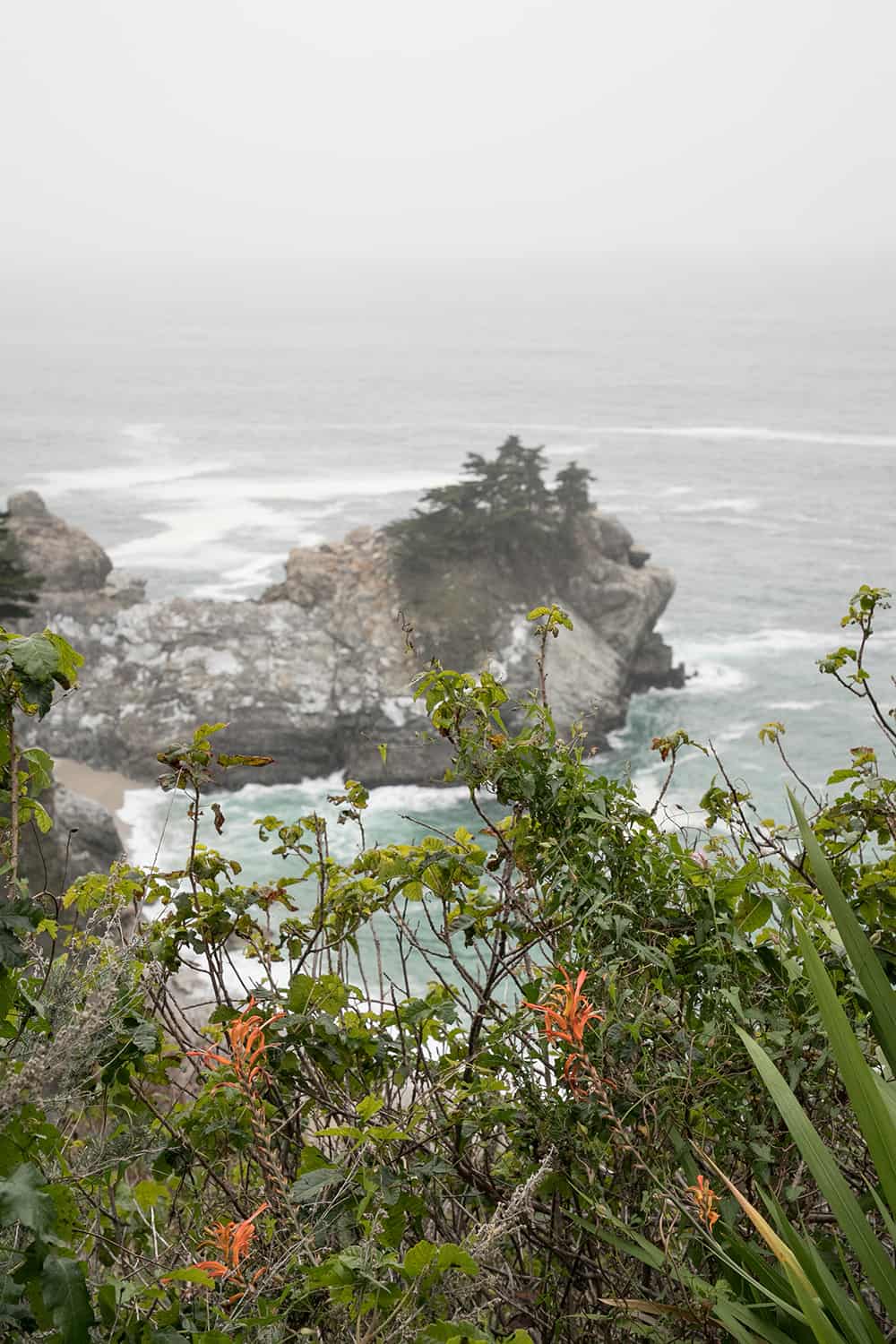 My favorite hike and hands-down the most pretty beach was China Cove Beach at Point Lobos State Reserve. We were walking along the trail and turned a corner to see a stunning, white sand beach and turquoise water. The last time a beach took my breath away was in Tulum and I was 16 years old! It was such a treat to see such a serene beach in our own state.
If you keep walking the trail in Point Lobos you get to Gibson Beach, where there are steps down to the white sand. Gorgeous houses sit on the cliffside and it's the perfect spot to sit and just take in the beauty. It's incredibly peaceful.
After our long walks we were in desperate need of a good lunch and a glass of wine! We went to California Market at Pacific's Edge in the Hytatt. There is a vast view of the ocean and the food was really great. We wanted to have dinner at Nepenthe that evening, but it was a little foggy so we decided to make our way back to Carmel.
Even though it was a little rainy the day we were there, we still had a lovely afternoon in Big Sur and I look forward to going back! I discovered the newly remodeled Ventana which we really want to stay at next time! You'll swoon when you see the pictures on their site.
Hope you're inspired to check out Big Sur for yourself one day! You won't be disappointed. Stay charming!
This post is in partnership with See Monterey.