This coconut loaf cake is buttery and full of coconut flavor! It's easy to make and has a 3 ingredient homemade coconut glaze poured over the top. The perfect recipe for brunch, Easter, and even Christmas!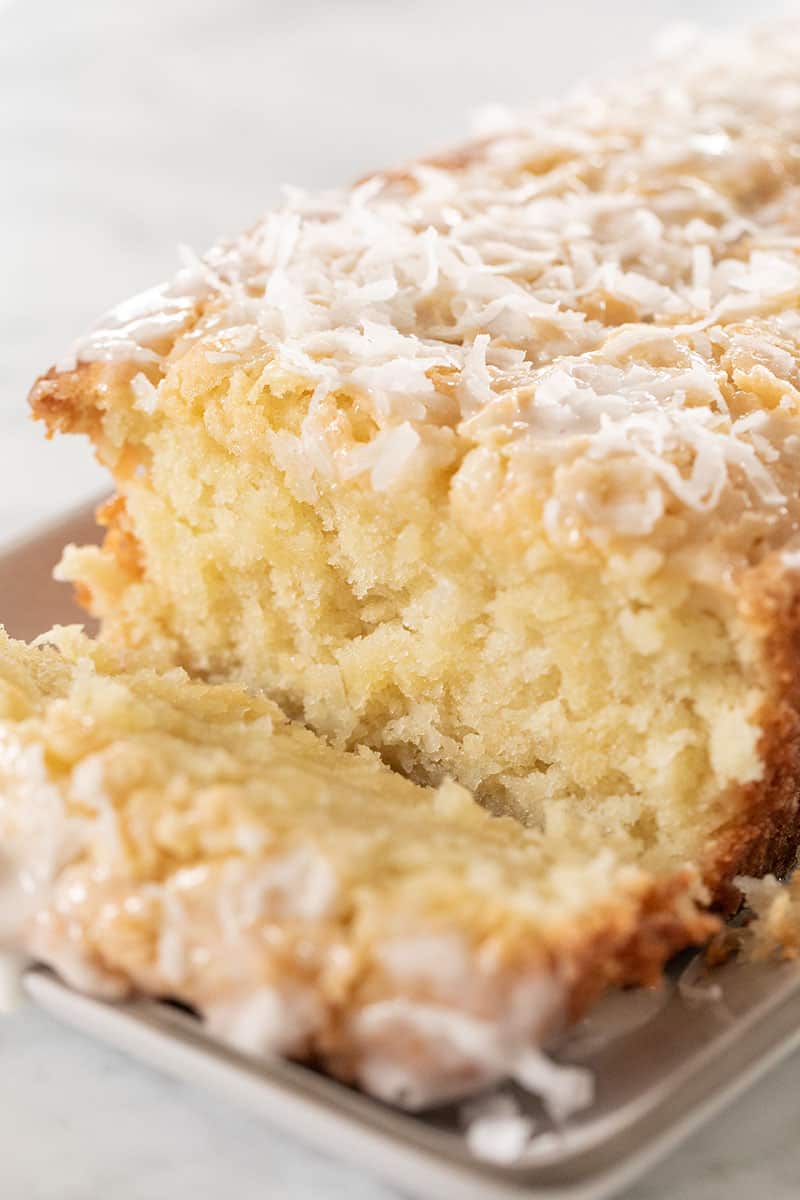 In the fall we are obsessed with making our pumpkin loaf and starting in spring, we're all about our banana bread (it's the best) and using coconut in our recipes to make this delicious loaf!
The tropical flavor makes us excited for warmer days, sitting outside with a coconut rum pineapple popsicle or a coconut margarita in hand and enjoying the beautiful spring evenings!
If you're looking for a deliciously, sweet and buttery bread to add to your spring menu you must try this coconut loaf cake. It's the perfect dessert to add to your brunch menu. It has a rich and super moist texture and is one of our most popular recipes to date!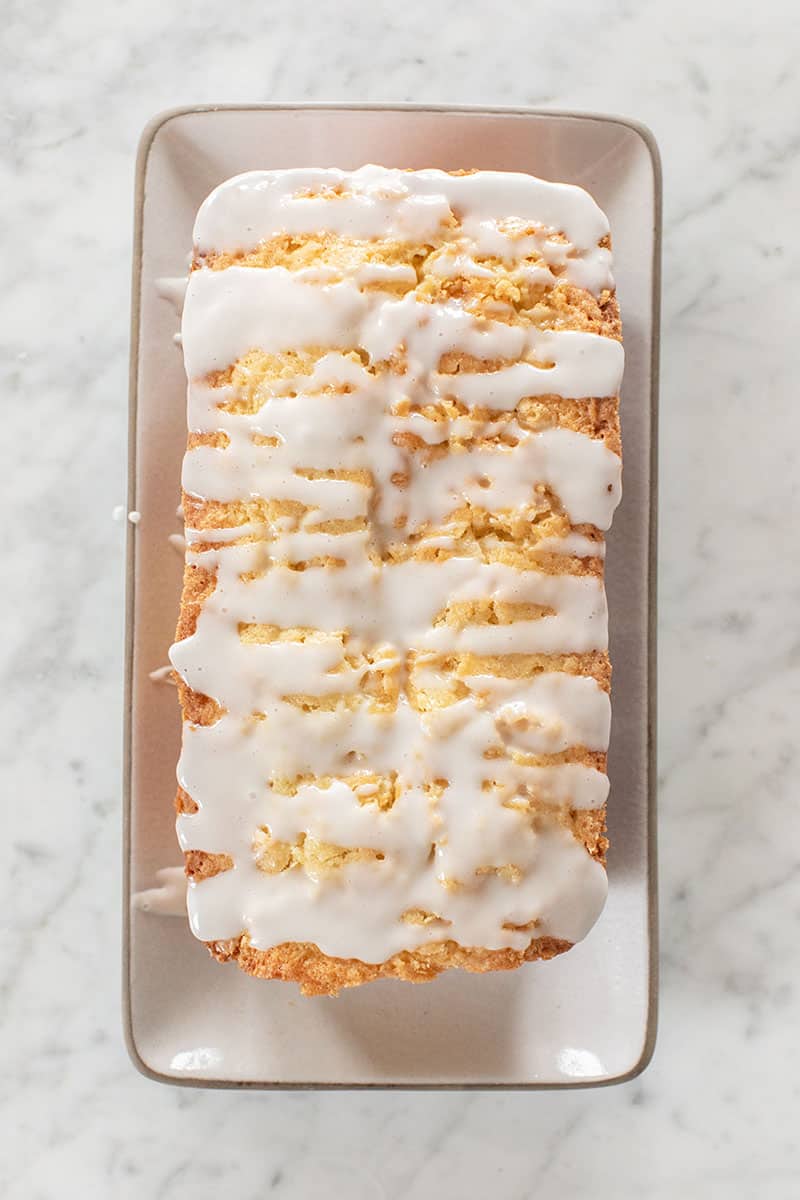 You may also love our monkey bread recipe as well as monkey bread muffins for brunch too.
Coconut Loaf Cake Video
What Is a Loaf Cake?
A loaf cake is a buttery, moist cake. It usually features fruit flavors such as strawberry, pumpkin, and, in this case, coconut. Then it's usually topped with a glaze or icing and served at room temperature.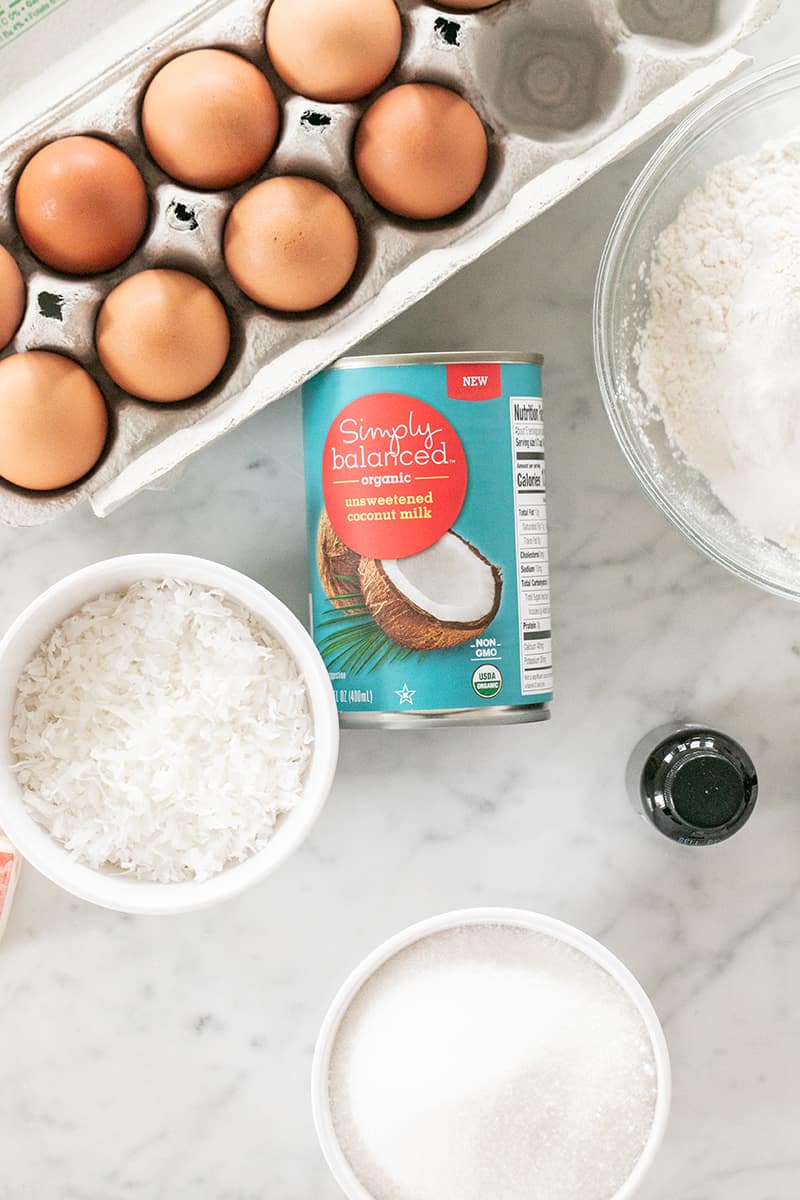 How to Make a Coconut Loaf Cake
We'll cover everything you need to know to make this recipe, answer questions and share our tips. If you prefer to head to the recipe card, scroll to the bottom of this post.
Supplies
Here are a few items you'll need to make this cake:
Ingredient Notes
Butter – Unsalted butter. Use good quality butter when making this recipe.
Granulated Sugar – Used to sweeten this loaf cake.
Eggs – Use organic eggs if possible. Eggs help stabilize and add moisture to the recipe.
Vanilla Extract + Almond Extract – Both should be pure extracts.
Unsweetened Coconut Milk – Canned coconut milk is great.
Shredded Coconut – Any brand of shredded coconut you like.
Salt – Enhances the flavor of other ingredients.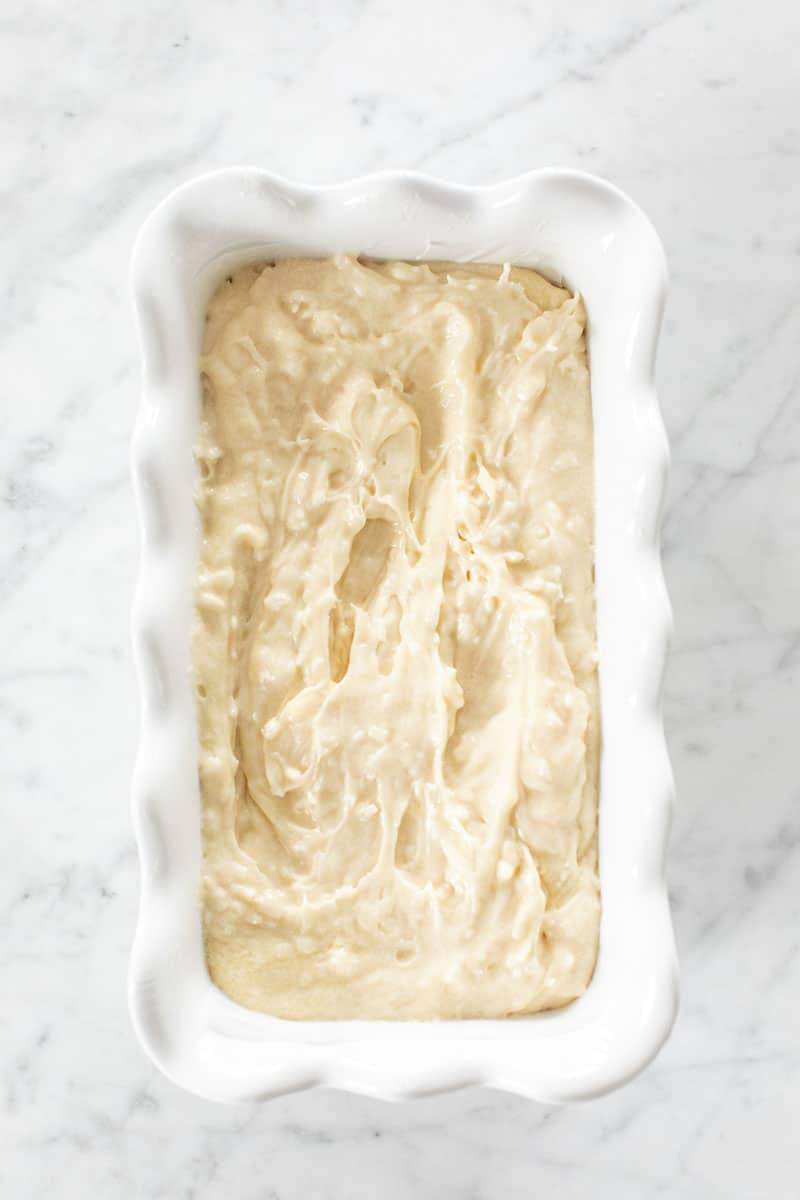 Tip: Leave a small amount of parchment paper hanging out for easy removal of the loaf.
Tips for Making a Loaf Cake
Always use the highest quality ingredients when making loaf cake. This means, whole butter, good flour, organic eggs, and good quality extracts.
Use a ceramic loaf pan for even baking.
We estimate the cooking time to be 60-70 minutes. However, everyone's oven is different so check the loaf after 50 minutes. Always use a toothpick to check the center before removing the loaf from the oven.
Use room temperature ingredients when possible.
Always scrape down the sides and bottom of the bowl.
The pan you use affects the cooking time. Glass, tin, or ceramic are all completely different materials and the cooking time will vary depending on this.
We personally like the ceramic loaf pan and the cake does bake a little quicker when using it. The bottom line is, bake the cake until it's done! The middle will rise and the cake will be done.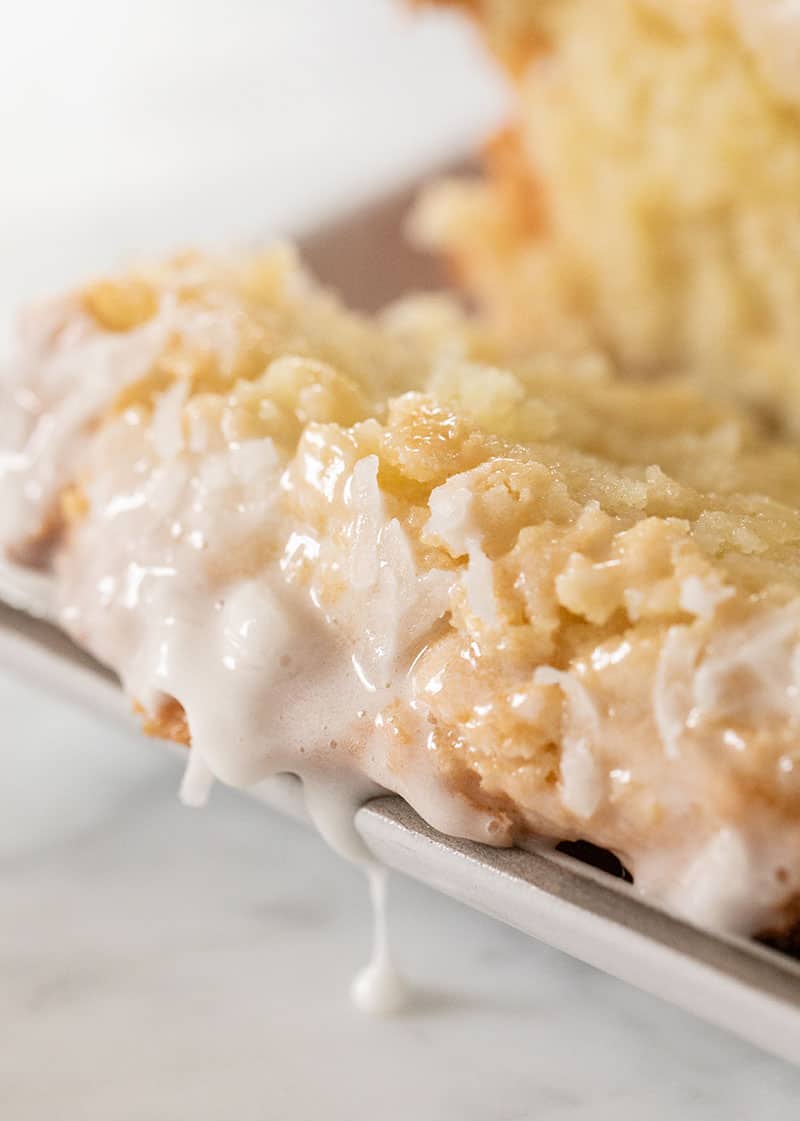 How to Make Coconut Glaze
The coconut glaze is created with only 3 simple ingredients, one bowl, and no mixer! It's poured over the top of the loaf and adds a little extra sweetness and flavor.
If you don't want to make this glaze, you can also try our homemade caramel sauce over the top.
Ingredients for Coconut Glaze
Coconut Milk – Use the leftover milk in the can from the loaf.
Confections' Sugar – Used to sweeten glaze and frostings.
Vanilla Extract – Enhances and adds flavor.
Pro Tip – Use canned coconut milk as it's different from the coconut milk you drink in the carton. Canned is thicker and has more coconut fat.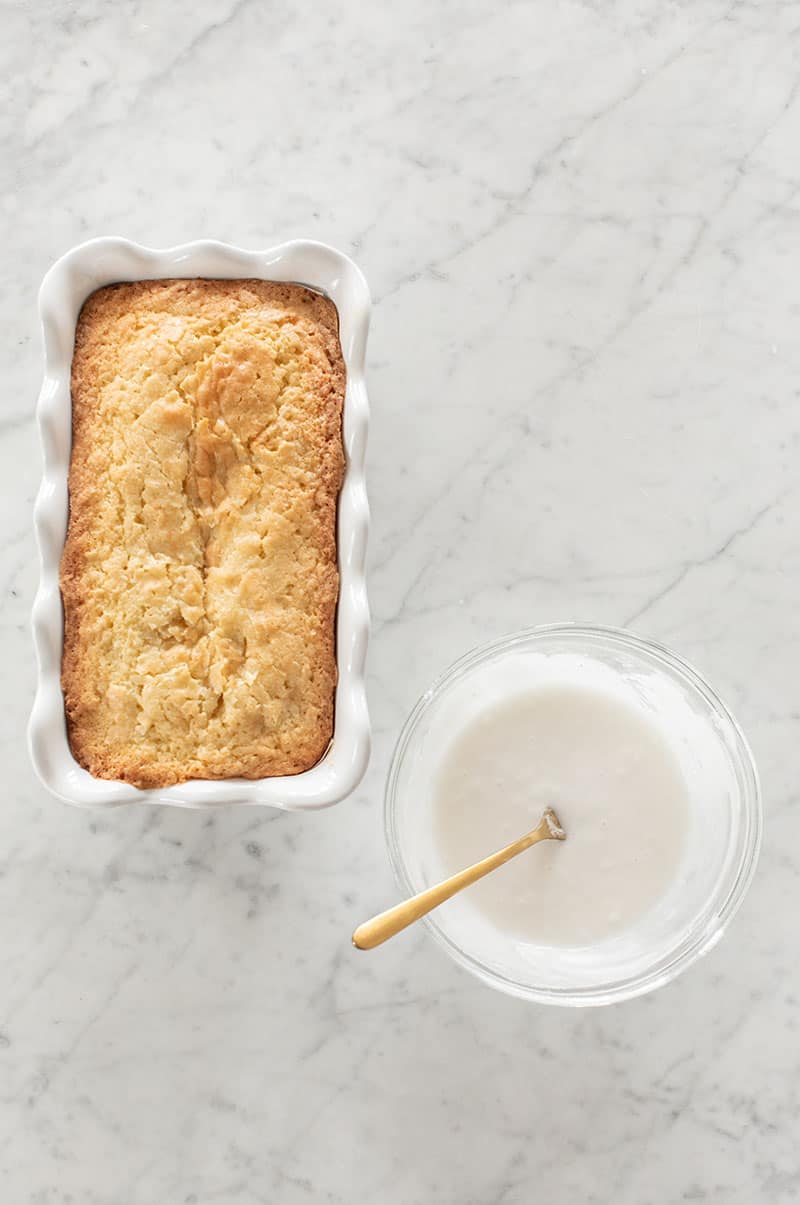 Removing the Loaf
When the loaf cake is done, you serve it from the pan, with the glaze poured over the top OR remove the loaf cake from the pan, serve it on a small platter, and pour the glaze over it.
The easiest way to remove the loaf cake is by pulling it up on the two sides of the parchment paper. This is why we always suggest leaving a small amount at the top to grab for easy removal.
How can you tell if a cake is done without a toothpick?
Insert the toothpick into the center of the cake and if the toothpick comes out clean the cake is done. If it comes out with batter, the cake needs more time to cook.
If you take the loaf out too early it will fall in the center. However, we personally do like to take it out about a minute before it is fully done cooking so it's not overcooked.
Additionally, you don't have to have a toothpick to test the center. A clean sharp knife will work as well.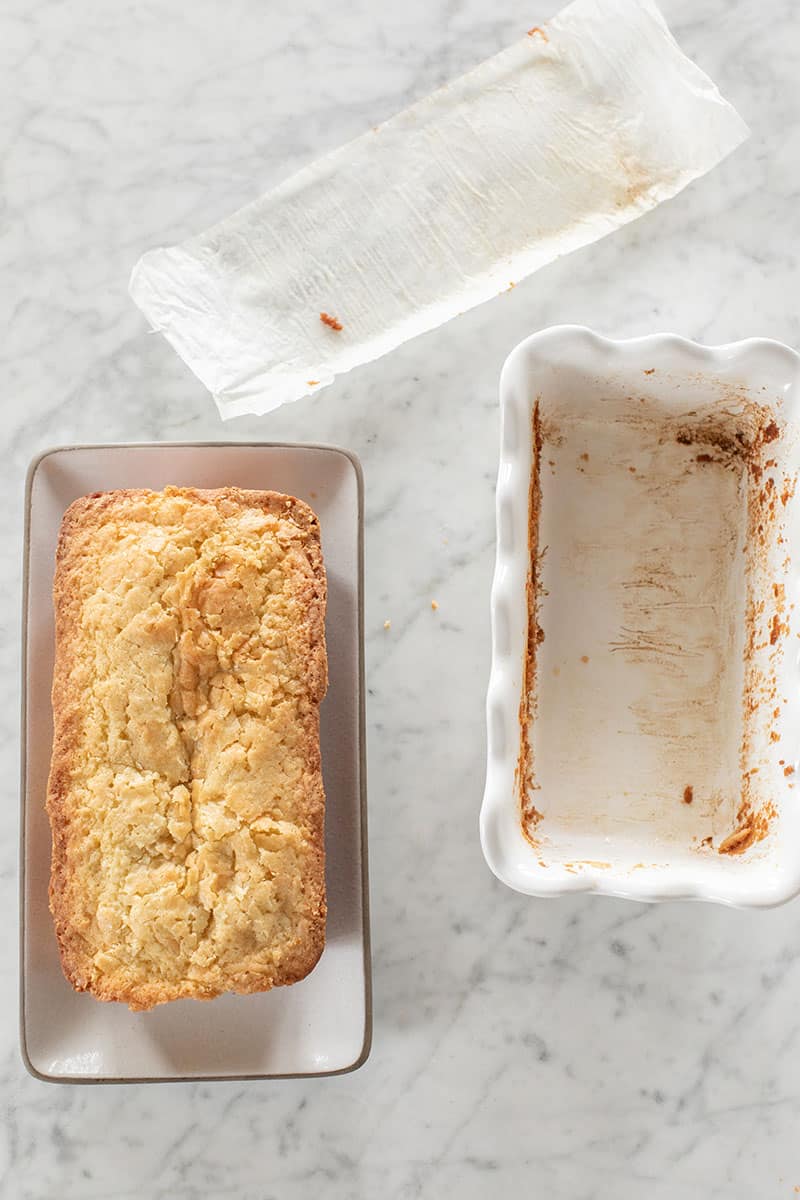 Loaf Pan
A loaf pan is a rectangular pan used for baking bread and loaves. If you like to bake, it's a good idea to invest in one good loaf pan that you will have forever.
Our favorite is Emile Henry's ceramic pan. It's made from Burgundian clay, which absorbs, distributes, and retains heat evenly, so bread and casseroles bake and brown to perfection.
When to Serve this Coconut Loaf Cake
This buttery loaf cake is perfect for so many occasions! Here are a few of our favorites:
Spring Snack
Potluck
What to Serve with Coconut Loaf Cake
We love this recipe year-round! Here are some recipes you can serve with this coconut bread: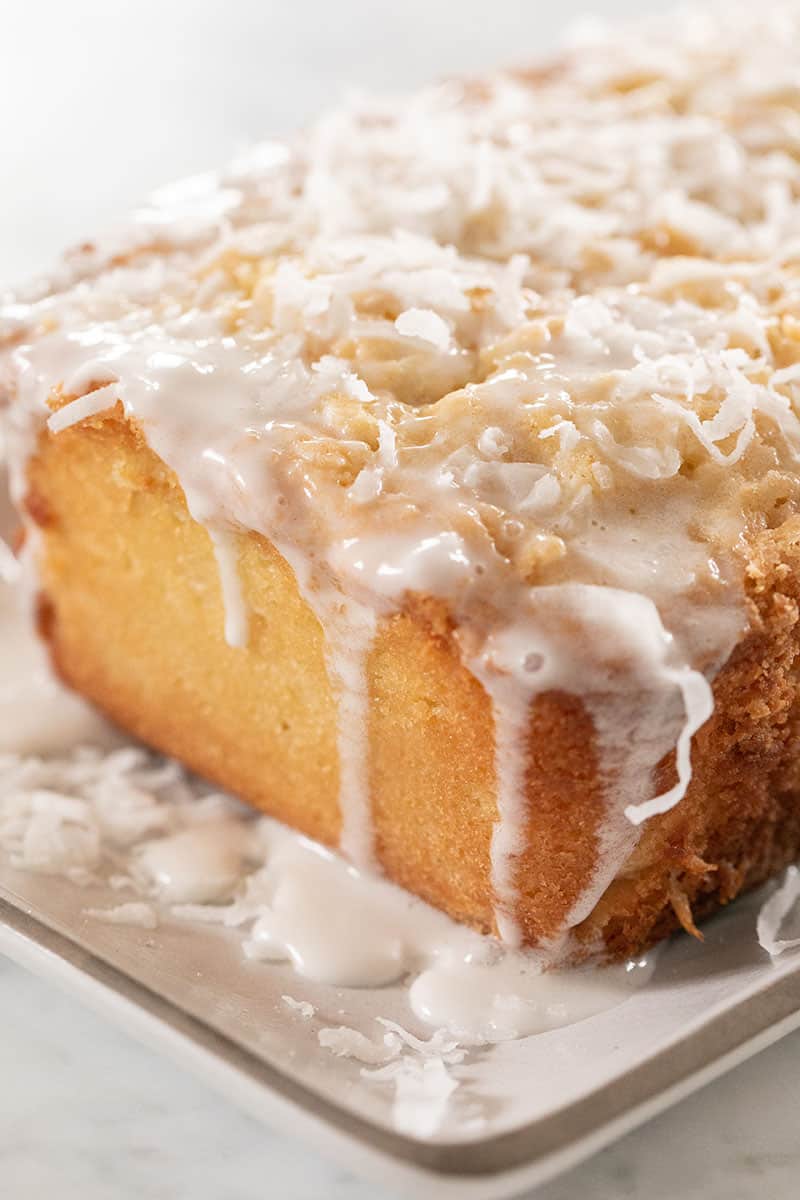 Frequently Asked Questions
The challenge that every baker faces is learning how to get each of their favorite recipes perfect. This often takes years of practice. Many bakers will tell you some recipes are more fickle than others.
How, for example, do you make the perfect coconut cake recipe? What prevents it from drying out in the oven? What's the best pan to bake it in?
These are excellent questions that experienced bakers ask themselves before starting a new recipe. Read on for some great baking tips and answers to your coconut cake questions.
Why Is My Coconut Cake Dry?
A dry loaf cake is a problem many bakers discover when trying a new recipe. There are two reasons why you might find your fresh-baked coconut cake dry:
Too much flour
Baked too long
Both of these issues either absorb or evaporate the liquid in the batter. As a result, you find your coconut cake dry when you pull it out.
How Do You Store a Coconut Loaf?
Your loaf cake doesn't have preservatives in it, so it's best to eat it quickly if you want it to stay on your kitchen counter until it's gone. Otherwise, storing it in the fridge or freezer is probably a good idea.
What Makes a Cake Moist?
A moist cake comes out of the oven that way because of the fluids used in it. In this case, this would be the butter, eggs, and coconut milk.
Why Does My Loaf Cake Crack?
It's very common for a loaf cake to crack on top. When the batter bakes, the heat causes it to rise. When it starts rising over the top of the pan, then it spreads outward. This often causes the top to crack.
Is Loaf Cake the Same as Pound Cake?
No, loaf cake and pound cake are not the same. A pound cake gets its name from the traditional way of making it. This requires a pound of each ingredient to make the batter.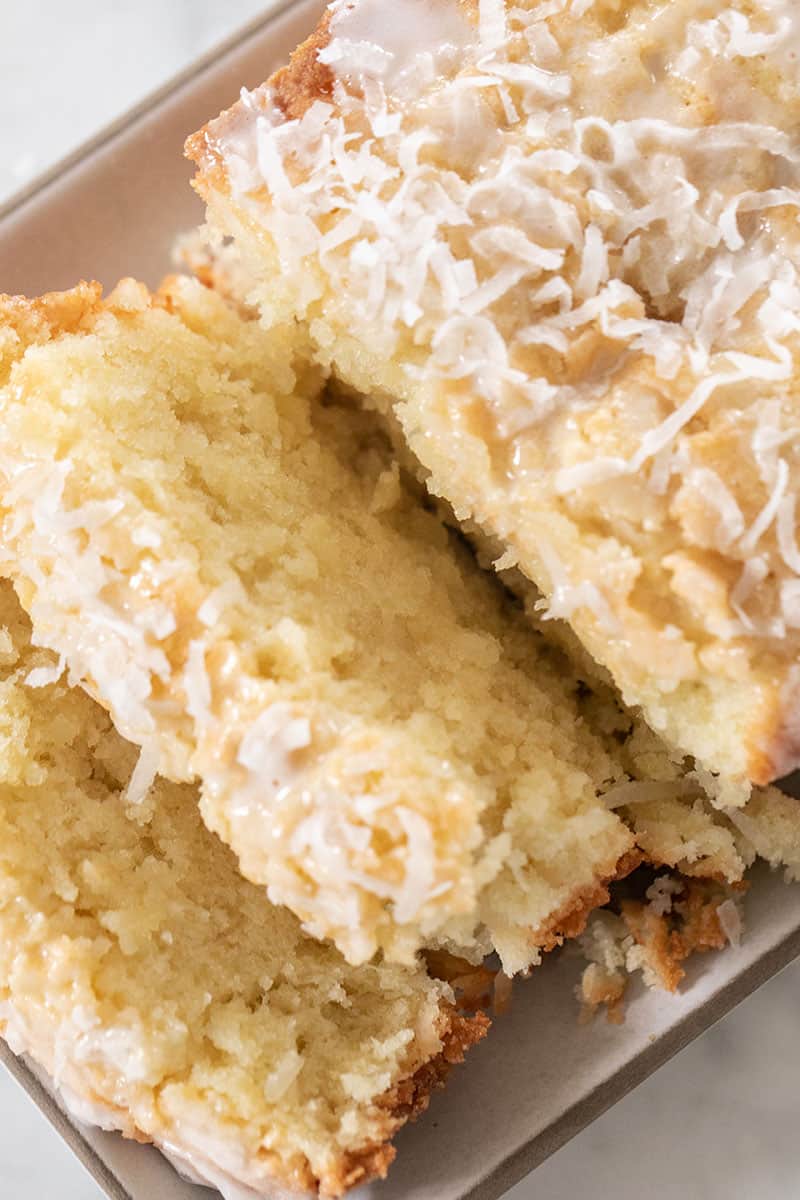 More Cake Recipes You'll Love
If you love this coconut loaf, then you have to try these cake recipes!
Let us know what you think!
Let us know if you make this coconut loaf cake by leaving a comment and review below! We love to hear your thoughts!
You can also FOLLOW US on FACEBOOK, INSTAGRAM, and PINTEREST to see more delicious recipes, cocktails, desserts, and parties!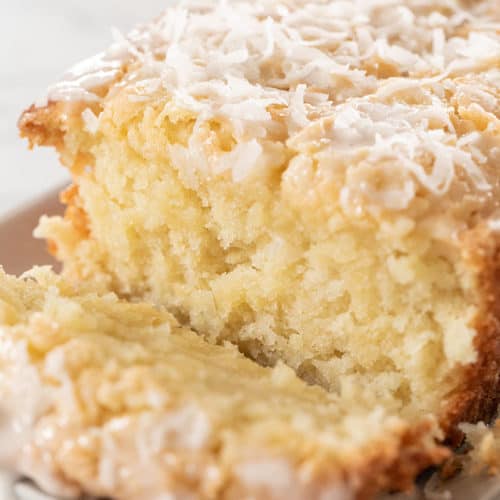 Coconut Loaf Cake
A buttery, coconut loaf cake topped with homemade coconut glaze. This cake is moist and delicious! Perfect for brunch!
Print
Pin
Rate
Ingredients
1

cup

unsalted butter

1 1/2

cup

granulated sugar

3

large

eggs

1/2

tsp

vanilla extract

1/2

tsp

almond extract

1 1/2

cups

all-purpose flour

1/2

tsp

baking powder

1

tsp

salt

1/2

cup

unsweetened coconut milk

,

canned

1

cup

shredded coconut

,

sweetened
Coconut Glaze
1

cup

confectioners' sugar

1/3

cup

unsweetened coconut milk

,

canned

1

tsp

vanilla extract
Instructions
Preheat the oven to 350 degrees.

In an electric mixer, with the paddle attachment, beat butter and sugar for about 3 minutes. 

While the butter and sugar are beating, combine flour, baking powder and salt in a bowl and give it a stir with a fork.

Add-in one egg at a time, beating just to incorporate.

Turn the mixer to low and alternate flour mixture and coconut milk until combined.

Scrape the sides and bottom of the bowl.

Add shredded coconut to the batter and give it one more quick mix.

Prepare a loaf pan (we use a ceramic loaf pan) with a strip of parchment paper and butter. 

Pour batter into the loaf pan, spread evenly, and bake for about 1 hour to 1 1/2 hours. THE TIME WILL VARY PER OVEN. You have to check the loaf and make sure it's finished. The top will be a golden brown and the center comes out (almost) clean with a toothpick. Please check the center with a toothpick to ensure the loaf is finished. If it's not, it will fall in the middle when you take it out.
Coconut Glaze
In a small bowl combines all of the ingredients and whisk using a fork until combined! 

Pour over the bread once it's cooled for 10-15 minutes.

Top the coconut loaf and glaze with shredded coconut. 
Notes
Cooking time varies. Use the toothpick method to check the loaf. Make sure the center is fully cooked before removing it from the oven. 
TIP – The pan you use will affect the cooking time. Glass, tin, or ceramic are all completely different materials and the cooking time will vary depending on this.
We like the ceramic loaf pan; the cake bakes a little quicker when using it. The bottom line is, bake the cake until it's done! The middle will rise and the cake will be done.

 If it takes 1 hour, 1 1/2 hours, or 2 hours.
NOTE – The pan you use will also affect cooking time. It's OKAY if the loaf takes 1 1/2 to 2 hours as long as you're checking it and the middle has risen. Once the middle rises remove it.
Nutrition
Calories:
5119
kcal
|
Carbohydrates:
620
g
|
Protein:
50
g
|
Fat:
282
g
|
Saturated Fat:
193
g
|
Cholesterol:
1121
mg
|
Sodium:
2870
mg
|
Potassium:
1572
mg
|
Fiber:
14
g
|
Sugar:
465
g
|
Vitamin A:
6591
IU
|
Vitamin C:
6
mg
|
Calcium:
332
mg
|
Iron:
17
mg