This chocolate orange cake is super moist, filled with orange flavor from fresh orange juice and zest, and has a rich chocolate flavor. It's easy to make and perfect to serve year-round!
This homemade cake is perfect for any celebration, a birthday party, or for chocolate lovers! My family went crazy for it, eating it right out of the pan! It's really the best cake topped with creamy chocolate frosting and an intense flavor of orange throughout. Truly one of our favorite dessert recipes!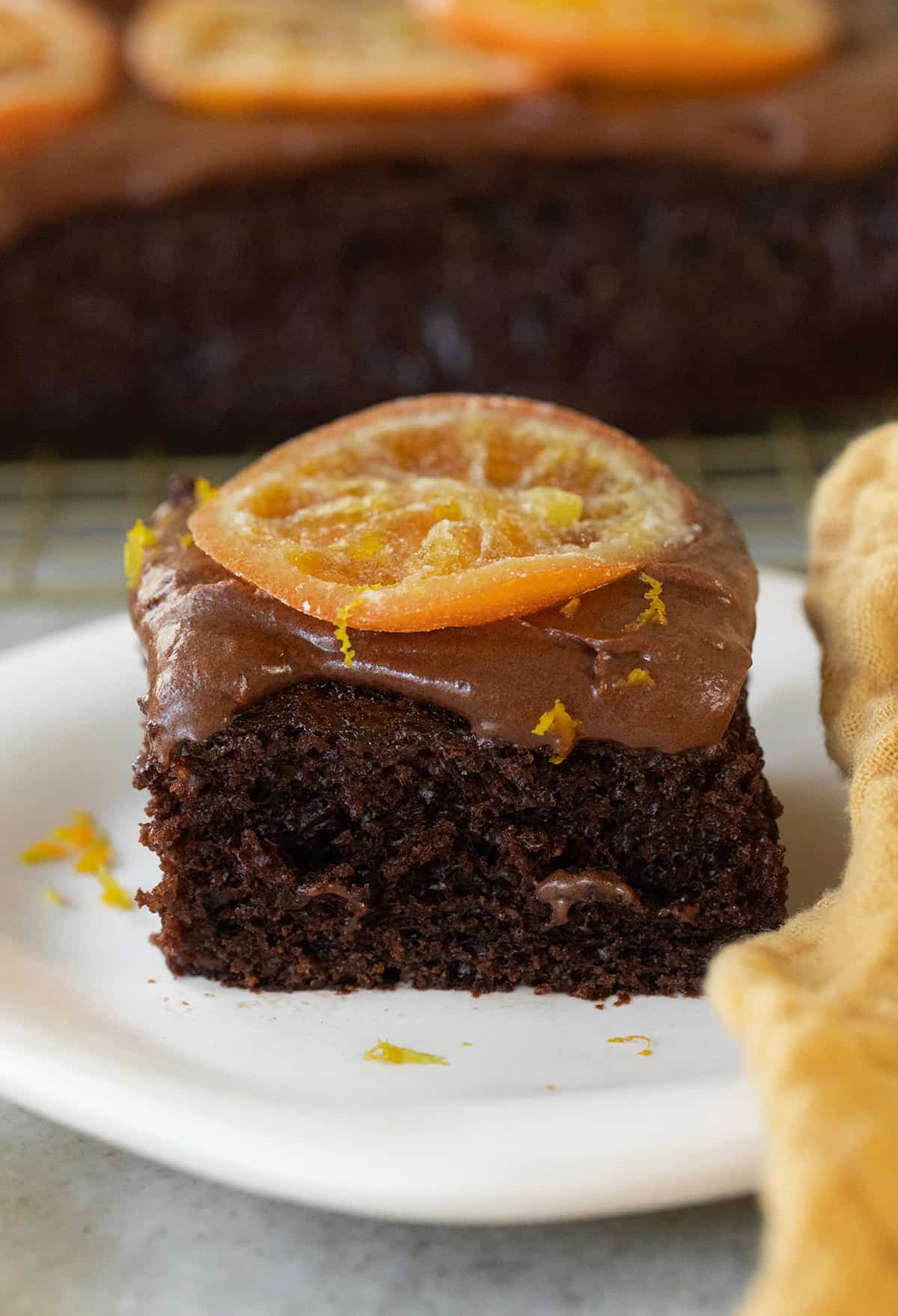 Why You'll Love This Cake
Each bite is filled with rich chocolatey flavor, and zesty orange notes that come through make it simply irresistible!
This chocolate orange cake is incredibly delicious! The orange flavor comes through in every bite, and the combination of orange zest, orange juice, and a sour cream chocolate orange frosting creates an irresistibly moist and flavorful cake.
The chocolate cake is incredibly moist, and fluffy and has a very tender texture.
It's an easy-to-make sheet to make but can also be made into round cake layers too.
How to Make A Chocolate Orange Cake
We will cover everything you need to know to make this orange cake recipe, answer questions and share our expert tips.
If you prefer to jump to the recipe below, scroll to the bottom of the post where you'll find the recipe card, measurements, and directions.
Baking Supplies
Here are a few baking tools you'll need to make this cake: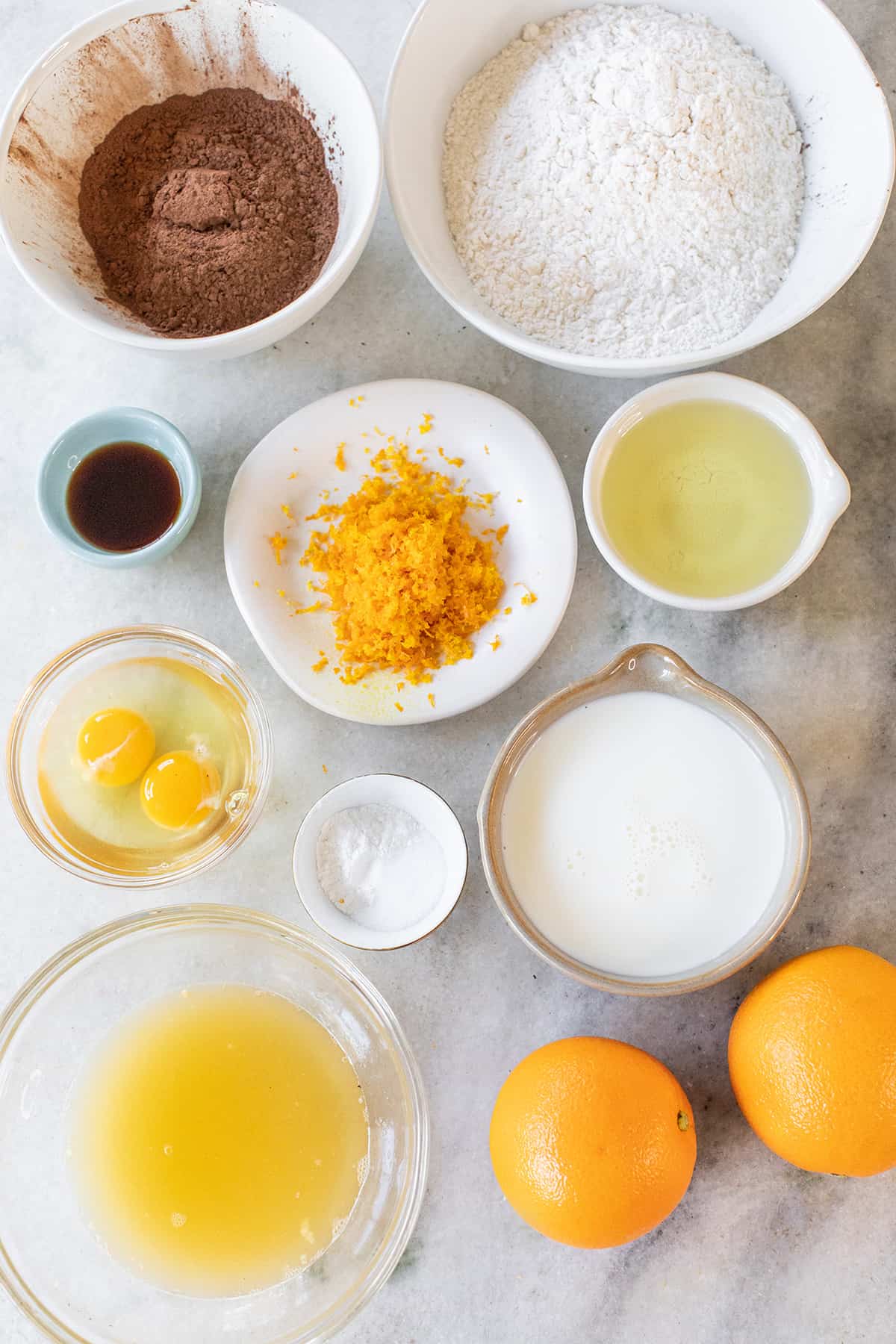 Ingredient Notes
This cake is made with simple ingredients you can find at your local grocery store.
Granulated Sugar – We use white sugar to sweeten this cake. You can also use monk fruit sweetener if you prefer a healthier option.
All-Purpose Flour – This is the best flour for this recipe. You can also use whole wheat or gluten-free 1:1 baking flour if you prefer.
Unsweetened Cocoa Powder – We prefer the classic Hershey cocoa powder for this cake. You can use any unsweetened cocoa powder you like.
Baking Soda and Baking Powder – These are both essential for making the cake light and fluffy as they act as leavening agents.
Salt – A pinch of salt will enhance the flavor and balance out the sweetness.
Eggs – Use large organic eggs when making this cake.
Whole Milk – We prefer to use whole milk in this recipe, but you can also use 2% if that's what you have on hand.
Vegetable Oil – We prefer vegetable oil for this cake as it creates a moist and dense texture. You can also use canola oil too. Coconut oil would also work, however, it would change the flavor of the cake.
Vanilla Extract – Use pure vanilla extract for best results.
Boiling Hot Water – This will help to create a richer, more intense chocolate flavor.
Orange Juice and Zest – You'll need both fresh orange juice and zest to create the delicious orange flavor in this cake. Both of these combined give the cake an incredible orange flavor.
Tips For Making This Chocolate Orange Cake
Use room-temperature eggs and milk for best results. Cold ingredients won't mix together properly.
When baking, use good-quality ingredients for the best outcome.
Oven temperatures will always vary, always check the cake a few minutes before the timer goes off so you don't overbake the cake.
Always bake in a preheated oven and prefer the cake pan with oil and parchment paper before.
Let the cake cool completely before frosting. The frosting will melt if the cake isn't cooled.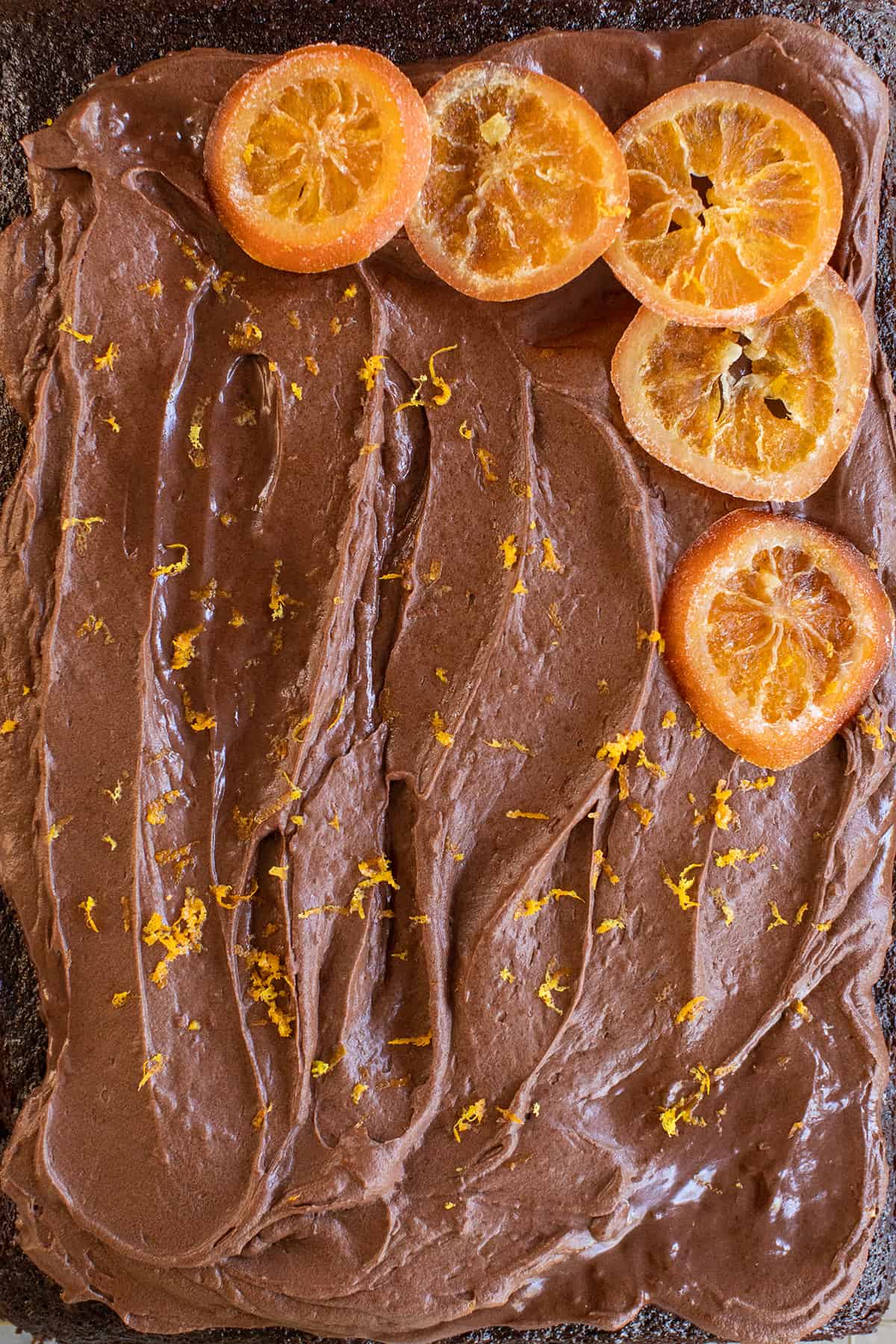 Sour Cream Orange Buttercream
We've altered our classic sour cream chocolate frosting for this cake. The recipe is cut in half and we have added 2 tbsp orange zest and 1 tbsp orange juice. It goes so well with this cake! You can also make a classic buttercream frosting and add orange juice and zest.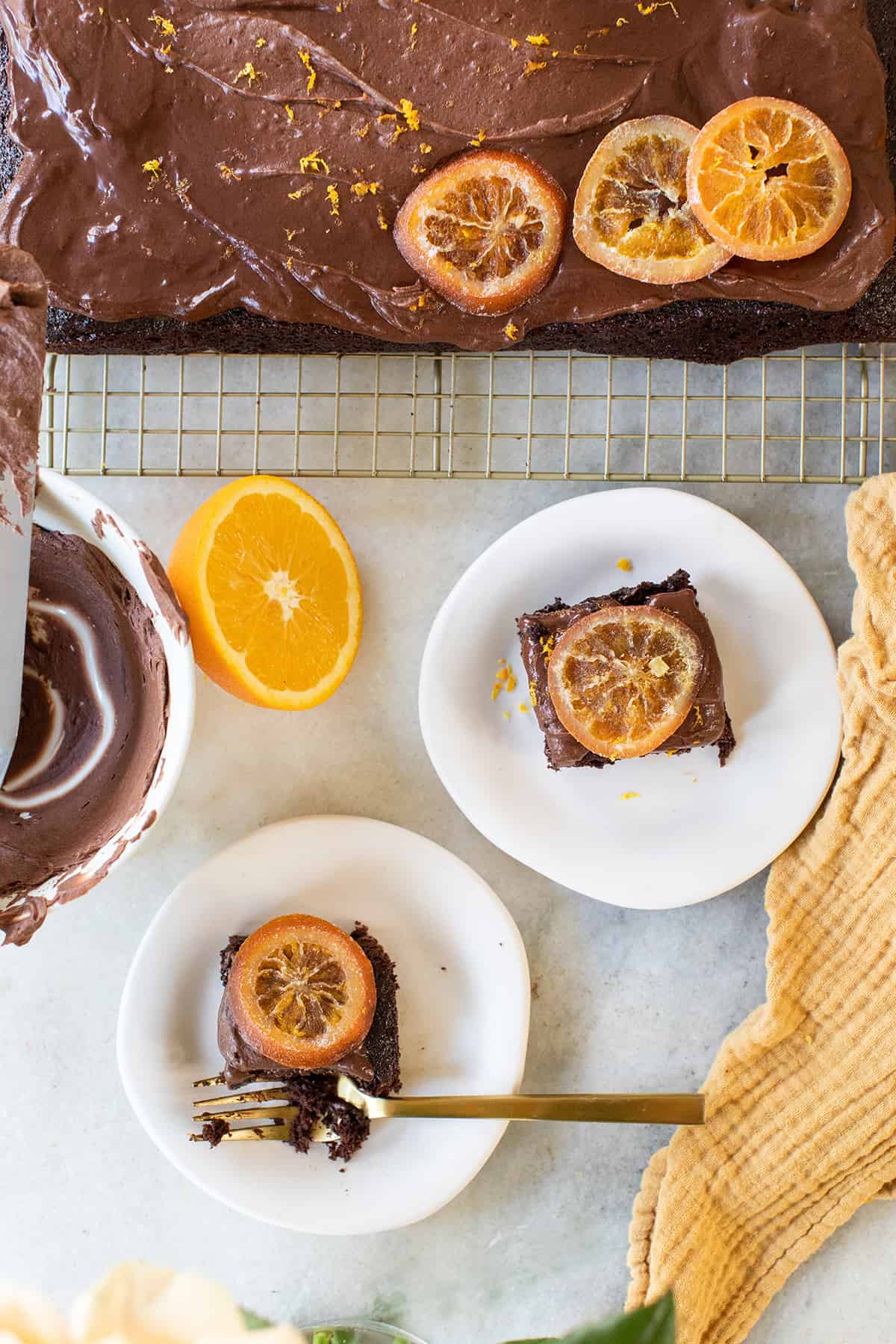 Cake Recipe Variations
If you are looking for some delicious variations on this cake, here are a few ideas:
Add chopped nuts such as walnuts or pecans to the batter.
Make it gluten-free by using gluten-free baking flour.
Top with a chocolate ganache instead of frosting.
Add chocolate chips to the batter or frosting.
Add a few tablespoons of instant espresso powder to the batter for a mocha flavor.
Drizzle the cake with an orange glaze for added sweetness.
Add some ground cinnamon or nutmeg to the batter for a spiced flavor.
How to Store This Cake
Have leftovers? Here's how you can store this cake to keep it fresh:
Refrigerate
This cake can be stored in the fridge for up to 3 days. It will stay fresh and moist when it's kept in an airtight container.
Freeze
This cake can also be frozen for up to 3 months. Ensure it's stored in an airtight container or wrap it in plastic to prevent freezer burn. Once you're ready to enjoy the cake, leave it at room temperature for a few hours before serving.
Cake to Cupcakes
If you want to make this recipe into cupcakes, here's how you can do it:
Preheat the oven to 350 degrees F and line a cupcake tin with paper liners.
Follow the same instructions for making the cake batter.
Fill each cupcake liner 2/3 full with batter and bake for about 15 minutes.
Let the cupcakes cool completely before frosting them.
Orange Garnishes
There are several ways you can garnish this cake with oranges:
Candy Oranges – You can buy candied orange slices at the store and use this to lay over the top of the cake.
Dehydrated Oranges – These are great for decorating the cake and look beautiful layered over the top of the chocolate frosting.
Fresh Oranges – You can use freshly sliced oranges to decorate the cake. We recommend patting them down first to remove some of the juice.
Orange Zest – This gives off the most delicious flavor and fragrance. It also looks beautiful on the cake!
We also love using edible flowers as cake garnishes. Orange flowers such as pansies would look beautiful on this cake.
When to Serve this Chocolate Orange Cake
This delicious cake is great for special occasions, holidays, or just a treat. Serve this as an It's also perfect for potlucks, birthdays, family gatherings, and more. No matter what the occasion is, this cake will be a hit!
What to Serve with This Cake
We love to serve this cake with fresh fruit or a fruit and cheese platter. You can also serve it with any of our orange juice cocktail recipes or just a nice glass of cucumber lemon water.
Frequently Asked Questions
Do chocolate and orange go together?
Yes, chocolate and orange are a great combination of flavors. When combined together they create a unique flavor that is delicious!
What is the best combination for chocolate cake?
The best flavor combination for a chocolate cake is dark chocolate and orange. The deep, rich flavor of the dark chocolate pairs perfectly with the sweetness of the orange.
What's the secret to a moist cake?
The secret to a moist cake is the ratio of dry and wet ingredients. Other things help such as oil, eggs, and boiling water. The boiling water will help the chocolate bloom and creates a rich flavor and super moist texture.
Can I use an alternative to orange juice and zest?
We prefer fresh orange juice and a lot of orange zest for this recipe. However, you can also use the orange extract for a subtle flavor.
Can I make this cake ahead of time?
This cake can be made ahead of time. Prepare the cake according to instructions and allow it to cool completely before wrapping it tightly in plastic wrap and refrigerating for up to 3 days. You can also freeze the cake for up to 3 months, just make sure it's completely sealed in an airtight container or wrap.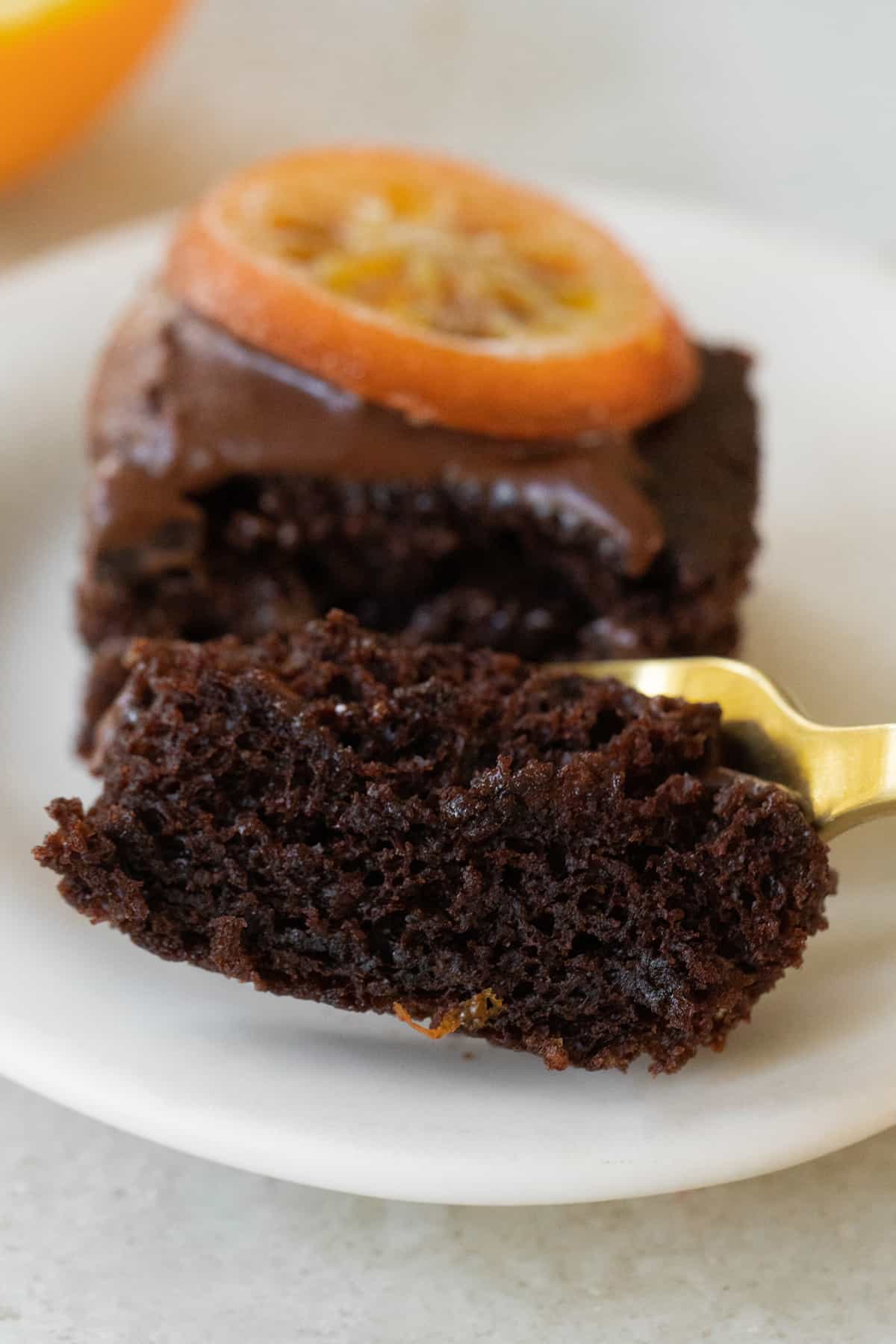 More Cake Recipes You'll Love
Are you looking for more delicious cake recipes? We've got you covered! Check out these incredible cakes below:
The Best Buttermilk Cake Recipe
The Best Homemade Funfetti Sheet Cake
Let us know what you think!
Now that you know everything you need to make the best chocolate orange cake, let us know what you think by leaving a comment and review below. We would love to know your thoughts!
You can also FOLLOW US on FACEBOOK and PINTEREST to see more delicious recipes, cocktails, desserts, and parties!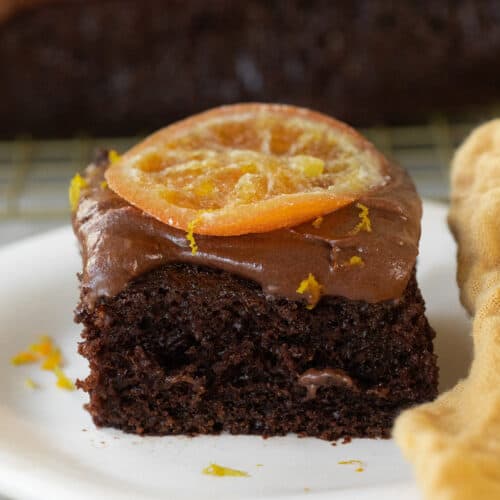 Chocolate Orange Cake
A super moist, rich chocolate orange cake recipe that is perfect to serve year-round.
Print
Pin
Rate
Ingredients
Chocolate Orange Cake Batter
2

cups

granulated sugar

1 3/4

cups

all-purpose flour

3/4

cup

unsweetened cocoa powder

1 1/2

tsp

baking soda

1 1/2

tsp

baking powder

1

tsp

salt

2

large

eggs

1

cup

whole milk

1/2

cup

vegetable oil

2

tsp

vanilla extract

1/2

cup

orange juice

5

tbsp

orange zest

3/4

cup

boiling water
Chocolate Sour Cream Frosting
4

ounces

unsalted butter

4

ounces

bittersweet chocolate

1 1/2

cups

powdered sugar

,

confectioners sugar

4

ounces

sour cream

2

tbsp

orange zest

1

tbsp

orange juice
Instructions
Chocolate Orange Cake
Preheat the oven to 350 degrees.

Measure the dry ingredients (including the sugar) into a mixing bowl. If using a stand mixer, use the fitted bowl for the dry ingredients.

In another bowl or liquid measuring cup add all of the wet ingredients (including the orange zest and juice) except the boiling water which gets added at the end. 

With the mixer on low, slowly add the wet ingredients to the dry ingredients. Scrape down the sides and bottom of the bowl to make sure everything is mixing. Turn the mixer to medium for about 30 seconds, then back to low.

With the mixer on low, slowly add 3/4 cup of boiling water. The batter will have a liquid texture to it and that's how you want it to be.

A 9×13 baking pan is perfect for this cake. Oil it well and use some parchment paper on the bottom so the cake will be easy to remove.

Bake for 30 minutes until the cake has risen in the center.
Chocolate Orange Sour Cream
Over low heat, melt the butter and chocolate together in a small saucepan until the chocolate is melted. 

Pour into an electric mixer with the whisk attachment on low speed.

Add in the vanilla and powdered sugar and whisk. It will get really thick, but keep whisking. Make sure to scrape the bottom of the bowl, so you don't have lumps of chocolate in your finished frosting.

Add in the sour cream, orange juice, and zest, and continue to whisk until smooth. It might curdle but whisk through the curdle to get a smooth texture. 

Once the cake is cooled, you can add this decadent frosting over the top.
Notes
Use whole, organic ingredients when possible. It really does make a difference in the flavor and outcome of the cake.
Oil and grease your pans well and use parchment paper for easy removal.
Mix well, but do not over-mix. Keep the mixer on low most of the time, and scrape the bottom and sides of the bowl.
If you want to make a dark chocolate orange cake, use Hershey's special dark cocoa powder.
Pair this cake with our creamy chocolate buttercream frosting.
Nutrition
Calories:
353
kcal
|
Carbohydrates:
59
g
|
Protein:
5
g
|
Fat:
12
g
|
Saturated Fat:
7
g
|
Polyunsaturated Fat:
1
g
|
Monounsaturated Fat:
3
g
|
Trans Fat:
0.3
g
|
Cholesterol:
48
mg
|
Sodium:
287
mg
|
Potassium:
235
mg
|
Fiber:
3
g
|
Sugar:
43
g
|
Vitamin A:
333
IU
|
Vitamin C:
9
mg
|
Calcium:
69
mg
|
Iron:
2
mg