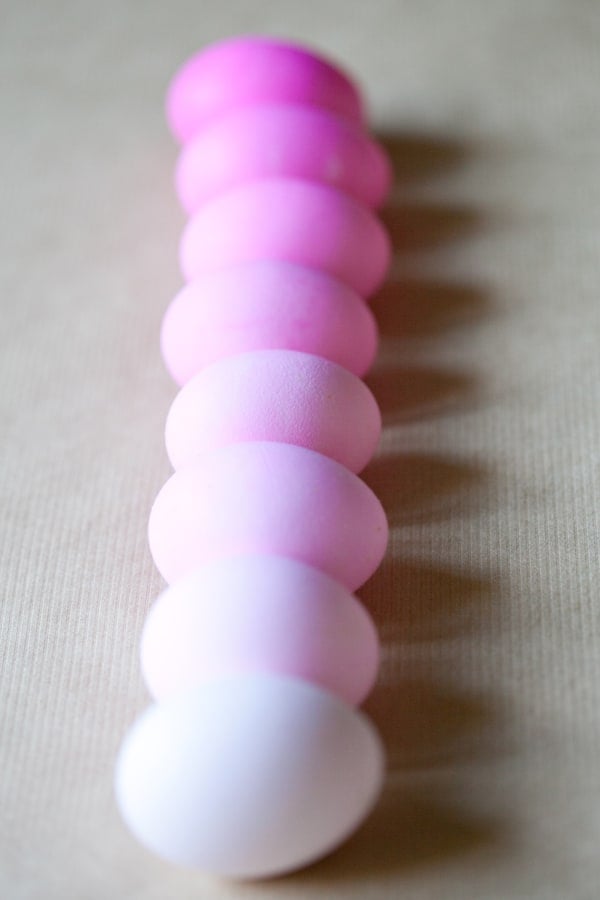 DIY Ombre Easter eggs – I'm in love!! I have been so busy lately that I haven't done too many Easter crafts, yet alone even decorate for Easter!! With some of my family visiting this weekend and me hosting a small Easter breakfast, I decided it was time to make an Easter decoration and of course it involves dying eggs! It's an easy project that can be used to decorate a mantel or as a centerpiece for a long table. I chose one color of dye and created a variety of shades by leaving them in the colored water for different amounts of time, creating the ombre look. Try 30 seconds, then 1 minute, 1:30, 2 minutes and so on. There's no exact science, so have fun!
I've had the adorable cupcake stands for awhile now (I bought them from
here
) and thought they were the perfect size for the eggs to sit on, with a nest of paper Easter basket stuffing ; ) You can use any color to create this look… have fun with it! Happy, Happy Easter!! Can't believe it's here already! I used my Wilton food coloring gel in pink rose to dye the eggs.