Learn how to gold leaf Easter eggs! Using a simple technique and a few supplies, you can make stunning gold Easter eggs with beautiful designs! These are perfect for Easter egg hunts, Easter brunch or for decorations.
"I want my geese to lay gold eggs for Easter!" Just like Veruca Salt, I wanted a few gold eggs for Easter, so I made it happen with some beautiful gold leaf!
For these eggs, I created the world on an egg, a golden bunny, and a simple heart. The heart was made using a heart sticker that I removed once my egg was covered in gold leaf. The world design I did by hand using a small paint brush.
We created the bunny with an easy pencil sketch and the world I did by eye… which you can do too : ) Gold leaf is extremely delicate, so it tears easily and can stick to your fingers, but who said Easter egg decorating was clean?
I had so much fun creating these eggs. I love doing creative projects that take concentration and focus. They let your thoughts rest and your right brain goes to work!
It's kind of like yoga for the brain, haha! I'm in love with how these turned out. They'll be a beautiful addition to my Easter decor this year.
So grab a carrot cocktail and a bunny cookie and start crafting!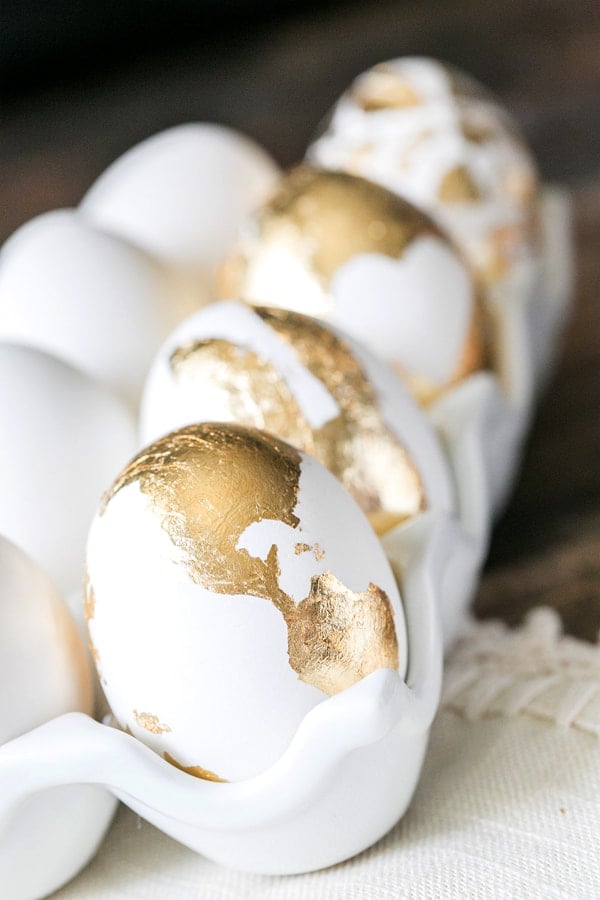 How to Gold Leaf and Easter Egg
Supplies
Paint Brushes
Hard-Boiled Eggs
Pencil
Directions
Using gold leaf glue, a paint brush and a pencil, draw your design.
Paint it in with glue and then place a sheet of gold leaf over the top.
Lightly tap it (it might lift, but that's okay because you can fill the holes in later) and then give it a second before lifting the edges up.
Your design will pretty much be laid in, but you'll need to do a little touching up and cleaning around the edges.
Tips for Making Gold Leaf Easter Eggs
Use wooden eggs for a decoration that will last a little longer.
A tiny paint brush works best to create intricate designs.
Use templates or sketch your own designs.
This technique also works on colored eggs as well.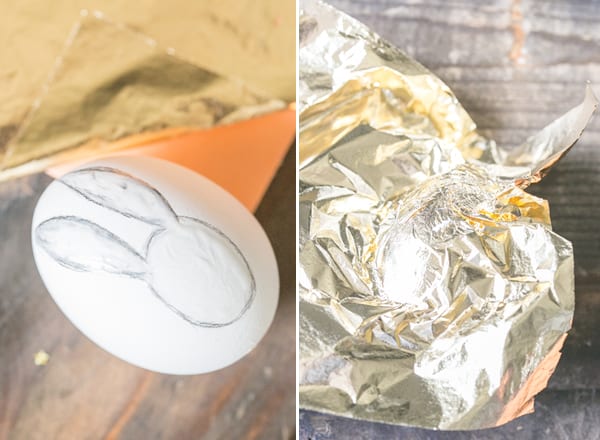 More Easter Eggs Projects You'll Love!
When to Make Decorated Golden Easter Eggs
Decorated eggs are only for Easter. If you're hosting an Easter egg decorating party or a colorful Easter brunch these eggs are a perfect addition to the table or a fun craft to make.
More Easter Entertaining Ideas You'll Love
Looking for more fun Easter ideas? We got you covered! Here are 5 more Easter entertaining ideas:
Easter Candy Platter – It's all about festive Easter candy so why not create a beautiful Easter candy platter!
Easter Desserts – These are the best desserts to make for Easter!
Coconut Loaf – This recipe is a must for Easter brunch!
Carrot Margarita Recipe – This is a fun spring cocktail made with carrot juice.
Italian Sodas – These are refreshing, have a beautiful pastel color and can be made with any flavor.
Let us know if you make these Gold Leaf Easter eggs by leaving a comment below! We'd love to see your creations so tag @sugarandcharm on social!
You can also FOLLOW US on FACEBOOK, INSTAGRAM, and PINTEREST to see more delicious recipes, cocktails, desserts, and parties!