If you like the art of crafting as much as I do, then you'll love making these wood burning Easter eggs! Best part is, they last forever, so you can enjoy your creations for years! Crafting has always made me feel relaxed. And wood burning is no exception. I've had a wood burning tool for years and I'm always thinking of unique ways to use it. I found some wooden eggs on Etsy and we dyed them using a standard egg dying kit from the store, and with vinegar, we created very light pastel colors on the wooden eggs.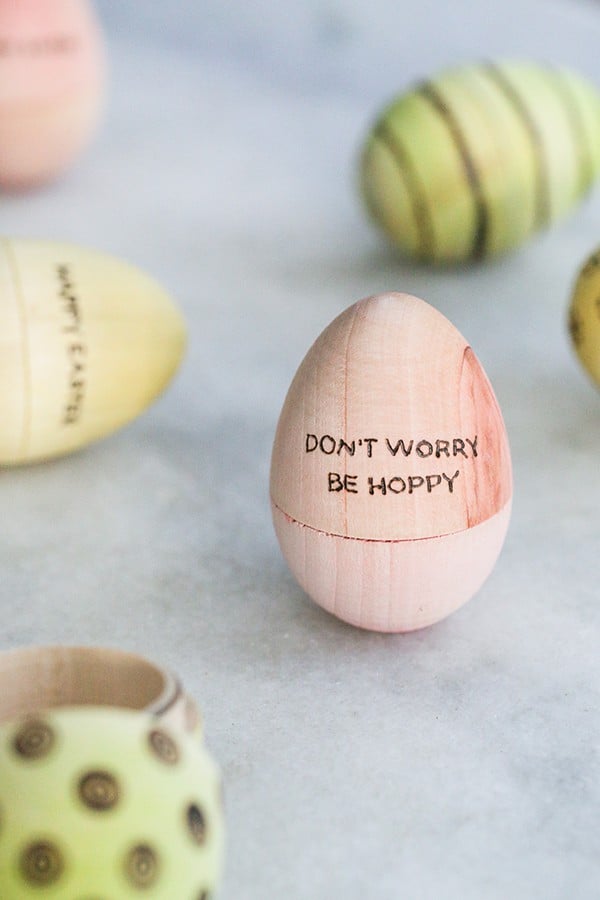 I actually loved how the Easter eggs turned out just with the dye too! So charming right?!
Once the wooden eggs have dried, you can choose your pattern or design. Most wood burning kits come with different tips and designs. I used those tip patterns because they look good and they're easy!
For the writing, you can print out what you want to burn into the egg, then just trace the back of the word, on the paper, with pencil and press it against the egg, scratching it in so it leaves an outline on the egg. And then it's easy to trace! I used the tiny point tip on the wood burning tool to burn the letters in the egg.
These wood burned Easter eggs are adorable for decorating numbers for an egg hunt, or even as name cards. And you can keep them for years!