This DIY advent calendar is made with charming wooden houses and looks so festive. It's a firm favorite in our house! I've included a great printable template, so make your own advent calendar with this simple and fun project!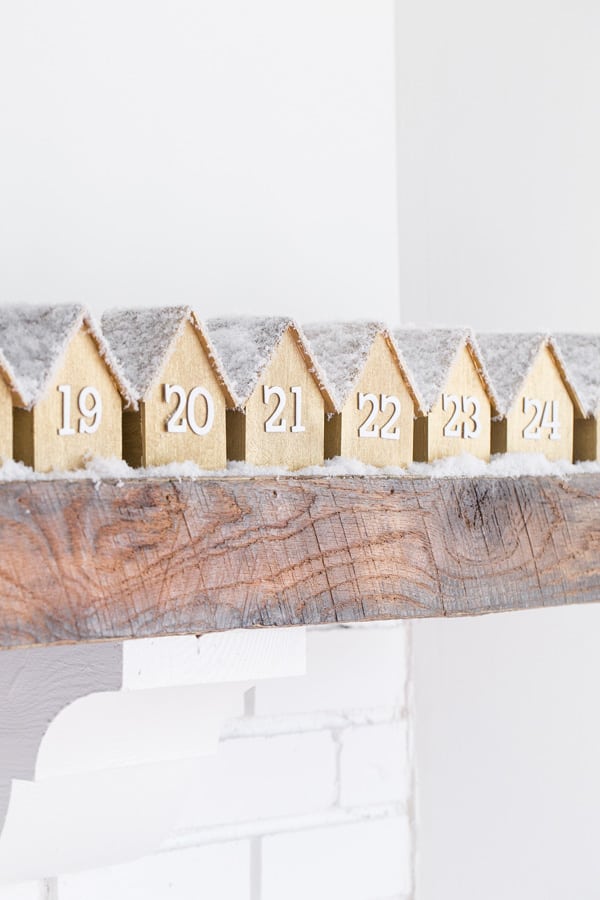 This year's DIY Advent Calendar is definitely my favorite so far! These tiny wooden houses lined up on my mantle are just about the most charming Christmas decor ever!
I made the advent wooden houses out of Balsa wood, which is soft and easy to cut with scissors. We created an awesome printable template so you can make your own! The houses are bottomless so you just lift them up and your treats are under the house!
Directions below…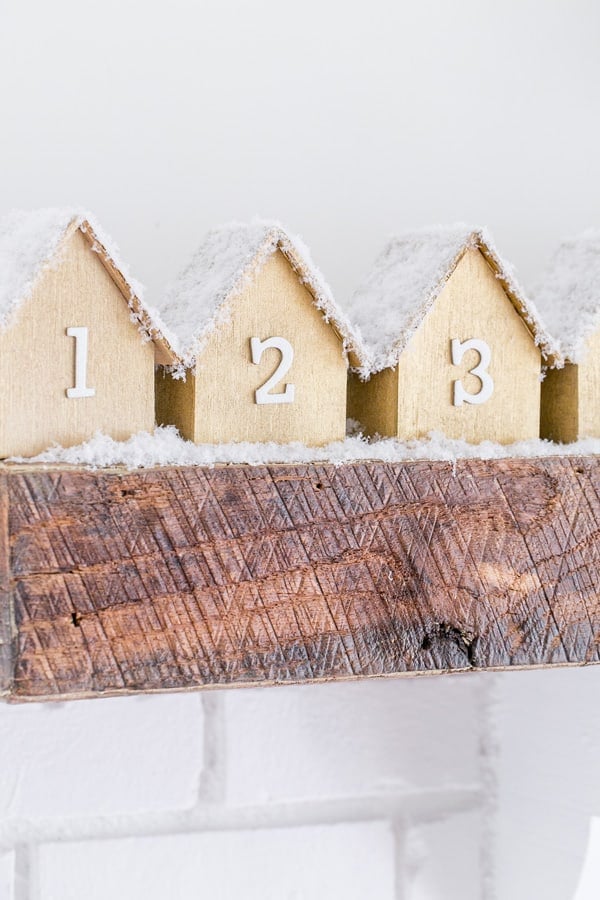 How To Make This DIY Advent Calendar – Step By Step
1. Print out the template you can find here and cut out the shapes.
2. Use the shapes to cut the Balsa wood. I just placed it onto and then cut around the shape of the house. You'll have 6 pieces for one house.
3. Hot glue the sides of the houses together.
4. Once they're assembled, spray paint them gold or whatever color you want!
5. Put clear glue on the roof of the house and pile on the fake snow.
6. Add the number stickers to each house.
7. Line them up and place candy, a scripture, activity or a treat under each house!
8. Countdown to Christmas and enjoy your diy advent calendar houses!!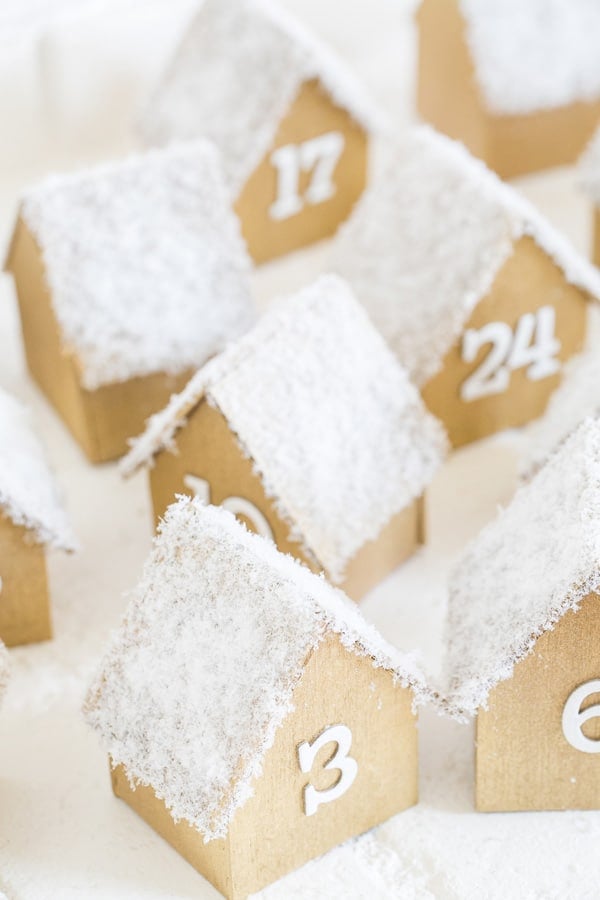 Decorating Your DIY Advent Calendar
I decorated our houses with gold spray paint and a lot of snow, but these are a blank canvas when you make them, so be creative and do whatever you like!
You could go full festive and decorate your houses with a good shade of green and red, alternating houses! Or find a color scheme that's festive but fits into the decor of your living room, so you have a great calendar that also acts as a subtle piece of set dressing!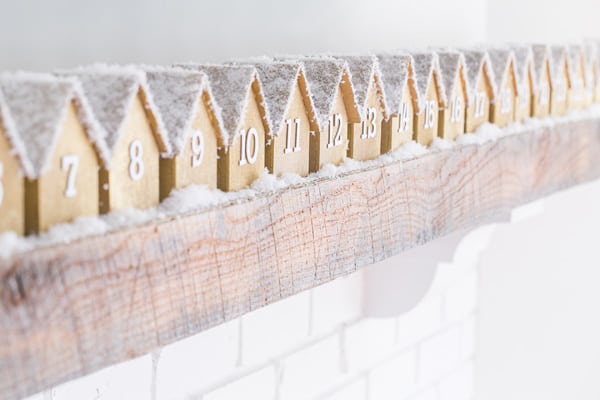 Advent Calendar Gifts
Starting December 1st, I'll have a Godiva treat for Zan and I, as well as something small for Romeo and we'll countdown to Christmas. Another cute idea is to write down a holiday activity you want to do everyday to put in each house.
It can be something small like hot cocoa or make a Christmas craft. Also, you can print scriptures to put in each house telling the story of Christmas. Whatever you decide to do, I know you'll enjoy these sweet, little advent houses!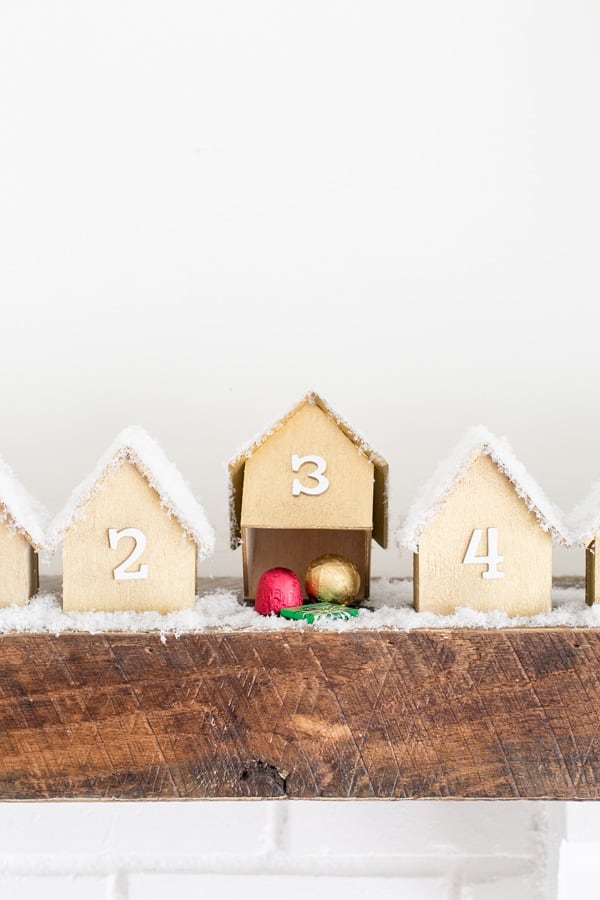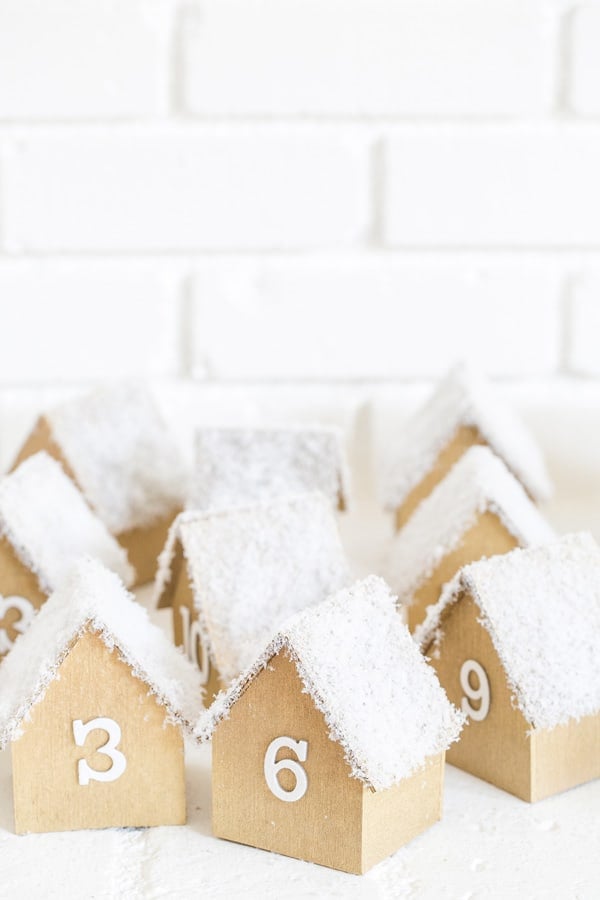 An Easy Template For This Project
I've included a really simple template for you to use, when making the houses. It makes the project super straightforward and means you'll make your house parts really quickly. Balsa wood is very easy to cut, just lay over the outlines, cut and you're done!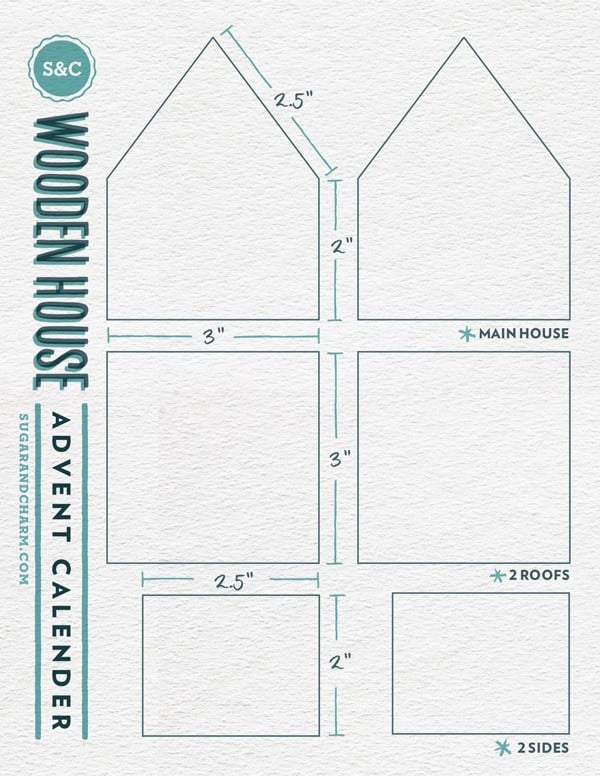 Top Tips For Making This DIY Advent Calendar
Print out and use the wooden house template (above).
Keep your glue gun clean. All you need to do is plug your glue gun in, let it heat up a little, and then use some crinkled up aluminum foil to scrub off the gluey mess.
Place a few treats under each house, tailored for each member of your family.
Sprinkle some fake snow around the houses, to create a lovely winterscape for your diy advent calendar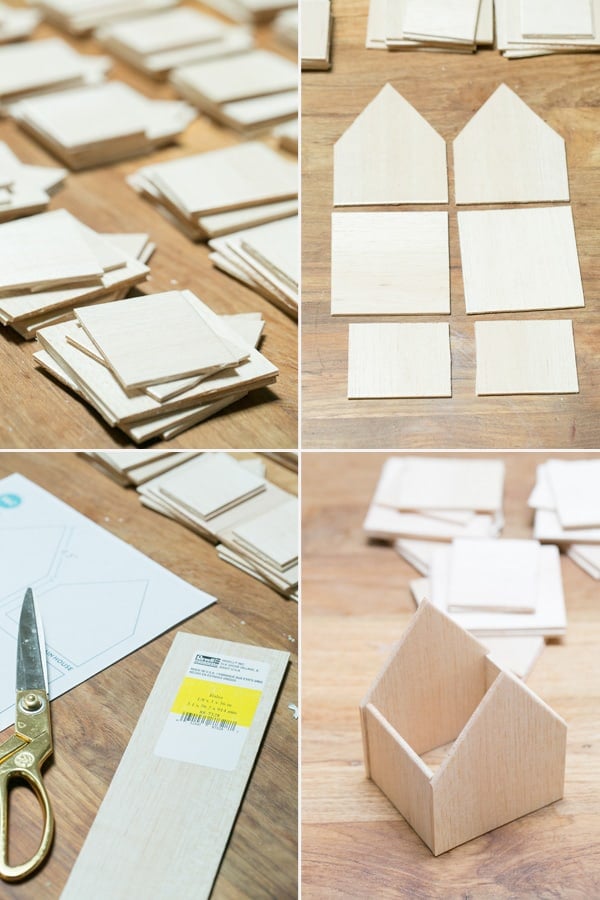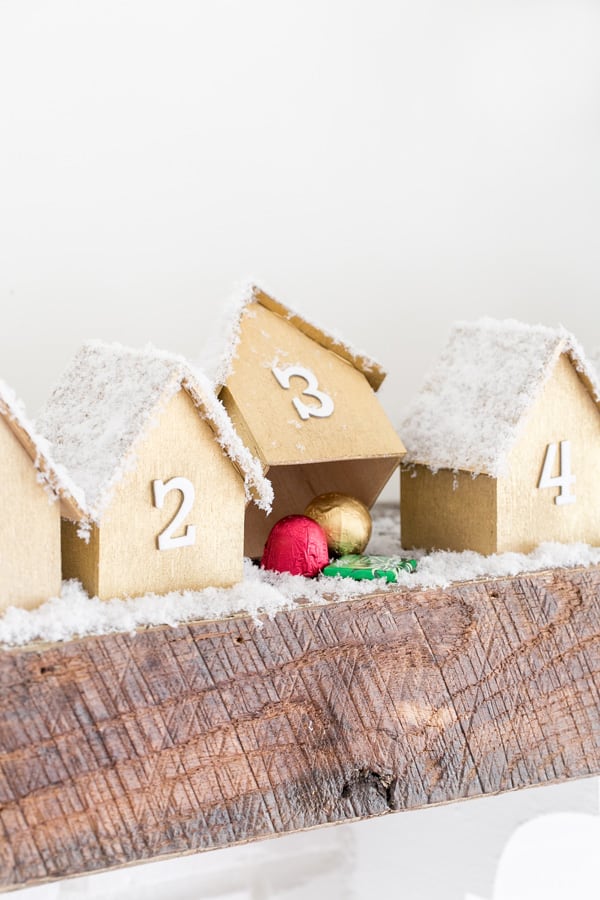 Check Out These Other Great DIY Christmas Ideas
Modern Christmas Wreath ans Garland
50 Ideas For Candy-Free Advent Calendar Gifts by Savvy Sassy Moms
25 DIY Christmas Ornaments by Crazy Little Projects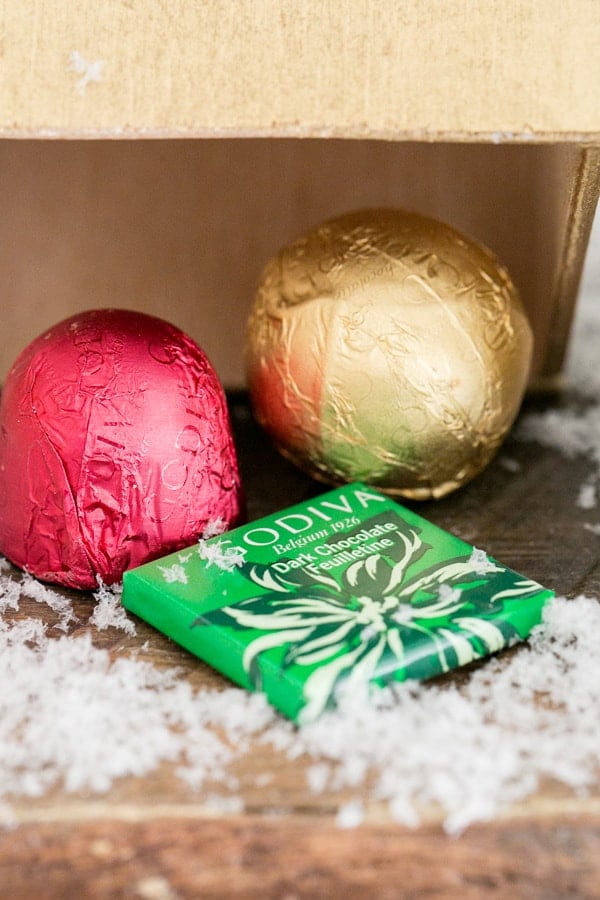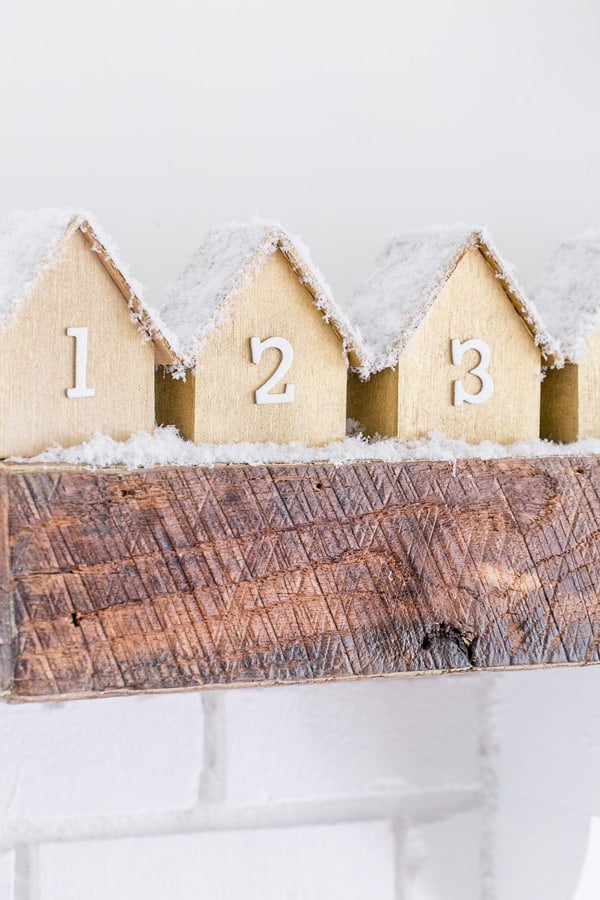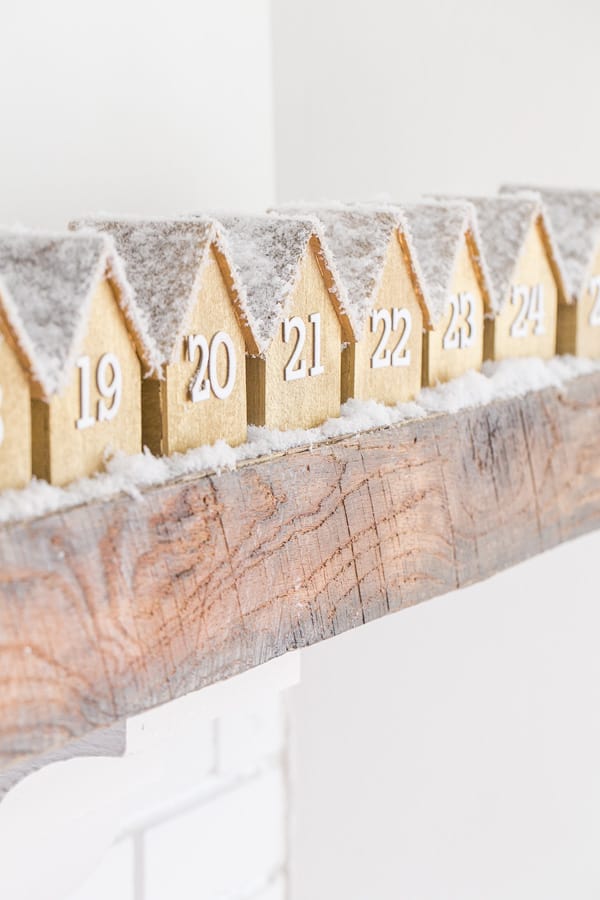 If you make this adorbale advent calendar houses, then tag us on FACEBOOK, INSTAGRAM and PINTEREST so we can see your creations! Happy holidays!!