When we were in San Francisco, we paid a visit to Miette! Being a fan of the charming Miette cookbook, it was on my list to visit the delightful sweet shop!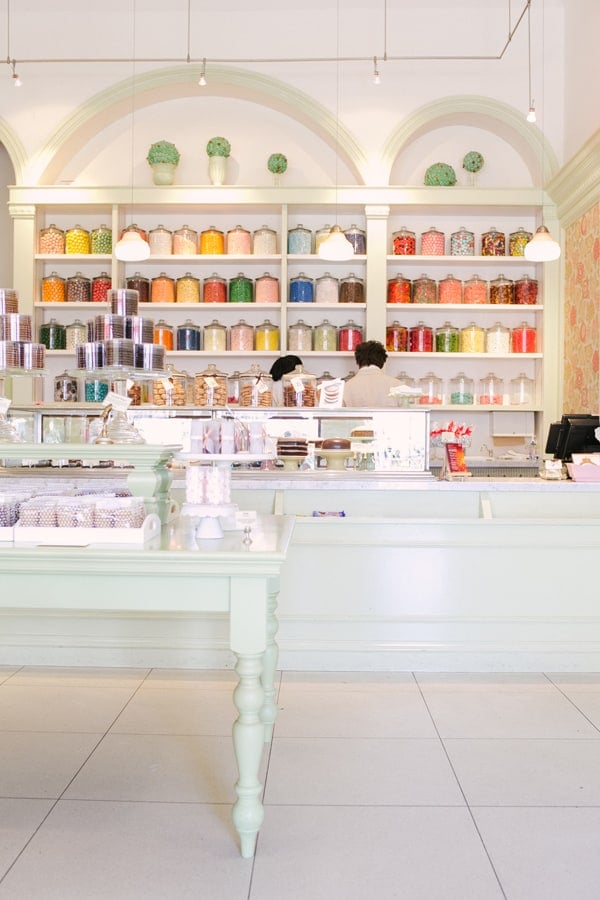 I've been obsessed with candy and sweet shops since I can remember. There is nothing better than a beautifully designed bakery and candy store filled with charm!
When you step into Miette you're greeted with floral-covered walls, mint green tables, rows, and rows of candy and adorable confections. This is my kind of shop!
I grabbed a lovely little wicker basket and, just like a kid in a candy store, filled it with chocolates, tiny roses and sugary items for our picnic by the water. It didn't stop there! We also got macaroons, a perfectly moist gingerbread cupcake and a mini round chocolate cake.
I couldn't help but eat the cupcake as soon as we walked out of the shop, luckily the other items made it safely to the beach. I highly recommend the macaroons in grapefruit, hazelnut, and orange-chocolate… they're incredible. If you're in San Francisco, stop by Miette!!
It's in a great neighborhood with boutiques and a Blue Bottle Coffee shop too! I think you Charmers will find it as pretty as I do : )
More Beautiful Visits to Beautiful Bakeries and Candy Shops!
Have you ever visited Miette? Let us know what you think in the comments below!
You can also FOLLOW US on FACEBOOK, INSTAGRAM, and PINTEREST to see more delicious recipes, cocktails, desserts and parties!