Nothing says I love you more than a special homemade cake! Okay, maybe in our eyes, but these charming Mini Mother's Day Cakes that spell MOM are sure to bring a smile to mom's face!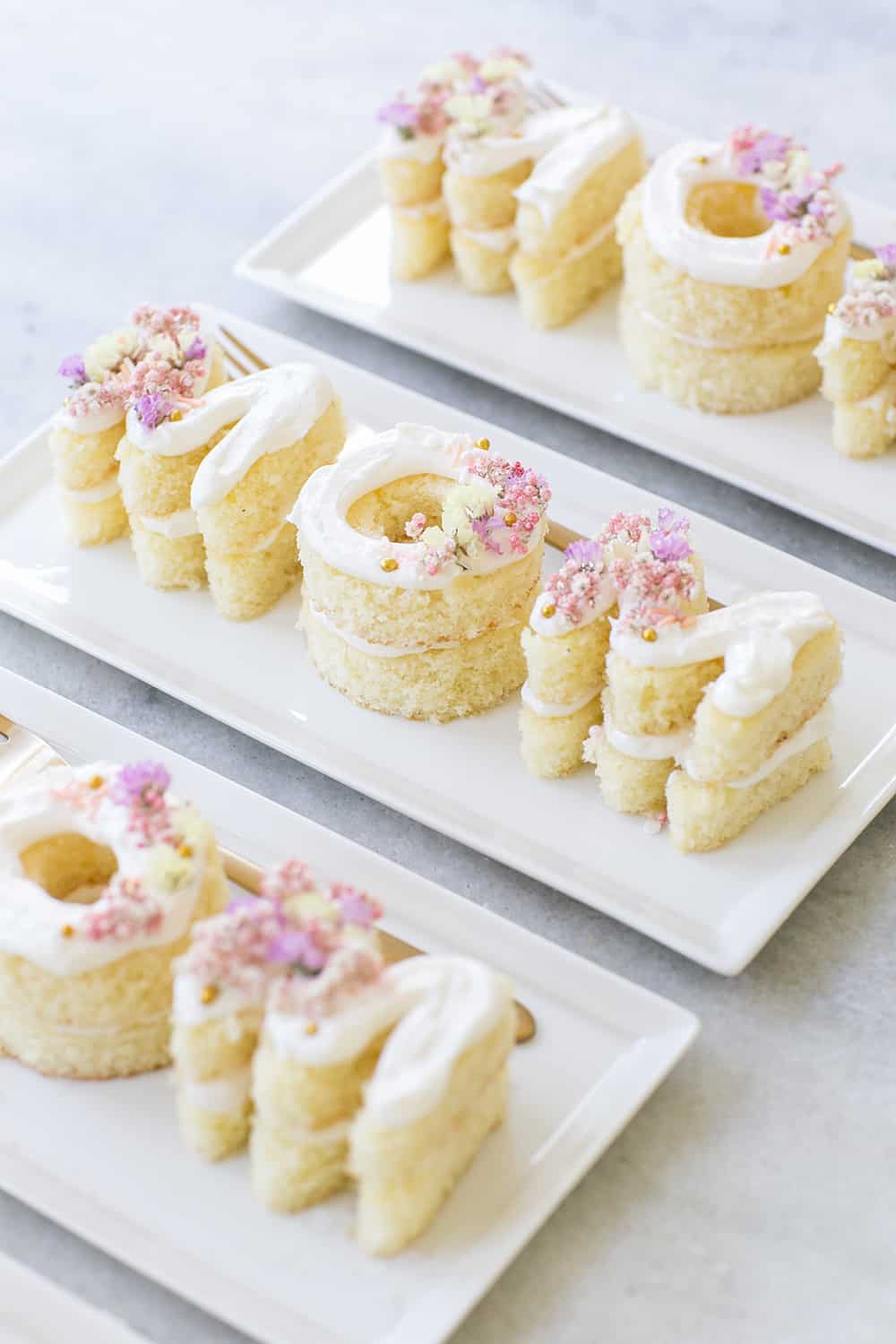 We wanted to make something that showed it was baked with love and I think we succeeded with these fun little cakes. You can serve them with fruit or ice cream and it's such a thoughtful and adorable dessert.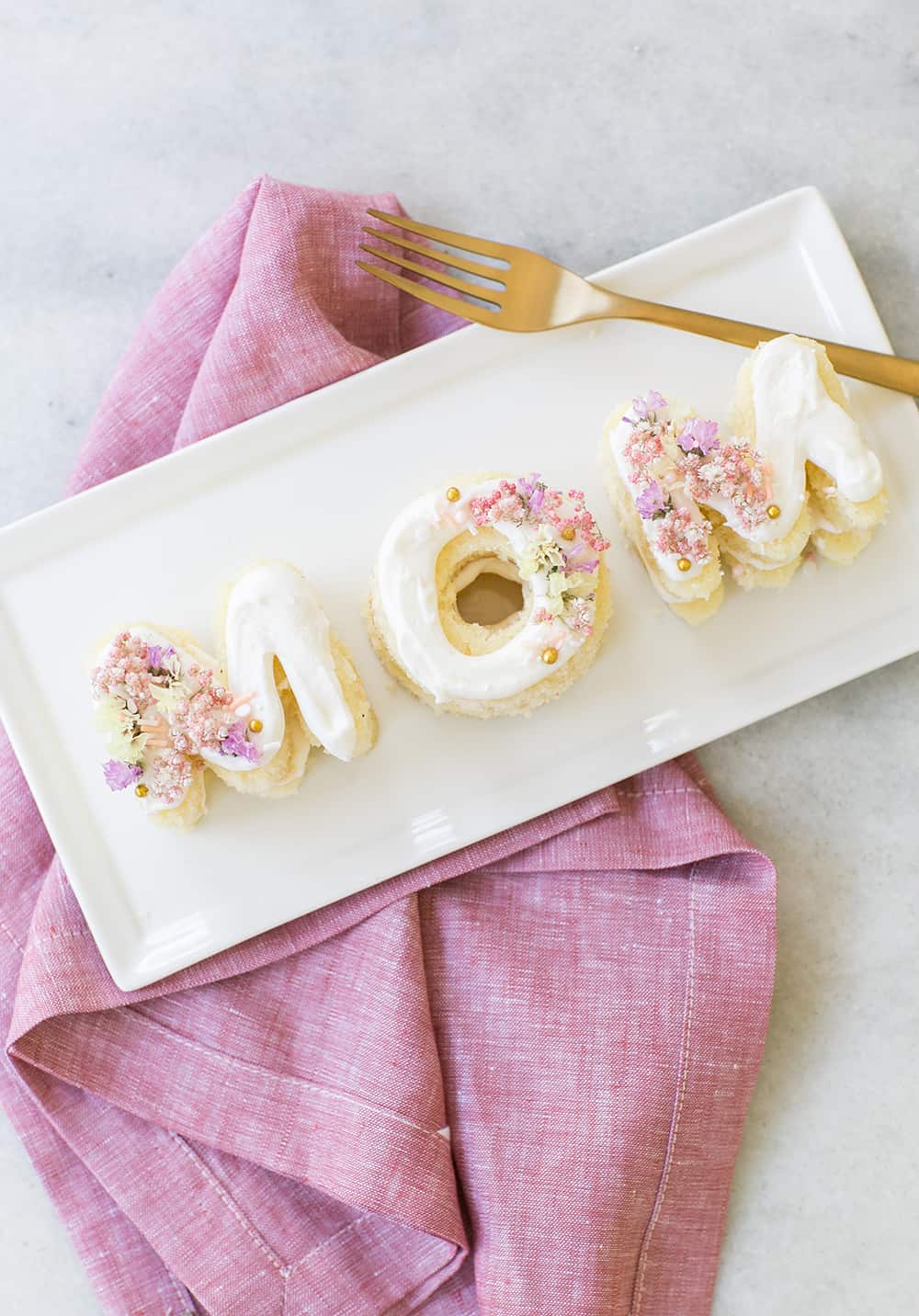 The Cake
For the cake, we made a simple 1,2,3,4 vanilla cake and a delicious, whipped meringue buttercream frosting that went so perfectly together.
Make your favorite cake recipe that you know will be a hit! Our vanilla cake recipe is also a favorite. You could also make these Mother's Day cakes lemon flavor too!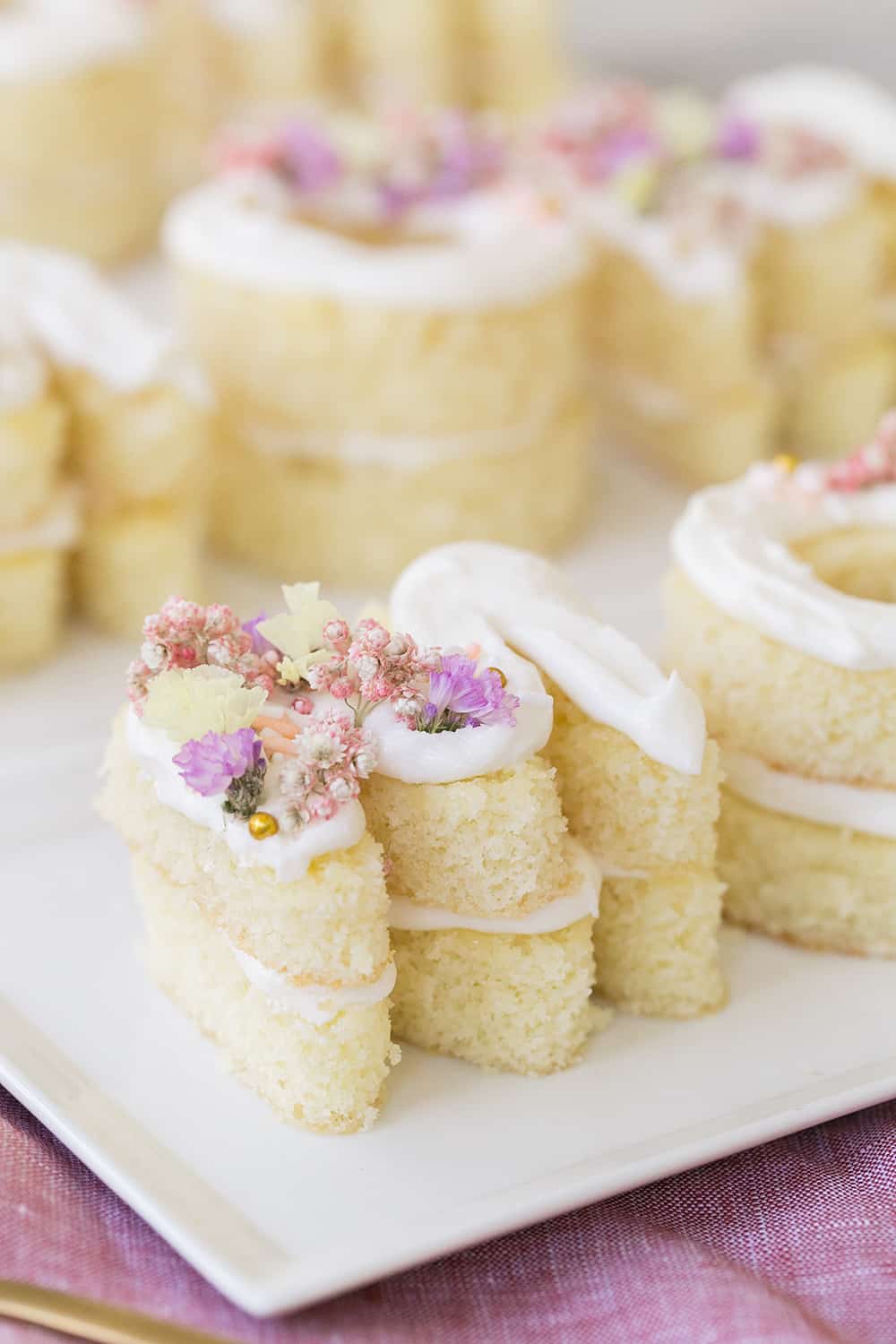 To make the mini letter cakes, split the batter in half between two 9 x 13 cake pans. This will make two thin cakes and it's a lot cleaner than baking one cake and cutting it.
You can bake them at the same time and they cook fairly quickly since they're split into two pans.
Once the cakes are baked and cooled use mini letter cookie cutters to cut out the word "mom."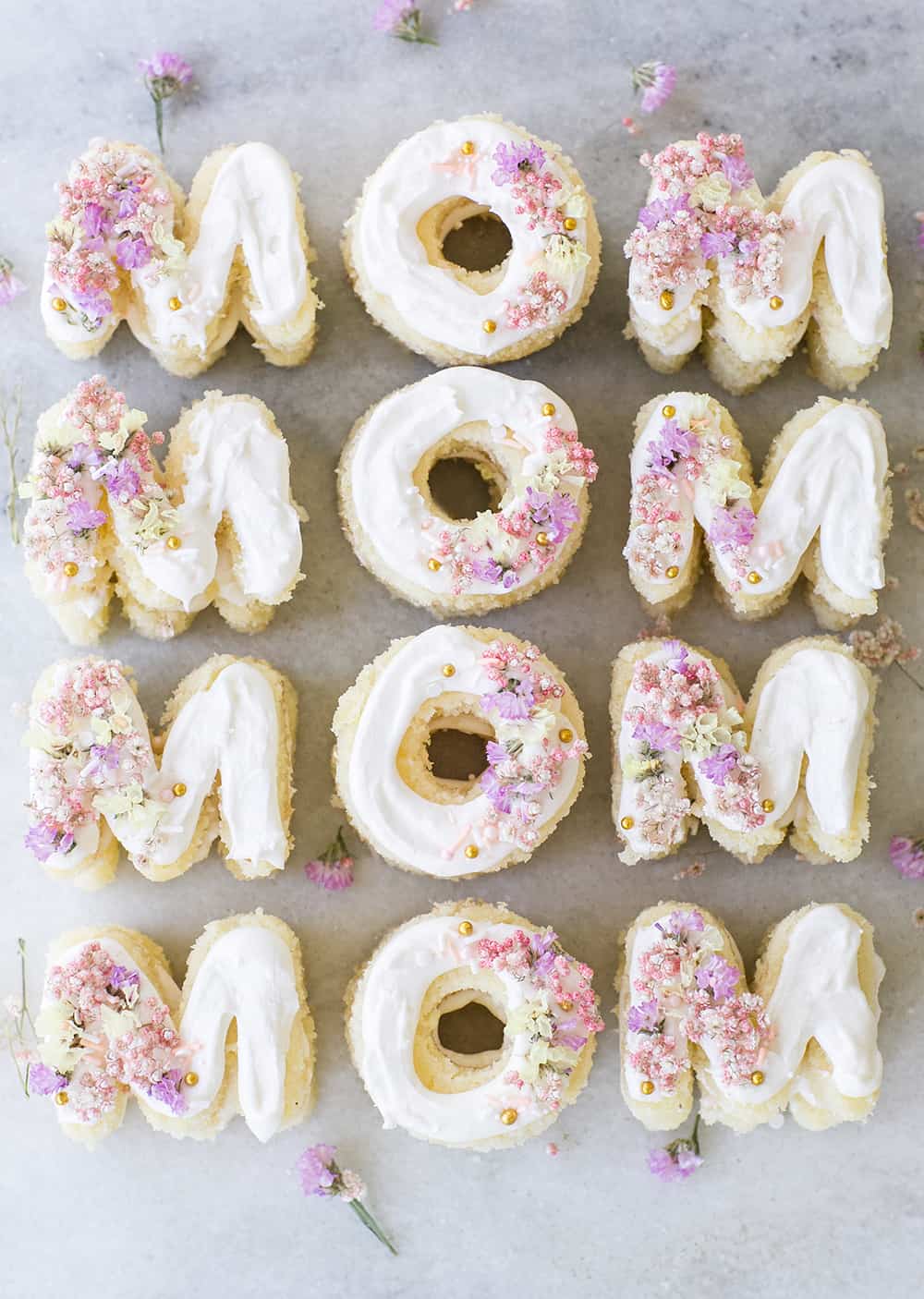 How to Make Mother's Day Cakes
What You'll Need
We wanted to double stack the cake letters so we could have a frosting filling. You can also do a fruit filling too!
Use cookie cutters and cut the letters out straight from the pan once the cake was cooled.
Cut 16 M's and 8 O's to make four mini mom cakes.
Place the letters on a cookie sheet and then prepared the frosting. This is my go-to recipe for frosting!
It's really the best and you'll have plenty of frosting left.
Frosting Mini Cakes
Since the cake letters are about 2 1/2 – 3 inches it would be hard and messy to frost them with a knife.
Instead, add the frosting into a piping bag with a 1/2″ hole and pipe the frosting onto the letters, then stacked them.
Spread the frosting out a little on the top to look more like a frosted cake.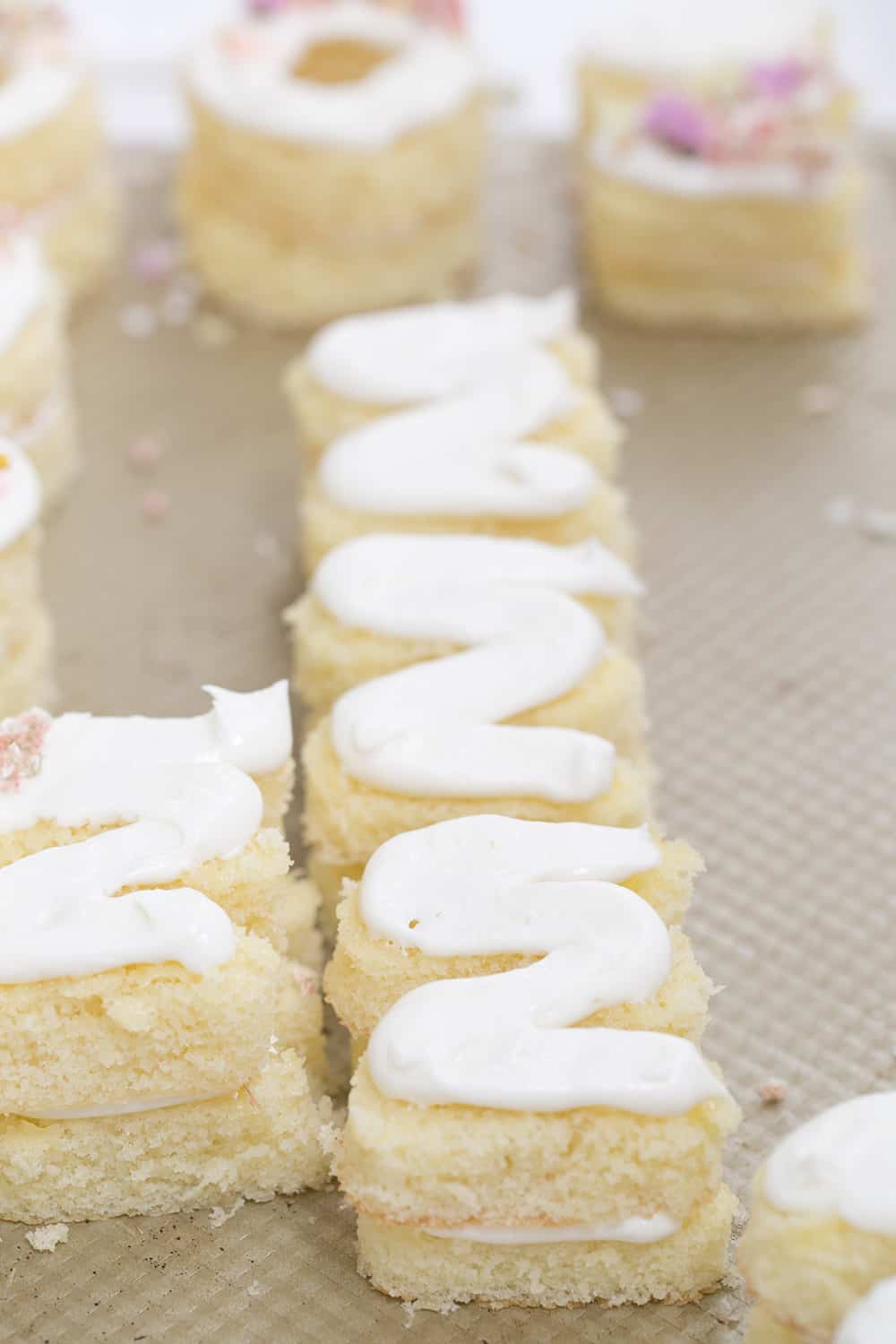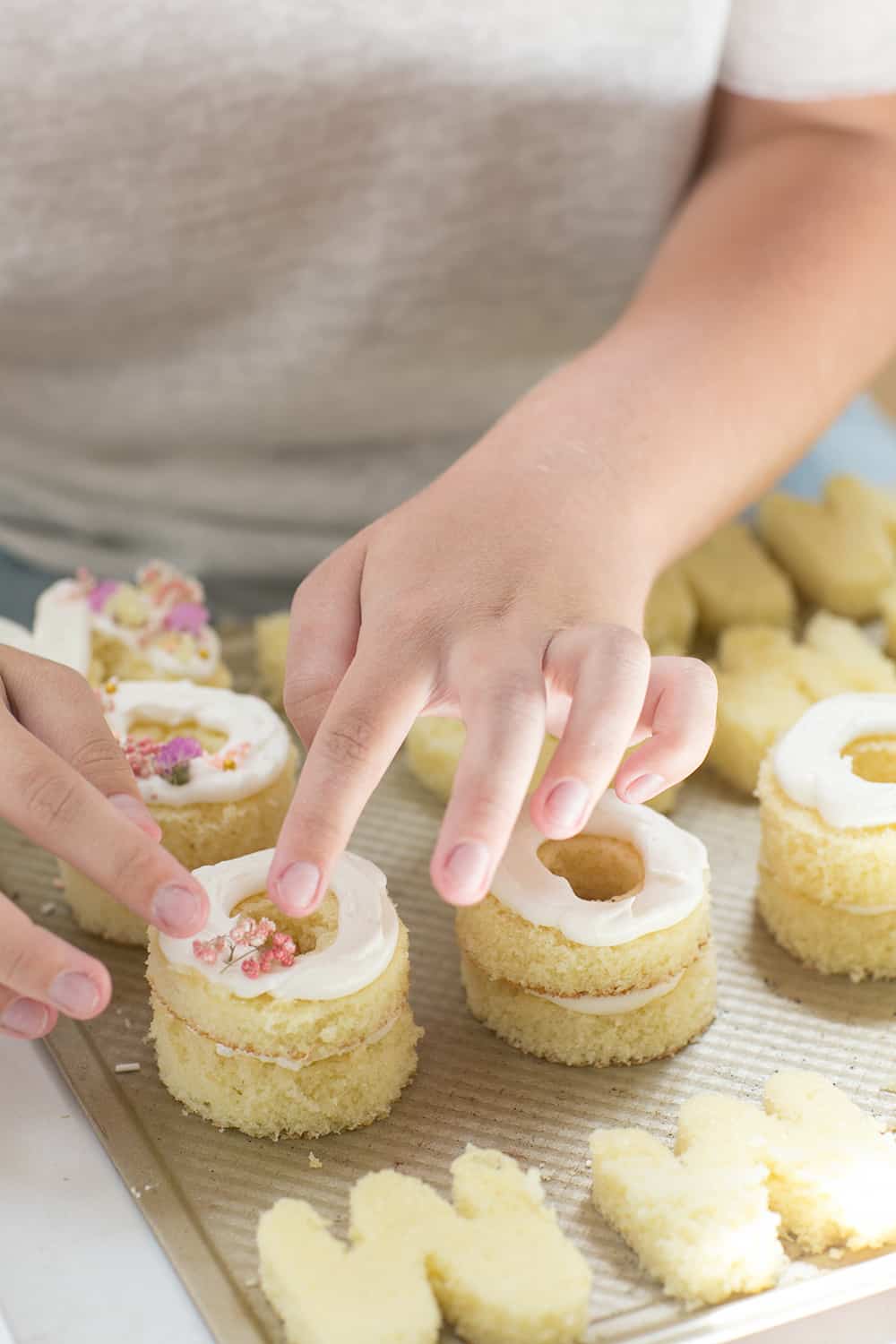 Add Sprinkles and Flowers
To give them a charming touch, add a few dried flowers and sprinkles!
Fancy Sprinkles are our favorite!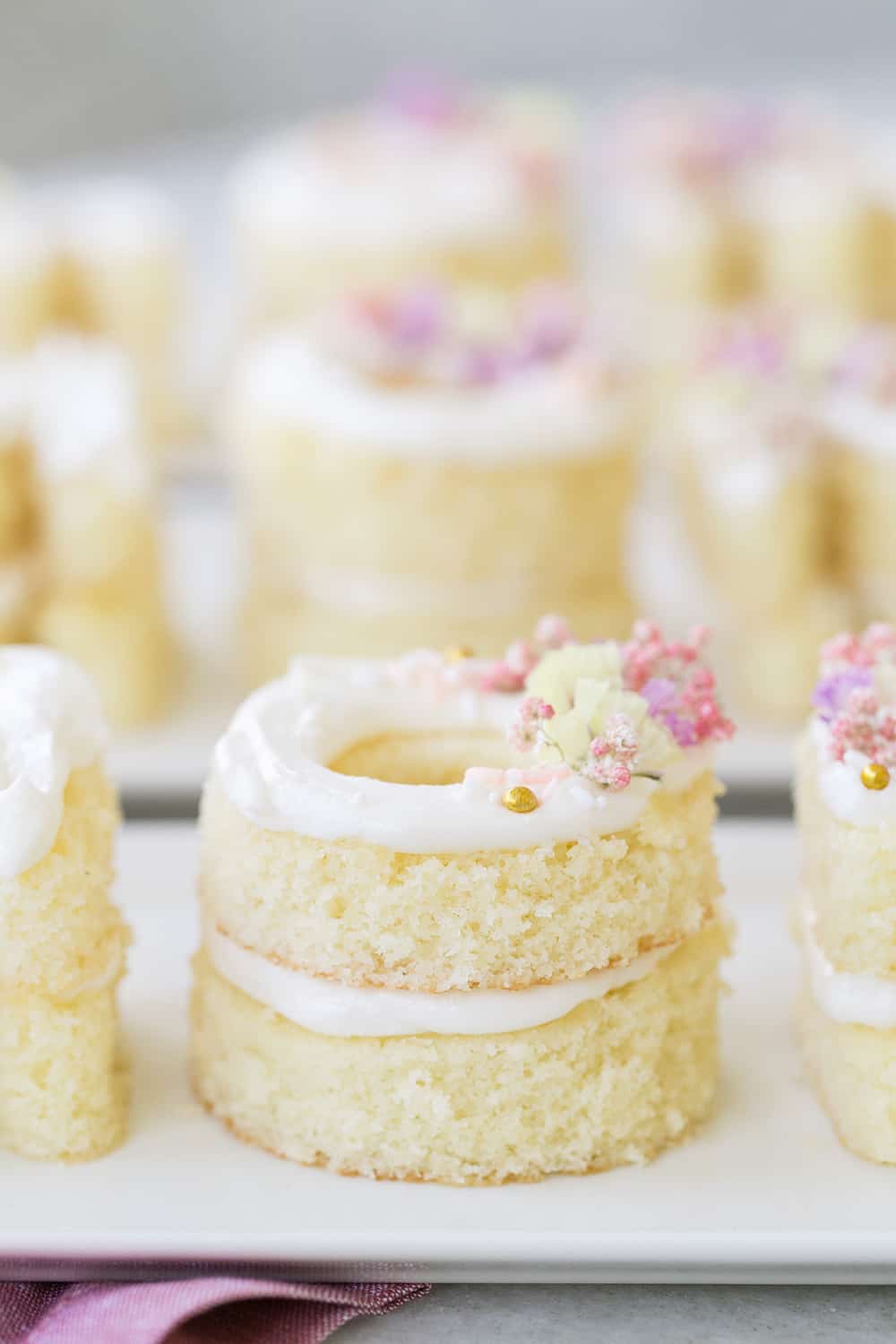 These unique Mini Mom Cakes really weren't hard to make, just a little time-consuming. But they're so worth it if you're looking for a charming treat to serve this Mother's Day!
They would make a cute gift too if you want to celebrate your mama friends as well!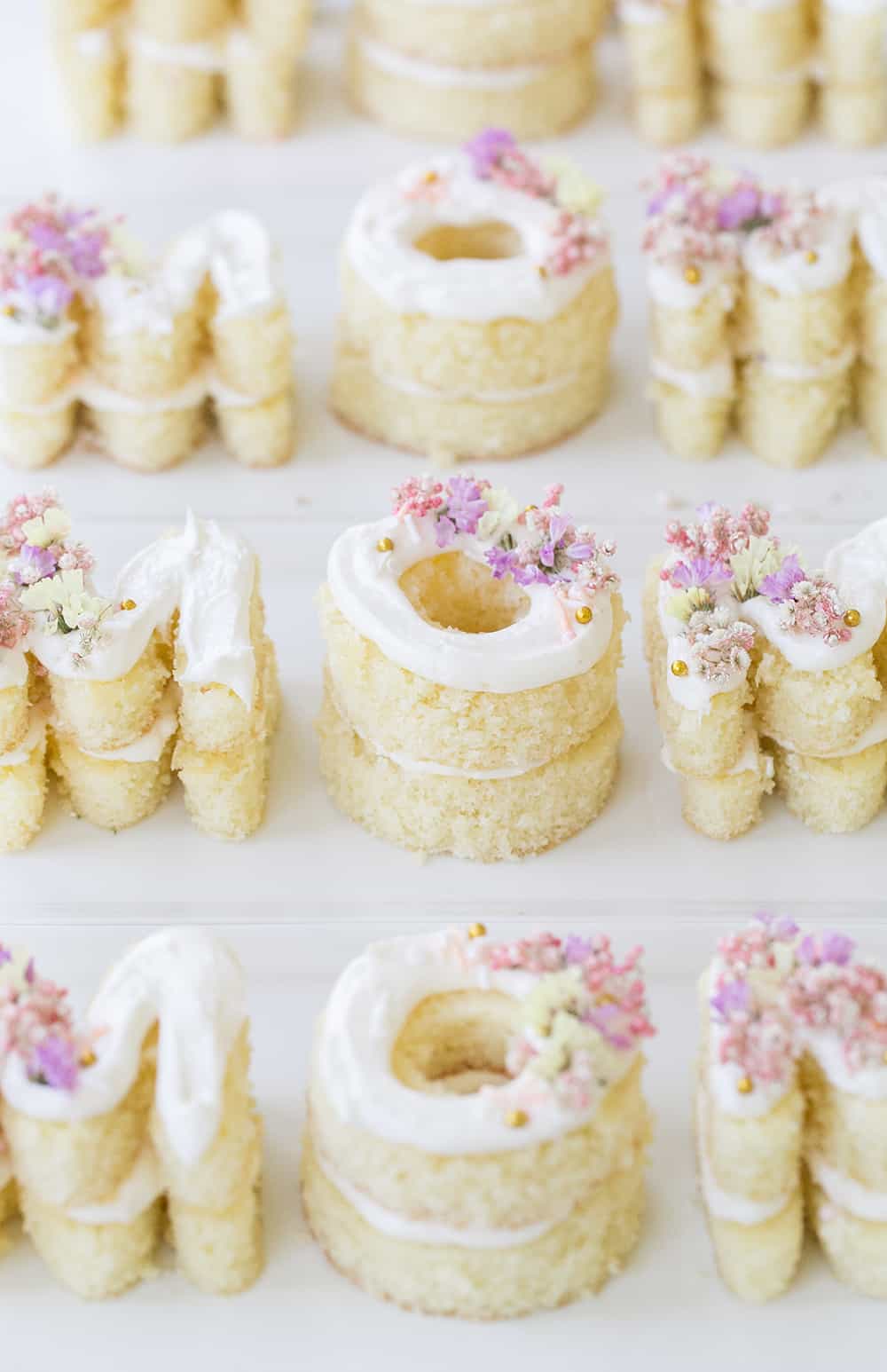 More Mother's Day Idea You'll Love
How to Make Simple Cupcake Bouquets
DIY Lavender Sachets with Photos
A Charming Mother's Day Picnic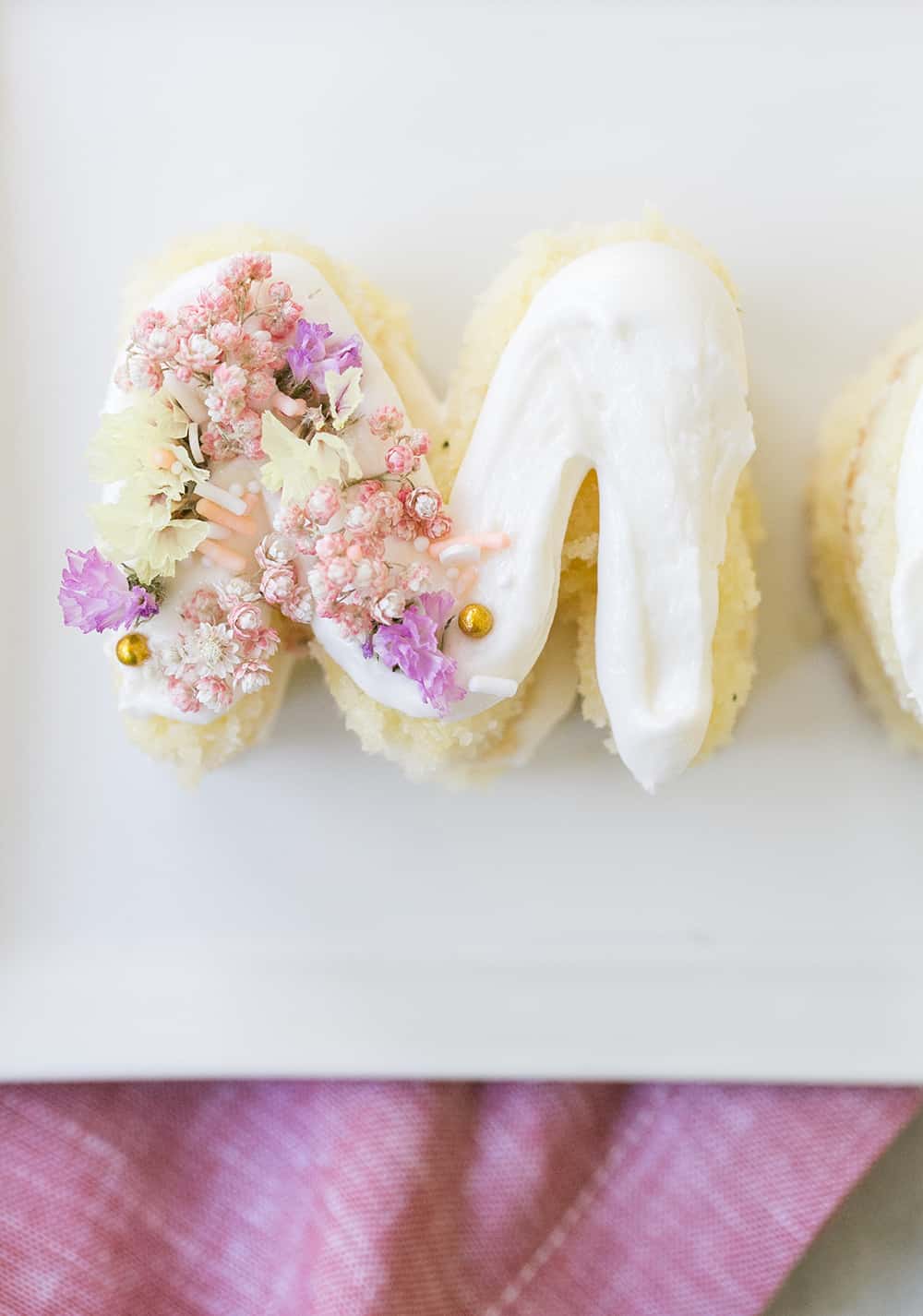 More Cake Recipes For Mother's Day
The Best Chocolate Cake Recipe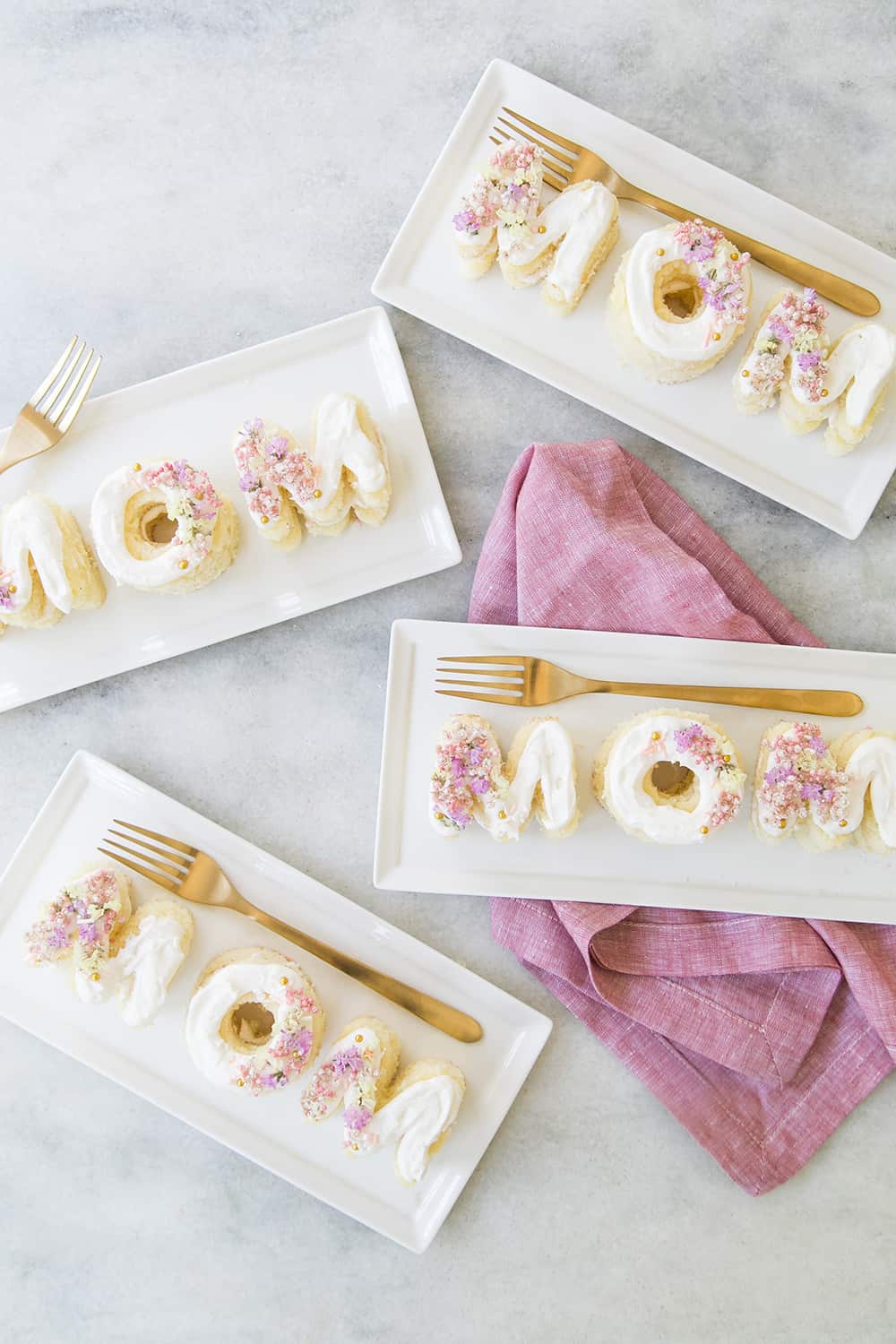 Let us know if you make these charming cakes for Mother's Day by leaving a comment below!
You can also FOLLOW US on FACEBOOK, INSTAGRAM, and PINTEREST to see more delicious recipes, cocktails, desserts and parties!