Decorating charming cupcakes can be easy! Learn how to make a simple cupcake flower bouquet! They're the perfect Mother's Day dessert!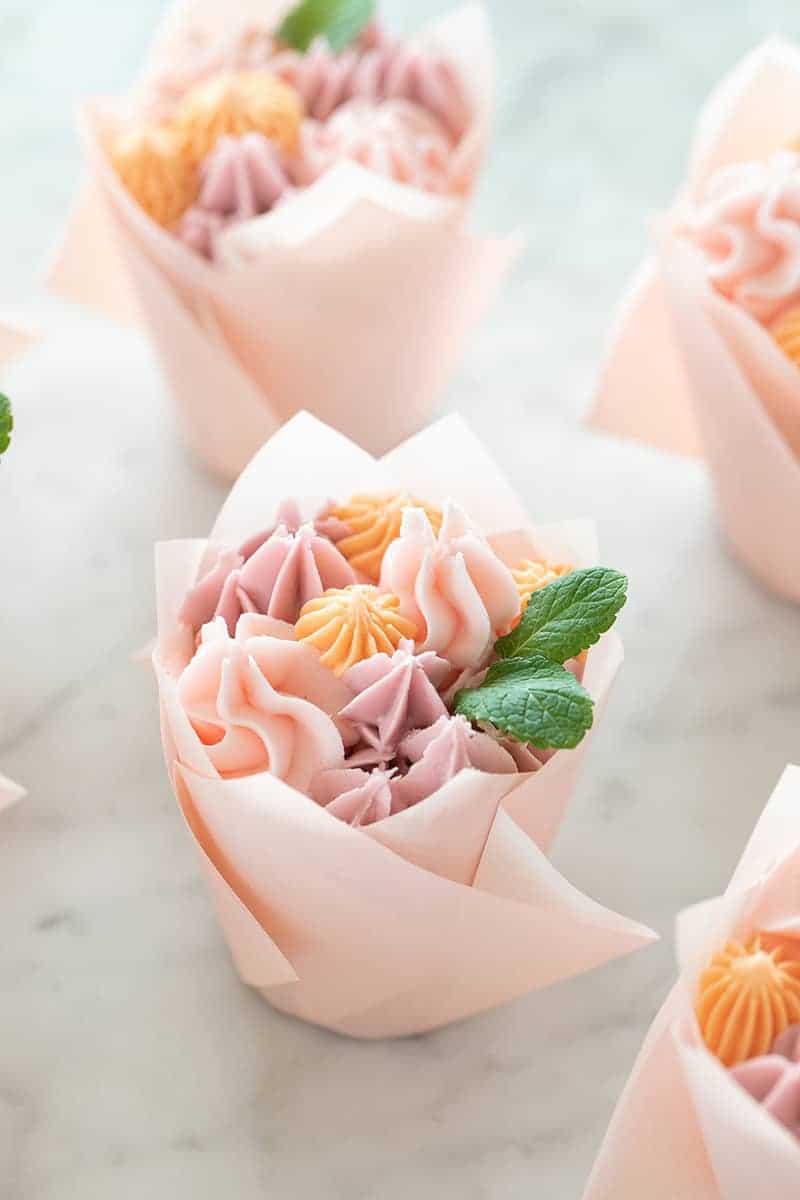 We've made floral cupcakes before and decided to do something similar, but this time in the form of a cupcake flower bouquet!
Using tulip cupcake liners, we used three frosting tips to make these and you don't need any skills to do this! Honestly, anyone can make these!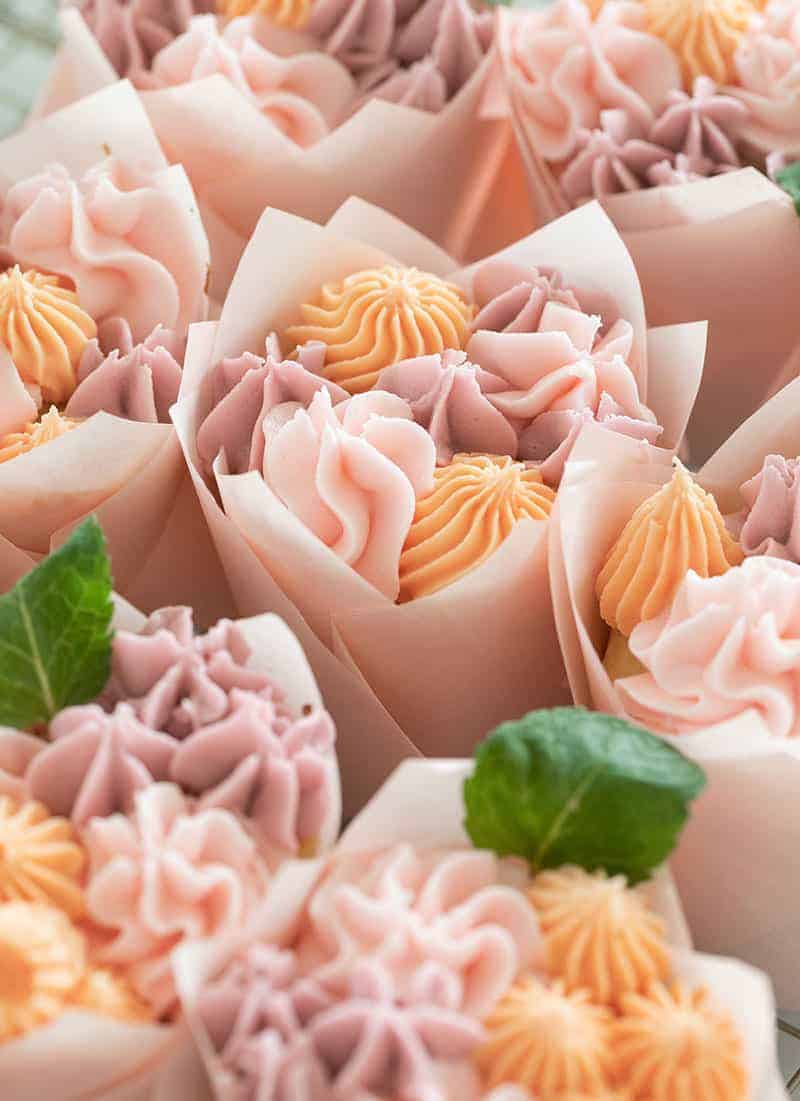 These cupcakes would be perfect to serve at a Mother's Day brunch, birthday party or any spring luncheon. If you're going to make cupcakes and frost them, you might as well take an extra step and make them into flowers?!
How to Make a Cupcake Flower Bouquet
First, make a batch of vanilla cupcakes and buttercream frosting.
Supplies
Tulip Cupcakes Wrappers – These are just the best! We used them for our carrot cake cupcakes too. They are the perfect wrapping for a floral bouquet.
Wilton Piping Bags
Piping Tips – This kit comes with 4 piping tips that you can use to make flowers. It also comes with piping bags.
Gel Food Coloring – Whatever colors you want!
Directions
Once you've baked your cupcakes (our yellow cupcake recipe below) then it's time to frost!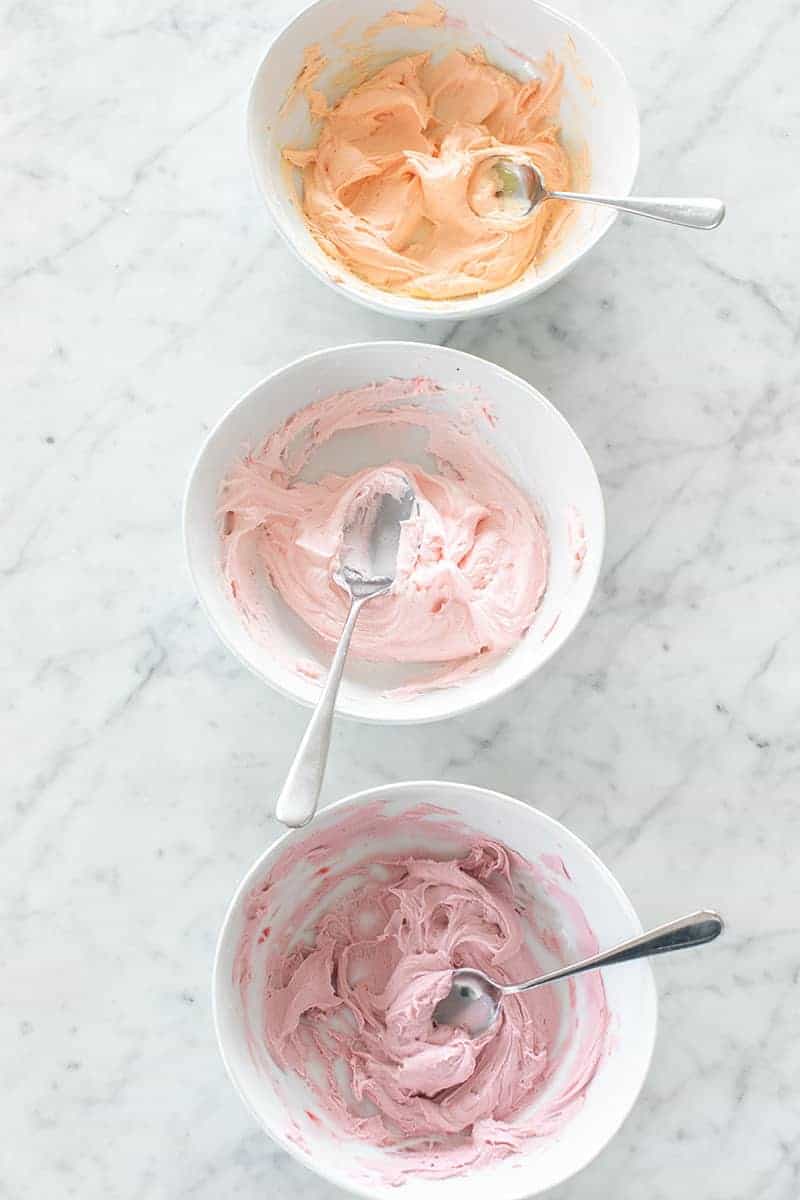 Whip up a batch of buttercream frosting and divide it up into three separate bowls.
Color each bowl a different color. Whatever color you want your flowers to be. Pink, red, shades of purple, white. We did shades of pink and orange.
To color buttercream, use a toothpick to add a few dots of gel to the buttercream, then stir with a spoon. If more color is needed, add more with a clean toothpick.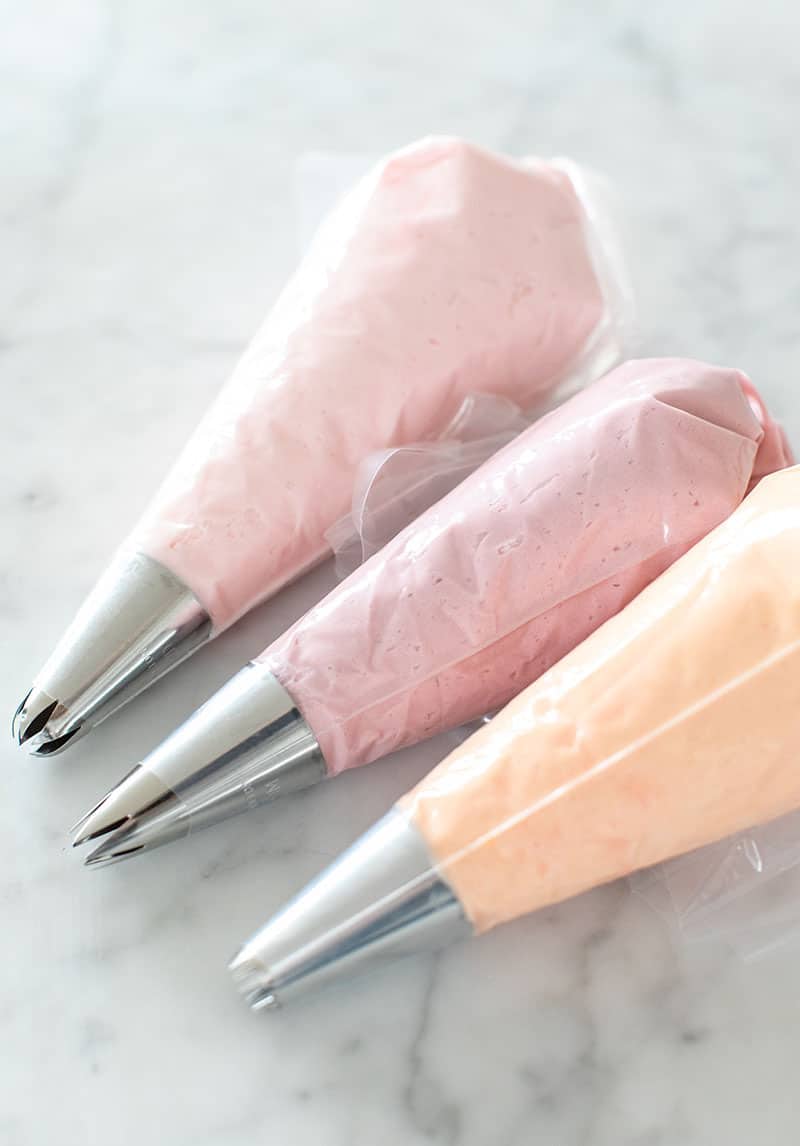 Prepare your piping bags with the tips. Each piping bag (frosting color) will have a different color.
Once you have your desired color, fill each bag with frosting.
Tip for Filling a Piping Bag
I learned this trick years ago, using a tall glass put the empty piping bag into the glass, then wrap the outside of the bag around the rim of the glass, giving you a nice opening to fill the bag with frosting!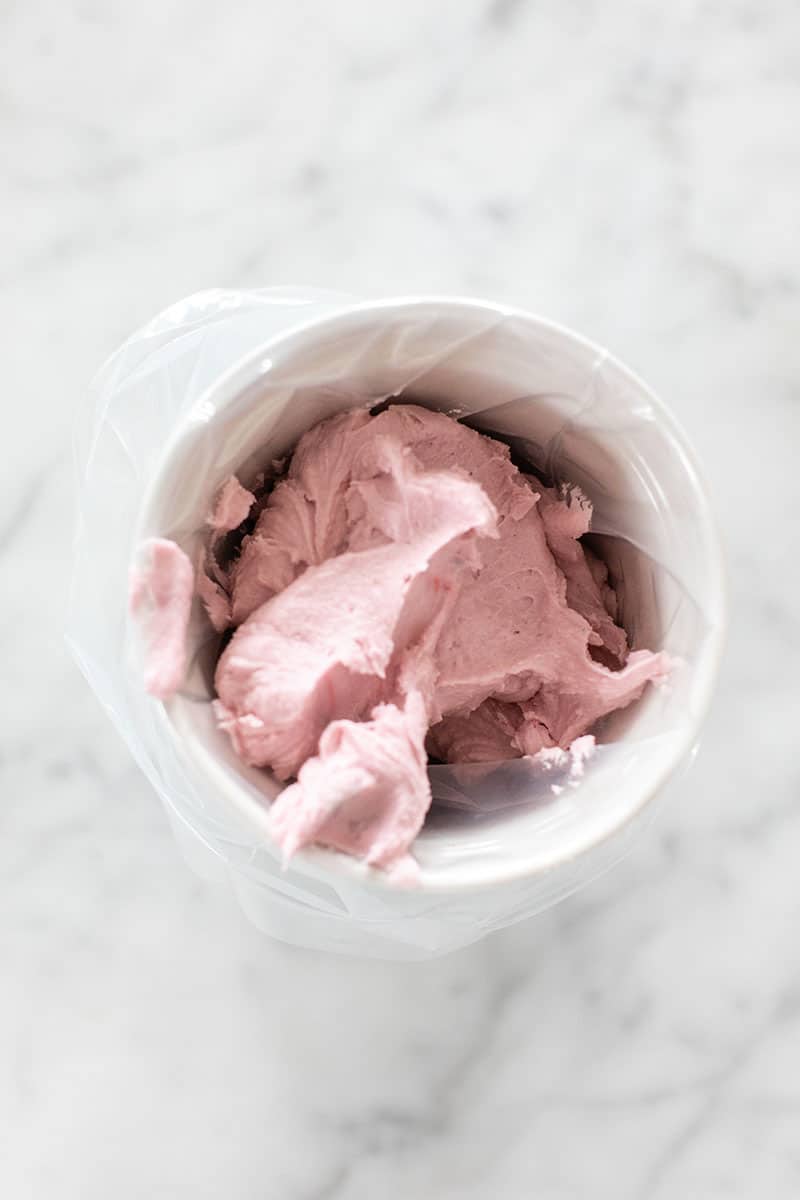 It makes zero mess and just makes things much easier!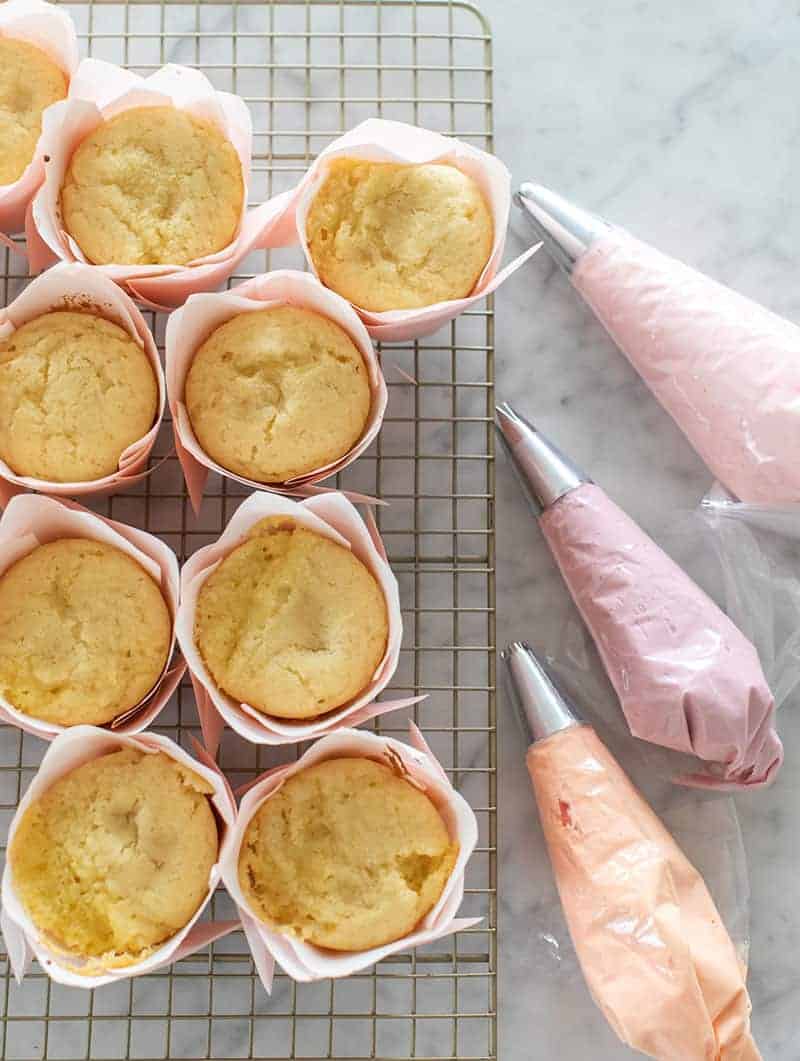 Making Flowers with Frosting
Now that you've done the hard part, this is the easy and fun part! Frosting your cupcakes with flowers!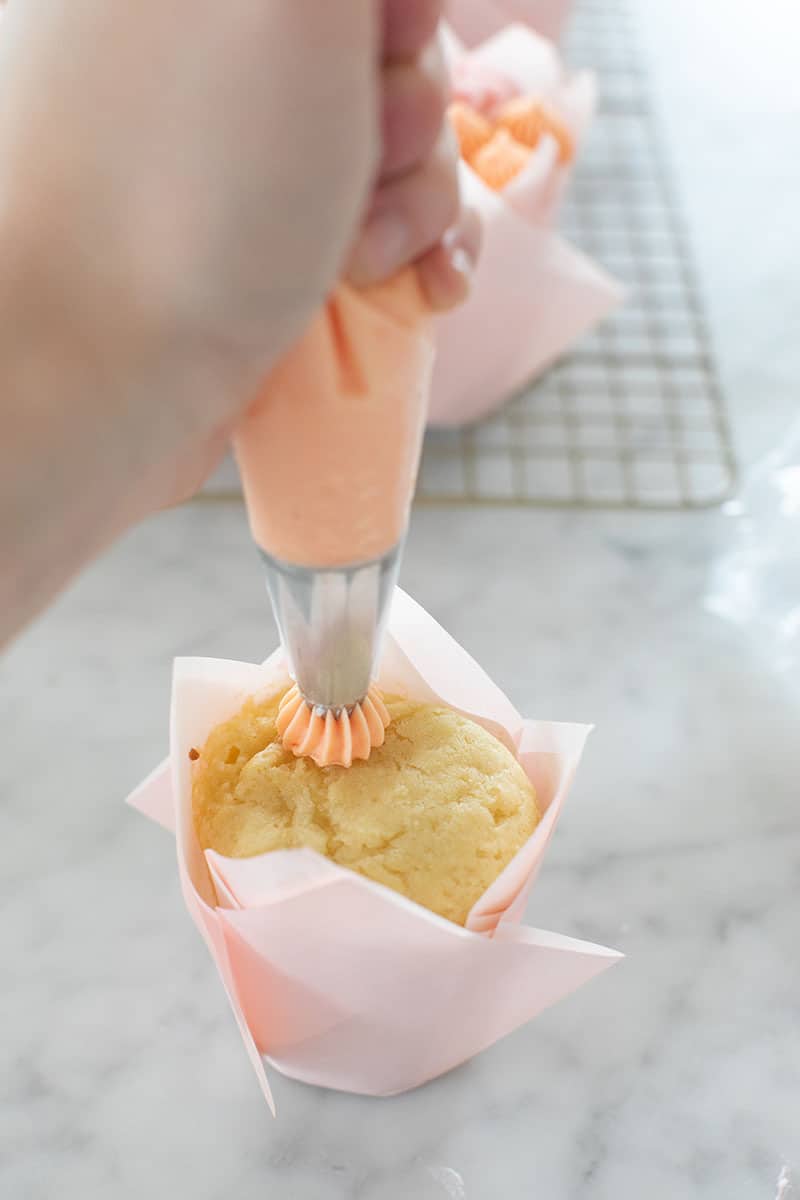 Each piping tip will make a different flower. Here's the best part… there are thousands of flowers in this world so whatever design you make, I'm sure you can find a flower that looks similar! So don't be hard on yourself, just pipe and see what beauty comes out!
Try these Wilton tips to make these flowers:
1M will make a pretty rose.
2D will make little pansies.
4B will make chrysanthemum.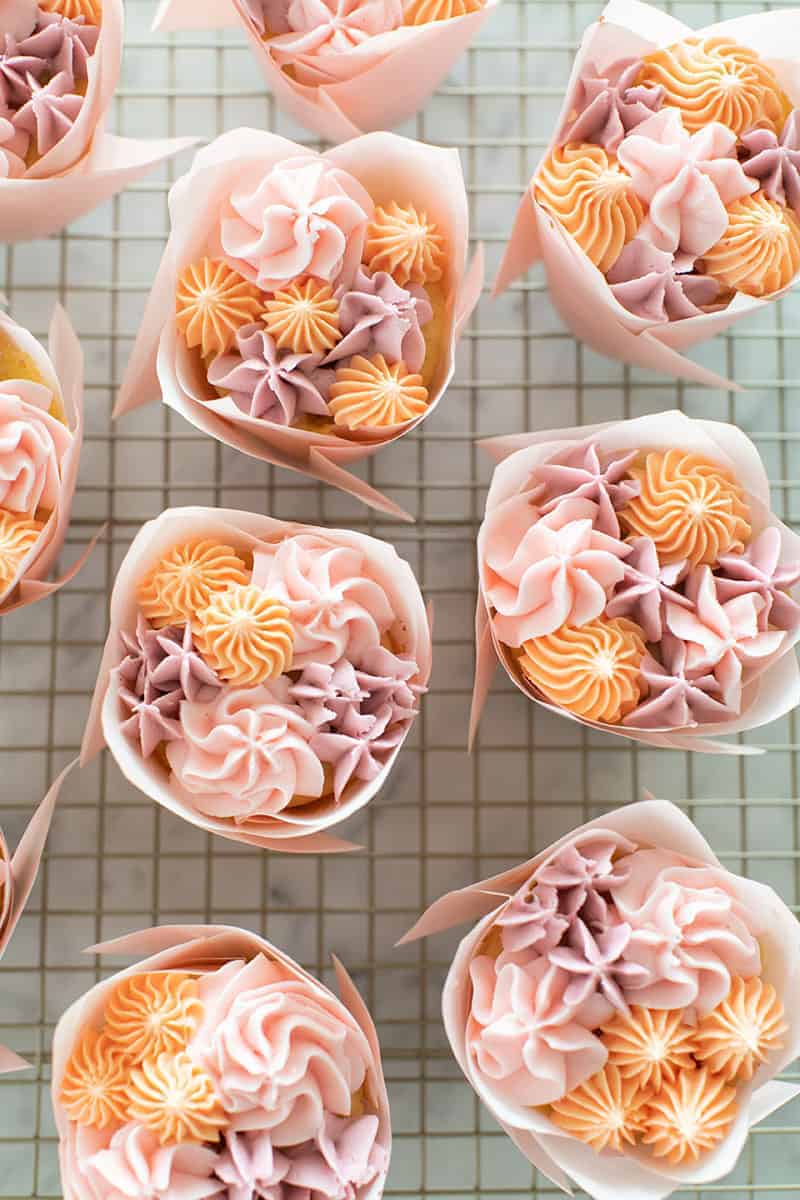 Test out the piping tip before using it on a cupcake. Pipe a flower on a piece of parchment paper to see what design comes out.
Here are some flower ideas you can make!
Roses
Hydrangeas
Mums
Chrysanthemum
Zinnia
Dahlia
Dried Craspedia
Tulips
Pansies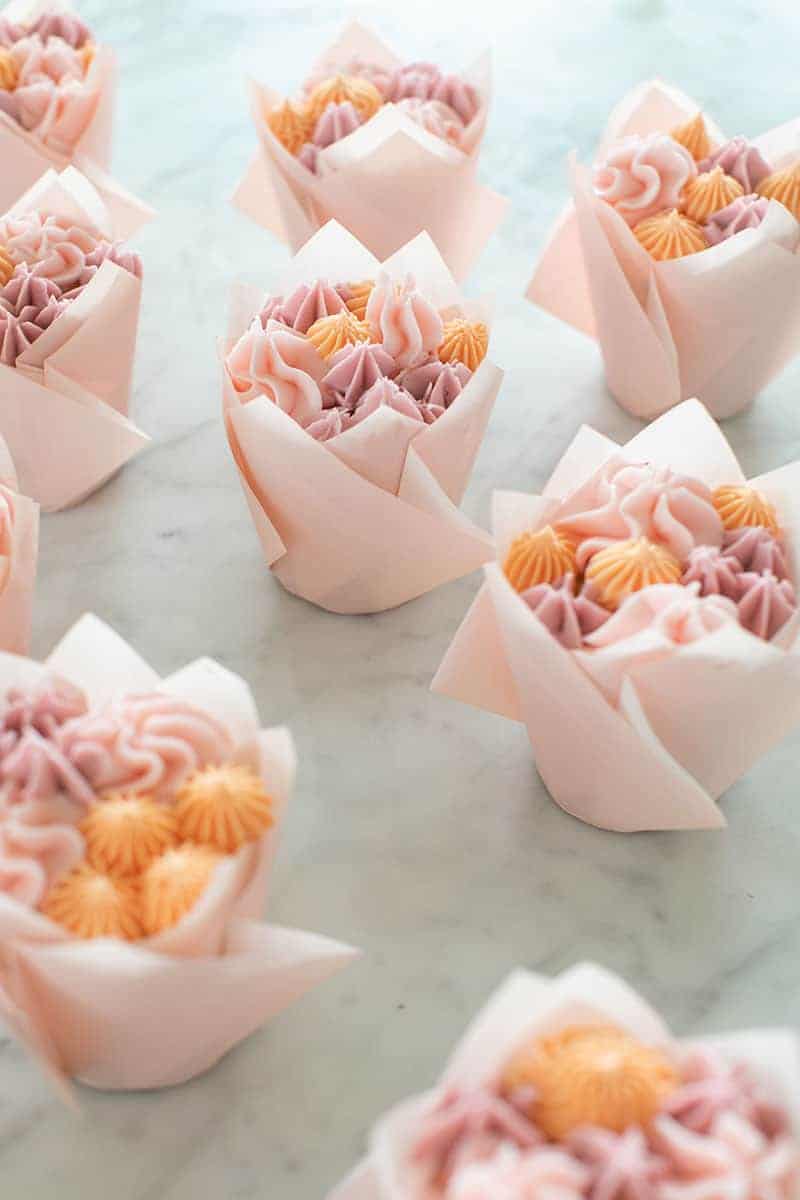 Add a few green mint leaves to the side of the cupcakes for the leaves. You can also make leaves from buttercream, but I feel like adding mint leaves if pretty and easy!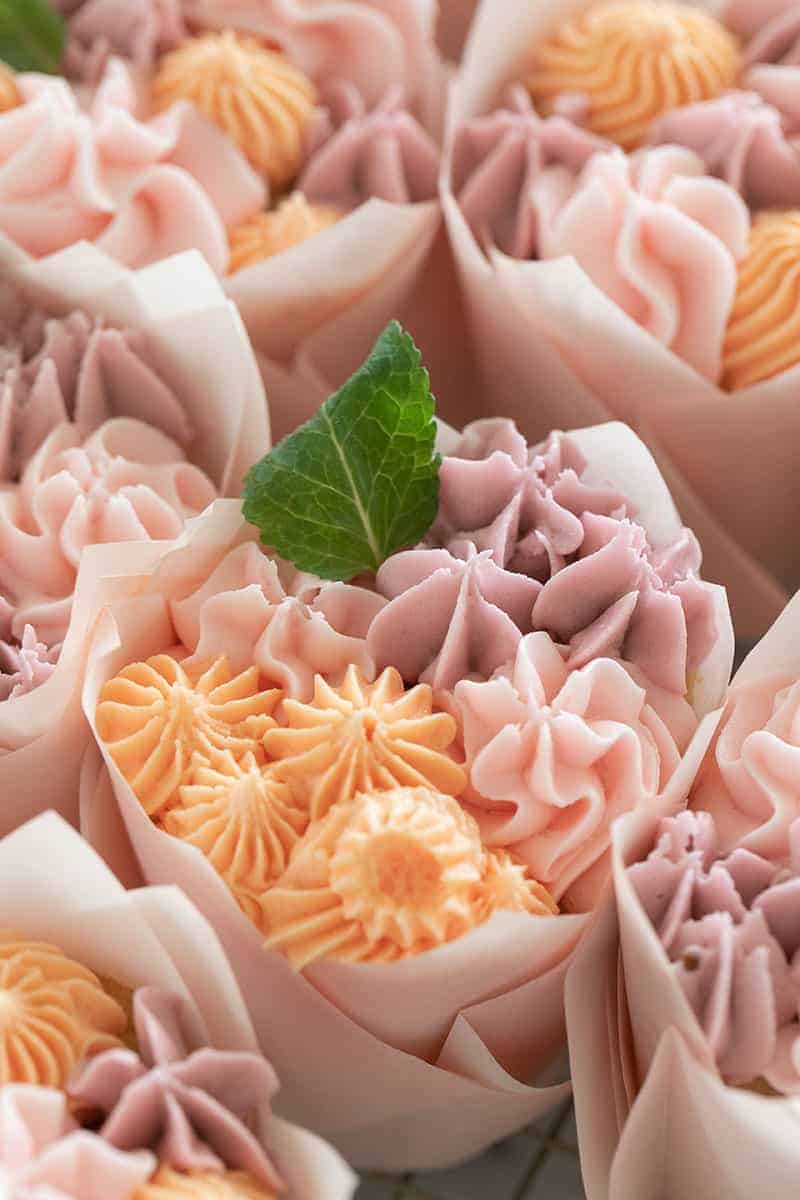 More Baking Ideas You'll Love!